GRAZING: South of south of the border
Colombia comes to Atlanta
Before I head out to Buford Highway, I almost always grab my AK-47. I have a political anxiety disorder and my rifle makes me feel secure. I've had a few close calls. Just last Sunday, I was contentedly slurping down a bowl of menudo — that's tripe soup — at my favorite taqueria. All of a sudden, this family of clowns pours inside. I happen to look out the window and notice their Tesla SUV has a "Trump in 2020" bumper sticker. Yep: Republican hypocrites eating Mexican food without even asking to see the staff's green cards. I struggle to keep my finger off the trigger of my rifle, which is in my lap. One day, I'm gonna climb on a taqueria roof and pick off every Republican in sight. 
Just kidding!
But I do often wonder what is going through the minds of Trumpistas who visit restaurants operated by immigrants. I'm not saying they do that often, but even if they're just consuming garbage at Taco Bell, does it not remind them that their DNA is at least as diverse as Elizabeth Warren's? So, Republicans, beware. This month we're going to pal around with some Latinos. I include special safety ratings for Trumpies. 

Arepa Mia: I have been in love with this place since Lis Hernandez opened the original at the Sweet Auburn Curb Market in 2012. As the name suggests, the specialty is the arepa, a slightly crunchy, grilled cornmeal patty that is part of the indigenous cuisine of her native Venezuela and neighboring Colombia. Hernandez grew up with a mother who made arepas at home and sold them on the streets. She stuffed them with fresh ingredients bought at local markets and her daughter does the same here in Atlanta.  My favorite is the classic pabellon, which is filled with shredded grass-fed beef, black beans, fried sweet plantains, and crumbled white cheese. Most recently, I wanted to sample a cachapa, because, as you will read below, I'd ordered one at another restaurant. The cachapa is a pancake that may be topped by or folded around the same ingredients as an arepa, but it is typically sweet, in great part because you bite into fresh corn kernels in the dough. I ordered the pernil, which is topped with pork roasted in mojo, caramelized onions, and queso guayanes, a somewhat salty white cheese that is soft but not exactly creamy. All of this is topped with a ribbon of dramatically green cilantro sauce. It's perfect. I did add a side of nata — basically, sour cream that counters the sweetness. The menu also includes empanadas. Hernandez is preparing specials at her second location in Avondale Estates. Recently, it was a classic sancocho de gallina — a hearty chicken soup that is to Venezuela what menudo or pozole is to Mexico on weekends. Trump safety rating: 4 stars, since hearts and the word "love" decorate everything here; English is fluent.
Arepa Mia, 209 Edgewood Ave., 404-880-8575, Atlanta; 10 N. Clarendon Ave., Avondale Estates, 404-600-3509; arepamiaatlanta.com.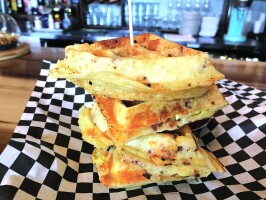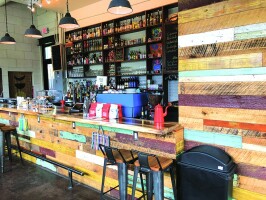 Natarica Grill: This hole in the wall on Buford Highway got my attention because it is one of only a few other Venezuelan restaurants in town. Let me warn you: For reasons a friend and I could not fathom, there are two addresses with the same number on Buford Highway, maybe a couple miles apart, so it took us 40 minutes to find the place. That was not a good thing, considering that my friend is the pickiest and most impatient eater alive. He ordered a plate with deliciously juicy shredded beef, fried plantains, rice, and black beans. I was anxious to learn the difference between the two cheeses — queso guayanes and queso de mano — on the menu here and at Arepa Mia. The woman behind the counter brought out two tubs of the cheeses, which explained nothing. I decided just to order a cachapa with the queso de mano and some of the shredded beef. Unlike Arepa Mia's, the cachapa here was folded over the meat and a fat half-moon of cheese, which turned out to be less flavorful than the guayanes — more like bland mozzarella. Moreover, the cachapa itself was oily and not particularly sweet. I also got some tequenos, something like bread sticks made out of cheese that you dip into guava jelly. I asked the staff what kind of cheese they were made of. Nobody knew. All of that said, I'll return to try more of the menu. Trump rating: 3 stars, since practically no English is spoken and a glass front window makes for easy target practice.
Natarica Grill, 5730 Buford Hwy., Atlanta, 770-582-1059, consult Yelp for the menu.

La Casona: On another evening, friends and I decided to try out this Colombian restaurant that also features arepas. Actually, though, we ended up ordering plates that contained flavor-bursting chicharrones; super-thin, inedibly chewy grilled steak; bland red beans; white rice; sweet plantains; ripe avocado; a repulsive link of blood sausage; and a tiny crispy arepita whose emptiness was a blessing. I seriously could not eat more than a third of the plate, I found it so unpleasant. Ditto for a starter plate of mashed plantains seemingly locked in a pool of melted cheese turned stiff a couple of hours earlier. But, truth is, I did not order an arepa, so I decided to return for lunch a few days later. Apparently, an arepa in Colombia more resembles a giant, thick, cold pancake on which ingredients are topped cachapa-style. Whatever, I ordered the one with chicharrones. They in no way resembled the earlier little cubes of explosive pork fat attached to skin and a sliver of meat. These were teeth-shatteringly tough. I decided to moisten them with a heavy squirt of hot sauce from a red plastic bottle. Doh! It was ketchup. Another bottle contained ketchup mixed with mayo — something like Thousand Island salad dressing. (Colombians, I remembered, do love ketchup.) I turned to a group of Colombians behind me and asked if they liked the food there. "We love it," their ringleader said. I complained about my chicharrones and he looked concerned. My server overheard me and thought I was complaining that I didn't get the plate with rice and beans. I told her that was not the trouble. "The meat is really tough and chewy," I said, in Spanish. She smiled and replied, "Si, verdad." "Yes, that's true." Huh? In short, the best thing on our table was a pile of boiled potatoes. Trump rating: 2 stars; little English is spoken and the restaurant's name, La Casona, means "Big House" — you know, like a prison, where Trump belongs. Lock him up!
La Casona, 3820 Stewart Road, 770-458-6657, consult Yelp for the menu.
Buteco: This Brazilian coffee shop/bar opened not long ago in Grant Park's newish Beacon Atlanta development. The place is kind of beatnik-cool. Owner Rafael Pereira is a native of Sao Paulo, has a music degree from Georgia State, and has toured the world as a percussionist. He also owns his own recording label, Tribo. The café hosts live music frequently. The kitchen — actually located in an adjoining food truck — produces street food. A stack of gluten-free waffles made with tapioca somehow hides pointed flavors of bacon, cheese, and egg. Tear them up and dip them in a guava concoction. There are four other versions, and these are as close as you are going to get to anything arepa-ish. You can order fried dumplings galore, like tapioca tots and yucca croquettes stuffed with shredded beef. The recorded music is great — from Stan Getz to Caetano Veloso. I wanted some fado and morna. By the way, if you are epileptic or easily hypnotized, you should be warned that tiny pinlights of Christmassy red and green constantly circulate in the narrow bar area. It's kind of like having some Yuletide insects crawling all over you. Great coffee and cocktails. Trump safety rating: 4 stars, since the clientele is almost entirely white and the wood interior easily camouflages orange skin.
Buteco, 1039 Grant St. S.E., Suite C-10, 404-963-2929, butecoatlanta.com.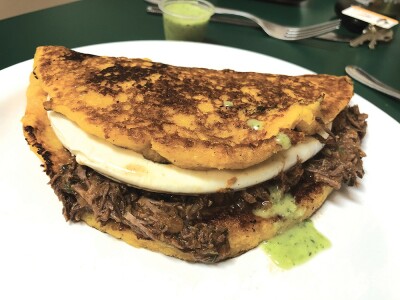 Taco Bell: After a lifetime, I finally became curious enough to stock up on Lomotil and visit a Taco Bell. Considering the enormous difference in Arepa Mia and La Casona, I just had to know how bad Taco Bell could be, compared to good Mexican or even Tex-Mex food. Also, I had been referred to a dish called the Crunchwrap Supreme. This is the usual Tex-Mex bunch of lettuce, tomato, stinky ground beef, melted cheese, and "low-fat" sour cream allegedly layered with a shattered tostada and wrapped in a giant tortilla, so that it looks like a mutant starfish. I couldn't even figure out how to hold the mess in my hands after a few bites and resorted to my fork. Let me be clear: My Crunchwrap had utterly no crunch. I found a few shards of something that might have been crunchy before it was drenched in sour cream, oozing tomato bits, and melted cheese. I admit that I was impressed by the ground meat — not because of its taste, but because of its mercifully miniscule quantity. I didn't eat half of the thing and only took one bite of a grotesque crispy taco that came with the combo meal deal. In the parking lot, I encountered a sad homeless woman who begged me for a "Christmas donation." I gave her a dollar on the condition that she not spend it in the restaurant. Trump rating: 5 stars! Culinary horror handily hides political horror. 
Taco Bell: 429 Ponce de Leon Ave., 404-876-3559, tacobell.com.
More By This Writer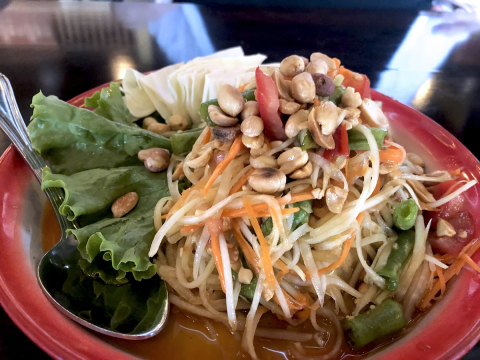 Thursday July 1, 2021 02:12 pm EDT
From Buford Highway to Chattahoochee Avenue — that's a lot of territory, indeed |
more...
Thursday June 3, 2021 09:53 am EDT
Lunch at El Viñedo Local, dinner from Krystal, lecturing cheap tippers, exploring new foodie media |
more...
Monday May 3, 2021 12:42 pm EDT
Grazing surveys some Atlanta hot dogs |
more...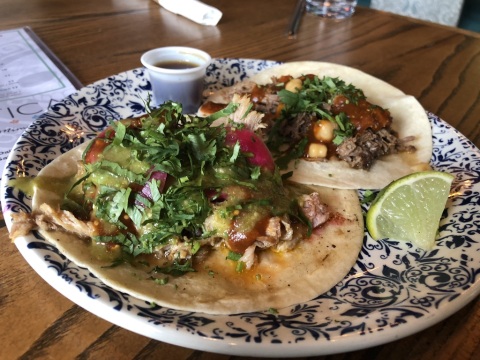 Tuesday April 6, 2021 01:32 pm EDT
The borderless menus of Botica and Mukja |
more...
Thursday March 4, 2021 10:01 am EST
And a cheap fix you can buy right off the shelf |
more...
Search for more by Cliff Bostock
---