Solar Flower: Psych-spirituality
Psych rock outfit proves collaboration is the spice of life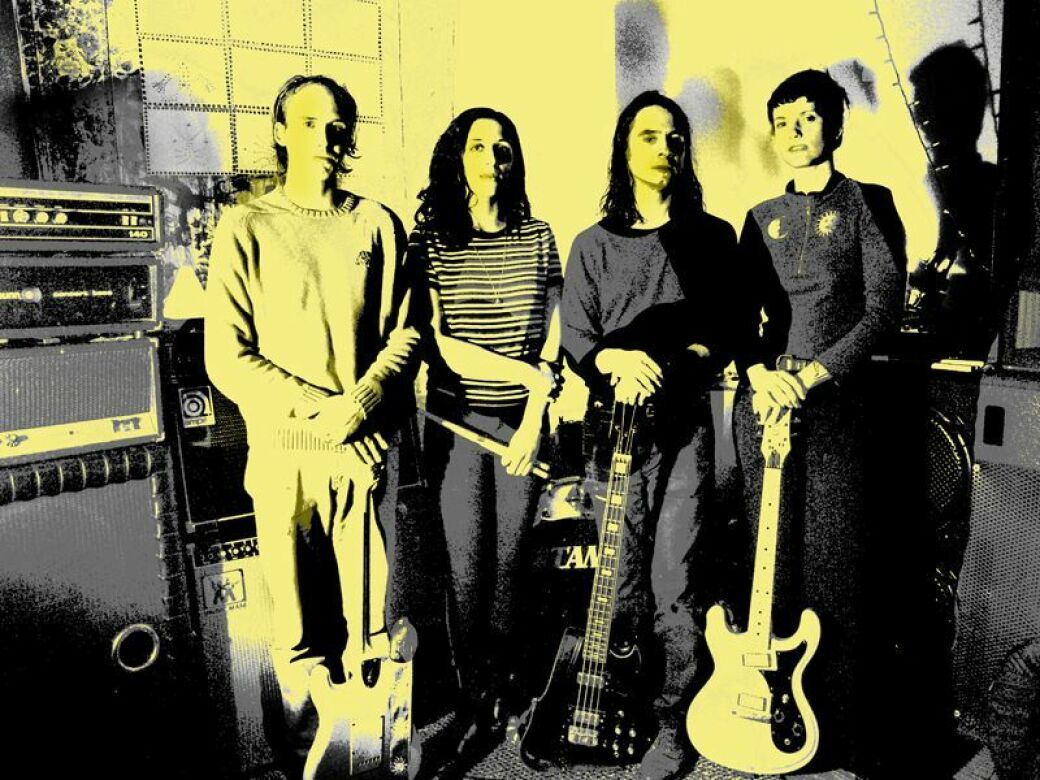 ANTHEMS OF THE SUN: Solar Flower is: Bo Orr, (from left), Sidrah Mahmood, Rob Sarabia, and Dorothy Stucki.
Every once in a while, a band sprouts up from within the local music scene exhibiting a sound and character that exists beyond time, place, and musical genre.
On New Year's Day, 2019, Solar Flower released You Are, an eight-song LP that defied expectations, with a mystifying spiritual bent wrapped in dark waves of psychedelic rock billowing in long, sustained moments of rhythm. Songs with titles such as "Feel It Grow," "Sonic Bloom," and "Here I Am" transcend the aural cues and ego-driven dynamics that most burgeoning acts project.
But it's in the "The Work," when guitarist Dorothy Stucki and drummer Sidrah Mahmood sing, "Separate out the dregs of your life / Use consciousness as the sword / Cloaked in the veil of nothingness / Annihilate the ego self and separate yourself from fire," that she pinpoints a key concept behind Solar Flower's sound and vision. While the lyrics allude to the process of alchemy, or turning base metals into gold, they also outline how the band approaches its music.
Solar Flower operates in a democratic, communal manner; there is no hierarchy. The band members seem to consider the means more important than the ends. The songwriting process is an exercise in egalitarianism between guitarists Stucki and Bo Orr (Arbor Labor Union), bass player Rob Sarabia (Dasher, Mutual Jerk), and drummer Mahmood. The group writes the music together, finishing each other's ideas, and composing lyrics as one unit.
"We would sit in Rob's car at the practice space and listen to what we had just recorded and then figure out the lyrics," says Stucki. "It helps because we are all singing," Sarabia says. "We have no front-person. Someone brings a skeleton of lyrics, and we just fill in the spaces."
It helps that all members agree on what guides their songwriting. "We're all interested in spirituality in general," says Stucki. Sarabia adds, "You know, things that people experience beyond their personal realm that we're just trying to hint at."
From the opening gong in the album's title track, the force that envelops the listener is so complex that it can't originate from a single source. As Orr puts it, "It sounds like four different people contributing to something. I get stoked on that when I hear it." Indeed, the power of You Are comes from the subtle variety of tone in its hypnotic, fuzzed-out instrumentation, meandering from solemn to acerbic to uplifting.
The subject matter explored throughout many of the albums' songs touches on self-affirmation, friendship, and love on planet earth, as the group's hooks and melodies lend an emotional weight to the subdued, mantralike chants through which the lyrics are delivered.
Since the group's inception in the summer of 2017, Solar Flower has performed live in Atlanta only four times, while making brief tour stops throughout the Southeast — although the lack of live shows stems from an ear-related medical condition from which Sarabia suffers.
In the meantime, Solar Flower has two shows booked in February and March. That's it. "We might take a break after that and write some new stuff," Stucki says.
Given the mystery surrounding the group and the esoteric subjects they explore, listeners are liable to come away from Solar Flower's music having gleaned unintended meanings. This doesn't seem to bother the band, who feel that anyone is entitled to their interpretations of the music. Says Stucki, "It can be whatever they need it to be."
All the Saint, Solar Flower, and Hospice play the Earl on Fri., Feb. 22. $12. 9 p.m. 488 Flat Shoals Ave. S.E. 404-522-3950. www.badearl.com.