LISTENING POST: A convergence of celli
Cello phenoms shine in two different musical realms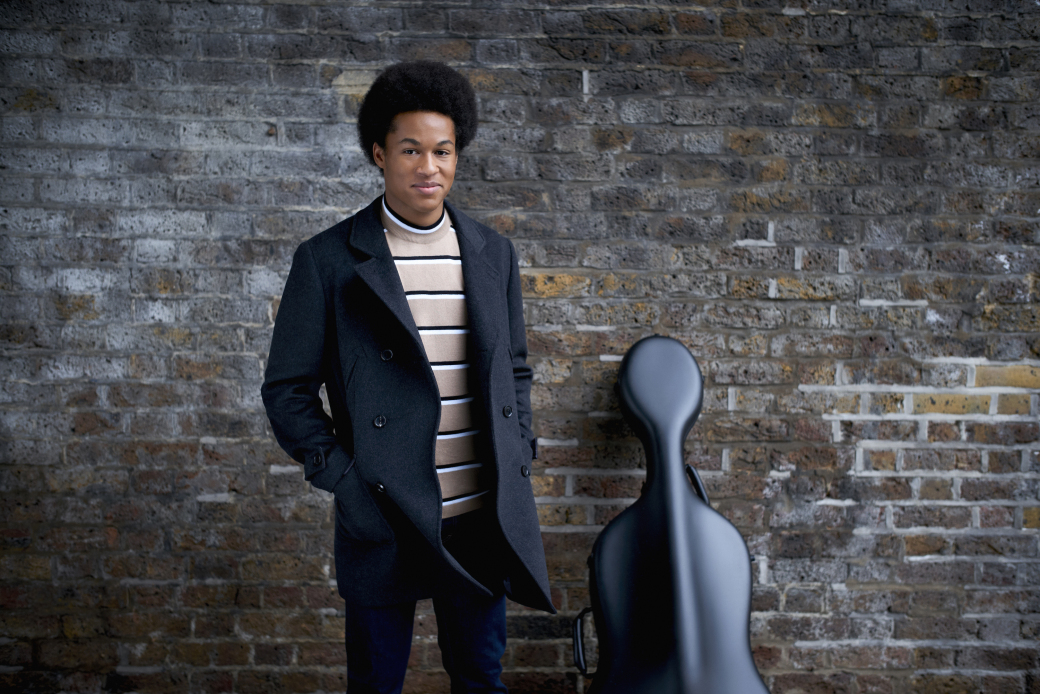 MORE THAN POMP AND CIRCUMSTANCE: English cellist Sheku Kanneh-Mason, widely known for his performance at the royal wedding of Prince Harry and Meghan Markle last summer, performs with the Atlanta Symphony Orchestra at Symphony Hall Thursday through Saturday.
In this week's musical happenings we find a unique convergence of celli performances by two rising stars operating in two different musical realms. Thursday through Saturday, April 25-27, English prodigy Sheku Kanneh-Mason of Prince Harry and Meghan Markle royal wedding recital fame plays Sir Edward William Elgar's celebrated Cello Concerto with the Atlanta Symphony Orchestra. On Saturday afternoon, Atlanta's own Okorie "OkCello" Johnson presents a combined children's workshop and program of original music at the Michael C. Carlos Museum on the Emory University campus.
2019 marks the centenary of Elgar's Cello Concerto in E Minor, Op. 85, which is being celebrated in concert performances and festivals around the world. The work dates from the summer of 1919 when the 62-year-old composer was living with his wife and daughter in a thatched cottage in the Sussex countryside. Only a few months prior, the evening quietude was frequently accompanied by the distant roar of World War I artillery bombardment reverberating across the English Channel from France.
A starkly romantic composition in four movements, Elgar's Cello Concerto ranges in expression from emphatically somber and highly agitated to sparingly pastoral and richly elegiac. The eleven-and-a-half-minute final passage challenges the soloist and orchestra to render anguish, grief and despair with interludes of consolation and reflection – the emotional flux of humanity defiled by apocalyptic war.
The concerto received its world premiere in October 1919 in a performance by the London Symphony Orchestra conducted by the composer and featuring young British cellist Felix Salmond. By all accounts, the debut was a debacle, largely attributed to scant rehearsal time given to the work by Albert Coates who was charged with conducting the remainder of the concert program.
After languishing for decades, Elgar's Cello Concerto vaulted its way to mainstream popularity in the 1960s thanks to the prodigious talent of Jacqueline du Pré. Born in 1945 in Oxford, England, du Pré began cello lessons at age five and won numerous competitions as an adolescent. In her teens, she ascended to rock-star notoriety during a tragically truncated performing career, which ended years before her death from multiple sclerosis at age 42.
When she was 20, du Pré recorded the E minor Concerto with the London Symphony Orchestra, garnering international praise for her performance and elevating Elgar's composition to mainstay status in the classical repertoire. During a six-month tutorship in 1966 under Mstislav Rostropovich, the revered Russian cellist reportedly declared his pupil capable of eclipsing his own lofty achievements.
"Jacqueline du Pre's recording of the Elgar concerto is one that made me fall in love with the cello," Kanneh-Mason, who also cites Rostropovich as a major influence, admits in a recent email exchange. "I have since fallen in love with other recordings of the piece and now, coming to play it myself, I feel I have developed my own interpretation, inspired by others but also by the score itself."
It was Kanneh-Mason's choice to include the Elgar composition in his ASO debut. Also on the program, which will be conducted by Uruguayan maestro Carlos Kalmar, are Schumann's Second Symphony and a rarely performed overture by Sir Arthur Sullivan of Gilbert and Sullivan fame.
"I think it is the detail of expression that attracts me," he says. "The music was written by a man directly affected by the emotions it portrays."
The last several months have been a whirlwind, but Kanneh-Mason was already a young phenom raising eyebrows in England before performing at the royal wedding last May. In 2016, he was named a BBC Young Musician and made his BBC Proms debut the following year. His full-length debut album, Inspiration, released earlier this year, includes an original arrangement of Bob Marley's "No Woman, No Cry."
"I have enjoyed all these different experiences, but my main focus is always developing as a musician," says Kanneh-Mason. "All of these experiences have supported that effort."
Atlanta Symphony Orchestra at Symphony Hall, 1280 Peachtree St, Atlanta, 404-733-4900, box office 404-733-5000, Thursday - Saturday, April 25 - 27, 8 p.m. Thursday evening's activities at Symphony Hall include a pre-concert lecture at 7 p.m. by ASO program notes annotator Ken Meltzer, that is free for all ticket holders.
 
Okorie "OkCello" Johnson at the Michael C. Carlos Museum
In the past year, cellist, composer, storyteller and educator Okorie Johnson, who performs under the tag name "OkCello," has been a very busy man. He released his second album, Resolve, named by this reviewer as one of 2018's Top 5 albums; performed a food-themed set with chef Taria Camerino on the ChooseATL house party/stage at SXSW; opened for Van Hunt ("one of my heroes") at The Loft/Vinyl at Center Stage; and worked on a project stemming from the Alliance Theater's Reiser Lab Grant, which will result in a multi-media reading in September distilled from OkCello's solo concert program.

"I feel very engaged right now, very full," Johnson tells me during a telephone conversation. "I feel like I'm growing a lot and developing capacity, which did not previously exist. I feel like Resolve was the beginning of that process."
On Saturday afternoon, Johnson will present a reprise of "Making Music with Okorie," which debuted last year at the Michael C. Carlos Museum on the Emory University campus. It starts with a workshop during which the cellist leads a group of schoolchildren on a tour of the museum's collection of African art and artifacts. A discussion with the youngsters about the art serves as inspiration for a composition by Johnson, which he will perform as part of the free public concert following the workshop.
"I'm a storyteller," Johnson says. "It's important to me to bury narrative into a song."
As a performer and cellist, Johnson is continually experimenting with technology and staging to complement the music and engage the audience. Tape loops allow for melodic accompaniment and harmonic texturing. For certain programs, lighting effects and video projection create fantastical environments. As an explorer and educator, Johnson brings a keen sense of history and ancestry to his projects.
"My wife is a New York-born, Canadian-raised Jamaican," he says. "My stepdad is Bahamian. My stepsister is Bahamian and married to a Kenyan. I'm very much connected with the Caribbean community through my wife and other friends. I have a West African name, which has always kind of connected me with Nigeria. All of those connections show through in Resolve.
On May 26, during the Atlanta Jazz Festival, OkCello will play a solo set, mostly drawn from Resolve, on the Oak Hill Stage. One of his goals this year is to perform the same music at four or five contact points along the African diaspora.
"I want the first show to be in Cuba and the last show to be in Lagos, Nigeria," Johnson says.
It's an ambitious plan, but a man with resolve is capable of accomplishing remarkable things.
Michael C. Carlos Museum at Emory University, Ackerman Hall, Level Three, 571 S. Kilgo Circle NE, Atlanta, 404-727-4282, Saturday, April 27, 4 p.m., concert is free and open to the public.
Short Takes
Wednesday, April 24
Atlanta Improvisers Orchestra at First Existentialist
Based on Listening Post's experience at the last Atlanta Improvisers Orchestra (AIO) concert at the First Existentialist Congregation in Candler Park, I can't wait to see and hear what this gathering of free jazz specialists comes up with Wednesday night. The outcome is purposely unpredictable, as AIO founder Ofir Klemperer shapes the sonic contour of the proceedings using hand signals loosely based on a system developed by the late composer-cornetist Lawrence Douglas "Butch" Morris. At the last performance, Klemperer invited other orchestra members to try their hand at "conduction." It was fascinating to hear the different melodic, harmonic and rhythmic textures each conductor elicited from their fellow musicians.
First Existentialist Congregation, 470 Candler Park Drive NE, Atlanta, 404-378-5570, Wednesday, April 24, doors at 9 p.m., $5-10 suggested donation.
Saturday, April 27
Etienne Charles: With the Georgia State University Jazz Band
Trinidad-born, Julliard-trained trumpet player and composer Etienne Charles brings the live version of his latest project, Carnival: The Sound of a People, Vol. I, to the Rialto Center for the Arts in concert with the Georgia State University Jazz Band. Based on a visit to the Trinidad village of Paramin and his impressions of Jab Molassie, the blue, fire-breathing characters whose identities the villagers assume during Carnival, Charles has created an elegantly complex, swinging, multi-vectored musical odyssey grounded in jazz, blues, funk, calypso, soca and other Caribbean styles.
Rialto Center for the Arts, 80 Forsyth Street, Atlanta, Saturday, April 27, 8 p.m., box office 404-413-9849, tickets starting at $24.
---