Inspired by heritage, history, and art
The two chefs of Mushi Ni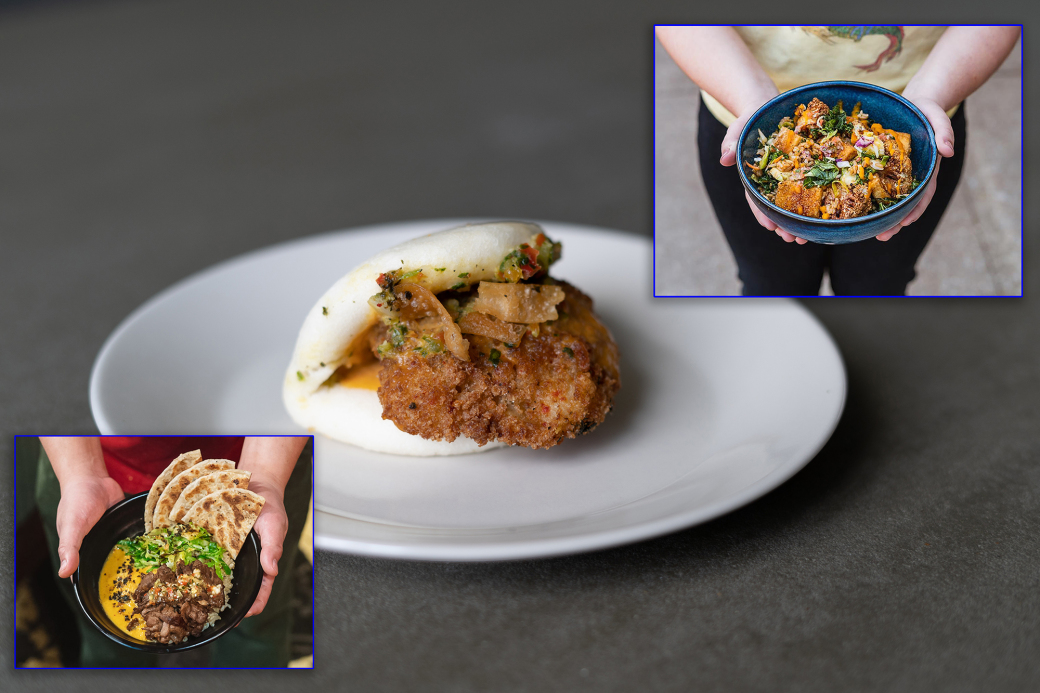 INSIDE WE SUKI SUKI: Mushi Ni favorites, from left, the curry bowl, the cauliflower bang bang boa, and the mighty veggie bowl.
When you first walk into the global grub collective, We Suki Suki, in East Atlanta Village, it can be a bit overwhelming. The space is small and narrow. A number of food vendors are in their booths which line the left wall, the opposite wall a mural of abstract designs and pastel flowers. A bustle of people eating their meals at picnic tables fight for space where patrons wait in line to order; a mix of comforting aromas from the eclectic variety of foods being cooked fills the room.
The second booth down stands out within the busy scene, a line of people in front of its counter. The booth is Mushi Ni, a pop-up restaurant which serves "globally inspired and locally sourced street food," according to the official Mushi Ni website. There is a sort of mesmerizing precision in the way that owners Michael Lee and Tanya Jimenez work together while preparing their food. Lee moves smoothly between ringing up orders and chopping produce, while Jimenez balances the rest: searing vegetables, frying dumplings, blending their signature "bang sauce" and more.
In a way, the scene is reminiscent of a painter at work in his studio or a novelist quietly typing up her next literary masterpiece. It is rigorous yet fluid, relaxing yet stimulating. Like traditional artists, Lee and Jimenez have found a way to bring beauty and self-expression into the world, but through a different medium of art than many might be used to. For them, that medium is food.
"I consider cooking as mainly a craft like woodworking, because there are certain steps and processes that you have to follow to achieve what you want," Lee says. "The sprinkle of artistic element is part knowledge, part experience, part curiosity."
Georgia, where Mushi Ni is based, has become a hotbed for artistic culture in recent years. Since 2015, the Atlanta Contemporary Art Center has experienced an increase in visitors by a colossal 80 percent (Michelle Khouri, "The Unlikely Rise of Contemporary Art in Atlanta"). Time magazine recently published an article calling Georgia "the Hollywood of the South."
Along with this influx of interest in traditional art forms, Atlanta has experienced a growth in restaurant openings.  This simple fact alone has encouraged competing restaurants to up their game with regards to the foods they serve and the creative ways in which they prepare them. This is why, at Mushi Ni, Jimenez says they seek to create interesting and unique dishes with flavors that stand out among their competitors. As Jimenez puts it, the dishes should be "weird" enough to attract the interest of customers, yet familiar enough to not scare them away.
"I think when people eat our food, it becomes a part of them forever," Jimenez says. "It nourishes them, it gives them memories that will last forever, and it makes people happy."
This notion is exemplified in Mushi Ni's more original dishes, such as their cauliflower bang bang boa, a traditional Chinese steamed bun with a distinctive twist. Instead of completing the bun with the usual fillings of braised pork or seared chicken, the cauliflower bang bang bao is filled with tempura fried cauliflower topped with a spicy vegan sauce that is unique to Mushi Ni.
"We try to be different from other places," Jimenez says.
She goes on to say that they do so by appealing to the senses.
"There is texture, there is always flavor," she explains, which add up to memorable combinations that keep customers coming back for more.
In many ways, the foods that Jimenez and Lee create are direct reflections of who they are, not just as chefs, but as people. Jimenez has been vegan for the better part of five years, inspiring her and Lee to serve a wide variety of plant-based dishes in addition to the more traditional meat dishes which Lee enjoys. Also, Jimenez grew up watching her grandfather cook, and she says that learning from him is what first instilled in her a love for food.
As for Lee, he is a first-generation American whose family came to the U.S. as Vietnamese refugees after the 1975 Fall of Saigon. He feels especially connected to both Vietnam and his home state of Missouri, and it shows in Mushi Ni's eclectic array of Asian American-inspired dishes. Lee also uses his sense of humor as inspiration for edgier menu ideas.
"Humor is a big part of how I express myself," Lee says. "If I think of an idea and it makes me laugh, I usually will try and make it work. Heritage is another part — I want to share who I am and where I came from in a bite of food."
Lee and Jimenez are not the first to see food as an art form. As it happens, this movement has its roots in the avant-garde Futurist movement, which began over 100 years ago in 1909. According to the Smithsonian Journeys Travel Quarterly, this movement was inspired by a championing of "the industrial age and all things mechanical," and it shaped much of how society looks at food today. More specifically, the artist Filippo Tommaso Marinetti is considered by many to be the first of a number of modernists to acknowledge the role that art plays in the creation of food. But as with all art, food is often enjoyed in different ways by different people. The qualities of food that Marinetti once saw as art are likely to be enjoyed differently by many people today.
What truly makes food an art form, in Jimenez' opinion, however, is how one chooses to interpret the raw ingredients they are given. This notion shines through in menu items like Mushi Ni's build-your-own style bowls, for example. The Mushi Ni bowl is a classic presentation of simple ingredients combined to create an array of flavors and textures within a single dish. One customer might choose japchae noodles and shrimp tempura in their bowl rather than brown rice and beef bulgogi, creating a completely different flavor experience.
Jimenez adds that food should always be simple but good, and should feature great techniques with equally great ingredients. This is what so inspired her about her grandfather's cooking as she grew up. She says that she loved to see the many different ways in which he took a table full of uncooked ingredients and turned them into a singular dish — the end result of a harmonious process.
"My grandpa had a big kitchen, and, you know, when you're a kid you're bored and so you just go in the kitchen," Jimenez says. "So I'd just observe, and I think I loved how it was synchronized. It was all spread out, and then it became one dish."
Like Jimenez, Lee's passion for food was inspired by his family. He says that he used to spend his days gathering ingredients or washing dishes for the catering company that his grandmother ran out of her home.
"The love grew from there," he says.
Lee encourages those with an honest desire to get good at their craft to stick it out, even through the hardest of times. "Early on you have to make the decision of how you are going to spend your time," he says. "Am I here to get a paycheck to survive, or do I want to learn the right way and have a career for the future?"
Jimenez adds that up-and-coming chefs or business owners should be prepared for failure as "part of whatever you encounter." She advises those with a dream of success to go for it, but with a solid plan in mind ahead of time.
"Make sure that you have a plan B or a plan C and a plan D," Jimenez says. "Just make sure that you're ready to face a lot of sacrifices, and, at the end of the day, if you're happy doing it, just keep doing it."
Mushi Ni is in the We-Suki-Suki Food Hall, 477 Flat Shoals Avenue S.E., Atlanta, GA. Tuesday-Friday, 11 a.m. to 8:30 p.m. Saturday 11 a.m. to 9 p.m. (404) 405-6005.
---