Peachtree Road Race
The Peachtree Road Race will take place July 3-4th, 2021. Browse the Peachtree Road Race schedule as well as recommendations.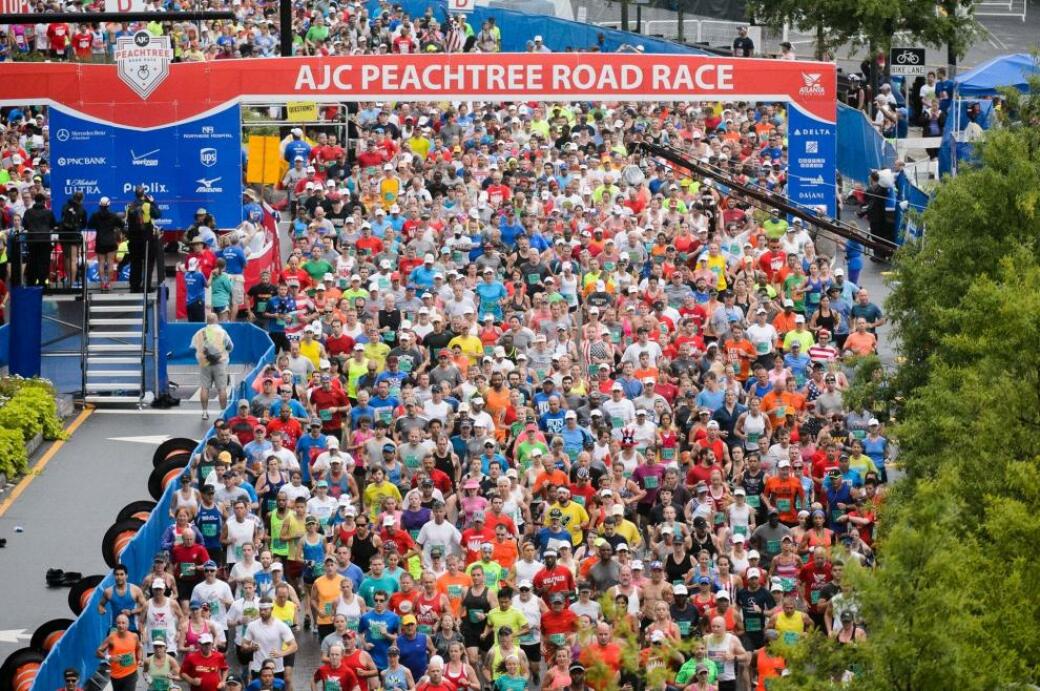 About Peachtree Road Race
From its humble beginnings in 1970 as a group of 110 runners, the Peachtree Road Race has grown into the world's largest 10K. Every July 4, more than 50,000 participants line up for the 6.2-mile haul to the finish line and a coveted Peachtree Road Race T-shirt. Spectators, radio stations, and restaurants line the roadway to cheer on runners and walkers with music, beer, and water.
The Peachtree Road Race will resume this year July 3-4th, 2021.
Peachtree Road Race Event
Thursday November 26, 2020 12:00 pm EST
Arts Agenda, Community::Benefits, Community::Sports and Health
The 51st Running of the AJC Peachtree Road Race will be held in locations across the country and aro...
$38-$42 [
click here for more
]
Creative Loafing Stories About Peachtree Road Race
Monday July 4, 2016 07:00 am EDT
Monday, July 4, 2016
Peachtree Road Race Post Race Party at Colony Square
Terminus City Fourth of July Party at Revival
Pints for Patriots at Meehan's Public House - Buckhead
Funbelievable Fourth at Georgia Aquarium
Red, White & Booze 2016 at Ventanas
|
more...
Thursday May 19, 2016 04:00 am EDT
Wednesday July 3, 2013 10:45 am EDT
Joeff Davis
A man prepares fireworks for Lenox Square mall's annual Fourth of July celebration.


FOURTH OF JULY AT LENOX SQUARE For more than half a century, Lenox Square has celebrated stars and stripes in grand tradition with activities for the entire family. Presented by the Atlantan, this year's activities will include musical entertainment, food concessions, and the "largest...
|
more...
Tuesday April 30, 2013 08:13 am EDT
MLS teams, port expansions, road races, and more! |
more...
Thursday March 29, 2012 04:00 am EDT
Buckhead is no longer the epicenter of Atlanta's once buck-wild nightclub scene - and that's the way most residents like it. Although we're still waiting on the ritzy Streets of Buckhead development, the area has long been among the top shopping destinations in the Southeast, with its two high-end malls and countless swanky boutiques and salons. And Buckhead has more luxury hotels and... |
more...
Thursday June 30, 2011 03:39 pm EDT
Tuesday July 6, 2010 12:28 pm EDT
More than fifty thousand runners came out to the annual Independence Day race. |
more...
Saturday July 4, 2009 04:15 am EDT
---