SCENES & MOTIONS: Unity and connection in the theater
'We have more in common, than we have differences'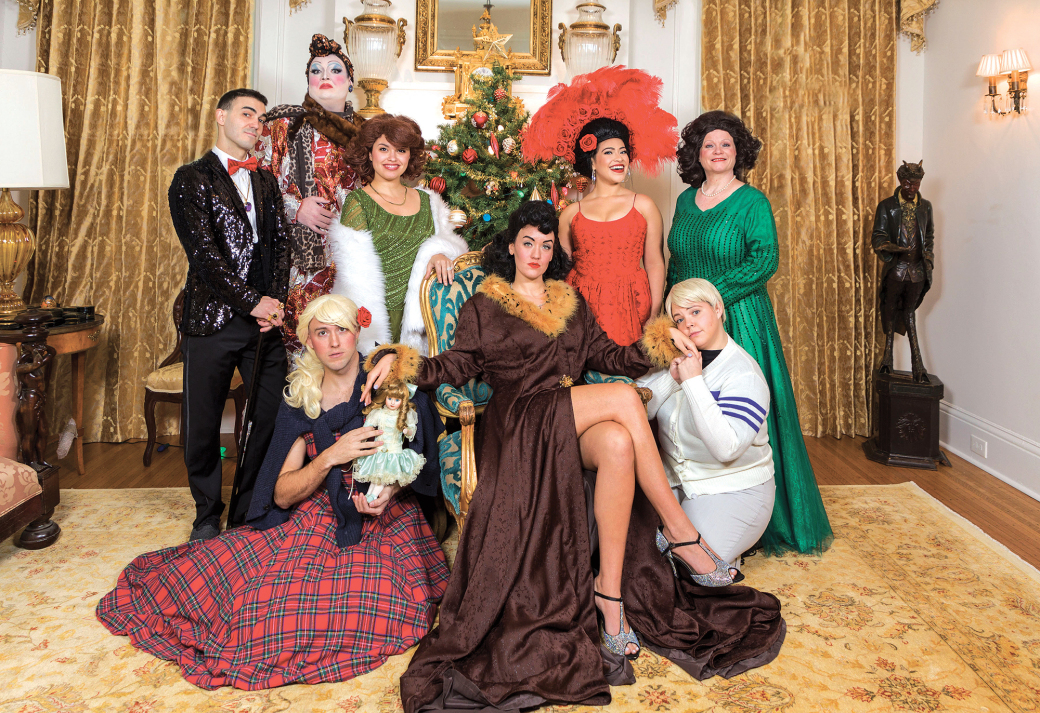 CHRISTMAS WITH THE CRAWFORDS: Christmas Eve, 1949. One by one, a who's who of Hollywood divas surprise and shock the imperious Joan Crawford during a live radio broadcast from her Brentwood mansion. Photo credit: Diane Haymes
Looking for creative or quirky ways to escape from the dreaded December holiday crush other than hibernating at home or fleeing for parts unknown to others? Fear not, for visual and performing artists across the ATL are cooking up a wildly ersatz mix of performance experiences to enlighten, entertain, challenge, and surprise you.
Here are just four of them to seek out and submit to.
The Wickhams: Christmas at Pemberley (through Dec 29)
Theatrical Outfit premieres the latest love letter to Jane Austen by Lauren Gunderson and Margot Melcon, two fiercely talented playwrights with Atlanta connections. Inspired by characters in Jane Austen's Pride and Prejudice, The Wickhams: Christmas at Pemberley celebrates family and forgiveness at the time of year when many of us find ourselves yearning for one or the other, or perhaps more often, both family AND forgiveness. In the days immediately before and after Christmas 1815, a diligent housekeeper, an indomitable maid, and a lovesick groomsman struggle to control the boorish Mr. Wickham. At the Pemberley Estate, the servants' quarters and the house kitchen also serve as a retreat for members of the ruling class who often come downstairs to confide in or comfort the maids, the butler, or the cook.
The play, though set over two centuries ago, looks at the central characters through a contemporary lens. Cassie (Lauren Boyd), the house maid, and Lydia (Erika Miranda), the upper-class young woman living upstairs, both refuse to marry the first handsome man who proposes to them. Both women strive against social conventions as they struggle to grow into themselves. When the story moves to December 26, better known as Boxing Day in England, the play explores another timeless question: How should we show our special appreciation for the men and woman whom we usually pay for the services they render throughout the year? Atlanta theatre lovers will be delighted to know these festivities are being directed with buoyant passion by the always brilliant Carolyn Cook.
Regardless of where the story of these literary characters takes you, I'll wager that the gorgeous costumes, the period sets, and the rich British dialects are bound to put you in the best kind of holiday mood.
Christmas With The Crawfords (Dec 5-21)
Speaking of moods, or more precisely, tempers, perhaps you remember the notorious '80s film Mommie Dearest starring Faye Dunaway as Joan Crawford. ("No wire hangers!") And, hopefully, you lapped up Feud, FX Network's brilliant Tinseltown cat fight with Susan Sarandon as Bette Davis and Jessica Lange as Crawford. Well then, you're probably already familiar with the riotous theatrical spoof based on the actual Christmas Eve live radio broadcast Joan Crawford made from her Brentwood mansion in 1949. Christmas With The Crawfords is a mash-up musical parody and also a loving homage to Hollywood's "Golden Age." Such legends as Judy Garland, Carmen Miranda, Gloria Swanson, Hedda Hopper, Ethel Merman, and the Andrews Sisters all have grand entrances, belt out holiday songs, and spit out over-the-top one liners.
The cast is fabulously diverse, with woman playing men, men playing women, and sassy adult actors portraying Joan Crawford's ever-suffering children, Tina and Christopher. But lest we forget, the Crawfords were members of an actual family who felt pain and jealously as well as pride and love. As directed by Atlanta's own Alice Acker, the all-local cast is sharp enough to reveal some of the bittersweet humanity behind the drag-alicious histrionics. Once again, the dazzling costumes and period set details are to die for.
Curious Holiday Encounters (Dec 5-8)
This month marks the 10th year, give or take, that 7 Stages has hosted some of the most original performances and immersive installations during the so-called "holiday season." Each December, Wreck The Halls, the annual L5P Krampus Crawl, has converged at the world-famous theatre led by the full-tilt, head-bangin' Rock Star Orchestra. Then, a few years ago, visionary puppeteer/director Michael Haverty curated the first of a series of "Curious Holiday Encounters," inviting audiences to explore a cornucopia of visual and theatrical moments in every corner of 7 Stages' creative space.
This year's "Encounters" will appear and transform every crevice and corner, from the upstairs and downstairs lobby areas to the dressing rooms, the staff office, and the upstairs window balcony. (I'm super curious to see what might be happening on the roof!) Sky Creature Productions (Marium Khalid, Barrett Doyle, and Arianna Khmelnyuk) is creating a hypnotic time portal meditation on Past, Present, and Future; and visual artist Devi Well has crafted imagery honoring Celtic and other pagan origins of the season. Three multitalented "Jacks & Jills of all creative trades" — Nicolette Emmanuel, McKinley Campos, and Adam Pellitier, will challenge guests with Dual Spiral, their emotional response to giving and receiving; while poet/spoken word artists Theresa Davis and Desiree Renee share their poignant Remembrance.
Still curious? Then prepare to be enthralled by two movement theatre works: Hjól: The Wheel of the Year by Full Radius Dance; and the uniquely intimate moments of Charmed Ones by dancer/choreographer Corian Ellisor performing with Alex Abarca, Nick Goodly, and Danyale Taylor. Venture even deeper into 7 Stages' inner sanctums to discover Out Front Theatre's hilarious Holigays and Theatre du Reve's Masqued New Year's Eve Revolution Ball!  …in French, no less. "Qu'ils mangent de la brioche!" And finally, topping it all off, the Little Five Points Rock Star Orchestra, of course. Four nights only, Dec 5-8.

SAINT (Dec 14)
Connection. Trust. Intimacy. Relationship. These are the words artistic director Mallory Baxley uses to describe the powerful bond between the eight women dancers in SAINT, the newest premiere work by Zoetic Dance Ensemble. Zoetic has been an-all women ensemble since their inception 19 years ago. The premiere will be danced by veteran Zoetic members Jacquelyn Benthall, Hannah Carlin, Gabrielle Gambino, Ellie Peterson and Sarah Wildman together with three new dancers, Emma Morris, Katherine Reeves, and Tori Vincent.
Baxley says that "with each major new dance work, the dance artists who commit to creating and performing the work together spend six months or more confiding in each other, and sharing feelings, childhood memories, doubts, fears, regrets, and deepest aspirations. That level of intimacy builds an amazing amount of trust, and we use that to build the work."
Anyone raised Roman Catholic associates the essence of Christmas with the Virgin Mary and the Nativity. Zoetic's SAINT is not at all intended to have that kind of sacred meaning. Rather, the Zoetic artists intend it as "a collaborative dance project … about the evolution of perspective and the ideologies of individualized and collective femininity." Baxley asks, "What is a woman? She is so many things. Saint. Sinner. Light. Dark. Soft. Hard. This new work explores culture perceptions of women and our own personal perceptions about who we are as women."
SAINT will feature an original score composed and performed by Xavier "Xay Zoleil" Lewis and a trio of musicians. The dancers will wear costumes designed by Hannah James. Morgen Tanksley designed the immersive floor-to-ceiling installation and the graphic projections that will transform the interior of Ambient+ Studios massive 110-year old industrial space near West End. Zoetic's latest premiere will have two performances only, at 4 p.m. and 8 p.m., Saturday, December 14. God willing, you'll find time to encounter this SAINT in person.
Most cultures around the world celebrate at least one holiday on or near the Winter Solstice. If there is one universal theme that resonates with people everywhere, it seems to be that of unity and connection — the idea that as family members, neighbors, coworkers, citizens, as men, women, and every variation of self-identity, we have more in common, than we have differences. The best public performances, be they sacred, serious, strange, or silly, bring audiences together, if only for a precious hour or two. Here's hoping you experience a few of those hours around Atlanta stages over the next few weeks.
God bless us, every one. -CL-
---