BLUES & BEYOND: Cold weather means hot toddies
Michele Malone chills out with her annual Christmas show
Ahhh, December. The time to soften some of the noise from the busy previous 11 months and chill out (if you can) with family and friends by singing Christmas songs while basking in the glow of the "happiest time of the year." That mellow Hallmark Channel movie vibe even washes over iconic Atlanta roots rocker Michelle Malone. 
Renowned for delivering searing shows with a full band or solo — as anyone knows who's witnessed her on tour in support of her 2017 album Slings & Arrows — in December Malone dials down the raucous energy and swings into a slightly more subdued but no less frisky chanteuse mode. Slinging out familiar holiday classics with a stripped-down, semi-acoustic trio of two guitars and stand-up bass, wittily dubbed the Hot Toddies, Malone is able to downshift and enjoy the season while continuing to perform — albeit in a far less aggressive and rocking musical environment than what her fans are used to.
Malone, who released the EP Toddie Time in 2018, follows it this year with Toddie Time ll. Both run standard, some might say crusty, nuggets like "Jingle Bells," "Away in a Manger," and "Blue Christmas" through unique, energetic, and vibrant arrangements, transforming them into tunes that fit Malone's clear, powerful voice while maintaining the spirit that has made them the yuletide classics they are.
Malone's habit of recording holiday standards goes back to 1992 when she released A Swinging Christmas in the Attic, and her approach to the music continues to evolve. "While I enjoyed making (that album), it was live and far from perfect. I thought I could do better and also wanted to explore the horizons of it. It was my chance to do some singing, or crooning, and not worry about growling and yelling (laughs). But it's not about me and my songs. It's about these classic tunes and bringing people together. It's universal and fun for me." Malone needed a push to go full holiday mode though. That came in 2017 with guitarist Doug Kees. He had been playing rock guitar in Malone's various bands, but when she saw him perform on an impromptu live version of jazz standard "Autumn Leaves," the concept of the Hot Toddies took shape.
Now, three seasons later, Malone looks forward to this side project as an annual, and integral, part of her schedule. "There's no pressure, which is part of what I enjoy about it. We can do it if we want. I don't have to get bogged down in the details, plans, or expectations." What was once a good idea for some late November through December laid-back fun, is now a key part of her year when she drops everything else on her busy schedule to concentrate on the Toddies. "It's pretty exclusive. I really try to focus on one thing at a time," she explains. 
That can be difficult as Malone often has a few projects cooking simultaneously.  "I got really excited about different possibilities and trying to diversify. At one point I must have gotten bored with myself and thought that having two other bands (the Hot Toddies and Drag the River, her first recorded outfit that has recently been doing reunion gigs) was a good idea."
What makes these Hot Toddies shows so much fun is that they are 100 percent covers. Don't bother requesting her riveting version of Otis Redding's hit "I've Been Loving You Too Long," 'cause that's not going to happen. When asked if she has considered writing her own original Christmas material, she quickly dismisses that idea. "Well, then it would become a job," she laughs. "This is about everyone singing along to songs that have been tried and true for 50 or 100 years. It's not the Michelle Malone show." Still, Malone's arrangements and interpretations push these oldies into fresh territory.
"I'm real proud of this new record because we did go way off the reservation with some of the arrangements, which I think are really interesting." Still, she was influenced as a youngster by the more traditional music, between her mother playing it on the family's piano to hearing standards from Frank Sinatra, Dean Martin, Ella Fitzgerald, and, of course, Elvis. "Those are my favorite versions of Christmas songs," she says. "I love a good singer and a crooner."  
With the Hot Toddies pared down to a trio — Malone, guitar; Kees, guitar; and the inimitable Tommy Dean, stand-up bass — Malone isn't trying to replicate a Brian Setzer-styled extravaganza, even though she enjoys his approach. "I saw it once (the Setzer Christmas show), and it just blew me away, it made me so happy. That's very inspiring to us, although we had already been doing it when I saw him. It helped drive home to me that this was a good idea and we're going to have some fun. And if we have fun, we'd find an audience that would enjoy it. I love what we're doing, and I'm excited to do it every year. I look forward to wrapping up the Michelle Malone show and digging into the Hot Toddies." 
Those who want to catch the Toddies need to hurry, though. The band only performs about 10 shows per season, with this year's Vista Room December 19th show the grand finale (see dates below for more Hot Toddies shows). -CL-
More By This Writer
Monday August 2, 2021 10:54 am EDT
Georgia's long-running roots and blues fest roars back for year 27 |
more...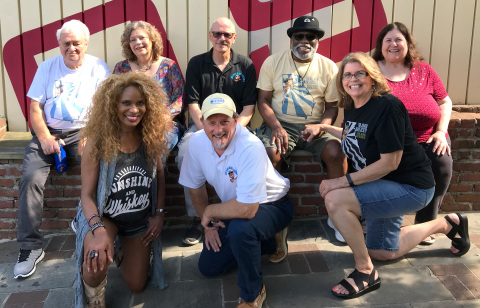 Thursday July 1, 2021 12:50 pm EDT
The Atlanta blues scene returns to (almost) normal with solid support from the Atlanta Blues Society |
more...
Wednesday June 2, 2021 06:35 pm EDT
Eddie 9V goes international with his first widely distributed album |
more...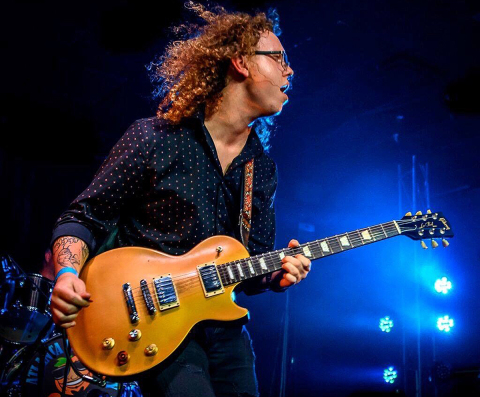 Wednesday May 5, 2021 10:15 am EDT
After weathering the worst year in music, Garrett Collins prepares for his next act |
more...
Tuesday April 6, 2021 11:54 am EDT
Recent National Heritage Fellow William Bell's well never runs dry |
more...
Search for more by Hal Horowitz
---