SCREEN TIME: Atlanta Jewish Film Festival
Annual showcase of Jewish cinema features two superb documentaries about unforgettable photographers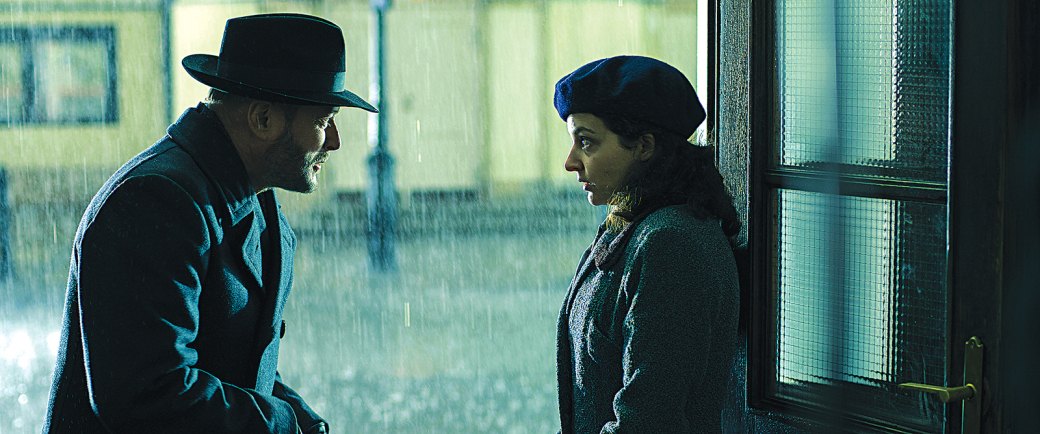 TRYING TO SURVIVE: Årtur Zmijewski and Maria Dębska in Nazi-occupied Warsaw in "The Black Mercedes."
On January 9, the preview party for the 20th-anniversary season of the Atlanta Jewish Film Festival offered a moment that aptly represented the event over the years.
Held at the Sandy Springs Performing Arts Center, the presentation included speakers and film clips, including a famous scene from Charlie Chaplin's Hitler satire The Great Dictator, receiving 80th-anniversary screenings on February 16 and 19. While Chaplin's title character danced with a balloon shaped like the Planet Earth, the event hosts threw huge, similarly globe-shaped beach balls into the seats, so the audience could giddily bounce them around as if at a particularly big sporting event or performance.
That flourish reflects how, for two decades, the AJFF has combined a love of film with a sense of showmanship. The world's largest Jewish film festival and arguably the biggest film event on Atlanta's calendar, the AJFF has consistently delivered a feeling of occasion unmatched by other local cinematic programs, from searchlights out front of big screenings to the pre- or post-show speakers at nearly every showing.
Held February 10-27, the 2020 festival offers 49 features and 16 short films that reflect different facets of the Jewish experience from 17 countries, including some of the following highlights:
Shared Legacies: The 20th-anniversary festival opens with a documentary on a hugely important topic in the history of both Atlanta and the rest of the country: the civil rights movement and the partnerships of both African-American and Jewish-American citizens. Director Shari Rogers interviews countless experts (including such local political figures as Andrew Young and John Lewis) to offer perspectives on the horrors of the Jim Crow era and the Holocaust as well as the hard-won triumphs of Martin Luther King Jr. and his allies.
Unfortunately, the subject may be too big for a 95-minute film, making Shared Legacies feel like it has more breadth than depth. It jumps from historic moments such as African-American soldiers liberating concentration camps, to the Atlanta Temple bombing, to the 1964 murder of three activists in Mississippi, and much more. However fascinating the material may be (including details like the surprising importance of Jewish leadership in the NAACP), Shared Legacies leaves you wishing the film had either been a sprawling, Ken Burns-style miniseries or taken a narrower focus. 7:30 p.m., Feb. 10, Cobb Energy Performing Arts Center.
Black Mercedes: Reminiscent of Alan Furst's espionage novels set at the eve of World War II, this thriller from Poland examines the shadowy morality infusing Warsaw during the Holocaust. A police detective investigates the murder of a lawyer's wife, uncovering secrets and mysteries that draw in a cultured SS officer, a lovelorn cadet, and a Jewish fugitive. The structure is initially off-putting — we'll often see events and only learn their significance later — but like the peels of an onion, the whodunit constantly reveals layers within layers. 7:10 p.m., Feb. 17, Sandy Springs Performing Arts Center; 12:50 p.m., Feb. 18, Regal Perimeter Pointe; 7:10 p.m., Feb. 20, Sandy Springs Performing Arts Center; 2:45 p.m., Feb. 26, and 7:20 p.m., Feb., 27, Landmark's Midtown Art Cinema.
Picture of His Life: This documentary has a premise worthy of fiction, following Israel's Amos Nachoum, one of the world's great photographers of undersea wildlife, as he tries to realize his dream of capturing an image of a polar bear while in the water with it. Like Grizzly Man with a happier ending, Picture of His Life conveys the danger and majesty of wildlife as well as its vulnerability to climate change. At times Nachoum seems a taciturn subject — we hear other people say what he's thinking as often as we hear him speak for himself — but the gorgeously-shot film captures his passion and evokes the old-fashioned thrill of exploration. 3:25 p.m., Feb. 15, Regal Perimeter Pointe; 7:40 p.m., Feb. 24, UA Tara Cinemas; 3:45 p.m., Feb. 25, Landmark's Midtown Art Cinema, and 7:40 p.m., Sandy Springs Performing Arts Center.
Jay Myself: Another aging, larger-than-life photographer anchors a superb documentary as Stephen Wilkes profiles Jay Maisel at a unique turning point in his life: Maisel purchased a six-story former bank in New York's Bowery and for five decades used it as a personal studio, gallery, and residence. Unable to afford "The Bank's" taxes and upkeep, Maisel opts to sell his building for more than $50 million, and, as he packs, looks back on his career and an artistic sensibility (and pack-rat habits) that can view found objects as art: "None of this is trash!" he declares at one point. The director is a former assistant who still seems eager for Maisel's approval, yet teases out remarkable insights into the power of photography as well as crafting the kind of unique, quirky New York story that's being priced out of existence. 1:15 p.m., Feb. 21, UA Tara Cinemas; 8:05 p.m., Feb. 22, Regal Perimeter Pointe; 8:25 p.m., Feb. 23, Landmark's Midtown Art Cinema.
In addition, for the February 27 closing night film Saul & Ruby, To Life!, which profiles concentration camp survivors who form a klezmer band, a post-screening dessert reception is scheduled. Food provides the focus of such films as Abe and No Pork on the Fork, a short about the Atlanta Kosher BBQ Festival. Finally, the program offers a 60th-anniversary screening of Exodus, Otto Preminger's epic about the founding of Israel, starring Paul Newman and Eva Marie Saint.
Contact ajff.org

Deadlier than the Male? From Thursday, February 27–Saturday, February 29, Atlanta's third Women in Horror Film Festival will present 86 shorts and four feature films at Marietta's Strand Theatre. The line-up includes the world premiere of Black Lake by K/XI and the Georgia premiere of The Dark Red by Dan Bush, co-director of the Atlanta indie sleeper hit The Signal.
Contact WIHFF.com —CL—