LISTENING POST: Opera unbound
The Atlanta Opera's 2020-21 season reaches for next-level performance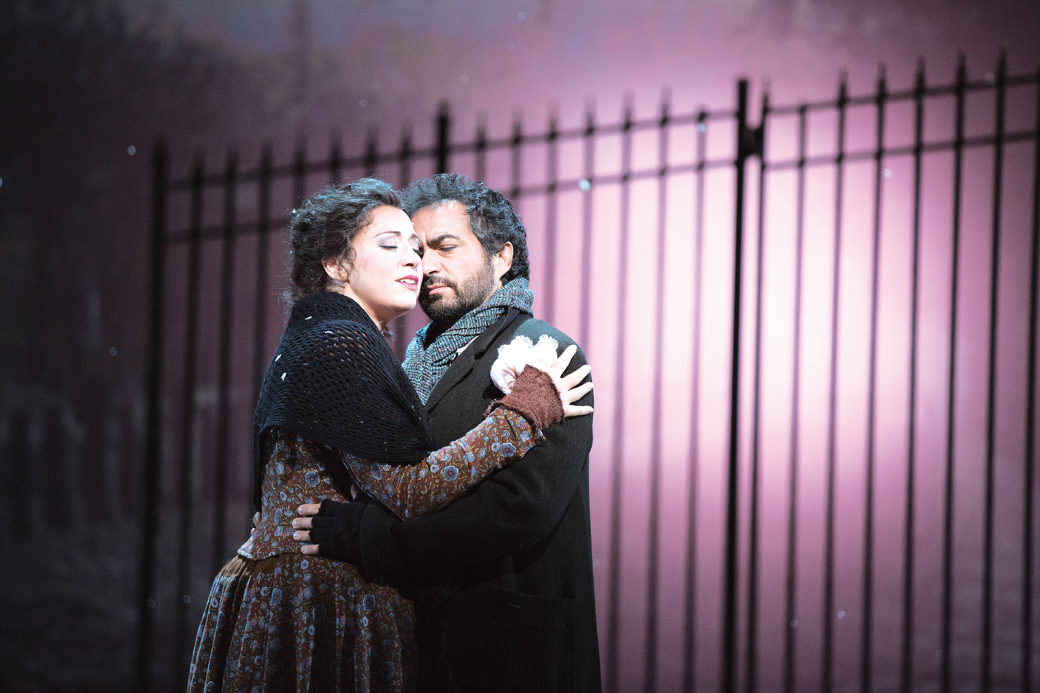 THE ATLANTA OPERA: Maria Luigia Borsi as Mimi and Gianluca Terranova as Rodolfo in the Atlanta Opera's production of 'La bohème.'
As this was posted prior to concerns regarding the global coronavirus COVID-19 outbreak, please check to see if these events are still occurring. Be safe. Be healthy. Wash your hands.
The last time Creative Loafing checked in with Tomer Zvulun, the general and artistic director of the Atlanta Opera, he was preparing for the 2019 Atlanta premier of Dead Man Walking. The opera by Jake Heggie is based on the book by Sister Helen Prejean who became spiritual advisor to a man on death row in Louisiana. Last December, following its Atlanta run, Zvulun traveled to Israel to direct the Israeli Opera, the company with which he began his career, in a series of performances of Dead Man Walking. Opening night in the Tel Aviv Opera House marked the first time a contemporary American opera was ever staged in Israel.
"The most telling moment for me occurred when I met the head of the makeup department," Zvulun recalled, chuckling. "They're used to working with wigs and costumes for classic operas. When they asked what kind of wigs we used for Dead Man Walking, I laughed and replied, 'The opera is set in New Orleans in the 1980s. I don't have any wigs, but I do have tattoos.'"
In January, the Atlanta Opera announced its 2020-21 season, which starts in November. The lineup includes four main-stage productions at the Cobb Energy Performing Arts Center: Giacomo Puccini's La bohème, Gioachino Rossini's The Barber of Seville, Richard Rodgers and Oscar Hammerstein's The Sound of Music, and Richard Wagner's Das Rheingold. The Atlanta Opera's Discoveries Series, which showcases newer, more intimate works, will present The (R)evolution of Steve Jobs by Mason Bates at the Ferst Center for the Arts on the Georgia Tech campus and Laura Kaminsky's As One at the Out Front Theater on the west side of Downtown.
Remaining on the 2019-20 Atlanta Opera calendar are two major operas and one Discoveries production. George and Ira Gershwin's masterpiece, Porgy and Bess, runs March 7-15, while Puccini's beloved Madama Butterfly runs May 2-10 at the Cobb Center. Tom Cipullo's Glory Denied, which tells the tragic tale of Col. Jim Thompson, America's longest-held prisoner of war, opens May 21 and closes May 24 on the Hertz Stage at the Woodruff Arts Center.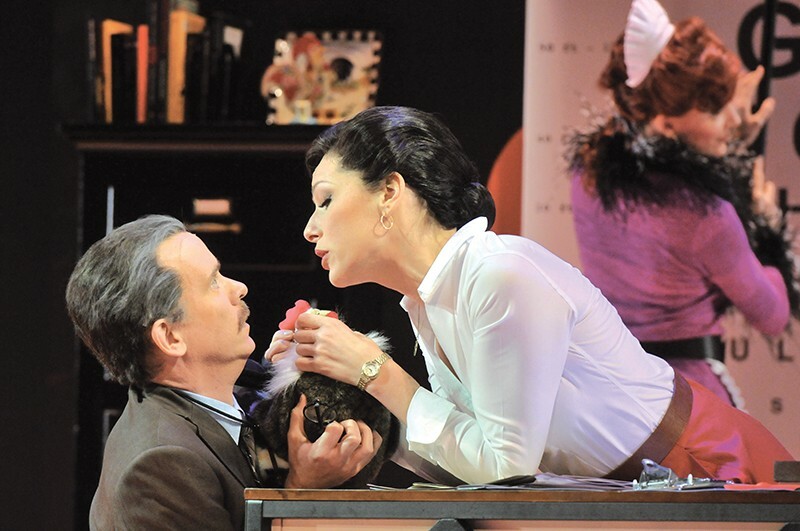 Doug DeLoach: Reflecting on the critical acclaim and popular success of Dead Man Walking and other contemporary operas, it seems like opera is on a roll in the 21st century.
Tomer Zvulun: There is something really exciting happening, historically, right now in the world of opera, especially in America. It's like a renaissance. So many new pieces are being written. Opera America recently published a survey, which noted that there are a couple of hundred new pieces — chamber operas, full-scale operas — written every year. A lot of companies make it a point to commission new operas, including the Atlanta Opera, which will be staging a world premiere in 2022.
Grand old opera is all of a sudden relevant again.
TZ: We're seeing more operas with a conscience, operas that are focused on social justice, and themes that are relevant, such as LBGTQ issues, bullying in school, veterans' experiences, or familiar characters, like Steve Jobs. Those pieces are different from the classic boy-meets-girl, boy-falls-in-love-with-girl, girl-dies stories. We still love the classic operas, but it's hard to find social context in many of them. We find humanity and universality in those operas, but there is something very immediate about new operas, which we find especially fascinating.
When I came to the Atlanta Opera in 2013, I insisted on running a modern American opera every year. That first year it was Three Decembers by Jake Heggie with a libretto by Gene Scheer. Then we did Soldier Songs about the life of a veteran. The following year, it was Out of Darkness: Two Remain about the Holocaust. Then came Silent Night about World War I, followed by Dead Man Walking. Next year, we're doing As One, which is about the journey of a transgender woman; and an opera about one of the most iconic people in recent history, Steve Jobs.
We are living in a great period in opera history.
The music has to match the theme in terms of its ability to engage with the audience, which was not always the case after the end of the bel canto era and the turn of the 20th century.
TZ: Opera experienced a crisis in the 20th century. If you look at the 18th and 19th centuries, you have composers like Verdi, Mozart, Donizetti, Puccini, Bizet, and Wagner. Then you think about the 20th century and who comes to mind? Berg, Schoenberg, Britten. There was all this atonal music, which was popular in the academic world, but which did not grab audiences. Cerebrally, philosophically, it's fascinating — and, in many cases, it was tremendous music. But a lot of times, it was alienating because it lacked the raw emotion, tonality, and melodic style which characterized those composers from the 18th and 19th centuries.
In the late 20th century, people like Jake Heggie, Gregory Speers, and other emerging composers were not afraid of embracing tonality, melody, the tonic world — a world in which audiences can still hum what they hear in the opera house.
Did you approach programming the 2020-21 season any differently than previous seasons?
TZ: Whenever we are planning the season, it's like planning a meal for friends. You've got your protein, your vegetable, a nice dessert, good wine.
We start with two of the most famous operas in the canon, La bohème and The Barber of Seville, presented in new interpretations with visually stunning productions, great voices and orchestra. With these works, people who want to introduce friends to opera know they can return and see something they will love.
Then we are doing what is maybe the most challenging opera in the company's history, Richard Wagner's Das Rheingold. The Ring Cycle is generally considered to be the pinnacle, the most rewarding operatic masterpiece ever written. Then we're doing a brand new work, The (R)evolution of Steve Jobs, at Georgia Tech as part of our Discoveries Series, and an opera about transgender, As One.
We're also presenting The Sound of Music, a very well-known musical theater piece, a crossover work, like we've done in the past with Sweeney Todd, West Side Story, and The Pirates of Penzance. The Sound of Music is a  completely new production, which we are doing with a partner, the Glimmerglass Festival in Houston.
We are serving different flavors to accommodate the different palates of our dinner guests.
What does the live musical presentation of The Sound of Music bring to the party, which is different from the famous film?
TZ: I'm a huge film buff. Movies inform my vocabulary as a director. But there is a competitive advantage to live performance, which movies or Netflix will never have. That advantage is the feeling of community when 2,500 people gather in the same room, breathing the same air, feeling the energy from the stage, and transmitting their own energy back to the performers on the stage.
The second advantage to producing these pieces in the opera house comes from the kind of singers we are getting for those shows, classically trained singers backed by a world-class orchestra. The quality that you are getting is very high. I would love to program future productions of Fiddler on the Roof, Cabaret — there are so many great musical theater pieces, which deserve to be seen through an operatic lens.
What distinguishing elements will the Atlanta Opera bring to the production of Das Rheingold?
TZ: It's an altogether new production, which I have been working on for the past four years. I have been preparing for the time when the company is ready to do something monumental, which requires an extraordinary level of excellence and commitment. If you look at the landscape right now in North America, there are very few companies producing Wagner on a high level: The Met, San Francisco, Chicago, Seattle, Toronto, maybe Washington. From the marketing department to the orchestra to the production and technical abilities of the company, to do something so grand is a daunting undertaking. It's like saying to an athlete, "You are going to the Olympics." The training is at a different level. The nutrition is at a different level.
The opera we are putting on right now (January 2020), Richard Strauss' Salome, isn't Wagner, but it's close. Strauss was a disciple of Wagner. Salome has a similar style and other requirements. You need a large orchestra capable of handling very technically challenging music. You need dramatic singers who can overcome that sort of orchestration, and you need production elements on the highest level supported by the technical ability to make everything work flawlessly. It takes years to build a company that can manage all of those things.
Das Rheingold is using the same production team as Salome. I'm going to direct. My colleague, Erhard Rom, is creating the set projections. Mattie Ullrich is creating the costumes. We are very excited about the production team.
How do you describe or characterize the stylistic elements, which the Atlanta Opera is bringing to productions like Salome and Das Rheingold?
TZ: This style is something we have been bringing to our audiences in the hope that they will appreciate what we're doing. With productions such as Eugene Onegin, Dead Man Walking, Silent Night, Madama Butterfly, and La bohème? — all pieces we've done here with the same team — the term we use to describe this style is 'timeless mythology.'
One of the things that I think functions as a cliché or trap for opera productions is when the first thing the audience asks is, "What time period is this?" or "What is the location?" I think that's a cop-out. If you're thinking, "I am going to do Eugene Onegin in 1982 in Soviet Russia," that's where the idea ends. It will never match what the composer had in mind because the opera was written in the 18th century. And the production will be dated because 1982 might be interesting right now, but, in 20 years, it might not be so interesting; it won't feel organic.
In "timeless mythology" you are abstracting the time and creating a mythological world. When you're watching Game of Thrones or Lord of the Rings, you never ask yourself, "What time period is this?" or "Is that an 18th- or 19th-century gown the princess is wearing?" Instead, you are immersed in the story, the characters, and the psychology of the characters. That's an important word for me and my team: psychology.
The most fascinating thing about great operas is the psychology of the characters and the relationship between them. That's what opera does so well, because music and the human voice allow you to penetrate a psychological world in a way mere words do not allow.
Does this strategy represent a conscious attempt to break from tradition?

TZ: I'm not inventing anything new here. I'm not trying to be the world's greatest innovator. We believe that opera is a combination of all the art forms: It is theater as much as it is music. It's the voice as much as it is design. Projections and scenery and costumes and makeup — all of those art forms are coming together to create a magical evening at the theater.
Opera is primarily storytelling. It's universal. It's about humanity. It's supposed to move you emotionally. I get a little worried about psychological theories, Freudian theories, Jungian theories, whatever. At some point, that kind of discussion distracts from the fact that opera is the most emotionally powerful art form you can imagine.
We're not trying to cerebralize anything. We're trying to strip away distraction and focus on the human character in a way that brings forward the music and the human voice. Salome is a great example. When Oscar Wilde wrote his play, his departure point was the Bible, but he didn't write a biblical story. More than anything else, Wilde wrote a story about forbidden love, obsession, phobias, and all the things that were on Oscar Wilde's mind, which also happened to be on Richard Strauss' mind, which happen to be on our minds today.
Think about forbidden love taken to extremes, such as necrophilia and incest. Think about Wilde and his struggles in his own time. We're dealing with these struggles in our time with issues related to LBGTQ. The point is, I don't care about the biblical setting of this opera. If you're focusing on that, you're missing the point. All of the operas we are doing are going in that direction: What is this story about? What is this character about? Not what a dress in 1882 should look like.
How does this conceptual strategy apply to the remaining 2020 productions, Porgy and Bess and Madama Butterfly?
TZ: Porgy and Bess is a very successful production by Francesca Zambello who is one of our frequent collaborators. She runs the Glimmerglass Festival at the Washington National Opera. The production has traveled extensively in America from Chicago to Seattle to New York, and it will be done in Washington immediately after Atlanta. The cast is fantastic. Morris Robinson and Kristin Lewis who sang the opera in La Scala a couple of years ago. When it was presented in Atlanta in 2005 and 2011 to sold-out crowds, the Atlanta Opera Chorus was such a force of nature that when the Opera Comique in Paris decided to do Porgy and Bess, they chose the Atlanta Opera Chorus to perform with them all over Europe. Not to mention the fact that the story takes place in the South, not far away from us, in South Carolina.
The same team that's doing Butterfly did Salome and are doing Das Rheingold. We have great respect for the Japanese setting and style, but, at the same time, we are telling a universal story. A foreigner in a different country falls in love with a girl. Despite the differences between them, they find something that deeply connects them. Circumstances separate them, and heartbreak ensues. When you think about Puccini writing Madama Butterfly or La fanciulla del West or Turandot, he's never been to Japan or the Wild West or China. He's an Italian guy who was really interested in a universal tale that combines love, death, and sex — the things we love about opera.
What about the person who can hum all the arias from Madama Butterfly, but has never been to the opera? How do you lure that person into the Cobb Center to experience Madama Butterfly as it should be experienced?
TZ: Number one, you do it with the people who are starring in this production of Madama Butterfly, who will knock your socks off. Gianluca Terranova, who sings Pinkerton, is a world-class tenor who was here for Turandot, La bohème, and Carmen. He is one of the greatest singers of our time. Yasko Sato, who plays Madama Butterfly, is a Japanese soprano who has sung this role all over the world with great success. She embodies the character of Cio-Cio San. The character of Sharpless is sung by Michael Chioldi, an American baritone making his Atlanta Opera debut. He possesses a powerful voice and is very charismatic. Suzuki is sung by Katharine Goeldner, a mezzo-soprano who has sung the role at The Met and every other major opera house. The conductor, Carlo Montanaro, is an Italian who specializes in Puccini. I did La bohème with him in Seattle several years ago. He is so charismatic and musical and will be exciting for the orchestra to work with.
So, you have this incredible cast and this rich storytelling combined with modern technology, such as lighting effects, projections, and other visual effects, which let us get into the characters' minds in ways we were not able to do before.
In contrast to traditional operatic themes, Glory Denied, the remaining production in the 2020 season, is about as topical as an opera can get.
TZ: We have a program for veterans, which started when I arrived. We did Soldier Songs, an opera by David T. Little, and Silent Night by composer Kevin Puts and librettist Mark Campbell, which is about World War I and the universal experience of being a soldier. Those two pieces paved the way for us to create an initiative for veterans supported by Home Depot, which, to date, has brought 7,000 veterans to see our shows free of charge. Every season 2,500 veterans get to see Atlanta Opera productions. On opening night for Salome, 750 veterans were in the audience. 
Glory Denied continues this tradition. It's about the longest-held prisoner of war, Colonel Jim Thompson, who was captured in Vietnam in 1964 and released in 1973. When he came back, his life was shattered. His family was broken. His wife was with someone else. Four children — he came back to a world that was completely different.
Michael Mayes, who starred in Sweeney Todd and Dead Man Walking, stars in a role he created. He is also co-directing the opera with me. He brings so much passion to his work. I think he's one of the greatest singing actors of our time. It's a small cast of four with an orchestral ensemble of 13 or so musicians. We open it on the weekend of Memorial Day, which is often seen as a holiday when you go to the beach and barbecue in the backyard, but originated as a day to honor our soldiers and veterans.
In what way does the 2020-21 season represent the next evolutionary step in the growth and development of the Atlanta Opera?
TZ: Next season is what we have been waiting for and building toward for seven years. In 2013, we did three rental productions, Faust, The Barber of Seville, and Tosca. We were a $5 million opera company. Today, the Atlanta Opera is a $10 million company. We've been in the black for the last four years, and we will be in the black this season. We are doing six productions, three of which are brand new, with a diversity of programming and a caliber of singers, conductors, designers, directors, and staff that can stand with any opera company in the world. We have an infrastructure, largely created over the last two years, which has garnered a level of support that allows us to accomplish our mission: We believe this major international city deserves a major international opera company.
---