THE MOVE: Plan Accordingly - December 2018
Hey, y'all! What's the move?
The Move is a column intended to help you beat the fight against basic, one move at a time. Look here for all the best underground events in ATL. Warning of side effects:  Becoming too cool. Overdose of culture. Exposure to high levels of Queerdom. Wallet weight gain from lack of overpriced ticket purchase. Consume at your own risk.
This month's pro-tip from The Move, watch your vapes. Grass may be decriminalized in the city of Atlanta, but those THC vape cartridges you're all pocketing are still considered a felony. Best way to get it past security? Hide in plain sight. It's an e-cig! (wink, wink). If you do get caught, you'll want this number 1-833-L-LADIES @TheLawLadies.



Dec. 1, Saturday:
Grand Opening of the Georgia Hemp Company So much talk around CBD. Is it legal? Does it work? Where can you get it? Finally, the long-anticipated arrival of the Georgia Hemp Company, the state's first local cannabis company. Not your average headshop, GHC is for anyone interested in wellness. CBD for adults, kids, pets — anyone seeking help to cure ills, from anxiety to inflammation. And it's 100 percent legal. Check them out @georgiahempco #HempNotKemp
Dec. 6, Thursday: 
AMEN: The Holigay Show! Jesus wants to save you, and her name is TAYLOR ALXNDR. Head to Church (it's a bar) on Edgewood Avenue and let the drag save you. No cover here. Just Sangria and gals havin' a holigay ol' time! @TAYLOR ALXNDR @sisterlouisa
Dec. 8, Saturday:
The Original Mannequin Project 2018 Melrose & McQueen's annual —  wait … what charity is this for again? —  fundraiser is bound to be a banger. Don't be surprised if they have a face tatting station next to the glitter braiding. Socially awkward? There's open bar for that. All of you yupsters who've moved to Inman Park, you can thank Melrose for creating the cool. This year's funds are stashed for The Shoe That Grows, a nonprofit developing shoes meant to grow with children from one to five years of age who may only get that one pair. @theshoethatgrows @melrosemcqueen
Dec. 11, Tuesday:
Miracle on North Highland Admittedly, I've never been to one of these pop-up Christmas-themed bars. I'm not much for lines, and the most common comment I've heard is, "It's a three+ hour wait." Hard pass. I've seen your Instagram feeds. All good. BUT. This specific evening, they're charging $20 with 100 percent of ticket sales going to The Giving Kitchen. Well worth 20 bucks to guarantee entry and The Giving Kitchen is one of few nonprofits I support. BYE Susan G Komen. @MiracleBarAtlanta
Dec. 12, Wednesday:
BenDeLaCreme & Jinkx Monsoon: To Jesus, Thanks for Everything! As they say, give every gal the gift of a gig this December, because Jesus done already got all his attention. Support these sisters all the way from the North Pole Seattle as if their platforms depend on it, because they do. Get out and giggle, y'all. @bendelacreme @thejinkx
Dec. 13, Thursday:
ContrastATL Season 2 Kickoff (It's Been a Good Year) ft. Zeplinn UUeird is popping up with their monthly installment of sounds at Edgewood Speakeasy. Zeplinn appears this round with diverse, ambient tracks. This is not your mom's second wedding DJ. GREAT vwibes (yes, I'm pronouncing it Vwibes. Try it. It's fun.) Let's get UUeird, ATL. First 25 before 11 p.m. are free then $6-10. @edgewoodspeak 
Dec. 14, Friday:
Atlanta QueerGirl Holiday Party The queer community in Atlanta is thriving. Young people not afraid to be themselves and owning their queerdom. There's been a shift from the cliche "angry lesbian" to an all-positive girl power movement. Although we appreciate those who've paved the way, it's time to let loose and dance. QueerGirl is 100 percent inclusive of the entire LGBTQIA+ & heterosexual community, and also throws one helluva party. Plus, it's at the Music Room. If you don't like dancing, this ain't your party.  @queergirlevents @musicroom327



Winter Motherland Drag Show at Mother Yes, there's a lot of drag on this list, but the world of Drag in Atlanta is KILLING IT right now. So much talent that Creative Loafing greatly expanded 2018's Best of Atlanta drag category. If you haven't been to MOTHER, go early or expect a line. DJ Jsport, featuring special Misfit Toys-inspired performances by JayBella Banks, Micky Bee, Ella-Saurus-Rex, and TAYLOR ALXNDR! Forever supporter of Southern Fried Queer Pride. $5 cover after 10 p.m. @sfqp @mother447 
Dec. 16, Sunday:
A Pop-Up Holiday Market Inspired by his time in Berlin and the city's 70+ Weihnachtsmarkts (Christmas markets), Patrick Joseph Boston decided to whip up a holiday market in at The Deep End. For this, we thank him! Too many artists and makers to name but all the hot and cold seasonal bevvies to keep you spreading cheer. Or cash. 'Tis the season y'all! @PatrickJosephBoston



Unsilent Night 2018 Caroling in 2018 looks like this... BYO smart phone and speaker and download the tracks. Decorating your person with lights is encouraged. There is an option to BYO boombox. If you still have a boombox, can we be friends? @gallery992atl
Dec. 21, Friday:
CLAVVS at Aisle 5 CLAVVS came into my life at the Creative Loafing 2017 holiday bash. Genuine humans with an authentic sound. They've left us for Brooklyn, but glad to see them touring … and heading South. @clavvsduo 
@aisle5_atl



Nonsense 2018 Holiday Dance Party When it comes to ambience, Nonsense by far puts the most spendy into their decor. You're guaranteed to leave tinseled AF. There's also an option to sit on mall Santa's lap, if you're into that kind of thing. Think tiny basement club, because that's exactly what it is. $5. @basement_eav@nonsenseATL
Dec. 27, Thursday: 
Gucci Mane & Friends East Atlanta Santa is back! Gucci will almost always be part of The Move. I still have underoos that say "Free Gucci." Who doesn't? Word to the wise, he's always late so be ready for the longest hype man routine. Worth it. @laflare1017 @thefoxtheatre
Dec. 28, Friday:
West End Motel / Nikki & the Phantom Callers / Twisty Cats If you're a bit hesitant about hanging out in EAV, please don't come.  But if you're cool and want to check it out, go to this show at 529. There is no shortage of great local bands in Atlanta right now. These are some of them. The best $12 you'll spend on music this month. @529_eav @westendmotelfans @nikkiandthephantomcallers @twisty_cats
Dec. 29, Saturday:
Bowie Returns to Smiths! Glitter and lightning bolts mandatory. Maybe that's just a personal rule, but you won't regret it. Do it for Bowie. Tickets starting at $10 and likely to sell out. @smithsoldebar
Dec. 30 and 31, Sunday & Monday:
The Coathangers NYE Celebration Two. Night. Run!!! The Coathangers decide to crossover into 2019 with us hometown fans at The Earl. If glitz and glam ain't your thang, this show might be. If you've never rocked with The Coathangers, I feel bad for you son. Both nights are a steal at $40. @thecoathangers @badearl
Dec. 31, Monday:
Family And Friends w/ Neighbor Lady + Dot.s at Variety Playhouse  Sweet sounds all around. Soak up time with Neighbor Lady and Dot.s before they blow up. I have a feeling I'll be following Dot.s for a while. Dance party, all the way. @dot.smusic @familyandfriendstagram @neighbor_lady @zmpresents @varietyplayhouse



Frankenstein's Ball  A creepy, cultured Christmas? Step into Frankenstein and Mary Shelley's eccentric world of monsters, poets, and madmen with dinner, theatre, and a ball to follow. Highland Ballroom remains one of the last cool places in Virginia-Highland, somehow surviving gentrification. P.S. Frankenstein is the name of the monster's creator. Not the actual monster.@foundstages @thehighlandinn
More By This Writer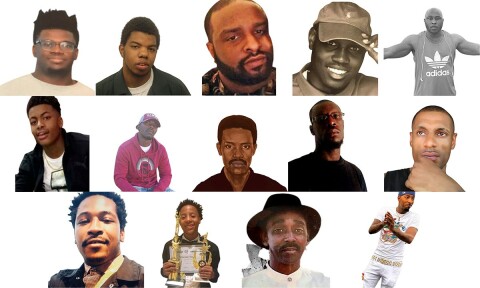 Monday December 7, 2020 09:43 am EST
See their faces, say their names |
more...
Tuesday September 8, 2020 12:32 pm EDT
The (socially distant) shows must go on |
more...
Tuesday June 30, 2020 11:42 am EDT
Monday June 1, 2020 01:15 am EDT
Hey, y'all! Fuck the system!  |
more...
Friday May 1, 2020 12:03 am EDT
Hey, y'all! What's the move? |
more...
Search for more by Ema Carr
array(1) {
  [0]=>
  string(6) "orphan"
}