THE MOVE: Plan Accordingly - July 2019
Hey, y'all! What's the move?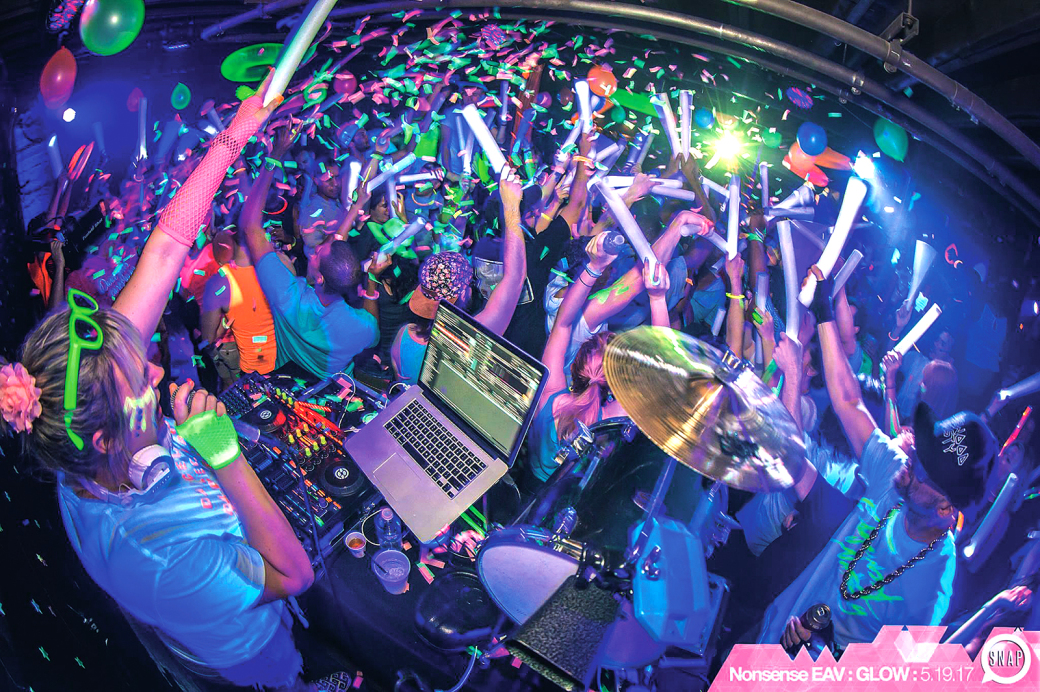 IN HER ELEMENT: CL's "Best of Atlanta" winner, DJ Kimber, during the Nonsense Glow Party at The Basement EAV.
The Move is a column intended to help you beat the fight against basic, one move at a time. Look here for all the best underground, and some above ground, events in ATL. Bc you CAN have a balanced diet of disco and yoga. Warning of side effects: Overdose of culture and queerdom. Bloated bank account from lack of overpriced ticket purchase. Confusion meeting clarity via mind, body and soul. Consume at your own risk.
This month, on The Move, we are building thangz and gettin' our hands dirty, catching a flick at the fabulous Fox and of course, lots of dancing. Read on for the tea, Sweet Peaches <3  
Psst… Xtra! Xtra! Weed all about it! Shameless plug for the latest episode of, "Friends in High Places." Listen along as I interview the likes of those mapping out the cannabis industry for Georgians, bc it's not coming, it's here. For more updates:  @callmemissconception @creativeloafingatl 
FRIDAY JULY 5
DIY Backyard Compost Box Street Cat Media strikes again with yet another industrious, earth-friendly workshop! A few years ago, I bought a large plastic container and started throwing food waste in it. It's still sitting there, but I've been too afraid to peek under the lid. Any volunteers? Assuming that's a no, I'm going to jump on building a legit compost box. 
"Get your hands dirty at this basic woodworking workshop where you'll learn how to assemble your own backyard composting box out of recycled wood pallets." These workshops are nice and small, but you'll want to snatch a spot sooner than later. Going down in the Bakie Makie space at The Bakery Atlanta.
SATURDAY JULY 6
GRIN: A Multimedia Gallery Installation: Opening Reception What's the GRL PWR move on The Move this month, you ask? It's GRIN. "GRIN takes a turn toward the physical attributes that play a part in a woman's historical path of navigating 'a man's world,' while asking questions about choice, survival, and rebellion."
The opening and closing receptions will include live performance art. Attendees are encouraged to film these performances — no security hassle here! The film submitted by audience members will "be edited into a community dance film, giving filmmaker credits to everyone who participates. The final film will be shared with the community." Become part of this exhibit for the long haul with your video contributions. As someone with 25k+ photos and videos on my iPhone, I'm pumped to take more footage. Another one at The Bakery Atlanta. Have I mentioned, I'm a fan?
THURSDAY JULY 11
DIY Wearables: Sewing LEDs Thus far, each time I've dressed in my drag lewk at Miss Conception (yes, cis women can do drag!), I've included some type of wearable string lighting. Another Street Cat Media workshop will be taking my drag game to the next level! At this basic electronics workshop, you'll learn how to code a string of LEDs, some soldering, some sewing — and all in good company. In June, I attended a DIY LED Cloud class and walked out with a lot more than a psychedelic LED cloud of my very own. Now, I'm headed to the DIY Wearables to learn how to be lit on the go! Another one at The Bakery Atlanta. Have I mentioned, I'm a fan? Typically, I prefer to offer from a wide-range of venues, but The Bakery Atlanta is packed in July and I can't resist. 
FRIDAY JULY 19
Nonsense: Glow Party at The Basement Nonsense parties make The Move for many reasons. Here are a few. When a flyer says, "Kimber is the DJ," know they're talking about the winner of CL's Best of Atlanta 2018's BEST DJ. But she doesn't just bring the tunes, she provides all the flare you need —  in case you forget to dress up or bring your own nonsense. 
"Nonsense is bringing back its most popular theme party with industrial black lights, free neon face and body painting, free glow wear, confetti cannons, and your favorite pop, indie dance, house, and sing-along surprises. Kimber is the DJ." 
SATURDAY JULY 20
Shiba San at Ravine Dirty Bird fam! My favorite Frenchie, Shiba San, is coming back to ATL! Have you been to Ravine yet? This venue is perfect for large acts, but still feels intimate and vibey with its wood walls, dope sound system, and plenty of space to move. 
"After a 15-year career in the French hip-hop scene, Shiba San became fascinated with the sounds of Chicago house, inspiring him to create his own productions, infusing his hip-hop influence with the soul of house music."  Peux-tu danser?! (Can you dance?!)
Reproductive Bits: A Comedy Fundraiser It can be tough to laugh off stress, especially in 2019's highly-charged climate. That's why I'm taking my stress straight to the comedy professionals. Each laugh will cure one evangelist — I wish. In reality, all proceeds go to the ACLU of Alabama, currently fighting the most restrictive abortion law in the United States. 
Performances take place at The Beacon, Grant Park's newest development on the south interim BeltLine trail, by Windy Peach Comedy, Medium Arts ATL and All Together Now Atl. For cereal though, in today's sensitive times, it's important to remember the healing effects of laughter. 
SATURDAY JULY 27
The Princess Bride at the Fox Theatre My first experience at the Fabulous Fox Theatre was to see the film The Goonies — and where is "Goonies: The Musical" now that I think about it? — and it was magical. Although I typically only catch concerts at the Fox now, I love the simplicity of lower security and a casual classic film on the big screen. Most have probably seen the films being screened, so expect a lot of reciting of classic one-liners. If you like to watch your movies in silence, try Netflix. 
The Coca-Cola summer film series is a great time to check out the shiny, new Fox Marquee Club. The bumped-up ticket includes priority access to the club 90 minutes prior to showtime, expedited security checks, and a buffet heavy on the pre-show hors d'oeuvres. You may also skip lines and use late-seating holds with access to the club's private bars and restrooms; unlimited non-alcoholic beverages, and rooftop access after the show. Stick around for a nightcap and enjoy a historic view from the Marquee Club on the Fox rooftop.
SATURDAY JULY 27
OYE Fest OYE Fest is a relatively new Latinx festival in ATL, with a mission of togetherness and safety in the Latinx community. OYE Fest celebrates the Latinx scene, creating a platform enabling it to rise and shine, while gaining much-deserved exposure. Lucky for the rest of us
The event typically tops out with a crowd of around a thousand. OYE Fest goes down at the Masquerade in Underground Atlanta. This is a FREE block party, featuring food, an artists market, and performances. Come support Atlanta's lovely Latinx community. [[[Note: The concert, taking place inside the Masquerade, is a tickets event.]
SUNDAY JULY 28
New York Stripped "The Candybox Revue is proud to present the fourth annual installment of their hit Broadway Revue! Come catch the glitz, glamour, and spectacle of classic Broadway hits that include your favorites with a twist, or, learn to fall in love with shows that are hot off the press! It's Broadway like only Burlesque can do it, made even better by The Candybox Revue!"