Ten ways to fight back — and give back locally
It's your community — be a part of it!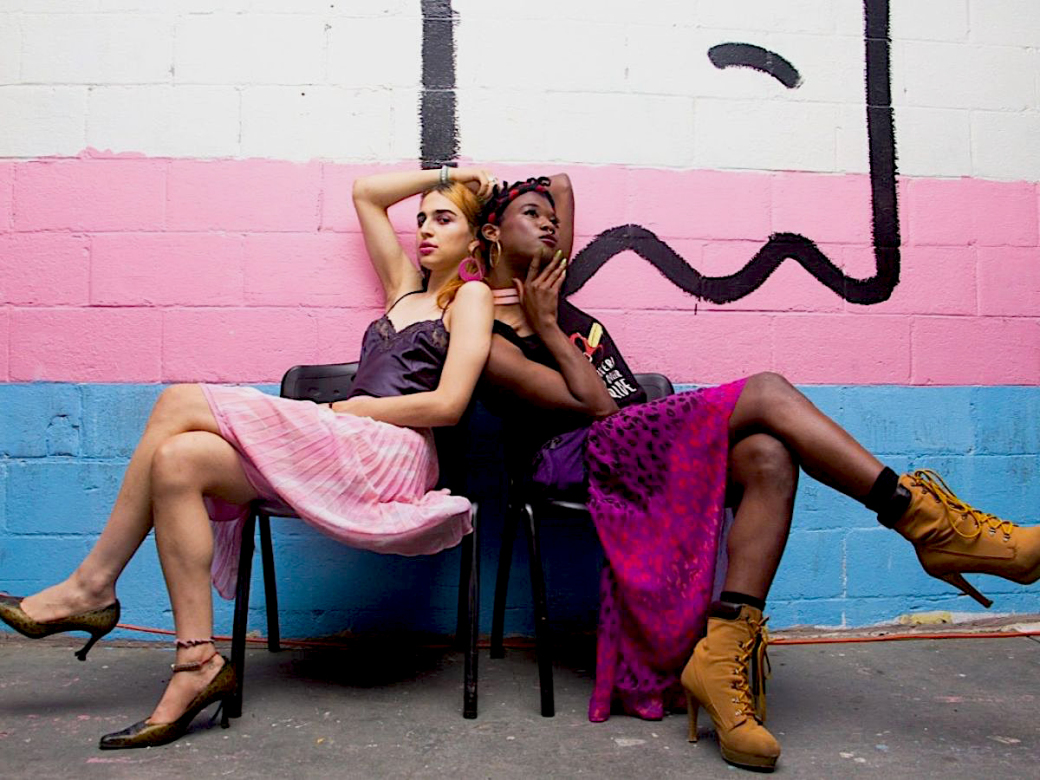 After six years of stage productions and organizing, Southern Fried Queer Pride seeks to finance their own community space.
The United States is changing. Engulfed in an unpredictable pandemic, the country finds itself in the middle of a national reckoning as the explosive anger over our country's long history of systemic racism and police brutality is ignited by the killings of George Floyd, Breonna Taylor, Rayshard Brooks and countless others. This country's hateful history is as American as baseball and apple pie, and the protests have sounded the alarm: It's time to begin anew.

Pandemics fundamentally change society, and the question that should be on all of our minds is what kind of country do we want to emerge as once this crisis ends?

In Atlanta, we're at the crossroads of both the pandemic and protest. Governor Kemp has abandoned his role as governor, cashing in political points at the expense of the public health of the state. Beginning on May 29, Atlanta joined the list of dozens of cities in uprising against the status quo of mass incarceration and police brutality. We filled the streets by the thousands, even shutting down the downtown connector the day after the police killing of Rayshard Brooks. Though the protests have dwindled in size, and activists have returned to strategizing, the pandemic remains as rampant and even more widespread than when we first became aware of it in March.

But there is still hope.

Below is a list of ways you can fight back against the insanity and give back to the community. This list is not comprehensive, but a collection of suggestions to push back against apathy in order to find that human connection we've all been longing for while in our respective quarantines.

1.    Register to Vote

The November election is under attack. The Trump administration appears to be sabotaging the United States Postal Service, already under tremendous strain due to the pandemic, as millions of Americans prepare to vote by mail in the November election. This kind of voter suppression is not unfamiliar to us, as we saw the mass expunging of voter records in the 2018 Georgia gubernatorial election under then-Secretary of State Brian Kemp. Now is the time to plan accordingly. If you haven't registered to vote already, the deadline to do so is Oct. 5. The deadline to request an absentee ballot is Oct. 30. If absentee voting or voting by mail is your only option, allow time for the USPS to process your ballot. If you don't want to risk your vote getting lost in the mail and want to avoid the election day crowds, early voting runs from October 12 to 30. In the meantime, research your candidates. In the November election, we vote for our pick of the President, U.S. Senate, U.S. House of Representatives, Georgia State Senate, Georgia State House of Representatives, and a handful of officials in local elections. That's a lot of power to leverage — use it!

If the reality is, for many people, that the Democratic ticket is not the ideal ticket, it is nevertheless absolutely imperative that we rally behind Joe Biden and Kamala Harris to finally end these four years of hell. Once we win the election, we will still need to put in the same amount of energy as we did opposing the Trump presidency to ensure we get the future we deserve. Joe Biden and Kamala Harris are beyond perfect candidates, even actively problematic, given their history of advocating for the very systems which recent protests seek to overturn, but their victory is the only chance we have to acquire the power so desperately needed for our country to recover.

The late civil rights icon and Georgia congressman John Lewis wrote in an essay for The New York Times before his passing on July 17 that "the vote is the most powerful nonviolent change agent you have in a democratic society. You must use it because it is not guaranteed — you can lose it." Let us heed the congressman's warning and be prepared to put in more work than before.

2.    Call Your Representatives, Localize Your Resistance

If we're going to get anything done, we've got to make the system work for us. A lot has happened over the past couple of months. If you're fed up with the regular run of things, you're probably wondering how to get more politically involved. Perhaps showing up physically in the streets isn't an option for you, but picking up the phone may be. Calling your representative is a quick and accessible way to put pressure on elected officials, especially if they're local. Leading up to the passage of Atlanta's 2021 budget, the Atlanta City Council were left with 17 hours of public comment calling on them to defund the police and invest in underserved communities. While the City Council did not move to defund the APD, one success came when the mayor's office announced it would redirect $18 million from the Atlanta Detention Center toward social programs. Continued public pressure can work. In Minneapolis, the city council voted to disband the police. In Los Angeles, the city council voted on June 16 to cut $150 million from the LAPD. Change is possible, and while Atlanta has yet to experience any similar reforms — despite massive civic engagement and unrest — the pressure must continue. To find out who your representatives are, go to the Secretary of State's My Voter Page at www.mvp.sos.ga.gov. For your city council representative, visit citycouncil.atlantaga.gov. Let's blow up some phones.

3.    Get Educated

No one enters any movement an expert. Over the past couple of months, many people have been introduced to the concept of defunding the police, uprooting mass incarceration, prison abolition, and other reforms that activists have been rallying behind for decades. Luckily for us, local bookstores like For Keeps Books, Charis Books & More, A Cappella Books, and others are stocked with plenty of movement literature and resources. Whether it's Michelle Alexander's The New Jim Crow, Angela Davis' Are Prisons Obsolete?, or other titles you are looking for, these bookstores are a valuable resource to get educated on the issues that matter in our current moment. For books to enlighten your kid, swing by Brave & Kind Bookstore for some necessary reads for the children. Plus, by buying from the aforementioned stores, you're supporting local businesses — what's to lose?

•    For Keeps Books, 171 Auburn Ave. N.E. www.forkeepsbooks.com.

•    Charis Books & More, 184 South Candler St. www.charisbooksandmore.com

•    A Cappella Books, 208 Haralson Ave. N.E. www.acappellabooks.com.

•    Brave and Kind Books, 722 W. College Ave. www.braveandkindbooks.com.

4.    Help Fund A Black Queer-Owned Community Space

Southern Fried Queer Pride, the beloved Black and brown queer and trans-led DIY arts organization, launched an effort in early June to finance their own community space. For six years, the organization has made a name for itself for their inclusive and empowering events which run the gamut from drag performances, concerts, and workshops to art shows. They host 60 events each year, and their annual festival brings together upwards of 2,000 people from across the South. Because they've served as a critical force for advocating for space for queer and trans folks in Atlanta, their latest move to buy their own space is a natural evolution for the growing organization.

"We always knew we would get to this point and outgrow the spaces we occupied," says co-founder Taylor Alxndr. "With everything happening in the social climate and the world, it makes it even more important to have a space where queer and trans people can be respected, can be seen, and can find each other."

The space sets out to be a little bit of everything, according to Alxndr. It'll be where SFQP hosts all their events, concerts, and art shows, but also a coffee shop, community garden, and thrift store to make it a true communal space. The organization has already raised over $120,000 in just two months, and they're shooting even higher.

'We're going to create a space that hasn't been here for a long time," says Alxndr. "What we're providing is for queer and trans folk, particularly Black and brown folks, and that's something Atlanta hasn't experienced for over 30 years."

For more information and to donate to their mission, visit their GoFundMe at bit.ly/sfqpcc.

5.    Volunteer with Food4Life

Since the onset of the coronavirus crisis, it's been clear that if the government wasn't going to provide necessary direct relief, then the people would have to rise to the occasion. Across the nation, people have been engaging in mutual aid to provide services and resources to their neighbors. In Atlanta, Food4Life has stepped up to the plate to provide free grocery delivery to the city's most vulnerable populations. The collective was founded by activists involved in a local chapter of Food Not Bombs, a volunteer-led food redistribution initiative, in direct response to the pandemic. The collective provides support to anyone who is self-isolating, can't afford grocery delivery services, lives in a food desert, or can't afford groceries. At all hours of the week, volunteers are boxing up pounds of produce, bread, eggs, and other food items, and driving out to homes within and outside the perimeter to provide relief. Since March, they've delivered over 10,000 pounds of groceries in the greater Atlanta area. Currently, the collective is seeking volunteers to package groceries, deliver them to homes, make phone calls to solicit donations, and other tasks that can be done remotely. Learn more on how to get involved at atlsurvival.org.

6.    Support the Atlanta Solidarity Fund

The Atlanta Solidarity Fund provides bail support for activists arrested for participating in social justice movements — and helps them get access to lawyers. In response to whatever repression protestors face in the ongoing struggle for racial and social justice, the Atlanta Solidarity Fund seeks to provide support through all means necessary. Currently, they are tracking the cases of and extending support for over 700 people arrested during local uprisings.

"We help with these things and many others to ensure that protesters aren't left to face the criminal justice system by themselves," says Marlon, an organizer with the Atlanta Solidarity Fund. "When we protect the most vulnerable among us, it makes the whole movement stronger in the long run."

Donations towards the Atlanta Solidarity Fund go towards bail funds, legal costs, and other expenses associated with facing prosecution. Money is also put back into community groups doing movement work. Everyone with the Atlanta Solidarity Fund is a volunteer; there is no paid staff. If you're interested in lending a hand, the group is seeking volunteers, particularly lawyers, and further donations to support their efforts. For more information, go to atlsolidarity.org.

7.    Help Mariposas Rebeldes Establish a Community Land Trust

Mariposas Rebeldes, a gardening initiative in Atlanta, or Muscogee Creek Territory, has launched an effort to establish a community land trust. Founded on principles of mutual aid and food autonomy, the initiative seeks to facilitate agricultural education and share resources among the queer Latinx community. What began as a passion project in the backyard of co-founder Israel Tordoya blossomed into an effort to transform the space into a community garden and safe space for queer Black and brown people to learn about food autonomy, herbalism, and utilizing indigenous planting techniques to foster a pre-colonial relationship with the land.

"Right away, we saw a lot of support from the queer Latinx community, as there weren't any spaces in the city focused on providing a space for people like us to organize and learn the skills needed for our survival, growth, and the shared political project of decolonization," says Tordoya. "So together, we set to work carving out that space."

However, amidst the pandemic, the owner of the property Mariposas Rebeldes was founded on is selling the property and forcing them to leave. According to their GoFundMe, all funds contributed will go to purchasing land in the city, building housing and infrastructure, and any legal fees involved in establishing the space as a community land trust. They also recently received a matching grant from A Well-Fed World of $25,000, meaning further donations will be doubled when processed. Donate to their mission at www.gofundme/f/mariposas-rebeldes, and follow them on Instagram @mariposasbebelatl for updates.

8.    Attend a Local Movie Screening

Galleries and movie theaters are getting creative to stay afloat during the pandemic. Plaza Theatre, the city's longest-running movie theater, has adapted to the times by hosting drive-in movie screenings in the parking lot of their Ponce de Leon location and at Dad's Garage. For the past few months, they've gained their eclectic reputation and film buff status by showing a wide variety of films from Pee Wee's Big Adventure to Purple Rain. Alternatively, in light of national uprisings, DIY art space Hi-Lo Press is hosting outdoor screenings of Black revolutionary cinema every Thursday at 9:30 p.m.

"As more unrest began to build, it felt more important than ever to find creative and safe ways to work towards collective experiences that are relevant to movements towards liberation and against anti-blackness and state violence," says Hi-Lo Press co-founder Dianna Settles.

This month, they're showing Szambizanga on September 10, Born in Flames on September 17, and White Out, Black In on September 24. Masks are required, attendees are encouraged to bring their own chair or blanket, and hand sanitizer is provided. If you must go out, Plaza Theatre and Hi-Lo Press provide both entertainment and education during these tumultuous times. Plaza Theatre, 1049 Ponce De Leon Ave. N.E. www.plazaatlanta.com. Hi-Lo Press, 696 Charles Allen Drive N.E. Instagram @hilopress.

9.    Buy Local Records

With live music on pause, Atlanta musicians are hurting. Small venues are under threat of closure, and it's impossible to predict when it'll be safe to gather in crowds again. In the meantime, we can support musicians and performers in quarantine. Buying records can't sway policy or enact change directly, but it's still a means to relieve some of the financial burden of Atlanta musicians and fortify Atlanta's cultural character while we wait for COVID to get under control. Local record stores like Wax N Facts, Moods Music, Wuxtry Records, and Criminal Records are still open with limited capacity and mask mandates, some offering in-store and curbside pickup orders and delivery.

For online options, Bandcamp has begun waiving their share of proceeds on the first Friday of every month, giving 100 percent to artists. This year alone, we've had incredible local releases from the Southern fried punk of Arbor Labor Union's New Petal Instants, up-and-coming hardcore quintet Upchuck's self-titled effort, the latest compilation from dance-centric label Harsh Riddims, and countless others, so there's no excuse to not drop some cash and keep the music playing.

•    Wax N Facts, 432 Moreland Ave. N.E. www.waxnfacts.com

•    Moods Music, 1131 Euclid Ave. N.E. www.moodsmusic.net

•    Wuxtry Records, 2096 N Decatur Road. www.wuxtryrecords.com

•    Criminal Records, 1154 Euclid Ave. N.E. www.criminalatl.com.

10.    Take Care of Yourself

This one's pretty self-explanatory. We are arguably in the most challenging time in modern history, and it's only going to get worse before it gets better. With careers under threat and the only certainty being uncertainty, everyone's mental and physical health is vulnerable on a daily basis. So this is a call to rest and recharge. To check in with yourself and take time to get better. Every day is a fucking odyssey in 2020. Resting and practicing self-care to become a better, stronger person will help us fight back and give back in the long run. What matters is that we emerge from this pandemic alive. Time to finally make good with ourselves and our loved ones. —CL—
---