LISTENING POST: Arts on the move in and around Atlanta
The Bakery and Eyedrum both have new homes
EAST POINT: The Bakery's new home base is located on the ground floor of Jefferson Station, on the Wagon Works/BuggyWorks campus, easily accessible to all with onsite parking and within walking distance of the East Point MARTA Station.
Boy howdy. It's been a minute. Despite COVID's oppressive presence, some wonderful and encouraging things have transpired during the past few months, not least of which was the ouster by popular vote and electoral process of the twice-impeached and now former president, Donald Trump. May providence shine upon President Joe Biden, Vice President Kamala Harris, and the incoming Democratic administration, not to mention Georgia's newly elected Democratic Senators, Jon Ossoff and Raphael Warnock.
*  *  *
It's a safe bet most Listening Post readers watched the video of the Perseverance rover landing on Mars. How about the separate audio recording released by NASA, which captured the first sounds from Mars ever heard by human ears? Brief as it was, that soft, low-register wafting of Martian air raised the hairs on the back of my neck.
*  *  *
Back on Earth, good news continues with Eyedrum and The Bakery showing signs of renewed health in the face of pandemically induced setbacks, which threatened the continuing viability of both organizations.
Eyedrum's new location at 515 Ralph David Abernathy Boulevard is a 3,000-square-foot space which will host film, music, and art projects particularly targeting underserved communities. An outdoor stage and courtyard will provide a platform for additional creative programming. To help raise money for the relocation and expansion, Eyedrum has launched a fundraising campaign. Donations can be made here via PayPal.
In a December press release, Bakery founder Willow Goldstein, in partnership with Kairos Development Corporation and Newport, announced that the organization has secured two locations for a prototype Studio Residency Program. "The new spaces will function differently from the previous expansive multifaceted venue warehouse, but The Bakery's ethos, mission to support artists, and approach to DIY arts will not waiver," states the release.
The Studio Residency is a year-long program offering short-term studio space, along with a guided career development course, for up to 24 artists. According to the press release, "The rolling application will stay open until all residency slots are filled. Individuals of all ages, races, and backgrounds, are encouraged to apply. All skill levels and mediums (that we can safely accommodate) are welcome from crafty creatives and eccentric artists to ambitious entrepreneurs." Those artists currently taking part include Zachary Francois, Danae Antoine, Toluwanini Obiwole, and Miriam Robinson.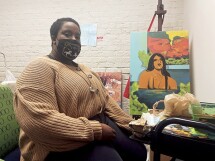 The majority of the program's activities will happen at Jefferson Station, part of the Wagon Works and BuggyWorks property in East Point, which will house two galleries, a conference room, and administrative offices. The second location, at 92 Peachtree Street, offers 1,800 square feet of flex space, which will accommodate large projects and group shows, and function as an independent study arm of the main residency program in East Point.
Recently, The Bakery announced an exhibition, "Your Dream World," a 42-foot collaborative mural, which will be on view February 25-28 at the South Downtown gallery space. Featured artists include Laura Bejarano, Reinilda Blair, Cathryn Bozone, Forrest Camardella, Armando Chacon, Gary The Destroyer, Jacqueline Dorage, Magda Dumitrescu, Megan Flanigan, Leilah Isaacs (Psylo), Lydia James, Samiyah Malik, Kenya Nelson (Bleu) and Toko Tokani. Donations and donation-based timed tickets are available through The Bakery Facebook event page or at the main website.
*  *  *
In the past several months, Dust-to-Digital released a couple of music compilations, one physical and one virtual, bearing the trademark features which, from its inception, have distinguished the Atlanta label's output. The Harry Smith B-Sides, which dropped in August, is billed as "the flip side of every 78 rpm record that Harry Smith included on the Anthology of American Folk Music. The Dust-to-Digital boxed set serves both as an extension of and critical commentary on the six-LP series, which was released by Folkways Records in 1952. Compiled and annotated by record collector, experimental filmmaker, and armchair cultural anthropologist Harry Smith, the original project was a phantasmagorical fusion of commercially produced 78 rpm recordings, mostly from the 1920s and '30s, the product of a singularly discerning, remarkably eccentric mind.
The Anthology features performances by white and black country blues artists, Appalachian string bands and soloists, purveyors of ragtime and novelty songs, fife and drum music, Cajun accordionists and fiddlers, gospel choirs, and Sacred Harp congregations. The formula turned the folk music revival scene of the 1950s and '60s on its collective ear. Many artists showcased on the Anthology of American Folk Music, such as Mississippi John Hurt, Buell Kazee, Clarence Ashley, Charley Patton, Dock Boggs, Uncle Dave Macon and Yank Rachell, have since become well-known within what is still a relatively small, but ardently devoted, world of American roots music enthusiasts.
Packaged in a sturdy, handsome cigar box, The Harry Smith B-Sides contains 81 newly-remastered tracks on four CDs, plus a full-color 144-page book featuring original artwork by Harry Smith, vintage photographs and images, and essays by John Cohen, Lance Ledbetter, and Eli Smith. Transcriptions and annotations are provided for each track, penned by more than 80 artists, writers, and musicians including Daniel Bachman, Devendra Banhart, Sarah Bryan, Rosanne Cash, Dom Flemons, Steve Gunn, Will Oldham, Amanda Petrusich, Steve Roden, Art Rosenbaum, Nathan Salsburg, and Peter Stampfel.
Even as it revisits material by the same artists, The Harry Smith B-Sides provides a deeper, wider river of irresistible historical currents in which to experience what America sounded like in the early days of the recording industry. Turning over the shellac disks also presents an opportunity to reflect with 20/20 hindsight on what the country sounds like today.
The Harry Smith B-Sides represents years of individual and collaborative research by Dust-to-Digital founder Lance Ledbetter, Eli Smith, and John Cohen (who died in 2019). In June 2020, two months before the set's release, the producers decided to omit three of the B-Sides "due to lyrics containing racist language." That decision sparked a minor conflagration fueled by arguments over the crossing of an ethical line. In an interview on NPR, Ledbetter explained, "We needed to take those tracks off because once they're on those CDs, they're broadcast in homes and on the radio. It's putting music out there that, in 2020, we just didn't feel … needed to be in the public sphere."
Regardless of which side of the debate one takes over the decision to exclude the offensive material, the music championed by Harry Smith remains as relevant in 2021 as it did a century ago and will inspire musicians, folklorists, archivists, and recording compilers far into the future.
Unlike most of Dust-to-Digital's catalog, Excavated Shellac: An Alternate History of the World's Music is exclusively available in digital form. Released in December, the project represents six years of intensive research and documentation by compiler Jonathan Ward. Ward's website, "Excavated Shellac," has long been a go-to source of enthralling, sparsely circulated, mostly non-Western music complemented by historical information about the early decades of the global recording industry.
Comprising 100 tracks of musical wonderment, plus a beautifully illustrated 186-page ebook with an introductory essay, extensive notes on each recording, and many lyric translations from Maltese to Sranantongo, Excavated Shellac was culled from Ward's immense personal 78 rpm treasure trove. "It is entirely global and an extension of, and companion to, all the work I've done with the Excavated Shellac site since 2007," Ward writes of the set. "It begins with a song about police brutality. It ends with dreamy innuendo."
Musical styles from six continents and 89 countries and regions are represented on Excavated Shellac. Released between 1907 and 1967, the '60s recordings were made in Uzbekistan, Kenya, South Africa, and Myanmar. Other selections showcase music from Albania, Argentina, Mongolia, Mexico, Malta, Crimea, Brazil, Italy, Ireland, Iran, Okinawa, Jamaica, Sweden, Zanzibar — and New York.
A few Listening Post favorites from the cornucopia include "Vitha" by Sudanese singer and bow-harpist Ali Muhammadi, the origins of which are obscure even to Ward; "El Khar," a wailing exaltation by female Mauritanian singer Adja Mint Aali; "Tilondo le Phepo," a swinging banjo fandango by Tiwonoh and Sandikola, two musicians from the African country known today as Malawi; "Riak-riak," which Ward describes as "a mesmerizing example of gondang music," a genre developed by the Batak Toba people of North Sumatra; "Sérénade (Sing, Smile, Slumber)" the aforementioned "dreamy innuendo" by the Hernandez Brothers from Colombia; and "Asylzhan" by Garifulla Kurmangaliev, master of the dombra, a two-stringed lute, and a renowned opera singer in his day.
In Excavated Shellac: An Alternate History of the World's Music, Ward has distilled an enormous vat of little-known musical history from all over the planet into an endlessly fascinating learning and listening experience.
*  *  *
Friday, March 5, marks the premiere of "unFOUNDed" by contemporary chamber music specialists ensemble vim, scheduled on YouTube Live. Don't miss this performance by Nicole Frankel (flute), Choo Choo Hu (piano), Jessica Stinson (violin), and Laura Usiskin (cello) in collaboration with SCAD graduate Hanna Allen. The program features stellar works by composers Jonathan Bailey Holland, Alvin Singleton, Sakari Dixon Vanderveer, and Kevin Day. A Q&A session with Day follows the virtual concert.
The day after the concert, March 6, Frankel, Hu, and Usiskin begin a socially distanced residency at the University of Georgia. The trio will workshop remotely with UGA student composers, culminating in a recording session of the composers' works. The UGA composition students are Rob Bowden, Sam Hoyland, Dan Karcher, and Bryan Wysocki. —CL—
---