Atlanta's thriving sneaker culture
The forthcoming launch of local sneaker brand Heel begs a brief tour of the city's sneaker culture
If you were to ask one hundred people, Family Feud-style, to name the first thing that comes to mind when thinking about Atlanta, you'd probably get a ridiculously varied pool of answers because the city is known for so many, many things.
Thanks to renowned establishments like Magic City, Onyx, The Cheetah, the Pink Pony, Tattletales, the long-gone but not forgotten Gold Club, and countless others, many people associate Georgia's capital with its bustling strip club scene. Then there's the city's infamously frustrating sports teams. To this day, the Falcon's horrifying choke job in Super Bowl LI still leaves a bad taste in local sports fans' mouths and makes for a blight on Atlanta's professional athletic endeavors.
At the same time, this city has pumped out some of the most influential and larger-than-life rappers of all time, so one can't fault outsiders from immediately associating the A with hip-hop acts such as OutKast, Gucci Mane, T.I. Jeezy, Future, Young Thug, Killer Mike, or Migos. In addition, local malls have become symbols of Atlanta's love for fashion, as luxurious shopping centers in and out of the perimeter are now sought-after spots for tourists visiting the city.
Yet, of all the places, people, and communities that have helped the city reach its status of America's "Culture Capital," it is most surprising that Atlanta's sneaker culture is one that often gets overlooked when talking about what makes the city special. Atlanta's love for sneakers is intertwined with most of the aforementioned trademark local experiences — whether it be Future collaborating on a shoe with Reebok, Atlanta Hawks star Trae Young debuting a signature shoe envisioned after Peachtree Street, or sneaker releases being the reason why your favorite local mall is packed every Saturday morning. Over the past half-decade, the local sneaker culture has truly permeated most facets of everyday life in Atlanta, from multiple sneaker-related exhibitions at the High Museum of Art (2016's The Rise of Sneaker Culture and the 2019-2020 showing of Virgil Abloh: "Figures of Speech") to full-time employment opportunities at corporations like StockX.
Sneakers are no longer just shoes. Today, they are regarded as works of art, forms of currency, conversation pieces, tools to start a business, and commemorations of history, and in Atlanta, specifically, sneakers have become the pillars of an ever-growing community.
For Shawn "Taco" Grishby, that community has inspired him to start a new chapter in his life and dive head-first into entrepreneurship. The Georgia State University graduate, Army reservist, and father is a life-long sneakerhead who has turned his passion into his livelihood by founding HEEL, an independent Atlanta-based footwear brand that's dedicated to "helping everyone experience love."
"I've been a sneakerhead since middle school, really," Grishby says. "While I was on deployment, I was brainstorming about how I was gonna make my mark and what I was gonna do when I got back, and I came up with HEEL."
HEEL has already teased local sneakerheads with an extremely limited pre-launch release of the black version of the brand's first signature shoe, the "OG Love Casuals," and HEEL is set to re-release that pair along with the white version in a bigger official launch later this summer. While supporters will have to wait (a little bit longer) for the fledgling brand's forthcoming drop, now is the perfect opportunity to explore the sneaker culture that fostered an environment in which a brand like Grishby's could successfully rise.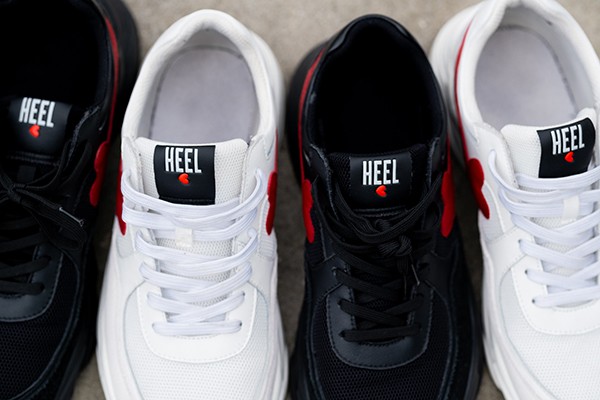 To best understand the current state of Atlanta's dynamic sneaker culture, one must know its inner workings. Brick-and-mortar stores, consumers, resellers, special events, and online platforms all play major roles in the local sneaker scene, so here's a rundown of the institutions, enthusiasts, and community that make Atlanta's sneaker culture so unique.
The Institutions
In order for any culture or community to thrive, there must be long-lasting institutions in place. For instance, the hip-hop scene has places like Tree Sound Studios, where artists have been recording for decades, as well as radio stations such as V-103 and Hot 107.9 that have brought attention and recognition to local artists for several years. The local sneaker scene is no different, as mom-and-pop shops, sneaker boutiques, and resell shops have established locations throughout the city and pumped countless pairs of highly coveted kicks into Atlanta.
Wish, Social Status, Versus ATL, Sole Play, Good Times, and Heet ATL are just a select handful of the brick-and-mortar sneaker stores that have made an impact on the city, but no shop is more representative of Atlanta's rich and storied sneaker culture than Walter's Clothing. Sitting on the corner of Decatur Street since the 1950s, Walter's has equipped generations of families, college students, and entertainers with the latest gear and footwear. It's quite frankly a cornerstone of Atlanta, along with other timeless local establishments like The Varsity and the Plaza Theatre.
"I've been affiliated with Walter's since a kid," Patrick Morrison, the manager of Walter's tells me. "My father used to bring me in here. If you was from Atlanta, you came in Walter's, especially if you was in the Black community. Walter's opened in '52 before the sneaker culture even came. In the '50s, it was still segregation, and if you was Black, you couldn't go in the big department stores like Davidson and Rich's and try nothin' on. You could buy it, but you couldn't try it on. So Walter's was a place that sold a lot of your regular stuff too, but it was a place where the owner treated people equally, and Black people was able to try on stuff."
That inclusiveness made all the difference, as the downtown sneaker shop has survived in its original location for 69 years straight. Over time, Walter's — which local rapper and media personality Trinidad James used to camped in front of for days in order to secure pairs of the original Nike Air Yeezys and Galaxy Foamposites — has experienced the highs and lows of the sneaker culture. The most notable change that the beloved local shop has witnessed throughout its decade-spanning tenure is the rise in reselling. Despite the typically negative position taken against resellers, Morrison thinks that Walter's has accepted the resale market rather than trying to work around it.
"I don't think we adapted. I think the culture adapted to us," he says. "We been here, been a Nike account, and been known for having hundreds of sneakers to pick from. I think Walters is so embedded into the community that it'll last forever, long as the people that are running it keep it open."
Where Walter's represents the old guard of Atlanta's sneaker community, A Ma Maniere is one of the city's more contemporary sneaker and streetwear businesses. Founded and owned by James Whitner, the West Midtown shop has been frequently featured in Complex's ongoing "Sneaker Shopping" YouTube series, and for several years, it has also been one of the go-to shops in the city to secure the most hyped and limited sneaker releases, from Travis Scott's Nike and Jordan collabs to Off-Whites.
This past month, A Ma Maniere even released an incredible sneaker collab of its own, a special retro Air Jordan 3 that's inspired by Black women. Five years after Walter's joined forces with Fila for the Walter's x FILA 96 "OG," A Ma Maniere's recent team-up with Jordan Brand has definitely brought national attention to Atlanta's sneaker scene and, in turn, made it one of the most important sneaker stores in the city right now.
From classic shops like Walter's preparing to celebrate awe-inspiring milestones to innovative sneaker boutiques like A Ma Maniere reaching new heights with massive brand collaborations, local brick-and-mortar institutions are ensuring that the city has the infrastructure to support Atlanta's sneaker culture for years to come.
The Enthusiasts
Although it's great that Atlanta boasts such a considerable number of sneaker boutiques and resell shops, none of them would be standing without the unyielding support from local sneaker enthusiasts. That being said, many of Atlanta's sneakerheads are more ambitious than your average consumer. Their love for sneakers doesn't culminate with the purchase of a highly sought-after pair; that's when things are just getting started. For some, that may mean reselling, and for others, that may mean customizing. Regardless, more and more of them have made the switch from being passive consumers.
Grishby, for example, has grown from having a surface-level appreciation for sneakers to designing a pair of his own. In contrast to the current wave of emerging sneaker brands selling bootleg versions of already-popular silhouettes, HEEL's "OG Love Casuals" are entirely original shoes that take design cues from some of his favorite sneakers.
"The main base is inspired by Chanel Trainers," Grishby reveals, walking through the various design cues on the "OG Love Casuals." "I'm also big on Nike, so that's where the heart swoosh kind of came from. I went back and forth on a few soles, but I ended up dropping with that one since people really like the chunky sole right now."
Constructed from a combination of leather, suede, and mesh and coated in two aesthetically pleasing colorways, HEEL's debut sneaker is sure to turn heads, and thanks to the way that Grishby modeled his business, the sneaker is also designed to make a difference. According to him, five percent of the company's sales will be donated to various local charities.
"HEEL stands for 'Helping Everyone Experience Love,'" he explains. "Originally I was gonna do a nonprofit, but I changed my mind. I do want to help people, though, so I decided to donate some of the proceeds to different nonprofits and organizations that help the community and the youth."
HEEL's official launch is slated for Sunday, August 1, and with its arrival, Grishby will be the latest local sneakerhead to make his mark on Atlanta's sneaker culture.
Community
A strong sense of community is what ties Atlanta's sneaker culture together, and that can largely be attributed to the long-term success of ATATF, an online community that has flown under the radar of local media outlets for far too long. Established in 2011 by a group of local sneakerheads, ATATF — which stands for "Addicted To All Things Fresh" — has spent the last decade providing a safe digital space to buy, sell, and trade shoes.
"The group was made to combat the violence that was happening on craigslist," Kordale "K.O." Toomer, one of ATATF's co-founders, tells CL. "Craigslist was a super popular domain for people to buy, sell, and trade, but you could deal with anybody and not really know who it is. What we did was segue pretty much every great transaction that went on within the craigslist space over to ATATF. That turned into a snowball effect."
Those initial craigslist users-turned ATATF members have in fact snowballed because today, nearly 46,000 people are members of the online sneaker community, creating a vast buy, sell, and trade network of sneaker enthusiasts from diverse backgrounds. Thus, merely describing ATATF as a commerce platform is an understatement.
In addition to bringing much-needed safety measures and transparency to local sneaker meetups, the private Facebook group has transcended its original purpose and become a full-fledged community that encourages daily conversations about current events, debates about sporting matches and album releases, announcements for upcoming pop-up experiences, and so much more. Online sneaker bartering may have been ATATF's foundation, but the Facebook group has flourished and branched off in several different directions.
"It's Atlanta's unicorn," Toomer explains. "Relationships have been established within the group. Like people have met in the group, had kids, and got married on multiple occasions. They're in ATATF talking about sneakers, fashion, music, food, sports, politics, and everything under the sun. At one point of time there was even a little book club going on in there."
Most importantly, ATATF connects people who may have never crossed paths, and its ability to build digital bridges throughout the city has made the Facebook group one of Atlanta's best-kept secrets.
"ATATF should be synonymous with Atlanta's sneaker community," Toomer says. "Anything that involves sneakers tends to go through the group, so it's kind of like a grassroots liaison for connecting common consumers, corporate, and people who are vicariously curious about sneaker culture. This is a community where you can come in and learn about sneakers and how the culture moves."

Although it has been snubbed in past media roundups of the best sneaker cities in the world, Atlanta stands out because it has paved a way of its own and created a culture that honors the city's history, inspires sneaker enthusiasts to be more than mere consumers and resellers, and understands the value of community. The forthcoming launch of HEEL, the approaching 70th anniversary of Walter's, A Ma Maniere's new Air Jordan 3 collab, and ATATF's growing recognition are all evidence of that. Atlanta's sneaker culture is alive and thriving now more than ever, and its only downside is that it doesn't get the recognition it deserves. —CL—