GRAZING: Thai, (real) Mexican, and DIY
From Buford Highway to Chattahoochee Avenue — that's a lot of territory, indeed
THE MAIN ATTRACTION: This is one of Tum Pok Pok's classic shredded papaya salads from the Isan region of Thailand. There are five others and this is the basic one made with crushed roasted peanuts. At a later visit, I sampled a more complex version made with salted crab.
I've got great news, hopeful news, and WTF news this month. Let's start with the great, which is a new Thai restaurant, Tum Pok Pok, whose name describes a sound you know well. It's what you hear when your Thai mother is in the kitchen pounding chilies in a mortar to make papaya salad. With six versions of the salad — "somtum" — and a menu of other regional spicy dishes, Tum Pok Pok is an absolute must-visit for anyone who loves spicy Thai food.
The restaurant, which opened in April, belongs to the same people who operate Bangkok Thyme in Sandy Springs. The particular region emphasized here is the northeastern Isan, which borders Laos and imports some of the more savory flavors and hotter spices preferred there. The shredded papaya salad, controversially thought by some to originate in Laos, is popular throughout Thailand and Vietnam, and every vendor on every street corner apparently has their own version of their region's version.
When my friend Rose and I visited the restaurant for lunch on a Friday, we of course went directly for the somtum, which we've both devoured at the Vietnamese restaurant, Com, many times. Because we had other dishes in mind, we decided to get the basic version made with "crushed roasted peanuts" combined with the shredded papaya. It only took one taste to distinguish this from the Vietnamese version we've eaten — a comparatively volcanic eruption of stinging heat. Fortunately, my tongue and lips went just numb enough to enjoy the spiciness, the faint sourness, and crunchy peanuts and papaya. I should re-emphasize that this intense spiciness is a great part of what sets the cuisine of Isan aside. But you're gonna love it. And you can order other somtums with less heat combined with ingredients like salted crab.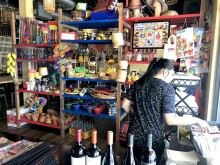 We also ordered a large plate of Isan's version of larb, here made with minced chicken, mysterious herbs, and hot chilies tempered by a strong dose of lime. It's juicy and perfect scooped on the plate's peppery cabbage leaves. For an "entrée" we went to the generally more familiar Thai street-food menu like green and masaman curries. But we selected the unfamiliar pad-kra-pow moo-grop. This dish could have been made for me. It's stir-fried crispy pork. Think my favorite carnitas or cracklins in a basil sauce, scattered with scallions and red peppers. It's hot but not really. You eat it with jasmine rice and you wonder where the hell this dish has been all your Thai-eating life.
Besides the food, I love the look of this place. The dining room and the bar are festooned with kitsch, obviously for the sake of humor — not to promote stereotyping. I also like the location. It's next to the City Farmers Market, so that you can leave Tum Pok Pok and rummage through the gigantic mainly Asian market for herbal remedies, huge jars of honey at a fraction of the usual cost, super-fresh produce, and rice — rice in quantities you've not seen since you left China.
WISHING AND HOPING
Just in time for the End of COVID, Chattahoochee Food Works has opened inside The Works, an 80-acre mixed-use development in northwest Atlanta. It is a project of Bizarre Foods host Andrew Zimmern and Robert Montwaid of Gansevoort Market in New York City. I paid a visit on a recent Sunday — along with seemingly half of Atlanta's population, drawn by considerable publicity.
There are 31 stalls in the new food hall. Not all are open yet, but there's plenty of temptation. My plan was to sample a few of the available flavors, but especially at Taqueria La Luz. It is operated by Luis Martinez-Obregon and Lucero Martinez-Obregon, the twins who opened Zocalo in Midtown in 1995, bringing intown Atlanta its first taste of genuine Mexican cooking instead of the otherwise pervasive Tex-Mex. Incidentally, Zocalo gained some absurd notoriety in April because of two videos showing large crowds of mainly unmasked people partying in front of the taqueria, even though it was open only for take-out. I actually wore a mask coming through the door of the new development, but literally did not see more than a few other masked people beside employees inside the stalls. Under such pressure to conform to contemporary fashion and being fully vaccinated, I removed my mask and breathed in the air. Did you know food has a great odor?
One of the shocks of returning to restaurant eating is the increase in prices, and I got a double whammy during my visit. I was excited AF to see that La Luz is featuring al pastor properly spit-roasted on a revolving trompo. For a brief period, Lucero and Luis operated a taqueria in Grant Park, where I live, and served the pork flavored with pineapple juice that is drizzled on the meat during its roasting. I ate there, oh, maybe twice a week. I couldn't wait to try it at Luz loaded into a quesadilla, whose $10 price shocked me until I saw its huge size. I hate saying this, but it was not good. The pork was mysteriously dried out and tasted somewhat like bacon. A ton of salsa didn't help moisturize the texture or improve the taste. I should note that the al pastor wasn't actually on the smeared chalkboard menu. I just happened to notice the kitchen's loaded trompo from the counter. Tacos are $3.25, which is usual, and gorditas are $7. Fillings include steak, mushrooms, fish, and chicken.
The unexpectedly large portion, only half of which I ate, left me full, but I was craving ice cream from the Morelli's stall. I was disappointed not to find the salted caramel or my favorite ginger-lavender. I know it's heresy, but I'm not a fan of chocolate ice cream and that seemed to be the predominant flavor. So, I ordered a sundae. I only remember eating two of these in my life. One was a bribe my mother arranged at a drugstore counter. The other was delivered to my freshman dorm room along with a pipe full of hashish. I really liked the hash better than the maraschino cherry. At Morelli's I ordered the sundae made with a blondie — the brown-sugar brownie that typically has some chocolate chips but not an overwhelming number. I burrowed through most of the vanilla ice cream, the whipped cream, and the caramel sauce, before hitting the warmed blondie. Sorry, but it was way too chocolatey and gooey for my taste, but that's just my own peculiar palate. It cost $8.50 — over $10 with a tip.
Other open stalls at Food Works feature Thai cuisine, Vietnamese banh mi, pizza, South African fare, pastries, soul food, sushi, ramen, and bubble teas, with more to open throughout the summer. There's also booze, lots of booze. Don't make the stupid mistakes I made. First, there is a huge parking lot at the complex and every space was full. Fortunately, a car came within inches of hitting me as it pulled out, so I scored a spot. I love a good near-accident. When I left, I noticed there is multilevel parking available at the end of the lot. Second, the food hall is very well designed, meaning I could find no place to actually eat my quesadilla. I ate it at the counter of a vacant stall. Later, I found a very large dining area adjacent to the food court and a huge hall lined with retail operations, full of comfy furniture where I ate the sundae.
Honestly, I love the place and expect the food to improve when the huge crowds dissipate. That's another plus here: The employees are super-nice despite their imminent metamorphosis into zombies at the hands of the food-grubbing rabble.
WTF? GARLIC, SALT, AND TASTELESS CHEESE
It finally happened. I burned out on Trader Joe's frozen entrees. Oh, I'll be back for the Indian dinners, but I needed a break. So I decided to do something unappetizing. With a 50-percent-off coupon, I ordered five meals for two from Home Chef. That cost me only $50. At some point after I ordered the meals — it was impulsive, okay? — I realized this was a Kroger operation. I had seen their green-and-white boxed meals in the store. I worried.
They arrived Monday morning chilled in a large box. Each meal's components, like veggies and spices, were packed with a tray inside a plastic bag. Meats were separately packed. Your mission, should you choose to accept it, is to prep and cook the meals. There were two serious problems. One meal was missing. I called and they immediately refunded the cost without the 50-percent discount, so that was nice. Then I later found that they had failed to include a major ingredient, black beans, in another meal. Fortunately, I had a can of them, so I survived.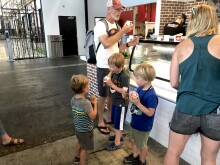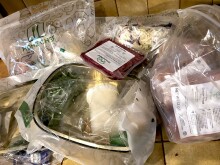 The food? Oy. You get your choice of meats or vegan alternatives like the Impossible Burger. I went for a chicken breast with every meal except one. There were two problems that drove me nuts. Salt and garlic — added or hidden within prepared ingredients — overwhelmed everything. That's a serious complaint from someone who has eaten salty entrees from Trader Joe's for a year. The other annoyance was the use of tasteless cheese in every dish. It was yellow cheddar in three and parmesan in the fourth. Onion flavors were prevalent too.
My favorite meal was the simplest — a "bacon and guacamole chicken sandwich." Okay, the guac was the usual over-seasoned fast-food goop. The bacon was crumbs you microwave and then mix with mayo squeezed out of a little envelope. The slaw dressing was ranch. What I liked really was the crunchy textures, including the cabbage, the browned chicken breast, and the grilled bread.
My least favorite was the meatballs I shaped out of weirdly cotton-candy pink ground beef combined with panko. This was the meal missing the black beans I had to supply and mix with corn kernels, zucchini slices, and, yes, shredded cheese and garlic salt. A lame salsa verde was provided to coat the meatballs. Another dish included two chicken breasts baked with "parmesan thyme butter," plus green beans sautéed with a sliced, gigantic shallot seasoned with — oh yeah! — garlic salt and topped with the crispy onions your mama used to dump on canned green beans submerged in canned cream of mushroom soup. The final dish was chicken breasts topped with more (caramelized) onions and obnoxious "black garlic gravy," accompanied by green peas and cheesy mashed potatoes.
I will not be doing this again, especially for double the price I paid. There are alternatives, one of which I've scheduled to try. —CL—
Tum Pok Pok, 5000 Buford Highway, 404-990-4688, tumpokpok.com, @tum_pok_pok
Chattahoochee Food Works, 1235 Chattahoochee Ave., Ste. 130, chattahoocheefoodworks.com, @chattahoocheefoodworks
Home Chef, Chicago, 872-225-2433, homechef.com, @homechef
---