LISTENING POST: Eyedrum re-emergent!
Avant arts organization has found a new home-sweet-warehouse on the Westside.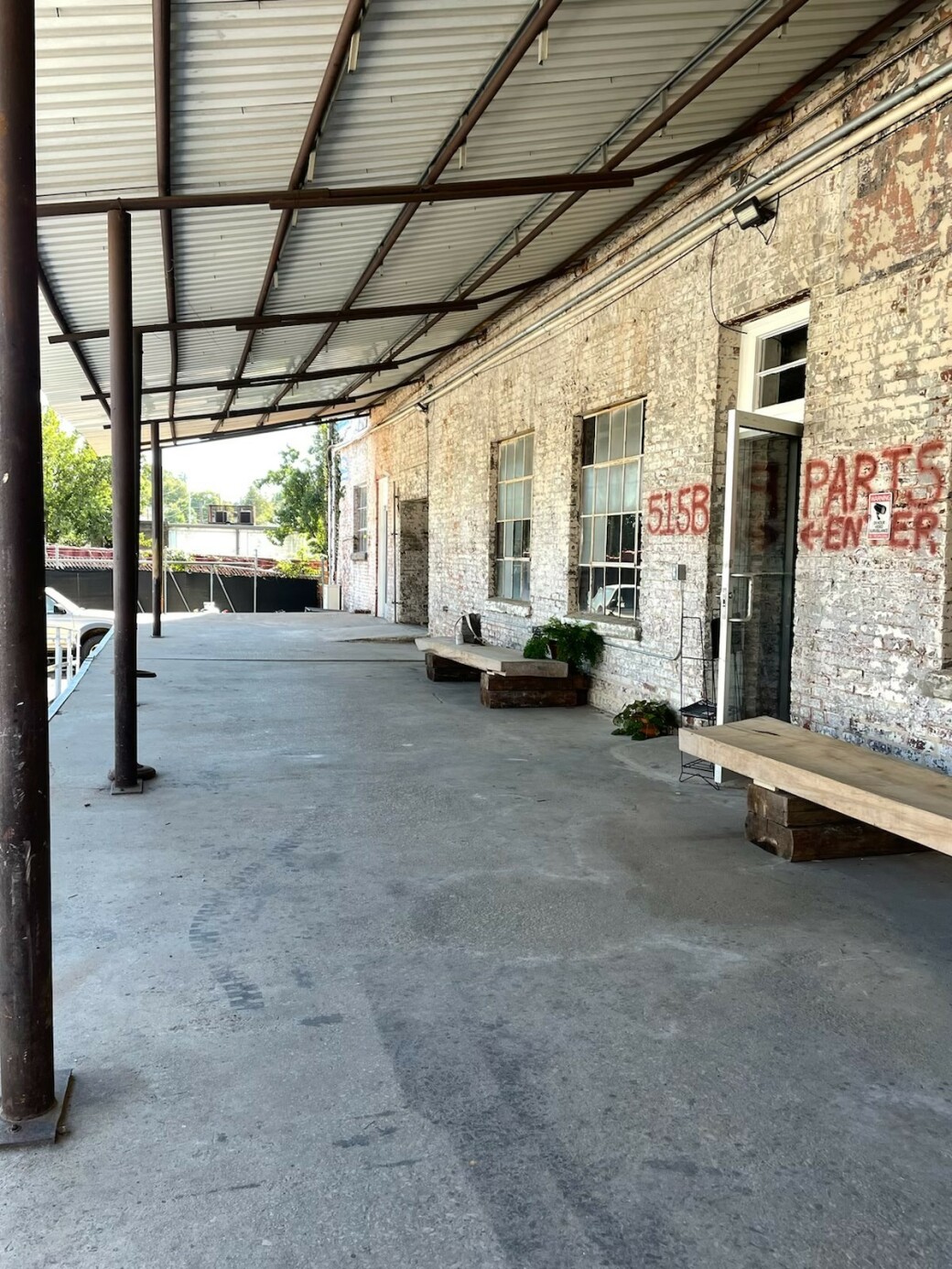 NEW ENTRANCE, FAMILIAR PLACE: Eyedrum's new headquarters and gallery space, which officially opened October 16, on Ralph David Abernathy Boulevard.
Eyedrum lives! The nonprofit organization, known for championing the avant side of the artistic spectrum and hosting some of the city's most imaginative and challenging exhibitions, concerts, and performances, has found a new home.
In a nearly literal sense, the re-emergence of Eyedrum reprises the Greek myth of the phoenix rising from the ashes. In 2018, the organization was summarily ousted from its storefront shop location on Forsyth Street due to a fire in a nearby building owned by the same developer. The new space is situated in a Westside warehouse compound, which also contains Stephen Evans' Pegleg Studio, at 515 Ralph David Abernathy Blvd. S.W. The nearly 3,000 square-feet of mostly open expanse includes a beautifully cross-hatched wood floor and a 20-foot ceiling supported by square, wooden columns. The interior of the former auto parts storehouse has been totally refurbished and outfitted with central heating and air and a bathroom with hot running water. Veteran Eyedrum denizens will feel right at home in the industrial milieu while warmly welcoming the amenity upgrades, which will make converting people into regular patrons a much easier task.
On the exterior of the building, an ADA-compliant ramp and stairs lead to a loading dock, which serves as an outdoor stage and hangout place. A glass front door and separate roll-up door allow for easy ingress and egress for humans and bulky stuff. A front office, sound booth, and hospitality area occupy the space between the doors. Track lighting and power outlets in the ceiling run the length of the interior. In the rear are spaces for equipment storage and a greenroom. Future plans include installing moveable walls, which can be configured to accommodate different sizes of exhibits and events.
"It's like a combination of our first and second homes on Trinity Avenue and MLK Jr. Boulevard," said Will Lawless, Eyedrum founder and board chair. "A big thank-you goes out to the property owners (the aforementioned Evans and partner David Decker) who built the space to suit our needs."
Parking comprises 30 spaces split between a courtyard and exterior lot augmented by Humphries Street on the property's east side. The building is about a 15-minute walk from the West End MARTA station.
A "soft opening" on Saturday, October 16, provided a first look at the new environs as well as Ego Te Absolvo, a collaborative video installation curated by Kirsten Mitchell. An Atlanta-based, multi-disciplinary artist with a history of performances and exhibits at Eyedrum, Mitchell is a recent Museum of Contemporary Art of Georgia (MOCA GA) Working Artist Project Fellow. Her solo exhibitions can be viewed at MOCA GA, Atlanta Contemporary Art Center, and Hathaway Gallery.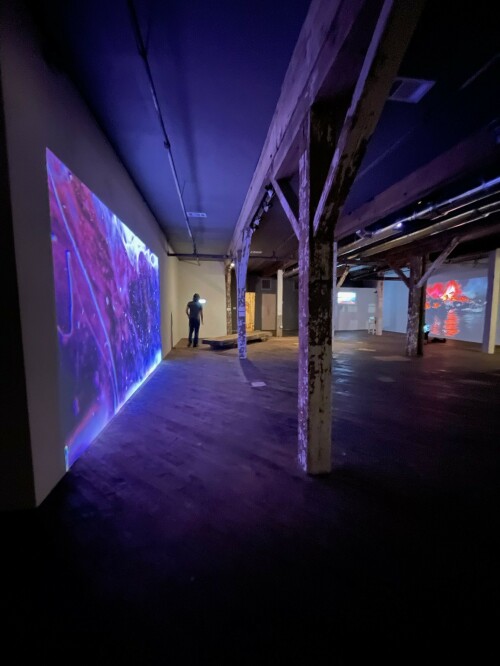 Ego Te Absolvo, which translates from Latin as "I absolve you," is the first in a series of exhibitions exemplifying a new strategic initiative by Eyedrum. The goal is to foster work made in a collaborative, conversational environment by providing financial, marketing, studio, and production support to local artists and musicians serving as curators of group projects and events. Mitchell's exhibition features six video works, each by a different artist, plus a room installation created by a seventh participant.
"I want the viewer to come in and have a healing moment, to find respite from the crazy, glitched-out shit we've been going through — the isolation and fear, the self-quarantining — as a consequence of COVID," Mitchell said. "As I was going through this experience, these artists came to my attention as allies on a similar journey."
The first work encountered by the Eyedrum visitor is displayed on a small tablet mounted in a metal frame with steel legs, which holds the tablet a few inches above the top of a grand piano. The video, by French-Basque-American painter, singer, performance artist, and multi-instrumentalist Maïa Evarista Charlotte Ibar, is a tribute to the artist's deceased partner who is depicted being nudged, licked, and generally adored by cows in a field. Mounted on the back wall of the gallery, Meredith Kooi's tablet video of the artist immersed in a beautiful, rugged, mountainous desert landscape evokes a contemplative engagement with nature.
On a much larger scale, a wall projection by Swedish visual artist, musician, and runway model Linda Beecroft features multi-colored whirlwinds and swirling spacescapes  accompanied by an ambient soundtrack similar to works by Brian Eno, Laraaji, and Roedelius with whom the artist has collaborated. Projected on the opposite sidewall, a videoclip by Brazilian-based artist Thiago Rocha Pitta conjures up a mesmerizing jungle campfire from which ghostly spirits are emerging amid translucent flames and vaporous smoke.
A tablet video by Norwegian Bjorn Veno depicts the view forward from the seat of a small, yellow, wooden boat with a square prow. Floating in incandescent blue water, the boat points toward the sloping shoreline of an evergreen-wooded island. The boat's gently bobbing motion in a pastoral setting conveys a feeling of sublime, meditative calm. In contrast, a small tablet video by Tommy Nease imparts a sense of frantic action in a potentially deadly environment as the viewer watches a man scrambling to ascend a steep hill of loose dirt in the midst of a raging forest fire. A wildland firefighter employed by the U.S. Forest Service in Washington, Nease is primarily known for his photography, which frequently depicts landscapes in conflagration. His work has been rightfully described as a metaphor for battling with natural elements on the frontlines of climate change.
The non-video entry in Ego Te Absolvo is an installation by Shana Robbins. In the rear of the gallery, Robbins transforms a utility room into a shrine through the use of mood lighting, pillow seating, sundry statuary, and precious adornments in the style of a Hindu temple. The work was inspired by a retreat made by Mitchell, during which she was required to sit in an austere meditation cell several times a day.
"I asked the artist to make one that was more deliberately and elaborately staged, so that the audience would get a feeling for what could happen on the inside, since not everyone is inclined to sit and meditate," Mitchell said.
Ego Te Absolvo is a wonderfully evocative and thoroughly engaging exhibition, which allows the visitor to reap the benefit of the curator's intentions while appreciating the space in which the work is displayed. Ego Te Absolvo runs through December 11. Currently, Eyedrum gallery viewing is by appointment only.
Upcoming events at Eyedrum include two curated programs, the first of which kicks off with a party on New Year's Eve hosted by Mike Stasney and George Long of I Fucking L*** You fame, followed in April by a celebration of black women artists curated by William Downs. Also on tap is the return of the Kirkwood Ballers Club (KBC), a regular gathering of musical improvisers and experimentalists with an open-to-all, "play-whatcha-brung" policy. The KBC usually meets monthly on Thursdays with the inaugural jam session scheduled for October 21. —CL—
Eyedrum, 515 Ralph David Abernathy Blvd.
---