GRAZING: Pho Cue and banh mi, Mercer
Texas-Vietnam mash up, plus a bargain among rising food prices
LUNCH FOR TWO: Beef rendang, rice, and shrimp in a sweetened mayo sauce with walnuts at Mamak on Buford Highway. With one piece of roti canai and a tip, that'll be $57. Please bring back the lunch specials!
First of all: Merry Christmas. Now that I've gotten that over with, I must make my annual plea to boycott any restaurant playing Christmas music. The Yuletide noise pollution has decreased in the last 30 years and we don't want to give restaurateurs any encouragement to resume Christian torture of our auditory nerves. Please report offenders to me. Thank you.
Second of all: Send me lunch money. In typical American fashion, the more the "booming economy" expands, the more the rich get richer and the poor get starved by inflation. The cost of dining out, like any other act of consumption, has increased remarkably. There are many reasons why and, understand, I'm not including restaurateurs among those who have made cosmetic surgery and space travel their hobbies. They are struggling to maintain a five percent profit margin and have, after a decade of intense competition, finally been left with no alternative to passing on more of their costs to customers.
But still … Fortunately, I've never been attracted much to "fine dining" because, honestly, it's rarely been within my financial reach but, more important, I just prefer so called exotic cuisines that offer an adventure rather than refinement. (For a writer, the former is about stories and the latter is about adjectives.) So, imagine my surprise when I discovered that Buford Highway is no longer predictably a bargain-basement safari. My friend Rose and I have often headed out that way merrily, with our pockets full of coins. But we were stunned recently by a meal at Mamak, one of my longtime favorites for Malaysian cuisine. My memory was that lunch specials cost about $10. However, we were handed paper menus on which those specials had been slashed out of existence. Long story short, our lunch cost us $57 including tax and tip.
The food was as delicious as ever. We shared rendang beef simmered in coconut milk with mild spices and "walnut shrimp," which I'd never noticed on the menu before. It's jumbo shrimp fried in a light batter, tossed in a sweetened mayonnaise sauce, and garnished with candied walnuts. I confess it was nostalgic curiosity that led me to order it. I used to eat a similar dish frequently for brunch at Hong Kong Harbour (R.I.P.). You could argue that the dish requires something sharper than beef drowned in coconut milk to offset the sweetness, but we managed. The shrimp, by the way, actually had flavor like they lived in the sea at some time. We also ordered roti canai, the flatbread served with a curried sauce for dipping. Don't miss it. Your $5 will get you one small single piece of the bread. Just to be clear, the rendang is, at $20, the most expensive item on the menu. You can order rice and noodle dishes for significantly less. Or you could go down the road a bit and dine at Mamak Vegan Kitchen. I love the sambal okra there.
On to affordable, fat portions: While restaurants are reopening, sales have yet to get anywhere near their pre-pandemic level. Thus (maddeningly) abbreviated hours and an emphasis on takeout are likely to continue for a long time. A perfect formula is offered by Chef Lance Gummere, who created Mercer Street Meals after leaving Bantam & Biddy, which he co-founded in 2012. Before then, he was chef at The Shed at Glenwood, where I dined weekly for a couple of years. One night a week, he prepared a menu of sliders imaginative enough to be served at the Mad Hatter's tea party. The rest of the week his imagination took refuge in tweaking Southern comfort food.
Lance now cooks at home where wife Gracie enjoys his full-time assistance in raising their two sons. They have two large dogs that licked the cat saliva off my hands on the front porch of their home on Mercer Street, which, quaintly enough, is a gravel road in Ormewood Park. Every Wednesday morning, they post the week's available meals on their website, where customers purchase their choices. Usually, two different meals are available each week, but not on the same day. Thus, if you want both meals, you'll have to make two trips to pick them up. It's worth it. In fact, it's probably the best bargain in the city. Meals are $25 for two and $45 for four. Yep, that's $12.50 or less per person for a meal that includes an entrée, two sides, and dessert. And portions are large, really large.
My only meal so far has been baked salmon with wild rice, Brussels sprouts, and chocolate pavlova. I was frankly worried about it. Fish is not typically a takeout food I choose since it's usually overcooked and completely dry by the time it's on the table, especially if it requires reheating. Lance brings the food out his front door, packed in loosely wrapped aluminum containers and still warm enough that I had no need to reheat it. The salmon, in honey butter with a few scallions, was juicy and flaky. Wild rice was an exotic favorite of my mother — to the degree that I quit eating it around, oh, 1975. Lance outdid her by adding toasted pecans and a lot of green onions. Maybe my favorite was the roasted Brussels sprouts with bacon and cipollini onions. If I have any complaint, it was the profuse oniony flavors, especially in the rice's raw green onions. But the dessert, pavlova, cleaned the breath in the way orgasm cleans the depraved mind. It was creamy, chewy, fruity, chocolatey, and, best of all, there was a ton of it. Check out their website for forthcoming meals, which range at this writing from bridge-club-fancy (crab mornay with a "Green Goddess crunch sandwich," chicken noodle soup, and brownies) to after-church-piggy (chicken fried steak, garlic mashed potatoes, green beans smothered with onions, and pecan pie).
Last month, I wrote about the then-unopened Pho Cue in Glenwood Park. It's up and going! The restaurant, which started as a pop-up, blends Vietnamese cuisine with Texas-style barbecue. I was mystified. Vietnamese, which is my favorite cuisine, is for the most part super-healthy, with fresh herbs and vegetables, mainly lean meats, and spikes of pickled and hot flavors. Smoky Texas barbecue on the other hand is not exactly what cardiologists recommend. I could not imagine, say, a Vietnamese sandwich (banh mi) squooshy with fatty brisket. So, does it work? Mainly. Owners Julian Wissman and Brian Holloway were at this writing still tampering with their menu, but I enjoyed most everything I sampled (and I sampled a lot).
My favorite by far has been the pho, the Vietnamese soup that is everywhere these days. Pho Cue's is an extra-rich beef broth, thanks to the brisket smoked on the premises, with the usual noodles and herbs. Squirt the lime and squeeze the sriracha. As with other dishes here, you have the choice of adding sliced brisket, pulled pork, smoked chicken, or portabella mushrooms. Since the intense broth is made from brisket, the best meat choice is likewise brisket. The meat's fat floats and shimmers on the surface of the bowl. Stir it up or sip it straight up with a spoon. The kitchen will split a bowl of the pho into two portions and you can share a banh mi with it. I liked my brisket banh mi, ordered without pho, but I honestly found the meat piled too heavy for exactly the reason I feared – that it would overwhelm the sandwich's veggies. On my second try, I picked the savory pulled pork, which was less overwhelming, but I missed the damn brisket.
I found a solution! The menu also includes "bahn fris," an absurdist concoction of the bahn mi's salad contents, with your choice of meat, over fries. Again, I chose the brisket (because I lived in Houston two years and can never get enough). There was a ton of it but I was freer to pick and choose. The portion, like most here, was gigantic and I took half of it home for dinner the next day. A night in the fridge and very brief microwaving caramelized much of the fat and turned the potatoes into glazed, creamy treats my cat liked as much as me. More pickled veggies, please. I've also enjoyed the pulled pork dumplings and brisket eggrolls. Diners recommended we try the wings, but they're without the Viet seasoning I craved.
The restaurant is inexpensive, especially considering the portions, with a café ambiance. One of the best side dishes is the owners' goofy humor which you can see more of on their Instagram page and by the bathroom door. Don't piss yourself. —CL—
Quick Bites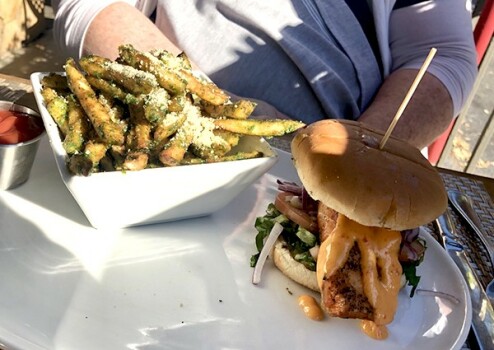 Mamak, 5150 Buford Hwy, 678-395-3192, mamak-kitchen.com
Mercer Street Meals, 404-713-6001, order online at mercerstreetmeals.com, FB & IG: @mercerstreetmeals
Pho Cue, 925 Garrett St. 404-549-7595. eatphocue.com FB & IG: @eatphocue
---