THE BLOTTER: Liquid issues
And other stories of life in the ATL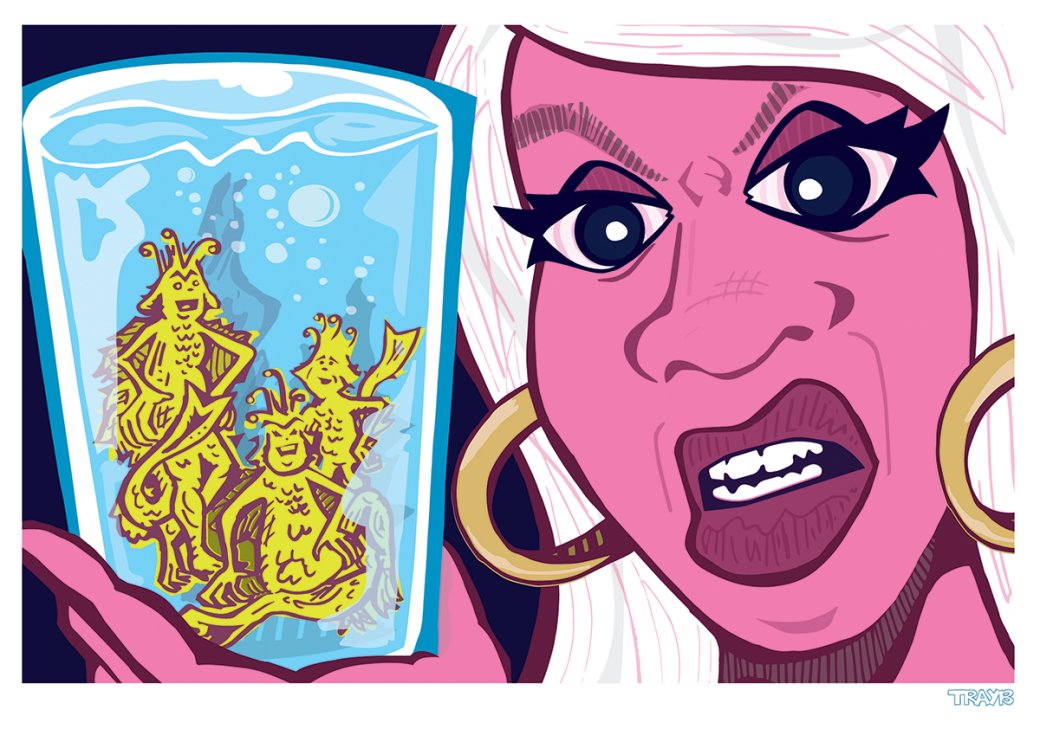 Child's play

A Georgia state government employee allegedly faked two pregnancies to get paid time off from her job. Now she's facing multiple fraud charges.
Apparently, a co-worker noticed that a lower part of the female employee's 'pregnant' belly was coming apart from her body. The co-worker told officials it looked like the female employee was wearing a fake pregnancy prosthetic belly.
Several months later, the female employee announced that she'd given birth. "[She] also sent photos of her new baby to various co-workers but the pictures were inconsistent and the children had varying skin colors," reports the Atlanta Journal-Constitution, citing the Inspector General's Office.
Her bosses got an email from a man claiming to be her newborn's father, stating that doctors ordered several weeks of rest following the delivery. "The state agency approved about seven weeks of paid leave, which the Inspector General's Office said the agency would not have approved had they known [the suspect] had not given birth," the AJC reported. 
This was the second time the woman allegedly faked a pregnancy within two years. State officials ran a check on her first so-called pregnancy in 2020 — no birth certificate was ever filed proving the suspect was a mother. Also, officials found no medical or insurance records for the alleged birth.
The 43-year-old suspect worked for the Georgia Vocational Rehabilitation Agency, supervising media relations and marketing, according to the AJC. She resigned shortly after state fraud investigators interviewed her. Now, she's facing a slew of fraud charges. 
Liquid issues

Cardi B believes there's "something wrong with the water in Atlanta." The 29-year-old rapper made her pronouncement during a recent Instagram live post that has since been deleted.
Cardi B said her facial skin became alarmingly dry and the city's tap water is to blame. "While I was in Atlanta, my face started getting so dry and irritated. I kept putting on moisturizer, moisturizer… (My skin) like started getting so irritated that I started putting on Vaseline. I went the old-school way."
Cardi B asked her 123 million Instagram followers for advice on what type of moisturizer she should wear while in Atlanta, because she feels like she's tried everything in the book. 
Cardi B's negative post triggered a response from Atlanta's Mayor Andre Dickens, who made sure to compliment the superstar before refuting her claims. "First, we love Cardi B," Mayor Dickens said. "Who can't deny how funny she is and talented."
Mayor Dickens told CBS46.com there's absolutely nothing wrong with Atlanta's water, which is tested 50,000 times a year. "It's a great source of water because it's so fresh and clean."
Also, the city's Department of Watershed Management conducts weekly "water hardness" tests which show that calcium and magnesium levels in Atlanta's water are considered low by the Environmental Protection Agency. 
Cardi B is married to rapper Offset (an Atlanta native). The couple often spends time in the city.
Crash and burn

In Cobb County, a woman woke up thirsty in the wee hours of the morning. So she went to get a glass of water from the kitchen of her home on Clay Road and was stunned. She saw the tail end of a pickup truck and part of her boat inside her house. 
Police said an intoxicated man crashed into her driveway (where her boat was parked) and hit several cars and the boat. Apparently, the suspect fled on food, leaving his pickup truck crashed into the woman's living room.
"It went by so fast," the woman told CBS46.com. "I thought somebody was trying to steal the boat." So far, police haven't found the suspect.
Breaking the bank

In Gwinnett County, a 32-year-old woman jumped a bank counter, telling onlookers to call police while she stole cash.
"You gonna take my motherfucking money. You gonna sit there and take my money?" the woman screamed as she climbed over the counter at a bank on Buford Drive. A male bank employee tried to stop her — but the woman grabbed a pair of scissors from a teller's desk and fought him off. 
Apparently, the bizarre incident started when the 32-year-old woman tried to withdraw more than $13,000 from a bank account. The bank teller asked the woman for her driver's license, account number and credit card, according to CBS46.com. Then, the woman provided information that did not match the bank account from which she was trying to withdraw $13k.
The bank teller informed the woman that she couldn't withdraw $13k — or any money at all — because of the account info snafu. So the woman jumped the counter and allegedly stole $750 dollars. It's unclear why she asked onlookers to call police as she swiped the money. After getting her hands on the cash, the woman casually walked out from behind the counter and out the door, muttering swear words as she exited the bank.
No one was hurt in the incident. So far, the woman has eluded authorities.
One down, one to go

A Peeping Tom was arrested in Midtown, after barring all and repeatedly exposing himself as he peered through windows. 
The 43-year-old male suspect was arrested after allegedly looking through a woman's window in the 700 block of Penn Avenue. Officers had the surveillance tape of the Peeping Tom incident and recognized the man a few weeks later, when he was arrested while walking down Ponce de Leon Avenue late at night. Officers working the overnight shift recognized him from the surveillance tape. 
Police say the suspect is charged with Peeping Tom, and possession and use of drug-related articles.
Midtown residents have complained for years about chronic Peeping Tom issues and a lack of police action in their neighborhood. And it's not over yet.
Atlanta police said they believe there's another Peeping Tom still at large in Midtown.  
C'mon baby, light my fire

In Midtown, a man walked up to the Federal Reserve Bank, poured lighter fluid and gasoline near the entrance and set a small fire. He didn't appear to be trying to hide his actions — he set the fire in broad daylight around 9:30 am. 
Within minutes, police officers, a SWAT team and Homeland Security officials arrived on the scene.
Police said the man had two small gas canisters, loose ammunition and a pair of handcuffs on him at the time of his arrest. The man is charged with destruction of property over $500.
A spokesperson for the Federal Reserve Bank of Atlanta said the building only has minor smoke damage. No one was hurt. 
Authorities are still trying to figure out the man's motive for setting a fire outside the Fed Reserve building. 
Strange blaze, part 2

A firebomb was thrown into the law offices of Fulton County Commissioner Marvin Arrington. Commissioner Arrington told WSB-TV that he didn't know why his law office was targeted. He added they haven't received any previous threats or vandalism to his offices on Fairburn Road.
The firebomb incident happened on a Sunday, when the office was empty, so no one was hurt. Fire crews extinguished the flames. The case is still under investigation. —CL—
The Blotter Diva compiles reports from the Atlanta Police Department and local news reports — and puts them into her own words.
---