LISTENING POST: ' A series of loud bangs'
'The pulse of music'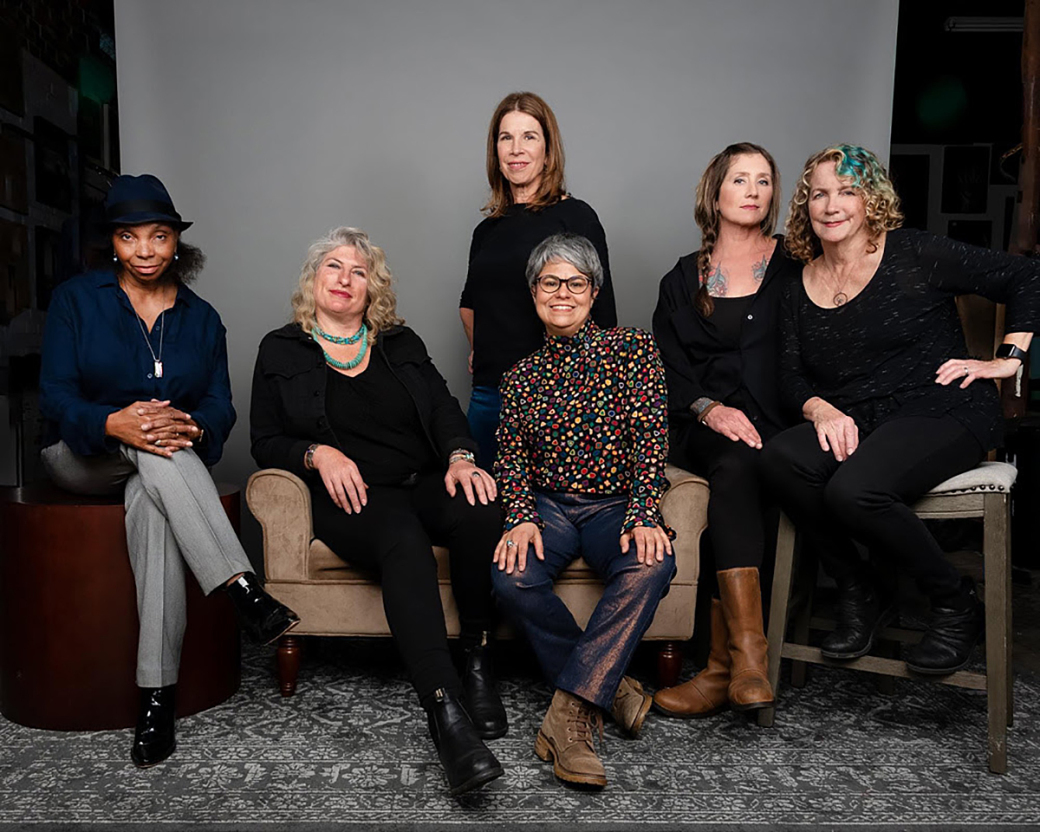 ">
COTERIE AT 378: A group show by female artists who initially met at The Goat Farm Arts Center opens Fri., Jul. 8, at 378 Gallery in Candler Park. (From left): Eleanor Neal, Corrina Sephora, Susan Ker-Seymer, Marinelly Piñango, Lauren Betty, Linda Mitchell.
Fri., Jul. 8

Coterie, 378 Gallery — Coterie ("an intimate group with a unifying purpose") showcases six women artists who formed a critique group while working at studios in the Goat Farm Arts Center. Works by Eleanor Neal, Corrina Sephora, Susan Ker-Seymer, Marinelly Piñango, Lauren Betty and Linda Mitchell will be displayed at 378, on Clifton Road in Grant Park, just around the corner from Flying Biscuit. The show's opening reception on Fri., Jul. 8, which is free and open to the public, features music by Moondy (a/k/a Jeff Diamond).
Free. Doors 6 p.m., music 7:30 p.m. 378 Clifton Rd. Atlanta. Hours Fri/Sat 1-6 p.m. Exhibition runs through Jul. 30. Closing reception and artist talk Jul. 30, 2-5 p.m.
Fri., Jul. 29

"A Series of Loud Bangs," Eyedrum — Courtesy of saxophonist-composer Jeff Crompton, an evening of superlative percussive performances is in store at Eyedrum on Fri., Jul. 29. Riffing on a notion by his favorite music critic, Max Harrison, who once wrote, "It is unfortunate that some listeners cannot hear music's pulse unless it is stated as a series of loud bangs," Crompton has assembled a triple-bill featuring a bang-up crew of musical beat-keepers. The lineup includes Bob Stagner (from Shaking Ray Levis), Kenito Murray and Crompton playing "Tributes" for alto saxophone and two drum sets; Stuart Gerber and Klimchack in a percussion duet; and John Arthur Brown performing in an as-yet-to-be-determined format. Crompton describes "Tributes" as "a loosely composed piece, mostly improvised, but with a saxophone melody and three drum grooves." The drum grooves honor Max Roach, Johnny Vidacovich and Joe Morello; the free passages represent a tribute to Sunny Murray.
$10. Music 8:30 p.m. 515 Ralph David Abernathy Blvd. SW.
Fri., Jul. 15
The Quebe Sisters, Eddie's Attic — From their hometown of Dallas, Texas, The Quebe Sisters — Grace, Sophia, and Hulda – bring their self-described "progressive western swing" to Eddie's Attic for an evening of sibling fiddling and three-part vocal harmonizing. Accompanied by archtop guitar and upright bass, the Quebe Sisters (kway-bee) carry forward the legacy of Bob Wills and other Texas-style swing artists by performing original compositions and classic covers imbued with innovative flair and impeccable technique.
$30. Doors 6 p.m. 515 B North McDonough Street.
Fri, July 16
Professors of Art: Georgia, Eyedrum — Opening July 16, eyedrum gallery presents a juried exhibition, Professors of Art: Georgia, featuring art in a range of media by more than 30 art faculty members from Georgia's public and private institutions of higher education. Art faculty are often required to exhibit their work to retain their position, achieve promotion and acquire tenure. This juried opportunity carried free entry out of respect for the work done by art professors as they help students develop artistic minds. One artist from the exhibition will receive an Award of Top Honor and will work towards a solo exhibition at eyedrum in 2023. A juried group exhibition of work by MFA candidates across Georgia will follow in 2024. Professors of Art: Georgia is juried by Michael Marling de Cuellar, a recently retired, tenured professor from the University of North Georgia, Dahlonega. The exhibition runs through August 13.
Free opening reception on Fri., Jul. 16. 7 p.m.-10 p.m. 515 Ralph David Abernathy Blvd., eyedrum.org.
Fri., Jul. 22

Monty Nesmith with the Southern Star Syndicate, Star Bar — On Friday, July 22, ska/reggae/dancehall pioneer Monty Nesmith makes his first local appearance in two years, headlining the first of two "weekender" concerts at the Star Bar in Little Five Points. A Jamaican-born, singer-songwriter-keyboardist now based in Atlanta, Nesmith launched his career in the late Sixties with legendary "skinhead" UK band Symarip (nee The Pyramids, The Bees, Seven Letters, etc.). Accompanied by the Southern Ska Syndicate, Nesmith will be performing selections from the classic 1970 Symarip album, Skinhead Moonstomp. DJ Rico from Kansas City and DJ Pete Morcey of Forced Reality will provide additional tunes.
$25 or included in $60 weekender pass (ticketless event; will call only). Doors 9 p.m. 437 Moreland Avenue NE.
Sat., Jul.23
Street Punk Show Night, Star Bar — Renew your mosh pit credentials at the second of two "weekender" concerts at the Star Bar presented by Dirty South Booking. Saturday's "Show Night" showcases punk bands from outside Georgia including Fatskins, Patriot, Doug & the Slugz, , Adolph & the Piss Artists, Rmblr, The Uncuth and StraightLaced, along with local boys AntagonizersATL.
$40 or included in $60 weekender pass (ticketless event; will call only). Doors 5 p.m. 437 Moreland Avenue NE.
Sat., Jul. 30

Live Electronic Music Workshop w/ Max Ravitz, eyedrum -- The Atlanta Synthesizer Club, in partnership with Ableton, VLSC Records and Face of Knives Productions, returns to in-person events with a free workshop at eyedrum featuring special guest Max Ravitz (Patricia) and a collaborative presentation by Eric Flohr Reynolds (VLSC) and Dustin Ragland (Ableton). Both talks will explore techniques, concepts and basic building blocks for creating live electronic music. Reynolds and Ragland will discuss working with Ableton in combination with external instruments in a variety of forms including live audio, midi and CV signals. Ravitz will delve into the Patricia live set, explaining what he uses in a live context versus studio setting and how various components work together. Later that evening, at 8 p.m., Reynolds and Patricia (Ravitz' performance project) will perform live alongside TWINS and Abby Dear. According to the PR notes, concert attendees can expect to hear "a healthy mix of retro futurism, modular synths, drum machines, analog synths, digital synths, sad acid, happy hardcore, breaks, glitch, ambient, drone, and all manner of bleeps, boops, and beats."
$15 + $3.30 service fee = $18.30, general admission. 3:30 p.m. workshop; 8 p.m. concert. 515 Ralph David Abernathy Blvd., eyedrum.org.