ABOUT TOWN: Things are about get scary
Get your fill of all things spooky this month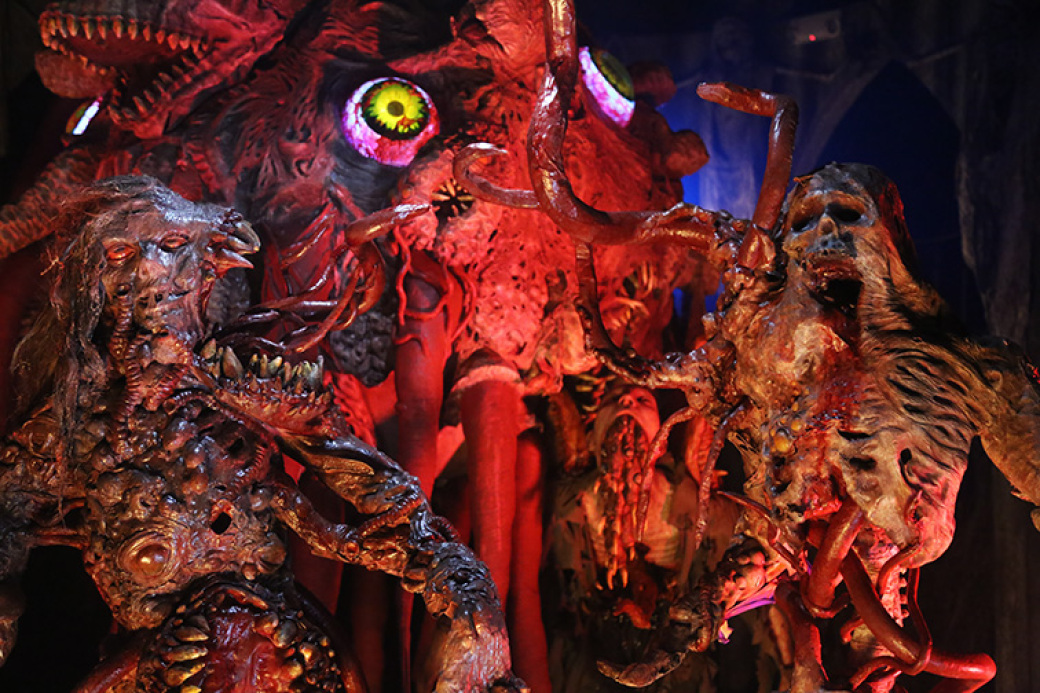 Carnivorous chlorophyll creatures: A nefarious plant-based life form will haunt you at Netherworld Haunted House this year.
Yes, we all know Halloween is coming up, so here are a few suggestions for what to do and where to go, including the Little Five Points Parade and its attendant happenings. But there's more besides - the Decatur Beer Festival returns, and some cool plays and musicals are opening up, as well as even more of those "immersive experiences" you keep hearing about, mostly to do with outer space, but also Harry Potter and Stranger Things.
Now through Sun., Oct. 16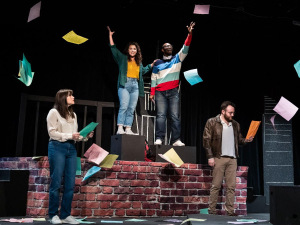 Ordinary Days, Stage Door Theatre — Perpetually frazzled grad student Deb loses her thesis notes somewhere on the streets of New York but struggling artist Warren finds them for her and a relationship of sorts ensues. Another couple, Jason and Claire, contemplate marriage but keep getting in each other's way, as do their pasts. "This is one sweet, quietly extraordinary musical that cleanses the soul, lifts the spirit, and reminds you what you love about New York," wrote a reviewer for Stage Left. It's "for anyone who's ever struggled to see the forest through the trees." Penned by composer and lyricist Adam Gwon, this production is directed by Keena Redding, noted for her work with OutFront Theatre, ARTstation, Georgia Ensemble Theatre and Horizon. Jared Brodie, Anna Holland, Frankie Marasa, Suzanne Stroup, Sara Joyce Hack and Triumph Gardner make up the cast.
$15 - $35. Performances are Friday and Saturday nights at 7:30 p.m. with 2:30 p.m. matinees on Sundays. Stage Door Theatre, 339 Chamblee Dunwoody Road, Dunwoody 30338. 770-396-1726 stagedoortheatrega.org
Now through Mon., Oct. 31 (excluding Oct. 16 and 23)
Halloween Festivities, Children's Museum of Atlanta — The Museum is celebrating Halloween for the entire month of October with "fang-tastic activities" including a Halloween Dance Party, Storytime and a Ghoul Drop. The highlight is Trick-or-Treat on Saturday, Oct. 29 from 5:30 – 7:30 p.m. "Families can expect fun, hands-on play, candy galore, a live DJ to play all the Halloween hits and to trick-or-treat throughout the museum."
Prices vary and are available on the CMOA website. Advance purchase required; tickets will not be sold at the door. 275 Centennial Olympic Park Drive, Atlanta 30313. 404-659-5437 childrensmuseumatlanta.org @ChildMuseumATL
Now through Mon., Oct. 31
Lawrenceville Ghost Tours, Aurora Theatre — Three separate "festive frights" are being presented this month that delve into the "ghost-infested" history of Lawrenceville, one of Georgia's oldest cities. A 90-minute ghost tour - or "spooky stroll" - will show visitors around town while being regaled with chilling accounts of paranormal activity. Secondly, the Haunted Cemetery Tour "gives thrill-seekers a more daring ghost-hunting experience" in one of the most haunted graveyards in the southeast; guides will discuss sightings of orbs and ectoplasm as well as the capturing of electronic voice phenomena. Then there is Brews & Boos, a pub crawl taking adults on a "ghoulish journey" in which booze is included in the ticket price. Frosty libations, tall tales and bawdy singalongs will be part of the festivities, organizers warn.
Prices and times vary. Check-in for all tours is at the Lawrenceville Arts Center box office, 128 East Pike Street, Lawrenceville 30046. 678-226-6222 auroratheatre.com @AuroraTheatre
Now through Sun., Nov. 6
Designing Women 2020: The Big Split, Horizon Theatre — The hit television series Designing Women ran from 1986 to 1991 on CBS and was set in an interior design firm in Atlanta. Writer Linda Bloodworth-Thomason has now adapted it for the stage and updated the story to 2020, era of the pandemic and national elections, giving the feisty protagonists plenty to argue about - hence the title The Big Split. "I had so many emotions about things that had gone on during (that time), and I kept wondering what Julia and Suzanne and everyone would have to say about (them)," Bloodworth-Thomason told Georgia Voice. "When I would talk to others, they'd have the same thoughts." The comedy is directed by Heidi Cline McKerley, who says this 21st century version of the characters will appeal to a new audience as well as original fans of the show.
Ticket prices are subject to change as performances fill up. Buy early for the best prices. $30 weekdays, $35 weekends, $40 Saturdays. $20 for full-time students under 25 with valid ID and $3 off full-price tickets for Seniors 65+. Horizon Theatre, 1083 Austin Avenue, Atlanta 30307. Free parking. 404-584-7450 boxoffice at horizontheatre.com horizontheatre.com @horizontheatre
Now through Sat., Nov. 12
Netherworld Haunted House, Stone Mountain — New this year is a "laser-based horror survival add-on experience" that will scare the pants off you. Titled "Alien Terror," adventurers get some face time with an extraterrestrial monster whose only aim is to transform each participant into one of its evil minions. Haunted house themes are The Undying Horror ("visitors will try'' to escape a massive world-destroying ancient monster and its wraithlike army") and a charming little number called Parasitic in which "guests will confront the mind-controlling spores and carnivorous chlorophyll creatures unleashed by a nefarious plant-based life form." A concept known as "You Scare" has thrill-seekers playing the villain by shooting a paintball gun through a see-through barrier at people innocently queuing up for the second haunted house..A carnival-like midway offers Dr. Octane's Bizarre Beverages, demented donuts and the like. "Our goal has always been to provide visitors with a seasonal Halloween experience that's beyond compare," says co-founder Billy Messina. "And with all the upgrades we've made this year, both inside and outside the haunts, we hope that folks will feel that we've done exactly that."
$25 - $65. Hours vary. Open Thur.-Sun. 1313 Netherworld Way, Stone Mountain 30087 fearworld.com @hauntedatlanta
Now through Sun., Jan. 1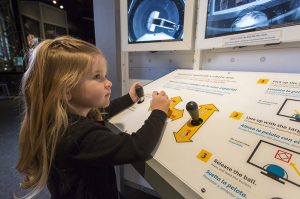 Journey to Space,Fernbank Museum — This exhibition explores the vacuum of space, radiation, meteoroids, and temperature extremes in the "extraordinary environment" aboard an orbiting space station. It shows the excitement of cosmic travel, the physical issues that arise with space exploration, the challenges of gravitational weightlessness, and what it would be like to live and work outside of Earth's atmosphere, the museum explains. "Visitors are invited to immerse themselves in a hands-on experience that explores the challenges and solutions surrounding space travel and, inevitably, humankind's future." Journey To Space opens in conjunction with the Astronaut: Ocean to Orbit. giant screen film.
General admission tickets include the film and are available online at $24.95 for adults, $23.95 for seniors, $22.95 for children ages 3-12, free for children ages 2 and younger, and free for Fernbank members. 767 Clifton Road, Atlanta 30307. FernbankMuseum.org @FernbankMuseum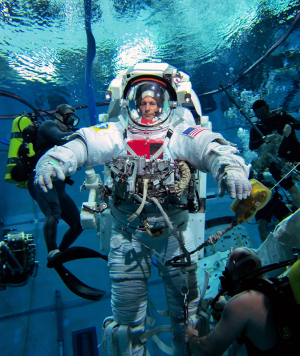 Astronaut: Ocean to Orbit, Fernbank Museum — Fernbank's latest giant screen film Astronaut: Ocean to Orbit depicts NASA astronauts Chris Cassidy and Jeanette Epps as they train underwater for spacewalks on the International Space Station. (Epps is the first Black woman to have an extended stay in space). Directed by Emmy-winning cinematographer Jonathan Bird, the documentary "reveals the ways NASA uses these environments to give its astronauts experiences akin to those in space," officials explained. Ocean to Orbit "captures the complexities surrounding an astronaut's training regimen before going into space (and) demonstrates how critical it is for astronauts to be trained for every scenario in microgravity, whether positive or negative." The film is suitable for the whole family and lasts 20 minutes; it opens alongside Fernbank's new Journey to Space exhibit.
General admission tickets include the film and are available online at $24.95 for adults, $23.95 for seniors, $22.95 for children ages 3-12, free for children ages 2 and younger, and free for Fernbank members. 767 Clifton Road, Atlanta 30307. FernbankMuseum.org @FernbankMuseum
Opens Thu. Oct. 13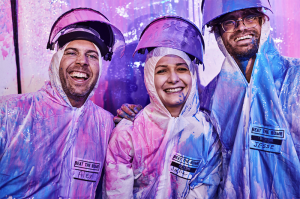 Beat The Bomb, Chattahoochee Avenue — Described as the world's first video escape room, Beat The Bomb opens to the public on Oct. 13 as a permanent fixture in Atlanta. The hour-long adventure consists of teams of up to six players dressed in hazmat gear with the aim of disarming a giant paint bomb, or risk getting blasted by it. Players must navigate five immersive rooms, including an "action-packed" Laser Maze, on route to the ultimate challenge. There is also an immersive arcade lounge and food and drinks from The Bomb Bar. Company owners are touting they have "taken the entertainment industry by storm" with an annual growth rate of 113 percent since 2013. "We are proud to be recognized as one of the leading escape games in the country," they touted on Facebook, "but we need to come clean about something…We're much more than an escape room - and better - and we can prove it."
$34.95 - $59.95. 1483 Chattahoochee Avenue, Atlanta 30318. beatthebomb.com/atlanta @beatthebomb
Sat., Oct. 15
Decatur Beer Festival, Legacy Park — At least 70 breweries will be hawking their frothy libations at this year's Decatur Beer Festival, among them local stalwarts such as Good Word, Creature Comforts, Three Taverns, Wild Heaven, Wrecking Bar, Monday Night and Wild Leap. After a two-year hiatus, the foamy fest is setting up at its new venue, Legacy Park on South Columbia Drive, and all proceeds are benefiting nonprofits in the city. The event is sponsored by SUDS (Simply Us Doing Our Share), a new charity endeavor created by owners of the Brick Store Pub.
Local chefs Terry Koval of The Deer & The Dove, Shay Lavi of Let's Eat Atlanta and the Brick Store's Eric Ottensmeyer will be on site with fare for the occasion, as will cooks from the Refugee Women's Network Private Chefs Club, who will serve dishes from Afghanistan, Syria, South Sudan, and Ethiopia. Additionally, the Amplify Sound Stage will host live music from Blacktop Rockets, Penelope Road and Bogey, and The Viceroy.
$65 Noon to 4 p.m. Legacy Park, 500 South Columbia Drive, Decatur 30030 freshtix.com @DecaturBeerFest
Thu., Oct. 20 - Sat. Nov 5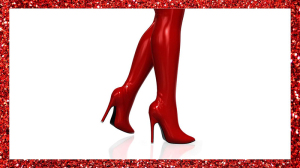 Kinky Boots Out Front Theatre Company — The story is of two young men from seemingly opposite worlds who realize they have much in common, says playwright Harvey Fierstein. The hit musical was inspired by a 1999 episode of the BBC2 documentary series Trouble at the Top and the subsequent Kinky Boots movie, released in 2005. The main character is Charlie Price, inheritor of a shoe factory in decline, who decides to produce fetish footwear for men under the guidance of a drag queen named Lola. The plan meets resistance from employees and customers alike. The situation deteriorates further when Price is invited to Milan to show off his wares, with disastrous consequences. Music and lyrics are by perennial pop star Cyndi Lauper, winner of multiple awards for her first stab at a Broadway musical. Direction and choreography are by Jerry Mitchell. Dustin Presley plays the role of Price and Wendell Scott is Lola.
$25 - $30 - $35 Out Front Theatre, 999 Brady Avenue, Atlanta 30318. 404- 448-2755 boxoffice at outfronttheatre.com outfronttheatre.com @outfronttheatre
Fri., Oct. 21
Harry Potter: The Exhibition, 200 Peachtree — This new behind-the-scenes touring exhibition that made its world premiere in February "presents beautifully crafted environments that honor the iconic moments, characters, settings, and beasts as seen in the films and stories of Harry Potter and the Wizarding World while exploring the filmmaking magic that brought them to life," organizers say. The show explores the mysteries of Hogwarts castle and the antics of its students, plus dragons and Dark Arts, Gringotts and the Ministry of Magic. "The exhibition celebrates magic, connects fans with a global community of wizardry, and reveals the artistry and craftsmanship behind the blockbuster films… "as they engage with innovative, awe-inspiring, and magical environments and installations in this unforgettable experience."
$25 for kids - $29 for adults 13 and over. The 200 Peachtree Building at 155 Carnegie Way, Atlanta 30303. Atlanta.harrypotterexhibition.com @HP_Exhibition
Opens Sat. Oct. 22
Stranger Things: The Experience, Pullman Yards — Netflix is cashing in on its massively successful sci-fi series by launching Stranger Things: The Experience in Atlanta after stints in New York, San Francisco and London. Visitors get to check out the dicey Hawkins Lab and attempt an escape from the notorious Upside Down. The new storyline, which Time Out called "grandiosely epic," is by the Duffer Brothers, scriptwriters of the TV show, and "propels guests into a parallel universe where they must run the gauntlet of terrors lurking in the dark and unlock their secret powers to help save the town," the publicity machine says. "Fans will be free to explore Mix-Tape, where they can meet real-life characters from the Stranger Things world, grab a USS Butterscotch sundae at Scoops Ahoy, attempt to knock off MADMAX's high score at the Palace Arcade, try a unique cocktail at the first ever Stranger Things themed bar, snatch up exclusive merchandise, and even get up close and personal with Vecna."
$49 Pullman Yards, 225 Rogers Street, Atlanta 30317 strangerthings-experience.com/atlanta @strangerthings.experience
Thu., Oct 20 - Sun., Oct. 23
The Little 5 Points Halloween Festival & Parade, Little Five Points — Going strong almost continuously since the 1970s, the L5P Halloween fest is back with a weekend program featuring ghost tours, local artists, live music, food trucks, drag queen karaoke, an old-school freak show, a skate park, vendors and a Venmo raffle. The Voodoo Dance Party starts things off at the Star Bar on Thursday, Oct. 20; a monster hunt takes place on Saturday, Oct. 22 and so does a mask performance by the L5P Community Center theater folks in Findley Plaza; the parade itself is on Sunday, Oct. 23 at 2 p.m. Parade marshals are Mastodon, Ira from L5P Pharmacy and Patti Kunkle. Proceeds support the Little 5 Points Business Association, a non-profit group supporting local merchants and making improvements in the business district.
Ticket prices and more details at l5phalloween.com @L5PHalloween
Tue., Oct. 25 - Thu., Oct. 27
Legends & Lore, Rhodes Hall — Otherwise known as the "Castle on Peachtree," Rhodes Hall has been recognized as an axis of paranormal phenomena ever since its inception in 1904. The house was built for furniture magnate Amos Giles Rhodes and remains one of the few such structures on Peachtree still standing. Under the auspices of the Georgia Trust for Historic Preservation, the mansion will play host once again to visitors in the dark of night during the Halloween season "to hear some of the spine-chilling experiences and encounters that have been reported," we are told. The cost of a ticket includes beer or wine which can be imbibed on the splendid porch prior to delving into the abyss. The place has been featured on television shows such as Ghost Hunters and Georgia's Haunted Hidden Treasures.
$35. Ages 21+. Tours at 6:30 p.m., 7:30 p.m. and 8:30 p.m.
Rhodes Hall, 1516 Peachtree Street NW Atlanta 30309. Free parking behind the main building at 1495 Spring Street. georgiatrust.org 
Sat., Oct. 29
Whiskies of the World, InterContinental Hotel, Buckhead — One of the largest whisky tasting events in the United States gathers more than 200 distilled spirits from around the globe, along with their makers and merchants, to provide aficionados with "crafted culinary bites and a branded nosing glass to properly sip and swirl whisky like a pro," they tell us. "Prestigious single malts, craft bourbons, and other unique whiskies will be showcased through free-flowing tastings, craft cocktails, and exclusive masterclasses." If you buy the VIP ticket, the shindig offers face-to-face time with distillers, priority reservations for the educational masterclasses and private access to additional high-end whiskies and culinary offerings.
Both general admission ($99) and VIP ($150) are all-inclusive of unlimited curated dishes, beverage pairings, live entertainment, and more. Availability is limited and advanced tickets are required. 6 p.m. 3315 Peachtree Road, Atlanta 30326. 404 946 9000 whiskiesoftheworld.com @WhiskiesOTWorld