CIVIL RIGHTS: Meeting of the minds
Intellectuals gather in Atlanta for a 'Night of Ideas'
A nocturnal marathon of philosophical debates, performances and readings addressing global issues, Night of Ideas, is taking place Saturday, March 4, at Atlanta's National Center for Civil and Human Rights under the theme "More Justice — Defending Rights, Realizing Dreams." The free event — with registration — will allow visitors to "engage with activists, artists, journalists and thought leaders about how the historical concept of rights opens the present to new political, cultural, and ethical possibilities which echo Dr. King's 'I Have a Dream' speech on its 60th anniversary," a press release states. Voting rights, urban design, climate change, the arts, activism and immigration are all subjects on the agenda.
Night of Ideas was held in Atlanta once before — in 2022 at the Woodruff Arts Center — and was first introduced worldwide in 2015 by the Institut Français in partnership with French cultural institution Villa Albertine. "The inaugural 'Night of Ideas' was reflective of the evolution of this amazing city and its identity as the culture capital of the nation," Camille Russell Love, executive director of the Atlanta Mayor's Office of Cultural Affairs, says in a statement; her organization is co-sponsoring this year's confab. "With the National Center for Civil and Human Rights as the backdrop, we hope the evening will spark conversations and ignite a call to action."
Villa Albertine is a think tank spanning two dozen U.S. cities with the mission of deepening cultural connections between the United States and the French-speaking world through a shared exploration of arts and ideas, the group says. Aside from Night of Ideas, artist residencies, grants and professional programs as well as a newly-launched magazine entitled States are other functions of the group. David Ruffel, cultural attaché and director of Villa Albertine in Atlanta under the auspices of the French Embassy, says in an interview that Night of Ideas is not a French event per se. "It's important to understand this. We partnered with the City of Atlanta — that's the core organizer — and we invited scholars, artists and committed citizens from the city and from France and Africa." Ruffle mentions award-winning photographer Sheila Pree Bright, who will speak about the historic role of photography in social justice movements, and author and philosopher Felwine Sarr, whose talk is titled The Rights of Nature. "We wanted to address some new topics in relation to rights and the question of climate justice," Ruffel tells Creative Loafing. "These are things that in the '60s and even the '70s were not on the table, and now — because of the climate crisis — are urgent topics of our time." He adds that his organization will continue contributing to the cultural life of the city. "We want to be right in the middle of it."

Housing and homeless rights advocate Terence Lester will give a talk about issues pertinent to Martin Luther King Jr.'s life and legacy. "My whole (Ph. D.) research has been centered on social constructions and how public policy defines who's worthy and who is unworthy in regards to homelessness," Lester says in a telephone interview. "What I've learned in the past few years is related to policy that actually targets those who are unhoused and how that's in direct contrast to MLK's 'beloved community' concept, and what that means for equity and equality and justice for all. My talk is about belonging and how belonging itself is an act of justice … ensuring we create more equitable communities and a society for all." On his website, Lester draws a distinction between diversity and inclusion.
"Diversity invites people to the table, but inclusion empowers your voice to be heard while you're at the table," he writes. "Diversity without inclusion is shallow marketing. I do not wish to sit at any tables that want my skin for marketing but not my voice for truth and perspective. People do not want to go where they are merely tolerated; they want to go where they are included."
In addition, Lester plans to talk about the Dignity Museum, a project he and his team launched in 2019, located in College Park. "It's labeled as the first physical museum in the United States that represents the subject of homelessness. We are in the process of expanding it. It's a museum that represents what I call narrative justice for those who are unhoused and often silenced."

Starting at 7 p.m., participants will explore the Center's exhibitions and "experience an informative and inspiring evening" of discussions examining the challenges of the present and the future, connecting civil rights history to the  ongoing struggle for justice and equality. Headliners include King Center CEO Dr. Bernice A. King; civil rights leader Charles Black; professor, writer and filmmaker Douglas Blackmon; musician Okorie 'OK Cello' Johnson; and Human Rights Center CEO Jill Savitt, who says, "We seek to inspire people to tap their own power to protect rights and connect the truth of history to the present, in order to build a better future." Others scheduled to participate are professor and activist Maboula Soumahoro, an Africana studies expert who contributed to the French committee on the history of slavery and launched the French version of Black History Month in 2012; Professor Beverly Guy-Sheftall of Spelman College; human rights attorney Julie F. Kay; French activist organization ACLEFEU; Georgia State University scholar and author Dr. Maurice Hobson; Mexican artist and immigration defender Yehmini Cambrón; and freestyle rap collective Soul Food Cypher who will perform at various points throughout the evening.

The latter is more than a group of rappers, though. Soul Food Cypher is described as a "nonprofit lyricism organization" that teaches hip-hop aficionados to show like-minded kids in schools how to "increase their vocabulary, their public speaking skills and their self confidence in culturally relevant ways," says Alex Acosta, SFC's leader and chief motivator. A cypher is a group of freestyle rappers rhyming in a cyclical motion, following each other's lead, Acosta explains.
"The cypher is a safespace in which kids and also young adults can express things that they would not normally express in regular conversation." SFC holds flagship gatherings every fourth Sunday (the next one is Mar. 26) under the banner "One Hundred" at Create ATL on Murphy Avenue in southwest Atlanta. "Normally, cyphers are ephemeral," he adds. "They come and they dissipate. We see this as a particular canvas in which we can do community work."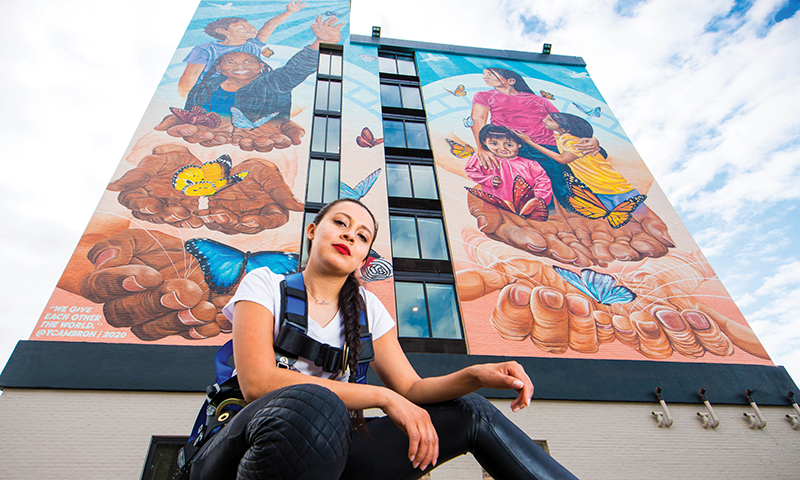 James Richards, the Center's director of communications, says the gathering seeks to "build connections among justice seekers and create an atmosphere where empathy, curiosity, creativity, and honesty flourishes." He added, "Amidst painful history, Atlanta has nurtured generations of brilliant thinkers, artists, activists, and leaders who have applied their tremendous imagination and ingenuity to help bend the moral arc of the universe towards justice and equality in their communities and throughout the world. 'Night of Ideas' creates open spaces for people from all walks of life to exchange diverse opinions and ask hard questions about justice, rights, and dreams against the realities of today's political and social climate in which these rights are threatened and access to education and the truth of history is being curtailed."

Another hip-hop artist appearing that evening is Tim'm West, who also is executive director of the LGBTQ Institute at the Center. "Holding space where ideas ignite actions that create equity and justice, especially using visuality, music, and performing arts is precisely what the world needs right now," West writes in an emailed statement. "The arts express hard truths we need to confront; and doing so at the National Center for Civil and Human Rights is an ideal place to start."
Free, 7 p.m. - midnight, Saturday, March 4. National Center for Civil and Human Rights, Pemberton Place, Centennial Park, 100 Ivan Allen Jr Blvd NW, Atlanta, 30313. (678) 999-8990 civilandhumanrights.org nightofideas.org/atlanta/ lovebeyondwalls.org/dignity-museum soulfoodcypher.com https://thekingcenter.org/ villa-albertine.org/?city=ATL
---