ABOUT TOWN: Odds and Ends
Weird and wonderful happenings for your perusal
Let's see … what do we have this month? A cyber gallery with a supposedly different approach; the return of the "immersive" Van Gogh in a new guise; an innovative celebrity photographer; a lovely comedic fantasy by William Shakespeare; a humorous podcast by pro choice activists; and a stand-up gig by a bunch of weary teachers desperate for comic relief. Have at it.
Ongoing

At Last Cyber Gallery — A one-night-only exhibition combining art and technology opened at the Aftercar event space in Old Fourth Ward on May 25 to globally launch an online gallery of works by 10 "dynamic" artists, both upcoming and established, a press release reveals. Kris Pilcher, Bojana Ginn, Alicia Renee Ball, Ellex Swavoni, Pablo Gnecco, El Lewis, Michi Meko, Cait Lamas, Fahamu Pecou and Lisette Correa "have created a substantial, interactive and meaningful collection of both physical and digital works." A total of 20 pieces are available through the At Last cyber gallery in what Chief Curator Courtney Hammond calls "a social, cultural and financial experiment to rethink how we buy, sell, and engage artists, artwork and art ownership in our daily lives." Last month's 'This Is Just A Test' opening at Aftercar featured interactive light works for interiors, custom fashion and jewelry concept showrooms, custom light and color therapies, animated holograms, storytelling portals and music by local DJs Ree de la Vega and Cris Kai. Some of the proceeds benefit the Atlanta Convention & Visitors Bureau, encouraging public awareness and financial support for art, cultural, and historical organizations. — Kevin C. Madigan
Works by the artists can be viewed and purchased at atlast.world @atlast.world @atlastARTWORLD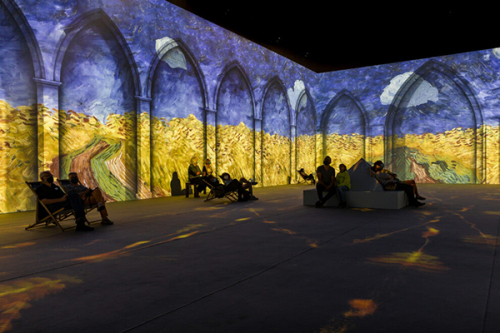 Van Gogh: The Immersive Experience, Exhibition Hub Atlanta Art Center — This popular exhibit featuring the Dutch impressionist master is back in Atlanta for a second time but is an entirely new show, organizers insist, featuring updated spaces and aspects. "Explore his life, his work, and his secrets as never before through cutting-edge 360-degree digital projections, a one-of-a-kind virtual reality experience, and a uniquely atmospheric light and sound show," they urge. The original show has toured the world since 2017, having had 5,000,000 visitors so far, and the public is advised to not confuse it with other Van Gogh productions bearing similar nomenclature. — Kevin C. Madigan
Adult (13+) $34.90; Child (4-12) $20.90; Senior (65+), Student (13-26), or Military $29.90; VIP Adult (13+) $54.90; VIP Child (4-12) for $40.90; VIP Senior (65+), Student (13-26), or Military $49.90. Exhibition Hub Atlanta Art Center, 5660 Buford Highway, Doraville 30340 Vangoghexpo.com feverup.com
Now Through Tue., Jul 11
Bowie, Beyoncé & Beyond, Jennifer Balcos Gallery — Swiss-born Markus Klinko was formerly a harp soloist signed to the EMI Classics label until a hand injury put the kibosh on his music career. Taking up the visual arts instead, he's taken pictures of numerous celebs over the course of 30 years. We're talking about Kate Winslet, Olivia Wilde, Mary J. Blige, Mariah Carey, Jason Statham, Anne Hathaway, Eva Mendes, Channing Tatum, Naomi Campbell and Iman, among plenty of others. His portfolio includes myriad magazine covers and partnerships with brands such as Lancôme, L'Oréal, and Nike. "These images truly represent a moment in time," Klinko proclaimed in a press release. "It's fascinating to see them transform from serving one purpose to resurfacing in other ways. I am proud to share these latest works with a fast-growing collector base." The Balcos exhibition will also display his "artistic collaboration" with Emerald Laser, a developer of low-level laser therapy technology, in a project that "explores the aesthetic appeal of futuristic treatment methods in Hollywood," the release added. — Kevin C. Madigan
Free. Jennifer Balcos Gallery, 3872 Roswell Road, Atlanta 30342. 404-441-5745 jenniferbalcosgallery.com markusklinkostudio.com
Sat., Jul. 1 – Sun., Jul. 23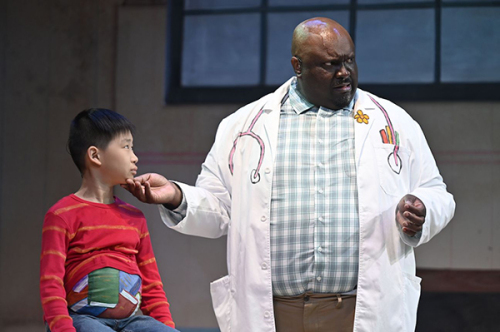 The Incredible Book Eating Boy, Stillwell Theatre — Based on Oliver Jeffers' book, this musical comedy about a boy starving for knowledge is making a return to the stage after originally premiering in town last July. Produced by the Alliance Theatre, this time it's being staged at the Stillwell Theatre in Kennesaw. "Atlanta's youth and families could not get enough of The Incredible Book Eating Boy, so we just had to bring it back again this summer," says the Alliance's Associate Artistic Director Christopher Moses. "Madhuri Shekar's theatrical adaptation of this story (with music and lyrics by Christian Magby and Christian Albright) captures the humor and heart of Oliver Jeffers' book in a way that is every bit as incredible as the Book Eating Boy himself." Returning to the cast are actors Rhyn McLemore, Brad Raymond and Juan Carlos Unzueta. Joining this production are Alexandra Joy and Adrienne Ocfemia. — Kevin C. Madigan
$20 for adults, $10 for children 3-17, and free for children under 3. Stillwell Theatre, Kennesaw State University, 71 Bartow Avenue, Kennesaw 30144. 404-733-4600 alliancetheatre.org
Wed., Jul. 5 - Sun., Jul. 30
Wicked, Fox Theatre — Some of you know the songs already: "Defying Gravity," "Popular" and "For Good," for instance. Time magazine called Wicked "a magical musical with brains, heart, and courage," while NBC hyperbolically deemed it "the most successful Broadway show ever." Regardless, the show has racked up some serious audience numbers and plaudits since its debut in 2003. The playwright is Winnie Holzman and music and lyrics are by Stephen Schwartz; it's based on the 1995 Gregory Maguire novel Wicked: The Life and Times of the Wicked Witch of the West, which in turn was based on L. Frank Baum's 1900 novel The Wonderful Wizard of Oz and the subsequent classic movie of 1939. Incidentally, a new film adaptation, in two parts, is currently in production, with Jon M. Chu (Crazy Rich Asians) in the director's chair; Ariana Grande (as Good Witch Glinda) and Jeff Goldblum (as the Wizard) are among the cast. — Kevin C. Madigan
$43.00+ Fox Theatre, 660 Peachtree Street, Atlanta 30308. 855-285-8499 foxtheatre.org/wicked
Sat., Jul. 8 - Sun. Jul. 30
A Midsummer Night's Dream, Shakespeare Tavern — The synopsis: A warring king and queen, both fairies, come across four runaway lovers and a gaggle of amateur actors trying to rehearse a play in the forest. The magical royal couple meddles with their mortal lives, culminating in a comical cluster of confusion. "The course of true love never did run smooth," says the young Athenean Lysander in the Bard's woodland fantasy, first staged in 1596. An understatement indeed, what with the havoc perpetrated by the play's main characters, running amok all over the place in a display of whimsical bedlam. Making his mainstage debut at the Tavern is Adam King, known for touring productions of Romeo & Juliet, Macbeth, and Shakespeare 4 Kids. A final word from the producers: "Please don't throw tomatoes at the actors. We need them for the soup." — Kevin C. Madigan
$15+ Shakespeare Tavern, 499 Peachtree Street, Atlanta 30308. 404-874-5299 shakespearetavern.com @shakespearetav
Thu., Jul. 20
Feminist Buzzkills Live, Terminal West — The Abortion Access Front podcast Feminist Buzzkills is coming to Atlanta for one night this month, hosted by Lizz Winstead, co-creator of "The Daily Show" and the AAF's founder. Alongside her will be writer and activist Moji Alawode-El. Atlanta comedian Baron Vaughn, actor in the Netflix series "Grace and Frankie" and an activist himself, is on the bill too. "Supporting abortion rights is supporting human rights," he says. "When they bestow second-class citizenship on a large part of the population, it becomes even easier to strip rights from whomever whenever — it's not just a slippery slope, but a dangerous decline." They will be joined by Kwajelyn Jackson from the Feminist Women's Health Center, Agbo Ikor with SPARK Reproductive Justice NOW and Inyang Njoku from Access Reproductive Care. The timing of the Buzzkills' appearance in Atlanta is propitious, given that the anti-abortion extremist group Operation Save America has chosen the city for its annual hate fest this summer.
"It'll be a SCORCHING night of the latest news on the state of abortion access, some hilarious dragging misogyny for filth, and learning about all the ways YOU can fight back with the best activists out here in these ATL reproductive streets," a press release enthused. Winstead added, "I just got sick of watching well-meaning people bring a Powerpoint presentation to a knife fight, so I wanted to change the way we expose hypocrisy. I have seen how humor can gather people together in a joyful way to fight against oppression, and done well, it can help people see the light, and inspire them to join the fight." — Kevin C. Madigan
$30+ 8 p.m. Terminal West, 887 West Marietta Street, Atlanta 30318 axs.com
Sat., Jul. 29
Bored Teachers, Center Stage — You can take a teacher out of the classroom, but you can't take the classroom out of the teacher. A bunch of educators calling themselves Bored Teachers are touring the country with a stand-up comedy show titled "We Can't Make This Stuff Up." It's an effort to "escape the chaos and find humor in the frustration and exhaustion that comes with the teaching profession," the Vero Beach-based group announced. Skits they've created have garnered "hundreds of millions" of views online, they claim. The lineup varies from show to show, so there's no telling who will appear at the Atlanta gig. Reviews of the tour have been fairly positive, but the prevalence of F bombs dropped by the participants seems to have riled some punters unaccustomed to hearing teachers curse. Don't bring your kids. By the way, even though it's an early show, starting at 5 p.m. — Kevin C. Madigan
$34-$64. 5 p.m. Center Stage, 1374 West Peachtree Street, Atlanta 30309. 404-885-1365 centerstage-atlanta.com