ABOUT TOWN: Autumn offerings
September has an abundance of arty happenings in and around town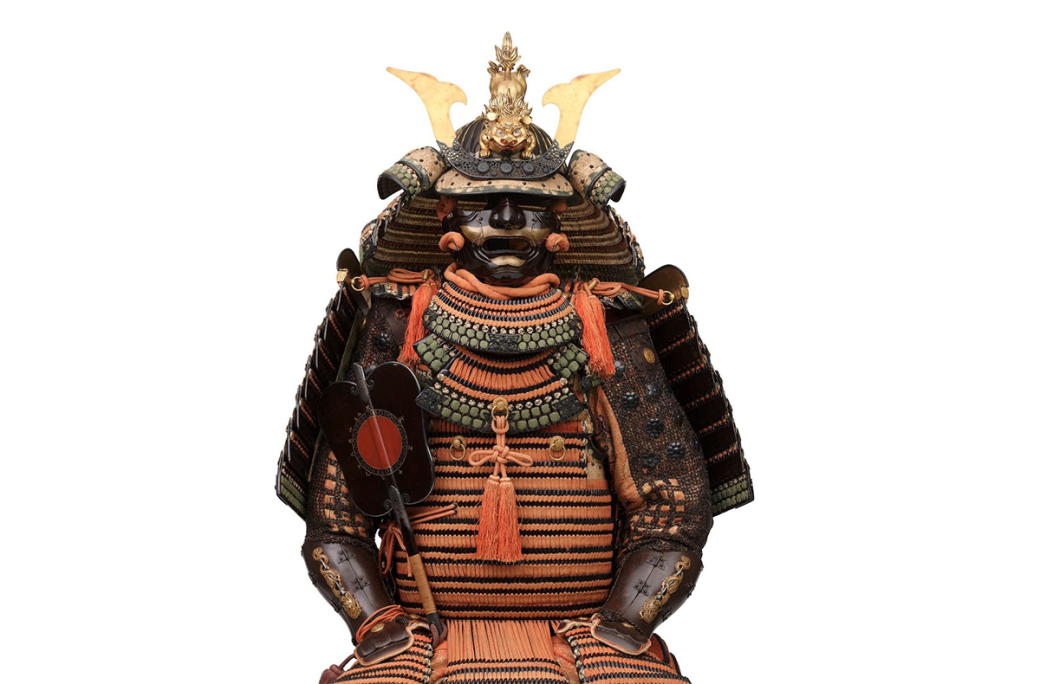 ">
SAMURAI LEGACY: THE ARTISTRY AND CULTURE OF JAPAN'S MILITARY NOBILITY, SPANNING NINE CENTURIES, AT THE HIGH.
For this year's installment of the biennial exhibition Gathered VI, the Museum of Contemporary Art of Georgia is issuing an open call for submissions to artists 18 years of age and older who live in the state. All artists are requested to submit digital images (or video if new media) of three recent works which best represent their practice. Artists whose work is selected should be prepared to exhibit any or all of their submitted works as jurors may select just one, or they may choose multiple works from each artist. There is a $35 non-refundable entrance fee and up to $5,000 in awards to be given out. The deadline for submissions is Monday, Sep. 11 at mocaga-gathered-vi.artcall.org.
The Georgia Council for the Arts has announced the chosen entries for The Art of Georgia IV: Landscapes exhibit which will showcase current work of contemporary Georgia visual artists. Installation is underway and the show will be on display in the executive offices of the State Capitol and the ballroom of the governor's mansion for approximately one year. A total of 98 pieces were selected from 81 artists representing 39 counties from all regions of the state, making it the largest-ever Art of Georgia exhibit. A digital guide is available here. Submission deadlines for the next Art of Georgia exhibit will be announced toward the end of 2024. Artists from across the state will again be invited to have their work considered for inclusion.
This month's round-up of arty happenings in town includes two events featuring actors and artists from Iran; a jukebox musical honoring the life and career of Carole King; a portfolio of turn-of-the-century Paris and a stunning collection of samurai armor, both at the High; actor and comedian Brett Gelman at Dad's Garage; author and photographer Becca McCoy's one-woman show; and a new operatic production of The Shining''.
That's not all: the Children's Museum gets all emotional; Netherworld returns to scare the bejesus out of you; and Tutankhamun's tomb and treasures will be displayed in all their ancient glory. Keep scrolling.
Through Sun., Sep. 17
Samurai Armor from the Collection of Ann and Gabriel Barbier-Mueller, High Museum — "Being a samurai lies in seriously devoting one's body and soul to one's master, and to fit oneself inwardly with intelligence, humanity and courage." That was according to Yamamoto Tsunetomo, a Buddhist monk and samurai of the Saga Domain in Japan's Hizen Province who died in 1719. This agglomeration honors him and others of his kind "through a dazzling array of more than one hundred fifty helmets, swords, and other objects spanning almost nine centuries, including nearly twenty complete sets of armor, the exhibition will illuminate the exceptionally high level of design and craft dedicated to these elaborate instruments of ceremony and combat," the museum's announcement notes. "These objects reveal the culture, lifestyle, and artistic legacy associated with the samurai warrior in Japanese society." The collection was amassed by Ann and Gabriel Barbier-Mueller, who note in a statement: "It is the combination of art and armor, the boundless creativity of the objects' forms, and the aesthetics used by these fierce and cultivated warriors that drew us in." The High's chief curator, Kevin Tucker, adds, "For centuries, the samurai in Japan provided a touchpoint for not only political change and military prowess, but importantly, an extensive range of artistic production in metals, textiles, lacquer work and the host of materials necessary to create these elaborately decorated statements of power and prestige. The legacy of samurai persists to this day in the often nearly mythological perception of their history and adoption of imagery in popular culture including by way of anime, manga and contemporary film."
$18.50. Free for members. High Museum of Art, 1280 Peachtree Street, Atlanta, 30309. 404-733-4400. high.org
English, Alliance Theatre — Four adults in an Iranian classroom are required to speak only English while preparing to pass a foreign language exam in order to emigrate. Passing the test could open up myriad opportunities for the students — a green card, medical school admission, or family reunification. Awkward lessons involving word games and mistranslations ensue. Written by Sanaz Toosi, the 2023 Pulitzer Prize drama winner is described as both a comedy of miscommunication and a look at the ways speaking a new language can expand your world while limiting your identity. "(It's) a beautiful invitation to its audience to see belonging and the subject of identity in a different perspective," says Shadi Ghaheri, who co-directed the production. "To melt in a world where a group of people are trying to find another life through a language that offers them more than their own — or at least that is the promise. It must be nice to safely and simply belong where you are born to live. Not all human beings around the world have this privilege." The all-Iranian cast features Auveen Dezgaran as Goli; Lilly Heidari as Jennifer; Ash Kahn (The Chosen) as Omid, Adir Lev Mann as Coach and Nader; Pooya Mohseni (Law & Order: Special Victims Unit, Madam Secretary) as Marjan, Sade Namei (Signature Theater's Emotional Creature) as Elham; and Sayé Yabandeh (The Young & The Restless, DGA Theater's The M Word) as Roya.
$40 ($10 Teens). The Hertz Stage at Alliance Theatre, Woodruff Arts Center, Memorial Arts Building, 1280 Peachtree Street, Atlanta, 30309. 404-733-4600 alliancetheatre.org
Beautiful: The Carole King Musical, Lawrenceville Arts Center — I won't even begin to list all the hit songs Carole King has had a hand in writing for other artists in the 1960s. As if that wasn't enough, her 1971 solo album Tapestry has sold more than 30 million copies worldwide. This "jukebox musical" tells her story from teenage songwriter to rock n' roll mega-fame, interspersed with personal travails and troubled relationships. King is played by local actor and music teacher Bethany Irby; King's husband and frequent collaborator, Gerry Goffin, is portrayed by Ben Thorpe. The principal cast includes Chloe Cordle as Cynthia Well; Jon Hacker as Barry Mann; Cory Phelps as Don Kirshner; and Jennifer Pagnard as Genie Klein. Curtain Up reviewer Elyse Sommer writes that the bio "has enough bounce and Broadway show glitz to keep you in your seat."
$21+ Aurora Theatre, Lawrenceville Arts Center, 125 North Clayton Street, Lawrenceville, 30046. 678-226-6222 tickets.auroratheatre.com
Through Sat., Sep. 30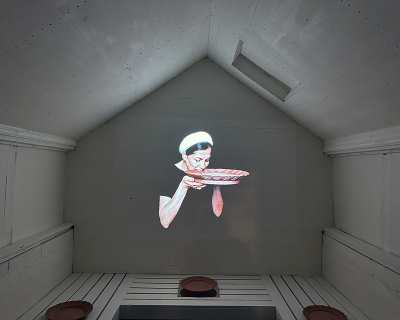 Correspondences - Seven Sisters - Palette, Whitespace Gallery — This Inman Park spot is presenting a total of seven international artists in three separate exhibitions, each lasting until the end of September. Correspondences , a title borrowed from a poem by Charles Baudelaire, has works by Wansoo Kim, Sharona Eliassaf, Neha Vedpathak, Rubens Ghenov and Emily Weiner in media ranging from painting and ceramics to paper and sculptural installation.
Vadis Turner's Seven Sisters is a solo presentation of seven sculptural works made from bedding, curtains, pigment, light, sound, metal and stone, which "occupy spaces between textile, painting and sculpture," thus "resisting categorization," the gallery says in its announcement.
Palette displays the work of Iranian interdisciplinary artist Raheleh Filsoofi, whose practices "act as the interplay between the literal and figurative contexts of land, ownership, immigration and border." She is a "collector of soil and sound, an itinerant artist, feminist curator, and community service advocate." The gallery will have an installation of Filsoofi's video Bite, presented alongside a series of corresponding ceramic plates. "The exhibition revolves around the unique symbolism of each individual artist, and the relationships created between their wide-ranging artworks converging in a shared space," the press release added.
Free. Whitespace Gallery, 814 Edgewood Avenue, Atlanta, 30307. 404-688-1892 whitespace814.com
Through Sat., Oct. 14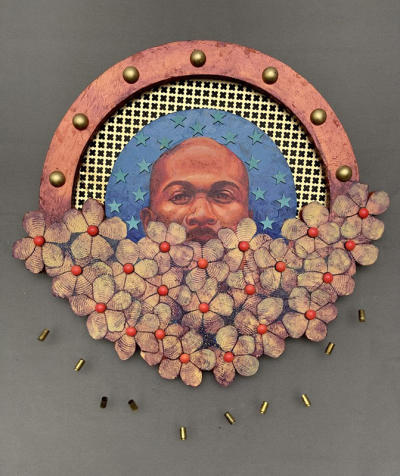 Under Her Canopy and Studio Apprentices, The Museum of Contemporary Art of Georgia — Two exhibitions are underway at MOCA in Atlanta until mid-October. The first, Under Her Canopy, presents the work of Ato Ribeiro, described in a press release as a multidisciplinary artist working in a variety of media including sculptural installation, drawing, and printmaking. Originally from Ghana and now based in Georgia, Ribeiro says these works are "a collection of stories, fragmented and fused together with room for the addition of narratives to come. This exhibition also celebrates the many ways that women — within my family and beyond — continue to enable and inspire my creative practice."
Studio Apprentices features works by Hannah Ehrlich, Chakura Kineard, Derrick Phillips and Parker Thornton, up-and-coming artists from the MOCA 2021/2022 Working Artist Project. The WAP apprenticeship allows established artists, or fellows, to mentor emerging artists over the course of a year, "creating partnerships in which both mentors and mentees can benefit from sharing knowledge, skills, ideas, experience, and the potential for creative collaboration."
Free. 12 noon - 5 p.m. The Museum of Contemporary Art of Georgia, 75 Bennett Street, Suite M-1, Atlanta, 30309 mocaga.org
Fri., Sep. 1 - Sun., Dec. 31
In the City of Light: Paris, 1850-1920, High Museum of Art — The High describes this exhibition as an illustrated guide through the architecture, people and culture of the dynamic, visionary French capital during the latter half of the 19th century into the 20th century. Artists such as Théophile Steinlen, Henri-Gabriel Ibels, Edgar Degas, Édouard Manet, Felix Hilaire Buhot, Auguste Rodin, Honoré Daumier, and Édouard Vuillard are part of the show. "The works on view will explore Parisian life through their subjective lenses, comprising a kaleidoscope of impressions featuring the luxuries and hardships of city life, both public and private," the museum says. Also captured are bustling street markets, absinthe drinkers in cafés, and the pursuits of beggars, buskers, and people at work. Four themes will be presented: familiar architectural landmarks, busy street life throughout the city, Parisian types and celebrities, and spectacles and entertainments, all featured in a variety of media, from prints and drawings to photographs and sculpture. "For me, the special appeal of this exhibition lies in the great kaleidoscopic variety of places, activities and people it offers to the viewer," curator Claudia Einecke says in a press release. "Each urban view, each lively scene, provides a historical, social or psychological insight into the great city of Paris — the City of Light — as it was one-hundred-plus years ago and as it, on some levels, still is."
$18.50. Free for members. High Museum of Art, 1280 Peachtree Street, Atlanta, 30309. 404-733-4400 high.org
Fri., Sep. 8 - Sat., Sep. 9
Brett Gelman, Dad's Garage — Adult Swim staple Brett Gelman is coming to Dad's Garage for four shows on one weekend this month. He will be joined by local comics as well. Gelman is best known for his role as Murray Bauman in Netflix's horror-supernatural series Stranger Things and as Martin on the BBC comedy Fleabag, starring Phoebe Waller-Bridge. "Brett is bringing his improv skills not just to perform in town but to team up with some of the best talents in Atlanta," an announcement claims. The 8 p.m. shows will feature Gelman, the Dad's Garage crew and a bit of stand-up, followed by the 10:30 p.m. show "with that late-night feel where anything goes." The performances are presented in collaboration with Vaguely Specific Productions, a local talent agency founded by former Dad's Garage Theatre Artistic Director and Second City Executive Producer Jon Carr.
$37.50+ 8 p.m. and 10:30 p.m. Dad's Garage Theatre, 569 Ezzard Street, Atlanta, 30312. 404-523-3141 dadsgarage.com
Becca McCoy, The Year of Extraordinary Travel, Old Smyrna Firehouse — The Smyrna Arts Council is sponsoring a limited engagement of a solo show alongside a gallery exhibit by the author and photographer Becca McCoy. This "multidisciplinary theatrical event" is based on McCoy's experience of traveling somewhere every month for a whole year. The Year of Extraordinary Travel was originally published in book form in 2021, chronicling her journey to eight states in the US and seven other countries. It "contains short tales and hundreds of photos celebrating the relationship-deepening, horizon-expanding, joy-inducing nature of travel, and the beauty of our diverse earth and common humanity," McCoy says. After the show opened last year at Studio Grand Central in Florida, David Warner of The Gabber Newspaper said: "Becca McCoy has created an enthralling, suspenseful, often hilarious, and ultimately profound piece of theater. An extraordinary work of art." Alongside her one-woman show, the Firehouse will feature an exhibit of McCoy's photography under the title Extraordinary Lives - Sites - Times.
$25. 8 p.m. Doors open at 7 p.m. for refreshments and the gallery exhibit. Old Smyrna Firehouse, 2889 Alexander Street, Smyrna, 30080. eventbrite.com
Fri., Sep. 8 - Fri., Oct. 13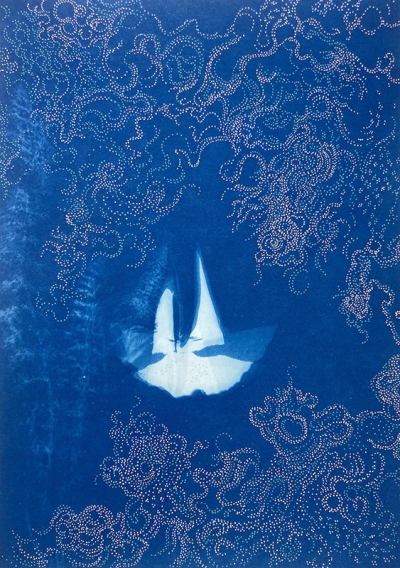 Aura, Kai Lin Art — Hannah Adair is one of 21 female and non-binary artists from the South featured in Aura. Adair is a printmaker and interdisciplinary artist whose specialty is etching, but she loves to experiment and learn new processes, she says. An instructor at Atlanta Printmakers Studio, Adair has exhibited at Swan Coach House, Poem 88, Robert C. Williams Museum of Papermaking, Hi-Lo Press, Whitespace, and Dalton galleries. The other artists in the show are Chloe Alexander, Mallory Brooks, Alice Stone Collins, In Kyong Chun, Heather Deyling, Jessica Durrant, Kiara Gilbert, Krista Grecco, Honor Hall, Lisa Hart, Angie Jerez, Kaya Shoots (Adrianna Clark), Christina Kwan, Jessica Locklar, Tracy Murrell, Coki Panda, Valentina Custer O'Roark, Stacie Rose, Sophia Sabsowitz, Stephanie Smith, and Sandy Teepen. Yu-Kai Lin, the gallery's director, tells Creative Loafing the exhibition was created "to highlight incredible female and non-binary creators from across the Southeast making work that reflects their journeys, shared histories, and what it means to be human."
Free. Kai Lin Art, 999 Brady Avenue, Suite 7, Atlanta, 30318. 404-408-4248 info@kailinart.com kailinart.com
Sat., Sep. 9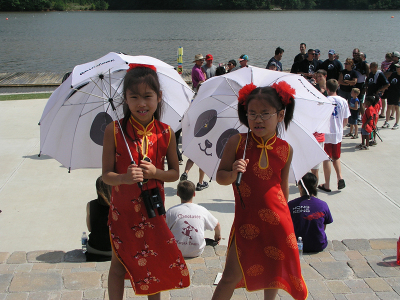 Hong Kong Dragon Boat Festival, Lake Lanier Olympic Park — This flashy and splashy cultural celebration, hosted annually on the shores of Lake Lanier, now boasts more than 80 teams and regularly attracts about 8,000 spectators. It's all about teamwork, athletic prowess, and the rich history of Hong Kong. The Dragon Boat Festival features a race with teams powered by synchronized strokes, rowing in unison to beating drums, as well as traditional music, dance and martial arts, plus food stalls offering a wide array of delicacies. The hosts invite you to "immerse yourself in the colors, sounds, and tastes of Asian culture and tradition."
Free entry. Lake Lanier Olympic Park, 3105 Clarks Bridge Road, Gainesville, 30506. 855-536-1996 dragonboatatlanta.com
Thu., Sep. 14
Truist Night Market: Autumn Edition, Home Depot Backyard — The Home Depot Foundation's arts and culture program has announced its signature fall event taking place this September adjacent to Mercedes-Benz Stadium. Partner Truist Bank will be "providing resources" to small businesses in the vendor section, which will have "as many as 20 local artisans and vendors from across metro Atlanta specializing in art, apparel, cooking accessories, jewelry, candles, skincare, and other products." The music roster will be headlined by Jukebox Atlanta, "known for its unique blend of nonstop mix tape-like R&B." Tito's Vodka and Second Helpings Atlanta — a nonprofit food rescue organization working to reduce hunger and food waste in the area — will collaborate to donate the event's surplus food to families in need. Other boozy participants include Tanqueray, Creature Comforts Brewing, and Burnt Hickory Brewing, alongside non-alcoholic beverage maker Parch Spirits & Cocktails. Food options will be served up by chefs from Westside Motor Lounge, Ganji, DAS BBQ, Jimmie's Jerk Chicken and Cremalosa, among others.
$45 - $80. 6:30 p.m. - 9:30 p.m. Home Depot Backyard, 1 Backyard Way, Atlanta, 30313. bigtickets.com
Fri., Sep. 15 – Sun., Oct 1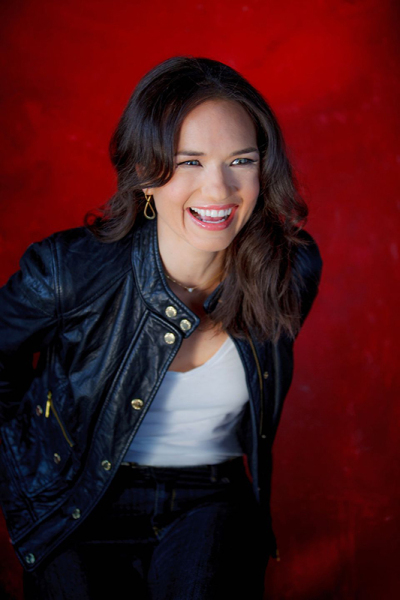 The Shining, Alliance Theatre — The Atlanta Opera and Alliance Theatre are hooking up to stage the East Coast premiere of The Shining, a new production of the opera based on Stephen King's 1977 bestselling novel — and his best-known work — as the season opener for both entities. Composed by Paul Moravec and librettist Mark Campbell and directed by Brian Staufenbiel, the story concerns a family that falls under the evil influence of the sinister Overlook Hotel and its many ghosts. Twin Cities calls it "the scariest opera you may ever experience." With 11 performances and two casts sharing the main roles, the show features Craig Irvin and Thomas Glass in the role of Jack Torrance; Kelly Kaduce and Kearstin Piper Brown as Wendy Torrance; and Kevin Deas and Aubrey Allicock playing Dick Hallorann. "Beyond the pop culture notoriety and the supernatural elements, The Shining, in the original novel and in our upcoming opera, reveals an all-too-common aspect of the human condition," says Tomer Zvulun, Atlanta Opera's artistic director. "A timeless dilemma, many people, all around us, face the demons of loneliness, frustration, and substance abuse. Stephen King thrills us with his masterful storytelling and we are excited to offer you this work by a brilliant creative team led by director Brian Staufenbiel."
$25, $55, $75, $95. Alliance Theatre, Woodruff Arts Center, 1280 Peachtree Street, Atlanta, 30309 AllianceTheatre.org
Sat., Sep. 16. - Sun., Jan. 7
Emotions at Play with Pixar's Inside Out, Children's Museum of Atlanta — The role of emotions in the everyday lives of children is explored in this charming interactive installation based on the Pixar animated feature Inside Out. Created by Children's Museum of Pittsburgh in collaboration with Pixar Animation, Emotions at Play "features hands-on and digital encounters" centered around the five key emotions showcased in the film: joy, sadness, anger, disgust and fear, according to the creators. "Children can develop their emotional intelligence by learning to identify and understand these emotions, exploring the myriad of ways humans express and cope with each one."
Prices vary. Military families and educators receive $10 off museum memberships. Tickets must be purchased online. Children's Museum of Atlanta, 275 Centennial Olympic Park Drive, Atlanta, 30313. 404-659-5437 childrensmuseumatlanta.org
Fri., Sep. 22 - Sat., Nov. 11
Netherworld Haunted House, Stone Mountain — This season, Netherworld is unveiling two new haunts, Promorial and Cryptid Chaos. "Guests will encounter intricate sets, next-level special effects, and new terrifyingly realistic monsters that will be more out of control, amped up, and enraged than your fragile mind can comprehend," we are cautioned. Co-founder Ben Armstrong says this year's haunts "are totally overloaded with an insane amount of intense new experiences. Each season we always try to make the haunts even more over the top, but this year is just crazy." Additionally, the Halloween festival-styled Midway will have roaming creatures, a massive dragon, and huge jack-o-lanterns, plus food options and Dr. Octane's Bizarre Beverages.
Prices vary. Netherworld Haunted House, 1313 Netherworld Way, Stone Mountain, 30087. 404-999-FEAR fearworld.com
Sat., Sep. 23 - Sun., Oct. 1
Out of the Box, White Box Theatre —Choreographers Darian Kane and Rachel Van Buskirk are introducing Terminus Modern Ballet Theatre's new in-town dance series at the White Box Theatre in Buckhead. An in-progress work by Royal Ballet of Flanders choreographer and dancer Shane Urton will also be presented. "The start of a new season is always special," said TMBT Director John Welker. "This year is particularly significant as we introduce two world premieres in our new Atlanta-based White Box Theatre and welcome three new dancers to our company. With the addition of our in-town theater, I'm excited to continue our work of bringing appealing and evocative modern ballet performances to all our audiences around the Greater-Atlanta region." The opening night performance on Saturday, Sep. 23 features a post-show dessert and drink reception where attendees can mingle with the dancers.
$27.00 - $67.00 including fees. Sat., Sep. 23 - 8 p.m; Sun., Sep. 24 - 2 p.m; Sat., Sep. 30 - 8 p.m; Sun., Oct. 1 - 2 p.m. White Box Theatre, Tula Arts Center, 75 Bennett Street, Suite A2, Atlanta, 30309 ci.ovationtix.com
Thu., Sep. 28 - Sun., Dec. 31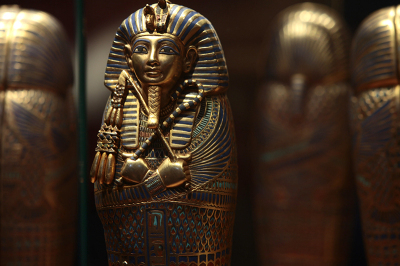 Tutankhamun: His Tomb and His Treasures, Exhibition Hub Art Center — Imagine Exhibitions is bringing King Tut and his sundry accouterments to Atlanta this month for a three-month stint. In order to protect the millennia-old originals, the exhibit uses exact replicas created by Egyptian craftsmen under the guidance of Egyptologists. The Pharaoh's tomb, unearthed in 1922, is the only royal burial found intact in modern times. The exhibition comprises 1,000 objects, graphics, film and an audio guide, offering "a once-in-a-lifetime insight into the archaeology of ancient Egypt," says executive Christoph Scholz. "Guests are taken on a journey of exploration to experience the treasures of Tutankhamun and his famous tomb chambers exactly as they were when discovered. Through our exhibitions, they relive that magical moment of discovery."
$24.90 adults; $17.90 children. Exhibition Hub Art Center, 5660 Buford Highway, Doraville, 30340 tutankhamunexpo.com