ABOUT TOWN: October events, arts and otherwise
Getting out — and about — in Atlanta this Fall
The High Museum of Art has released the first in a series of behind-the-scenes videos showing how its extensive collection of artifacts is being preserved. "This huge undertaking involves teams of conservators, registrars, art handlers, and curators, some of whom you'll meet in future videos, who work together to better understand and care for the work in the High's collection," an announcement says. "The High is sustaining its mission to safeguard the artworks in its care and to simultaneously present that work to the public." The video shows Curatorial Research Associate Kyle Mancuso and Megan Shores, a collections care technician, discussing how objects in need of conservation are being surveyed and treated. Watch the video here.
In other news, the Atlanta Symphony Orchestra is marking the 30th Anniversary of its trailblazing Talent Development Program which identifies, mentors, and develops middle and high school Atlanta musicians of African American and Hispanic/Latino heritage for careers as professional classical musicians. There will be several special events this fall, free and open to the public, showcasing the TDP's talented young musicians. Details here.
The October roundup of arts and culture happenings includes a showcase of flamenco from Spain's leading performers of the genre; funny guy Nick Offerman riffing on stage; Sonic Youth co-founder Thurston Moore talking about his new book; the Atlanta Pride Festival & Parade strutting its stuff; a look at the life and times of Vikings; an exhibition of Senegalese artist Sadio Diallo and another of Southern photography since 1845, as well as previews of several plays worth perusing. Read on.
Through Sun., Oct. 15
Cullud Wattah, Actor's Express — It's 2016 and the city of Flint in Michigan hasn't had clean water for nearly three years. Marion, a longtime General Motors employee awaiting a promotion, is the sole provider for her daughters, elderly mother, and sister. The latter, Ainee, is rocking the boat by blaming the GM plant for poisoning the water supply. Secrets emerge and tensions mount, the synopsis says. Erika Dickerson-Despenza's play, winner of the 2021 Susan Smith Blackburn Prize, explores environmental racism, Afro-surrealism, faith and survival, and according to The Wrap, gives new meaning to the words 'kitchen sink drama.' The New York Theatre Guide described it as a "soul-stirring masterwork." This production is directed by Amanda Washington and the ensemble cast features Actor's Express veterans Parris Sarter, Terry Henry and Marita McKee. Morgan Crumbly and Kerri Garrett each make their AE debut. Artistic Director Freddie Ashley calls Cullud Wattah "one of the most emotionally impactful plays I have ever seen or read, telling the story of a family of women who survive together through life's toughest trials."
$20+ Actor's Express, 887 West Marietta Street, Suite J-107, Atlanta 30318. 404-607-7469 tickets@actorsexpress.com actors-express.com
Tuesdays With Morrie, Stage Door Theatre — Actor and visual artist Dan Reichard returns to Stage Door Theatre for its 50th season to take the lead role in Tuesdays With Morrie, a play directed by Justin Ball and based on the best-selling memoir by Mitch Albom. John Romanski plays Albom, a prosperous but diffident sports writer whose former college professor, Morrie Schwartz, is stricken with Lou Gehrig's disease. The two end up reconnecting during a series of visits on Tuesdays. A 1999 film version featured Hank Azaria as Albom and Jack Lemon as Schwartz. "There are no car crashes, no explosions, no intricate terrorist plots. It's just two people talking," Albom told The Los Angeles Times when the movie came out. "What producer in their right mind would want to take that on?"
$15 - $20 - $28. Stage Door Theatre, 5339 Chamblee Dunwoody Road, Dunwoody 30338. 770-396-1726 contactus@stagedoortheatrega.org ci.ovationtix.com
Through Sat., Oct 21
Wicket: A Parody Musical, Dad's Garage — First staged in 2017, Travis Sharp and Haddon Kime's original musical is back at Dad's Garage after a nationwide tour. This Star Wars-inspired tale is told from the perspective of an Ewok. "Fans will want to see  Wicket  again and again," said Tim Stoltenberg, Dad's Garage's artistic director. "And that's great, because we're staging it for almost a month." Karen Cassady will resume the title role while local actors and singers "will bring together the subversive humor of Dad's Garage and Star Wars fandom."
Dad's Garage, 560 Ezzard Street, Atlanta 30312. 404-523-3141 dadsgarage.com
Through Sun., Oct. 22
Passing Strange, Theatrical Outfit — "The freshest musical in town," The Wall Street Journal opined when this tuneful comedy-drama premiered in 2006. Spike Lee filmed the stage version and released it three years later, giving the piece some extra cachet. Winner of a Tony award and composed by Heidi Rodewald of The Negro Problem and Faith No More's Mark 'Stew' Stewart, Passing Strange is described as a coming-of-age musical with frank discussions about sex, drug use and cultural identity, and is recommended for audiences ages thirteen and older.
$15 - $25 - $45. The Balzer Theater at Herren's,
84 Luckie Street. Atlanta 30303. 678-528-1500 theatricaloutfit.org
Through Sun., Oct. 29
Sadio Diallo, A Different Kind of Blues, AkazAtl — Senegalese artist Sadio Diallo is a regular participant at the Dakar Art Biennale and has represented his country at the Exposicion Universal in Zaragoza, Spain. He has also shown at the Galerie Africaine in Paris and at the Out of Africa Gallery in Barcelona, as well as in group exhibits in Freiburg, Germany. An early influence was the work of Jean-Michel Basquiat, and his bio says Diallo is classed among the emerging contemporary artists from the African continent who "defy description because of their innovative and avant-garde vitality." For reasons unknown, Diallo was denied entry into the United States to attend this exhibition.
AkazAtl Gallery, 364 Auburn Avenue, Atlanta, GA 30312. 404-574-0120 akaziatl.com @akazi.atl
Through Sun., Jan. 14
A Long Arc: Photography and the American South since 1845 - The High Museum The High is presenting its first major survey of Southern photography in more than 25 years. Administrators say the show reveals the South's critical impact on the evolution of American photography and examines the region's complex history through more than 170 historical and contemporary works, drawn extensively from the High's own collection. "This exhibition amounts to a complex and layered record of the South that reveals its profound impact on the development of photography, which is often overlooked or under-appreciated," says curator Gregory Harris. "At the same time, it poses urgent and timely questions about American history, identity and culture that are inspiring photographers working today and are important for audiences from our region and beyond to consider as well." Featured photographers include Dawoud Bey, Kristine Potter, Mark Steinmetz, Sheila Pree Bright and RaMell Ross. A Long Arc will be accompanied by a fully illustrated, 250-page companion book co-published by the High and Aperture.
$18.50+ Free for members. High Museum of Art, 1280 Peachtree Street, Atlanta 30309. 404-733-4400 high.org
Sat., Oct. 7 – Mon., Jan. 1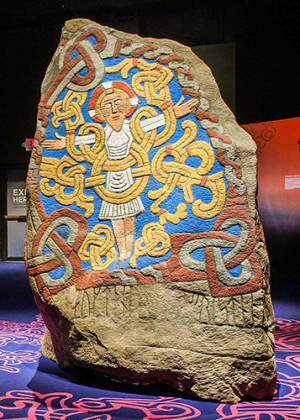 Vikings: Warriors of the Sea Fernbank Museum — Vikings, long known for wanton pillaging and plundering, had some good qualities too, as this exhibition is at pains to point out. They were innovators who built light-weight ships, made gorgeous jewelry and clothing, devised weaponry and currency, and can take credit for inventing the modern comb. This exhibit features an amber eye mask, a golden brooch, a Cammin Casket and numerous other authentic artifacts, and gives a well-rounded view of Viking culture, curators say. A full-sized replica of a Viking ship is included, as well as a Norse board game that visitors can play.
$23 - $25. Become a member and visit for free. Fernbank Museum, 767 Clifton Road, Atlanta 30307  Guest.Services@FernbankMuseum.org fernbankmuseum.org
Sat., Oct. 14 - Sun., Oct. 15
The Atlanta Pride Festival & Parade, Mercedes Benz Stadium — The entertainment lineup for both stages at this year's Atlanta Pride Festival has been revealed. Swedish pop duo Icona Pop will headline the Coca-Cola Main Stage on Saturday, along with rapper Saucy Santana and Australian singer-songwriter G Flip, following a dozen other acts. On Sunday, the same day as the Pride Parade, the Starlight Cabaret will perform, along with Debby Q, Michel Jons Band, DJ Mike Q and others. "The entertainment portion of the Festival is always a huge draw," says Executive Director Chris McCain, calling the event "a high-energy experience" adding, "This year, we have something for every fan."
Free entry - VIP passes are available for $89, $99 and $149. The VIP area features a lounge with covered seating, premium bathroom trailers, private bars, snacks and more. Mercedes Benz Stadium, 1 AMB Drive, Atlanta 30313. 470-341-5000 atlantapride.org/vip/
Sat., Oct. 14 – Sat., Dec. 23
Into the Burrow: A Peter Rabbit Tale, Alliance Theatre — The Alliance Theatre is rolling out the world premiere of a new musical based on the escapades of Peter Rabbit, Beatrix Potter's adventurous character who made his first appearance in 1902. This new tale "encourages us to acknowledge our fears and work together to overcome challenges," producers say. Some familiar names pop up in the story: Mrs. Tiggy-Winkle, Mr. Alderman Ptolemy Tortoise, and Squirrel Nutkin among them. Mark Valdez, the show's writer and director, says writing a story based on such beloved characters was exciting but daunting. "What do they sound like? What would they do at a party? What is the thing they most enjoy and that makes them laugh? From there I was able to select the characters that needed to be in this play. I knew I wanted them each to have a talent or skill, so part of my (imagination) was picturing them performing for each other … That was a fun exercise." (The Alliance's production is presented in partnership with the High Museum of Art's exhibition Beatrix Potter: Drawn to Nature which runs until early January).
$10 - $20. Hertz Stage at Alliance Theatre, 1280 Peachtree Street, Atlanta 30309 alliancetheatre.org
Thu., Oct. 26 - Sun., Nov. 5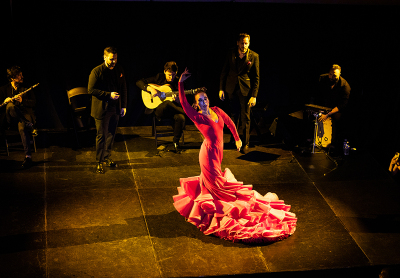 Authentic Flamenco, Theatrical Outfit — Teatro Real, Spain's most prestigious opera house, has mounted a world tour of top flamenco artists in performance of the ancient art form. According to event promoter Fever, audiences are in for a night of "raw passion and emotion." On stage will be Amador Rojas and Yolanda Osuna as dancers, Manu Soto and Bernardo Miranda as singers, José Tomás Jiménez on the guitar, Sergio de Lope on flute and saxophone, and Lolo Plantón on percussion. "Bringing such a genuine and unique art form to such different places is an achievement for the Teatro Real as a result of its commitment to cultural heritage," says CEO Ignacio García-Belenguer." Promoting and developing such an ambitious project is a duty not only to the performing arts but also to audiences around the world."
$59+ Theatrical Outfit, 84 Luckie Street, Atlanta 30303 authenticflamencoshow.com
Sat., Oct 28
Frankenstein, Cobb Energy Performing Arts Centre — Just in time for Halloween, the classic movie starring Boris Karloff is being presented in high definition on a giant screen, accompanied by singers and full orchestra plus a new score by composer and conductor Michael Shapiro. Featured vocalists will be Amanda Sheriff (soprano), Aubrey Odle (mezzo-soprano), Kameron Lopreore (tenor), Jason Zacher (bass-baritone), as well as veteran bass-baritone Andrew Gilstrap. Organizers are saying "a fantastical collision of sight and sound awaits in this imaginative presentation of vintage cinema." The 1931 black-and-white film, which lacked a proper soundtrack, made Karloff a star and saved Universal Pictures from bankruptcy during the Depression. Punters are urged to come in costume, and a contest will determine the best and worst-dressed attendees. A post-performance party will "rock the house" with a DJ, dancing and cash bar in two lobby levels of the venue.
$30, $55, $80, $100. Cobb Energy Performing Arts Center, 2800 Cobb Galleria Parkway, Atlanta 30339. 404-881-8885 AtlantaOpera.org Frankenstein
Oct. 27 - Feb. 18
Sonya Clark: We Are Each Other, High Museum of Art — This exhibition, co-organized by the High, Detroit's Cranbrook Art Museum and the Museum of Arts and Design in New York, combines and displays participatory projects activated within each city's respective communities. Included is the room-sized installation 'The Beaded Prayers Project' (1998-ongoing), inspired by African amulet traditions; 'The Hair Craft Project' (2014), which pairs photography and fiber art, documenting the work of Black hairdressers; and the 'Monumental Cloth' series (2019), which recreates at massive scale the flag of truce used to help broker the end of the Civil War. A press release says Clark "intertwines craft and community and incorporates handwork in her projects to promote new collective encounters across racial, gender and socioeconomic lines and to address difficult questions of exclusion in American society."
$18.50+ Free for members. High Museum of Art, 1280 Peachtree Street, Atlanta 30309. 404-733-4400 high.org/exhibition/sonya-clark
Sun., Oct. 29
Nick Offerman Live, Symphony Hall — "An evening that compels listeners to chuckle while also causing them to honestly countenance the aspects of humanity about which we have to laugh so that we don't attack one another with shovels," the powers-that-be say while promoting this tour. A valid point, if awkwardly put. An actor and author, woodworker and woodsman, Offerman made it big in Parks and Recreation and has a slew of other credits to his name going back to the 1990s.
$49 - $175. 7:30 p.m. Atlanta Symphony Hall, 1280 Peachtree Street, Atlanta 30309. 404-733-4800 aso.org
Mon., Oct. 30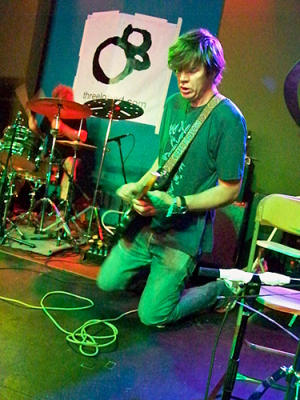 An Evening with Thurston Moore, Plaza Theatre — Post-punk pioneer and Sonic Youth co-founder Thurston Moore will discuss his new memoir Sonic Life with former Creative Loafing columnist Chad Radford in an appearance at The Plaza. According to event host A Cappella Books, Moore will also perform a short set. Moore will then introduce a screening of director Stuart Swezey's documentary Desolation Center, featuring rare footage of Minutemen, Meat Puppets, Swans, Redd Kross, Einstürzende Neubauten and, of course, Sonic Youth.
$35 ticket includes a pre-signed copy of the book and admission to the 7 p.m. talk. $45 ticket includes a pre-signed copy of the book and admission to the 7 p.m. talk and the 8:30 p.m. screening of the documentary. $20 ticket admits the holder to the screening at 8:30 p.m.
The Plaza Theatre, 1049 Ponce De Leon Avenue, Atlanta 30306 plazaatlanta.com acappellabooks.com