ABOUT TOWN: What goes on
Separating the wheat from the chaff
Yet another play that emanated from Atlanta's Alliance Theatre is headed to Broadway. Water for Elephants, which had its world premiere on the Coca-Cola Stage this past summer, will be the tenth Alliance-developed show to hit a Broadway stage, Encore Atlanta reports. Previews will begin on Feb. 24, 2024, with opening night set for March 21 at the Imperial Theatre. Jessica Stone will again direct the musical.
"From Broadway veterans to puppeteers to circus artists- we have an eclectic collection of internationally acclaimed and innovative creators," Stone says. Among the Alliance-originated productions that wound up on Broadway were The Prom, Bring It On, Tuck Everlasting, Sister Act, Come Fly Away, The Color Purple, and Disney's Aida.
This month's roundup of recommended events in and around Atlanta includes an exhibition of photographs from the Sex Pistols' sole appearance in Atlanta years ago; a ballet set to the music of Johnny Cash and Leonard Cohen; a recital of Sergei Rachmaninov's famous Piano Concerto No. 2 by Michelle Cann and the ASO; raconteurs from The Moth doing their thing; comedian and podcaster Theo Von at the Fox; violin prodigy Kevin Zhu showing off his Stradivarius; an ode to Beatrix Potter at The High; and nighttime frolics outside the Fernbank Museum. See for yourselves:
Through Sat., Nov. 11
Sex Pistols, Atlanta 1978: Photographs by Ron Sherman, Different Trains Gallery — Ron Sherman has been taking photographs of Atlanta and its people for more than fifty years. Jimmy Carter, Hank Aaron and Coretta Scott King are just three of the local notables in his extensive archive. One night in 1978, on assignment from Newsweek, Sherman attended a show at the Great Southeast Music Hall headlined by the Sex Pistols. It was the beginning of the notorious punk band's one and only U.S. tour. Bill King, a writer for what was then known as the Atlanta Constitution, described the occasion as "a full blown international media event" with at least 40 television and print reporters from England and the United States in attendance. Sherman shot multiple rolls that night; this exhibit highlights some of the best of them. "Ron's photographs document a seminal band at the key moment -— the arrival of punk in Atlanta and the South," says Randy Gue, assistant director at Emory University's Rose Library and curator of the exhibition.
Free entry. Different Trains Gallery, 432 East Howard Avenue # 24, Decatur 30030 vinsonart.com
Through Sun., Jan. 7
Beatrix Potter: Drawn to Nature, High Museum of Art — Organized by the Victoria & Albert Museum in London, this engaging exhibition is part of the High's continuing series celebrating the art and authors of children's books. On display are dozens of personal objects — sketches, watercolors, letters, diaries, merchandise, paintings and publications. Potter's life and legacy as an entrepreneur, natural scientist, farmer and preservationist is examined in great detail. According to the museum's press release, Potter's interest in nature influenced all other aspects of her life, leading to significant achievements in both art and science. The exhibition "connects key elements of her creative practice, from building characters and observing nature to telling stories and conserving the environment." The nearby Alliance Theatre is concurrently presenting Into The Burrow: A Peter Rabbit Tale, a charming musical adventure written by Mark Valdez and inspired by Potter's characters.
$18.50+ Free for members. High Museum of Art, 1280 Peachtree Street, Atlanta 30309. 404-733-4400 high.org
Fri., Nov 3 - Sun., Nov. 19
Cash/Cohen, Terminus Modern Ballet Theatre — The music of Johnny Cash and Leonard Cohen gets the expressive dance treatment in two pieces presented by Terminus. The Man in Black is described as a "cowboy boot ballet" by choreographer James Kudelka that "celebrates American working-class resilience." Treaty, the Cohen tribute, was created by Terminus dancers and choreographers Rachel Van Buskirk and Christian Clark, and "offers an intimate glimpse into a romantic journey… capturing the intricate nuances of the human heart."
$45. 7:30 p.m. The Pavilion at Serenbe Inn, 10950 Hutcheson Ferry Road, Chattahoochee Hills 30268. showclix.com
Sat., Nov. 4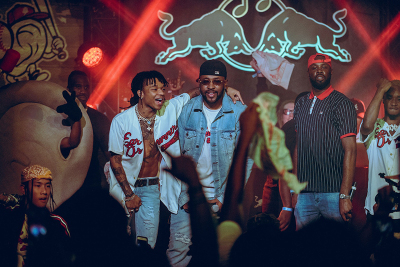 Red Bull Culture Clash, Gateway Center Arena — Four opposing crews across as many stages compete to deliver the meanest sounds in dancehall, reggaeton, amapiano and hip-hop under one roof. Rum Punch Brunch, Perreo404, Bamba Tuesdays and Mash Up Sessions will "bring booming soundscapes, unreleased tracks, intense rivalry, and a thrilling lineup of special guests and surprises, all aimed at winning the crowd's hearts and outshining their opponents," the hype says. "This sound-system-inspired battle celebrates Atlanta's rich tapestry of culture, vibrancy, and music." The two prior Culture Clashes in Atlanta had guest spots from Ludacris, Mavado, Rae Sremmurd, Rico Nasty and Waka Flocka Flame, among others. DJ Kash of Bamba Tuesdays adds, "Red Bull Culture Clash is like a legit gladiator battle for DJs, producers and whatever you do creatively in the music. For me, this is super important because it lets you know where you stand as far as how to rock a crowd."
$40. 7 p.m. Gateway Center Arena, 2330 Convention Center Concourse, College Park 30337 redbull.com/cultureclash @redbullmusic
Sat., Nov. 4 - Tue., Nov. 7
Rigoletto, The Atlanta Opera — Giuseppe Verdi's celebrated tale of love, betrayal and revenge, which first saw the light of day in 1851, gets a sparkling new staging from the Atlanta Opera and Tomer Zvulun, its artistic director. Tbilisi-born baritone George Gagnidze plays the woeful title role, making his Atlanta debut. "He possesses a beautiful capacity for timbral differentiation, is an excellent actor, and his Italian pronunciation is perfect," says Giorgio Koukl of EarRelevant. "Mr. Gagnidze is a dream singer for any opera house." Gilda, Rigoletto's daughter, will be portrayed by rising soprano and Macon native Jasmine Habersham, and bass Patrick Guetti takes on the role of the assassin Sparafucile. Tenor Won Whi Choi is the lascivious Duke of Mantua; he sings the famous aria 'La Donna e Mobile' (women are fickle) in Act 3. "Verdi's iconic clown character, Rigoletto, is doomed from the very first scene to a cursed fate," says Zvulun. "Our production highlights his decline, particularly the psychological one. We leaned into the aesthetic of German painters Otto Dix and George Grosz and their cinematic successors Fellini and Buñuel to present the abstraction, grittiness, and surrealism that are essential to our story."
$45+ Cobb Energy Performing Arts Centre, 2800 Cobb Galleria Parkway, Atlanta 30339. 404-881-8885. There will be a free livestream on Friday, Nov. 10 at 7 p.m. AtlantaOpera.org stream.atlantaopera.org
Sat., Nov. 18
Kevin Zhu, American Soundscapes, Johns Creek Symphony Orchestra — Just days before his 23rd birthday, violin virtuoso Kevin Zhu will join the Johns Creek Symphony Orchestra to perform an American-themed concert "that honors the pioneers of our nation's beginnings," a press release announced. Aaron Copland's 'Appalachian Spring' will be among the works presented. Publicist Lauren Nye says that having the Gen Z soloist as a guest performer "reflects this new trend that we're seeing of classical music resonating with younger generations." Zhu was the first prize winner at the 55th edition of the International Paganini Exhibition in Genoa, aged just 17, and also won the junior division of the 2012 Yehudi Menuhin International Competition for Young Violinists in Beijing; he made his Carnegie Hall debut in 2019. In Johns Creek, Zhu is likely to be accompanied by his 1722 Stradivarius.
$15 - $45. 7:30 p.m. Johns Creek United Methodist Church,11180 Medlock Bridge Road, Johns Creek 30097 johnscreeksymphony.org #classicalmusic
Fri., Nov. 10 - Sun., Feb. 25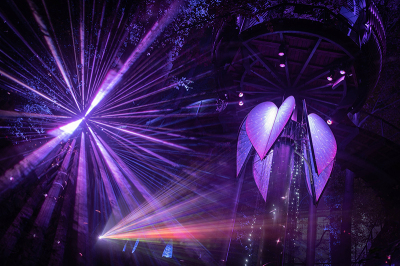 WildWoods: AGLOW, Fernbank Museum — The nighttime show outdoors returns to the Fernbank grounds and "helps reveal the beautiful and unexpected intricacies in nature – things we often cannot see happening with our own eyes," says the museum's CEO Jennifer Grant Warner.
This year, additional programming is being added, including libations in the AGLOW Lounge; after-hours access for the special exhibits:
Vikings: Warriors of the Sea through Jan. 1
Winter Wonderland from Nov. 19- Jan. 7
Spiders — From Fear to Fascination starting Feb. 10
Fungi — access to the popular film in the Giant Screen Theater and more …
Warner adds, "By immersing guests in the wonder of the natural world… we hope to spark their curiosity and inspire them to learn more about the world around us and our role in stewarding it for the future." It's geared for all ages, except for special adults-only evenings when the show coincides with "Fernbank After Dark."
$23.95 - $25.95. 767 Clifton Road, Atlanta 30307. 404-929-6300 guest.services@fernbankmuseum.org fernbankmuseum.org/aglow
Thu., Nov. 16 - Sat., Nov. 19
Michelle Cann, Atlanta Symphony Hall — The "wonderfully expressive virtuoso" Michelle Cann will play Sergei Rachmaninov's popular Piano Concerto No. 2 with guest conductor David Danzmayr leading the Atlanta Symphony Orchestra. "Even its more reserved moments will have you cradling your head in your hands, begging for mercy," a Classic FM writer warned. The epic piece, reportedly dedicated to Rachmaninov's shrink, will be followed by Sergei Prokofiev's Symphony No. 7; the concert opens with 'Short Piece for Orchestra,' described as "a lively and somewhat raucous piece" written by composer Julia Perry.
$25 - $140. Atlanta Symphony Hall, 1280 Peachtree Street, Atlanta 30309. 404-733-4800 aso.org 
Wed., Nov. 29 - Thu., Nov. 30
Theo Von: Return of the Rat, Fox Theatre — Theodor Capitani von Kurnatowski, better known as Theo Von, is the host of the podcast This Past Weekend and his guests range from Robert F. Kennedy Jr. to the guy who caught an 800 pound alligator in Mississippi. The show attracts five million listeners a month. Von's new comedy special 'Regular People' was filmed at the Ryman Auditorium and is streaming on Netflix. The Louisiana native's career began in 2000 with appearances in reality television shows like Road Rules and Real World. He won a segment of Last Comic Standing in 2006.
$45+ 7:30 p.m. Fox Theatre, 660 Peachtree Street, Atlanta 30308. 855-285-8499 foxtheatre.org.
Thu., Nov. 30
The Moth, Center Stage — The subtle art of storytelling has been celebrated by The Moth since its humble inception on a back porch in Georgia in 1997. The group now runs 600 different events a year in 30 cities in the U.S. and abroad and its National Public Radio show, winner of a Peabody Award, is heard by more than a million listeners each week; its weekly podcast is equally successful. Participants must follow the rules closely: no rants or lectures, no stand-up routines, no stereotypes and nothing gratuitous. Each story must be memorized and last no more than five minutes. The Guardian called the whole premise "quietly addictive."
$51 - $132. 7:30 p.m. Center Stage, 1374 West Peachtree Street, Atlanta 30309 themoth.org