Dance Performances Atlanta
---
---

COVID-19 Update: The impact of coronavirus on the arts community has been devastating. Major institutions, such as the High Museum, The Atlanta Opera, Atlanta Ballet, Atlanta Symphony and the Alliance Theater, were compelled to cancel their seasons and postpone productions until the fall or into 2021. No arts organization, performance space or enterprise, regardless of size or mission, was unaffected.
By and large, the arts community has responded to the pandemic with exemplary caution, responsible leadership, creative resourcefulness and admirable resolve. Practically speaking, the new normal is packed with online concerts, educational programming, virtual gallery tours and a reconsideration of what "live" performance gatherings will look and feel like going forward.
- Doug Deloach
Dance Coverage
ATL Dance Companies
Since opening its doors in 1929, Atlanta Ballet has stood as one the most prominent dance companies in the entire country. From original works to adding their spin on storied classics, Atlanta Ballet's performances are a definite not-miss, no matter the stage location. The Michael C. Carlos Dance Ce... |
more...
For the past 35 years, CORE Atlanta has taught classes and performed for members of the local community. |
more...
From the website: Dance Canvas, Inc. is a non-profit, 501 (c) 3 organization, incorporated in the City of Atlanta in 2008 with a mission to provide opportunities and venues to increase the awareness of professional dance in Atlanta. We achieve our mission through three program areas of service:​ Cho... |
more...
gloATL Arts Organization, Dance Company
glo is a southern women, artist led social movement organized through the analogy of a living organism, to better understand the world. Through engagement, interdisciplinary art, and direct action, our mission is to empower artists and activists, and enrich communities. Framed by three guiding light... |
more...
TERMINUS MODERN BALLET THEATRE made its debut in October, 2017. Made up of a veritable supergroup of five principal dancers — Heath Gill, Tara Lee, John Welker, Rachel Van Buskirk and Christian Clark — who formerly performed with Atlanta Ballet, this scrappy new venture melds modern and ballet influ... |
more...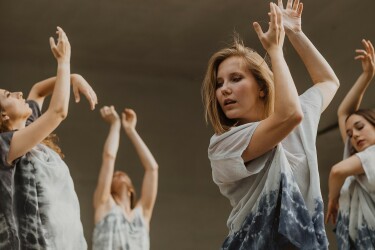 CL:
Since its first public performance in 2001, Zoetic Dance Ensemble – www.zoeticdance.org – has been a team of strong women, led by strong women. Zoetic's dynamically athletic work embodies the feminine spirit and celebrates the power of the female body. Since 2001, their passion for female expression has attracted a range of creative women to share their visions, voices and stories of female empowerment.
Dance Schools
---

We need assistance with the following listings. If you are able to provide a photo and listings information, would you please contact us at helpdesk at creativeloafing.com.
---
dance and ballet performances in atlanta