Dekalb County
Dekalb is Atlanta's fourth most populous County. County seat is Decatur. Dekalb is home to Stone Mountain, the thriving international food scene on Buford Highway and the most International City in the South - Clarkston. The County voted 80.8% for Hillary Clinton in 2016 and 83.1% for Joe Biden in 2020.
Avondale Estates is known for its mock Tudor village of storefronts along College Avenue, the city's main drag. Veer off College towards Lake Avondale park, and you've left Shakespeare's England and turned into a bucolic scene from a Norman Rockwell painting, all of it inspired when George Francis W... |
more...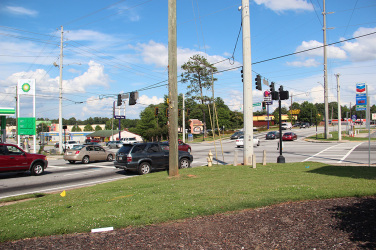 Belvedere Park is a neighborhood within Dekalb County, GA. It was one of the first suburbs of Atlanta with commerce centered around Belvedere Plaza. |
more...
In 1974, the Atlanta Rhythm Section sang the virtues of Doraville with the line, "A touch of country in the city." Today, you might wonder, "Which country?" as you drive along Buford Highway on either side of the Doraville line and read the billboards and shop signs in Spanish, Korean, Vietnamese, a... |
more...