USER SUBMITTED
The Rum Punch Brunch
Sunday March 25, 2018 12:30 pm EDT
Cost: Free
From the venue:
Atlanta's RUM PUNCH BRUNCH happens every SUNDAY at The Sound Table on Edgewood Avenue. Featuring music across cultures, Exotic Caribbean Food, and Endless Rum Punch. Seating is on a first come, first served basis. Early arrival recommended.
Host: Dreggae
Brunch w/ Prince Charm
Special Guest: John Wayne
Space 2: Negus British
Brunch 12:30-5:30 p.m. | Vibe 5:30-8 p.m.
Our family-style format is ideal for meeting up with friends and making new ones. We also ensure that the music is well rounded and soulful, our DJs never plays it safe.
A Rockers Unltd Experience
More information
The Other 4 Things To Do Today
Saturday July 31, 2021 09:00 pm EDT
Saturday July 31, 2021 08:00 pm EDT
Categories: Stand-Up Comedy Alex Hooper is a stand-up comedian, actor and professional roaster. He delights crowds by blending dark humor with silly positivity. His joke writing is clever and fearless. Onstage he bursts with energy. Alex shines just like his sparkly wardrobe. He's headlined clubs al... [
click here for more
]
USER SUBMITTED
Saturday July 31, 2021 07:00 pm EDT
Bad Co. Experience Bad Co. Experience consists of members of two popular Tribute bands in the Southeast. Singer, Paul Downey and drummer, Steve Smith are part of Headgames(Foreigner Tribute). Guitarist, Jim Withrow and Bassist, Don Hacker are part of Grand Paradise(Styx Tribute) and add multi-talent... [
click here for more
]
Saturday July 31, 2021 07:30 pm EDT
Website: There really is "No Place Like Home...#AtTheFox!!" Join us on Sunday, July 25 as we welcome audiences back for a socially distanced, reduced capacity, GRAND REOPENING of the theatre with the beloved classic The Wizard of Oz. Fans in attendance can expect fun onsite activations like photo-op... [
click here for more
]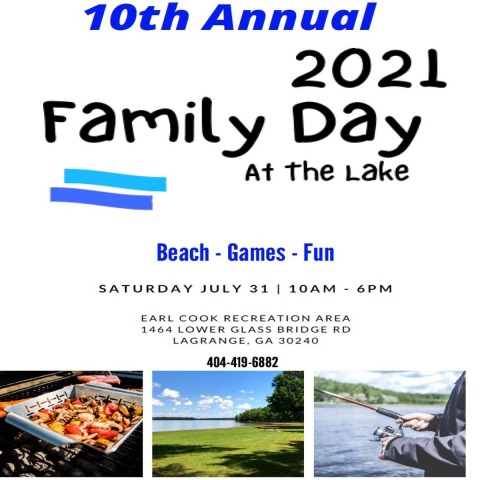 Saturday July 31, 2021 10:00 am EDT
Categories: Family Event
It's time to unplug! Get away for the day. Come out and enjoy the day at West Point Lake with family and friends. Games, Food, Swimming, Fishing, Boating Compete in the Family Day Games Friendly Family vs Family Competition Add your Team Up Today -Click Here!
West Point Lake... [
click here for more
]
USER SUBMITTED