USER SUBMITTED
Live Music on the Patio and More - May 16, 2018
Wednesday May 16, 2018 06:30 pm EDT
Cost: Free

Every Wednesday, Thursday, and Friday, Atlas invites guests to enjoy live acoustic music from 6:30 to 10:30 p.m. on their expansive patio. Showcasing the musical talents of Atlanta's own Lilac Wine on Wednesday and Fridays and Melissa Bret on Thursdays, diners and imbibers can savor mouth-watering culinary creations and signature libations as they take in sweet and soulful music.
More information
The Other 4 Things To Do Today
Thursday February 25, 2021 10:30 am EST
Join biographer David Lowe as he discusses the life and career of one of Atlanta's most prominent and trailblazing Jewish politicians, Morris Abram. The class will be moderated by Dr. Catherine Lewis, Assistant Vice President of Museums, Archives & Rare Books; Director of the Museum of History and H... [
click here for more
]
Thursday February 25, 2021 07:00 pm EST
Categories: writing group, critique group, writer meetup
Southern Fried Writers is a read-aloud critique group (fiction, nonfiction, and screenplays of all kinds accepted) meets every 2nd and 4th Thursday night at 7:00 p.m. at Manuel's Tavern in the Eagle's Nest.
SUBMISSION GUIDELINES
♥ 2,000 wo... [
click here for more
]
USER SUBMITTED
Thursday February 25, 2021 06:30 pm EST
Join Ghost Coast and Best End Brewing Co. as they collaborate for a night full of some of Atlanta's tastiest food and sips. The event will feature a specialty cocktail tasting menu that combines the work of the brewmasters at Best End with Ghost Coast's cocktail know-how! Start with a Julep or Gin M... [
click here for more
]
USER SUBMITTED
Thursday February 25, 2021 06:30 pm EST
In 2013, the Dominican Republic stripped the citizenship of anyone with Haitian parents, rendering over 200,000 people without nationality. This feature documentary is a cinematic journey through the day-to-day lives of people directly impacted by these new laws. The film interweaves these present d... [
click here for more
]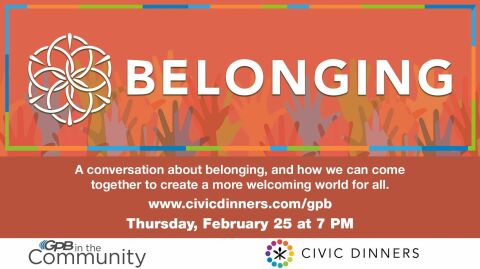 Thursday February 25, 2021 07:00 pm EST
GPB is pleased to partner with Civic Dinners for a virtual conversation about belonging, and how we can come together to create a more welcoming world for all. Register here: http://bit.ly/2MnlyJl Civic Dinners is a platform that brings people together to have conversations that matter. With the h... [
click here for more
]