CL RECOMMENDS
USER SUBMITTED
Brooke McAlary talks about and signs SLOW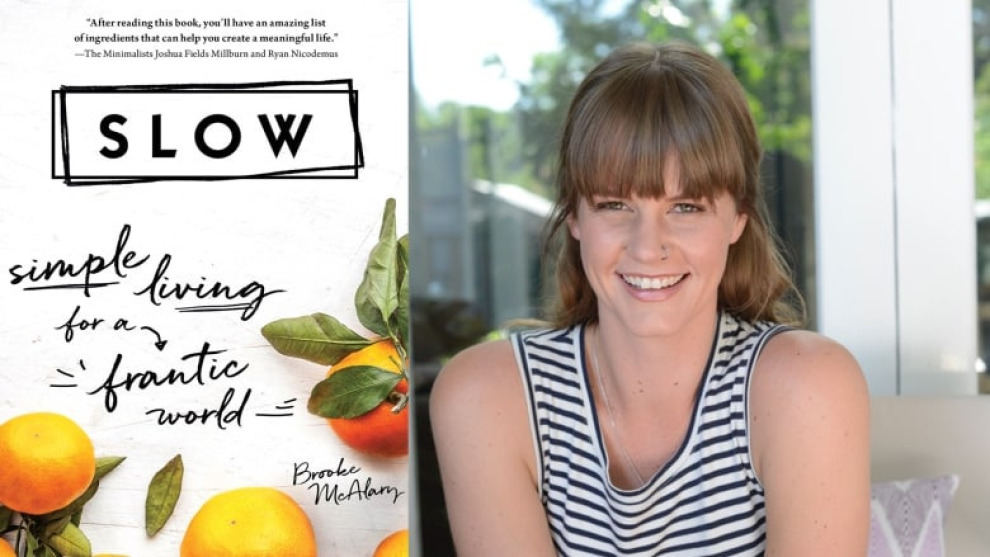 Thursday August 9, 2018 07:00 pm EDT
Cost: Free
Are you constantly striving to keep up with life's busy expectations? It's easy to feel consumed with the desire to "succeed" and "acquire", and miss the simple opportunities waiting for you to slow down: a walk in the forest, sharing laughter with family, a personal moment of gratitude. Once upon a time, it became clear to Brooke McAlary that the key to happiness was discovering a simpler, more fulfilling existence. She put the brakes on her stressful path, and reorganized her life to live outside the status-quo, emphasizing depth, connection and meaningful experiences. Alongside Brooke's affirming personal stories of breaking down and rising up, Slow provides practical advice and fascinating insights into the benefits and challenges of the slow life, such as: Decluttering to de-owning, Messiness to mindfulness. Asking why, to asking where to now?
More information
Hours
Monday: 10:00 AM – 9:00 PM
Tuesday: 10:00 AM – 9:00 PM
Wednesday: 10:00 AM – 9:00 PM
Thursday: 10:00 AM – 9:00 PM
Friday: 10:00 AM – 9:00 PM
Saturday: 10:00 AM – 9:00 PM
Sunday: 12:00 – 6:00 PM

The Other 4 Things To Do Today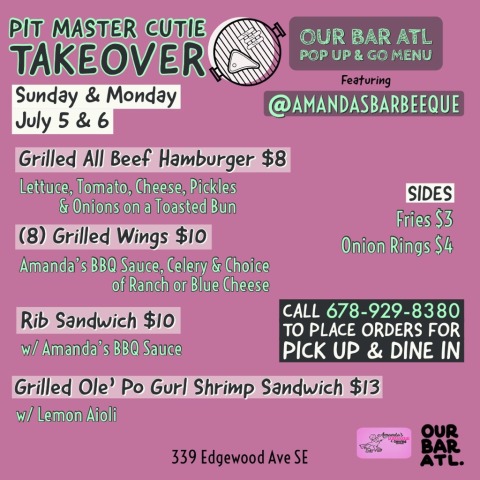 Sunday July 5, 2020 02:00 pm EDT
Pit Master Cutie BBQ Takeover this coming Sunday & Monday, July 5-6 at Our Bar ATL!
Chef @AmandasBarbeeque's 4x Award-Winning BBQ has been featured on FoodNetworkCA, AJC & VoyageATL!
Call in for pre-orders starting 10AM. Doors open at 2PM.
Call 678-929-8380 to place your orders for DINE-IN or ... [
click here for more
]
Sunday July 5, 2020 11:30 am EDT
Join us at Skyline Park for day-time family activities every Sunday during the summer, 11am-3pm. Start off the day with some friendly competition: carnival games, mini golf, and more! The fun never ends! We'll also have kid's craft station, bubble station, and balloon artists or a face painter stati... [
click here for more
]
Sunday July 5, 2020 11:00 am EDT
Categories: spiritual
Practical talks, guided meditation and discussion. Drop in for one class, or attend the whole series. No experience necessary. Everyone is welcome!
SUNDAY Classes are now available to be viewed for 48 hours after the class is held. If you can't make Sunday at 11:00 AM but sti... [
click here for more
]
Sunday July 5, 2020 05:00 pm EDT
The LGBTQ event of the summer!!
Party in the USgAy
July 5, 2020
5p-midnight
DJ: Jalen Jackson, Robbie Wilde (open format)
Come out and celebrate an America for all with all of your favorites. We can't think of any better way to spend a Sunday than out on the patio with good music and cold ... [
click here for more
]
Sunday July 5, 2020 08:30 pm EDT
Social Distance Patio TRIVIA with Bruce #Quizbastard Sunday 8:30 pm
1. WEAR A MASK 2. BRING YOUR OWN PEN 3. IT WILL BE ON THE PATIO, SOCIALLY DISTANCED 4. SINGLE USE ANSWER SHEETS 5. BE RESPECTFUL, BE SAFE, HAVE FUN
[
click here for more
]