Elton John Tribute Band Live at Subourbon Rock & Oyster Bar
Saturday December 7, 2019 09:30 PM EST
Cost: TBA,
From the venue:
Beyond the Yellow Brick Road: Atlanta's Premiere Elton John Tribute Band playing live at the Subourbon Rock & Oyster Bar in Kennesaw GA. 2718 Summers Street.
Cover at the door | TBA.
About the band:
Beyond the Yellow Brick Road has become one of the most sought-after Elton John tribute bands in the nation by replicating the look, sound, and essence of the iconic singer and songwriter Elton John. The full ensemble band has magnetic on-stage chemistry and includes former Elton John background vocalist L'Tonya "Sugarlips" Shields. An amazing troupe of veteran musicians, the band takes great pride in giving fans and audiences an authentic stage show from start to finish. As well as raising money for charity events.
Lead vocalist and band founder, Steven Dodd has a flawless voice matching the unforgettable rich tone and sound of Elton John. Beyond the Yellow Brick Road highlights Elton John's greatest hits such as; Bennie and the Jets, Candle in the Wind, Philadelphia Freedom and Rocket Man, plus so much more. Every performance is punctuated with a full production light show and special effects that are a delight to audiences of every age.
More information
Featuring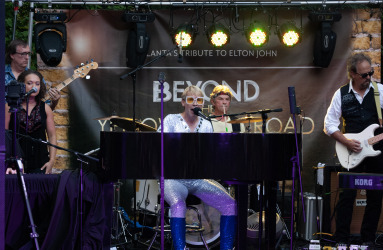 Beyond the Yellow Brick Road is the premier musical tribute band to Elton John and stars singer and performer Steven Dodd. The ensemble band captures the energetic sound and vibe for an authentic Elton John experience. With impeccable attention to detail, the band recreates an uncanny, yet respectfu... |
more...