Enter the Microverse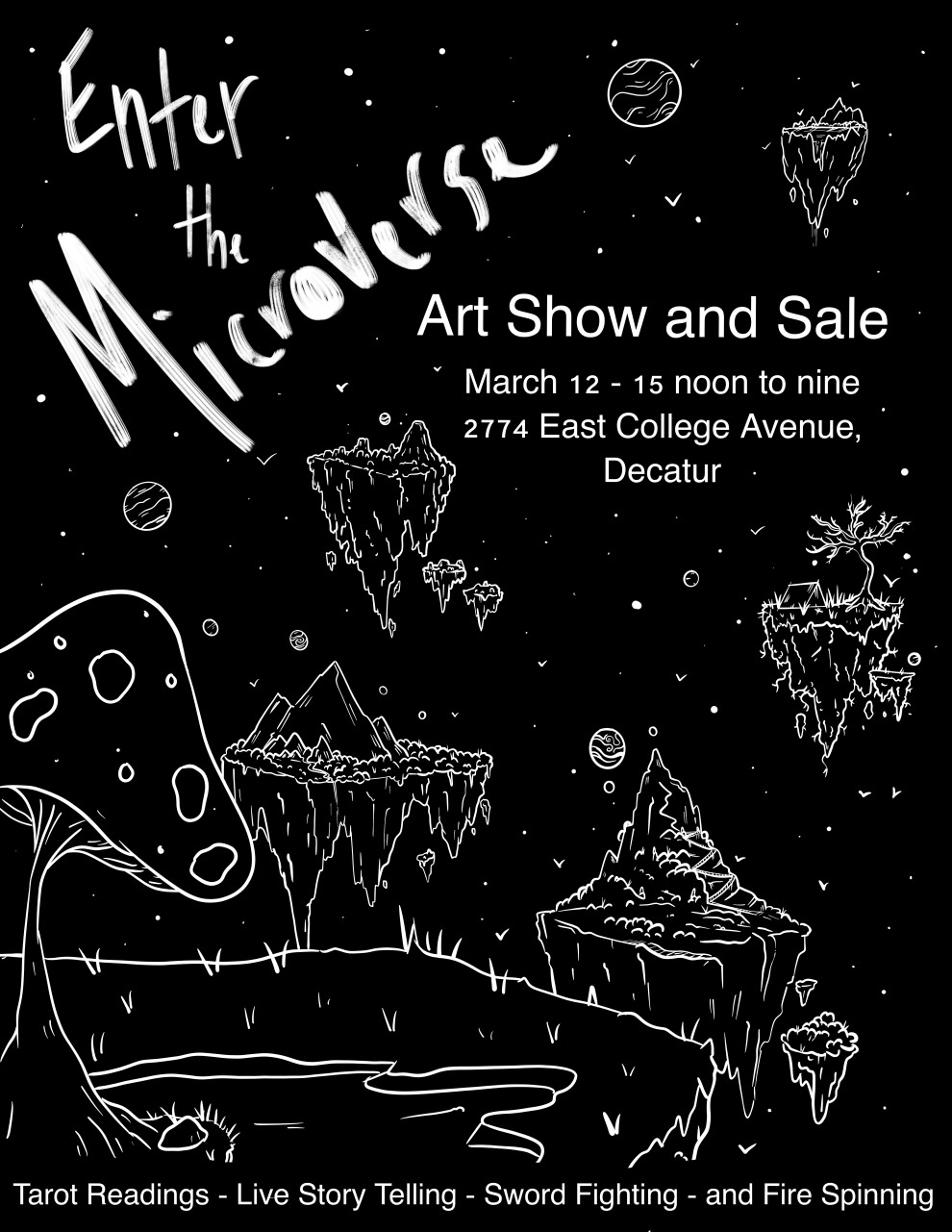 Thursday March 12, 2020 12:00 pm EDT
Cost: $0.00
On March 12-15, Noon to Nine, join us at The Odd's End, 2774 East College AVe, Decatur, as we once again Enter the Microverse.
Infinity is a two way street. Whether looking inward or looking out, relentless little worlds blossom against all odds into the liminal spaces between what was and what is to come. The palm of your hand is no less inhabited than a fertile planet. There is just as much life hiding in the walls of your home as scurries across the floor of the Amazon. Even in the absence of living creatures, the cosmos moves and breathes, coalescing into unfathomable constructs both large and small. Nearly all of the oxygen we breathe comes from microscopic plankton. Icy desert moons of Saturn spew liquid nitrogen from burning-cold volcanoes. Planets made entirely of diamond orbit not so distant stars. The very thoughts in your head are made of thunderbolts. The violent nuclear lightning raging in the heart of a swirling nebula is same lightning that crackles behind your eyes.
In "Enter the Microverse", a team of local Atlanta artists explore the various intricate ways a world can manifest itself, however small. Guests will be able to enjoy original visual art, live storytelling, poetry, tarot readings, sword fighting, and musical artists. Contributors include Mason McNay, Ayla Scott, Erica Malmsten, Gentian Osman, Cheryl Wollner, Christian Bradley West, MyMyButterfly, Aiden Di Re, Eden Gutstein, Danny Simanjaya, Lacye Apples Brown, Eli Hamilton, Larry Holland, Federica Manini, Greta Glen, Robert McRae, Ryan Shuckhart, Becky King, and more!
More information