Event Scheduled
Ruby Velle and the Soulphonics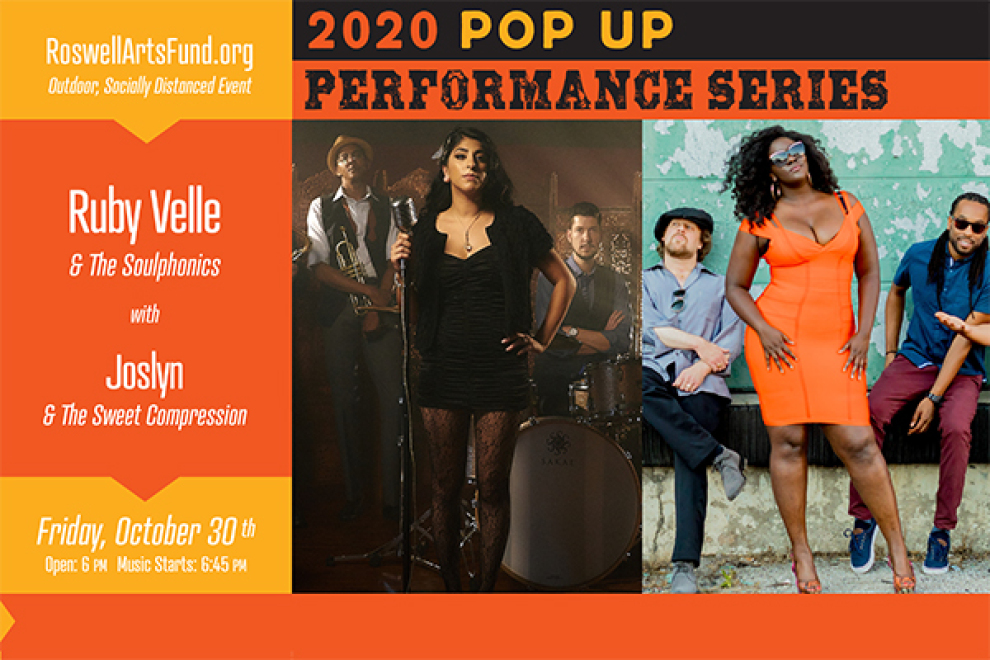 Friday October 30, 2020 06:45 PM EDT
Cost: $80-$140,
From the venue:
Deep, raw funk. Stax-style Southern soul. Uplifting Motown-channeling anthems. Atlanta's Ruby Velle and the Soulphonics are the heirs to the thrones of the old-school masters.
But they're much more than just a group of revivalists trying to create a period piece. Powerhouse singer Velle and her band will settle for nothing less than bringing these classic sounds glimmering into the now with a fresh new modern sheen.
       
Ruby Velle and the Soulphonics have made a name for themselves captivating audiences with their stirring live performances. They're a world-class modern soul revue topped off with the cherry of Velle's sultry voice, as she deftly toggles between sweetly crooned R&B tunes and expertly belted barn-burning get-downs that can instantly jolt a roomful of wallflowers into a wild dance party.
       
It's this inviting and accessible bravado that has scored the band critical acclaim from outlets such as The New York Daily News, MTV, Paste and more. And in addition to their critical success, at a time when record sales are at an all-time industry low, the independent, DIY-minded Velle and the Soulphonics sold a quarter-million downloads of their single [[[[https://youtu.be/F9-JvdNNP-A|"My Dear" [[[[[[[[click for Official Video]] on iTunes, landing them in the top 30 on Billboard's Heatseeker charts and at a stunning #4 on the iTunes R&B charts when their debut album It's About Time was released in 2012.
The group has shared bills with megastars and indie press darlings alike, including Larkin Poe, The Temptations, Erykah Badu, The XX, Goodie Mob, Gary Clark Jr., Animal Collective, Feist and Kendrick Lamar.
       
And they continue to blaze a trail into the hearts of music fans with their new single, [[[[https://youtu.be/y4gLWP_7kSQ|"Broken Woman" [[[[[[[[click for Official Video]], from their sophomore album which was released in the Fall of 2017 and immediately appeared on Spotify's Official "Still Got the Blues" playlist. They followed that up with [[[[https://youtu.be/5WWa2zW5Wtc|"Call Out My Name" [[[[[[[[click for Live at Terminal West Video]] releasing on Bitter Southerner. Their new albums tittle track "State of All Things" premiered on PASTE Magazine as the LP arrived in stores globally on 4/27/2018 on vinyl- in a time where music is streamed, the LP's first pressing sold out in less than 2 months. Their new album, "State of All Things" was also named "Best new album that's not hip-hop" for 2018 by Atlanta Magazine. Stay tuned for more from Ruby Velle & The Soulphonics!
More information
Featuring