Event Scheduled
Kream - Live At Domaine!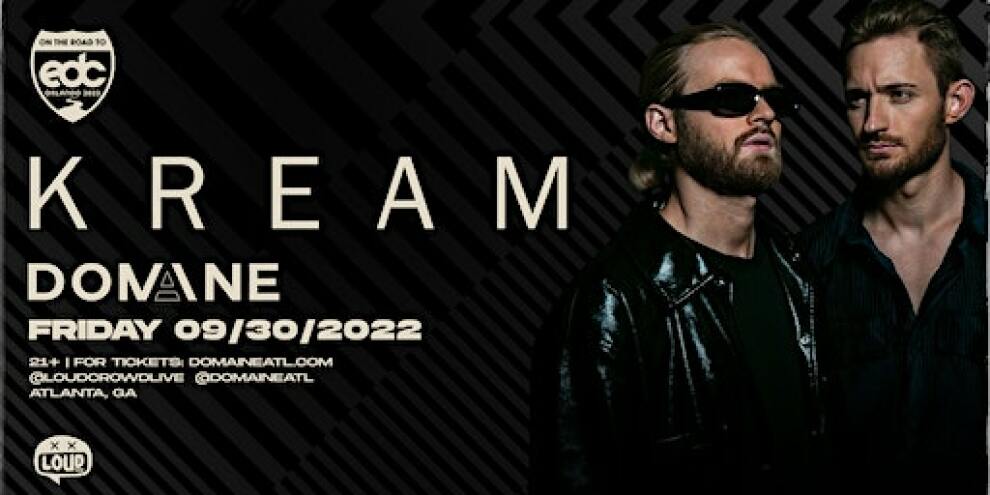 Friday September 30, 2022 10:00 PM EDT
Cost: $15.00,
From the venue:
KREAM - LIVE! At Domaine Atlanta on 9/30/22
About this event
Kream is a Norwegian DJ and record producer duo consisting of brothers Daniel and Markus, from Bergen.
THEIR RECENT RELEASES CONSIST OF "TAPED UP HEART" & "DECISIONS"
View our website: domaineatl.com or check us out on Instagram @domaineatl
For Venue Questions & Table Reservations, please call (678) 575-2994 or e-mail sales at graeatl.com
Domaine is the South's most premier entertainment and nightlife venue located in the heart of Midtown Atlanta, Georgia on famous Crescent Ave. A state of the art performance and concert venue with industry leading sound, lighting, production, and hospitality technologies, Domaine is a one of kind nightclub experience. From world renowned DJs to grammy award winning artists, Domaine is the industry leader in performance based nightlife entertainment.
The following articles are prohibited: Athletic gear and apparel, t-shirts, shorts, torn or cut-off clothing, men's sandals, hats, baggy clothing, chains, offensive prints on clothing, weapons, controlled substances, eye drops, gum, outside food or beverages, liquids, vitamins, supplements, over-the-counter medications, prescriptions medication without a valid prescription, cameras/go-pros, smart glasses, wearable technology, selfie sticks, the use of vaporizer 'vapes'. Any devices found in use will be confiscated and disposed of by management without compensation. Guests noticeably intoxicated or under the influence of a controlled substance will be denied entry and will not be eligible to receive a refund. All persons, bags, and personal items are subject to search.
Table Deposits & Tickets are NON-REFUNDABLE.
You must be 21 years of age with a valid form of ID. Management reserves all rights.
Tags
United States EventsGeorgia EventsThings to do in Atlanta, GAAtlanta PerformancesAtlanta Music Performances#concert#party#nightclub#edm#vip#atlantanightlife#fridaynight#kream#electronic_music#atlanta_events
Share with friends
Share on Facebook
Share on Facebook Messenger
Share on Linkedin
Share on Twitter
Share by Email
More information