Event Scheduled
Dirty Pop Party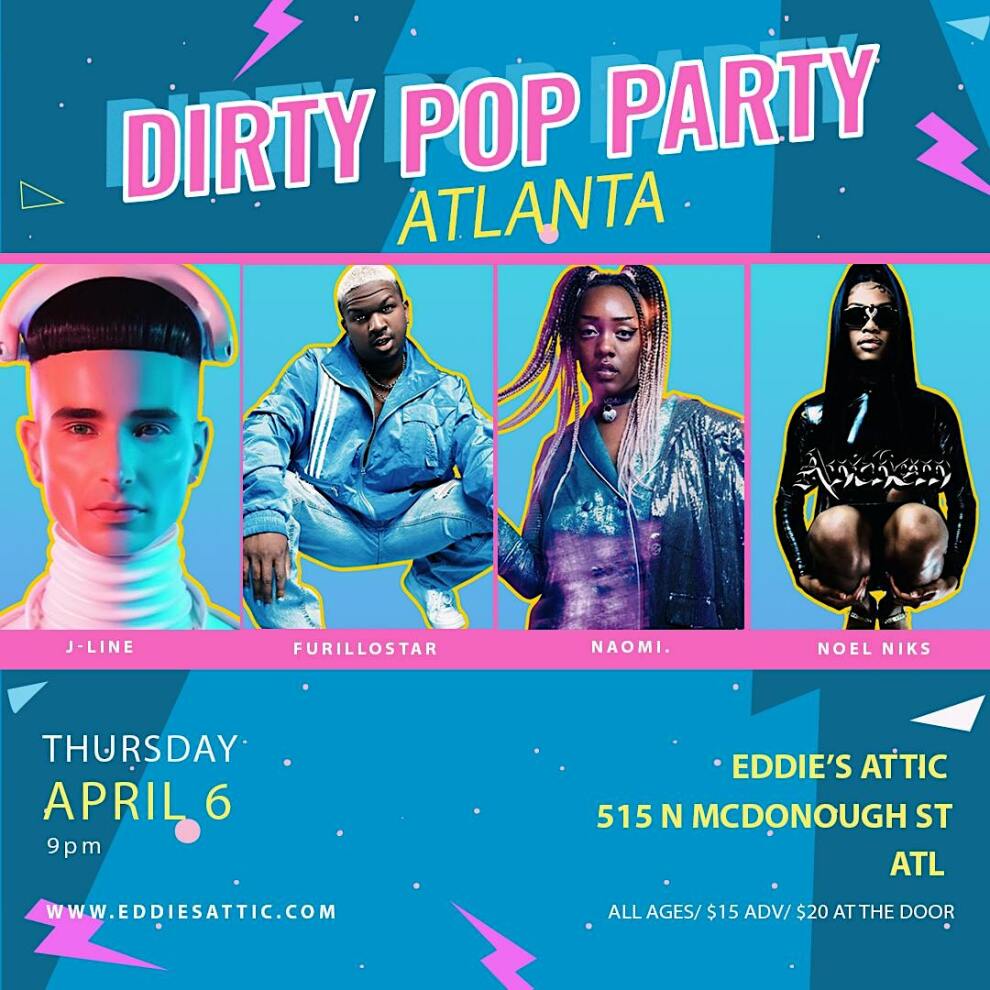 Thursday April 6, 2023 09:00 PM EDT
Cost: $15+,
From the venue:
Come see the best indie pop acts ATL has to offer while also living your best pop star life. Dance, sing and discover some amazing new music with performances by Furillostar, Naomi., Noel Niks and a special guest performance by NYC electro pop recording artist J-LINE.
Naomi. is a singer-songwriter, model and content creator based in Atlanta, Georgia. In 2019 she self-released her debut single Babe, and her eclectic style and bold electronic pop sound made a huge impact on the Atlanta music scene. Through her uniqueness, she connects with people all over the world and spreads her message of individuality, self-love and empowerment.
Furillostar: Versatile hitmaker Furillostar proves he is a force to be reckoned with.His most recent single Dwnld, sent his name on a skyrocket through the industry. Dwnld debuted at #47 on iTunes R&B album charts, landing Furillo a slot among some of the most notable names in the industry. The success of Flame led to Furillio being featured in some of the most esteemed publications in the industry such as Billboard and PAPER Magazine. "Furillostar's music often recalls the glorious early-aughts heyday when mainstream pop radio was saturated with insanely catchy R&B melodies by everyone from Destiny's Child to Jagged Edge" (PAPER Magazine).
J-LINE: NYC based recording artist J-LINE has garnered over 1 million streams and 2 million youtube views. With a synth electro-pop sound that mirrors the brightness of the late 80's/early 90s, J-LINE makes the underground music scene feel alive again - with an electrifying twist. His live set is an energetic blend of choreography, vocals and music that leave audiences electrified. USA Today, Teases and Dares and Essentially Pop are just a few of the outlets have praised music from his latest efforts. New music will be released throughout 2023.
More information