Sorry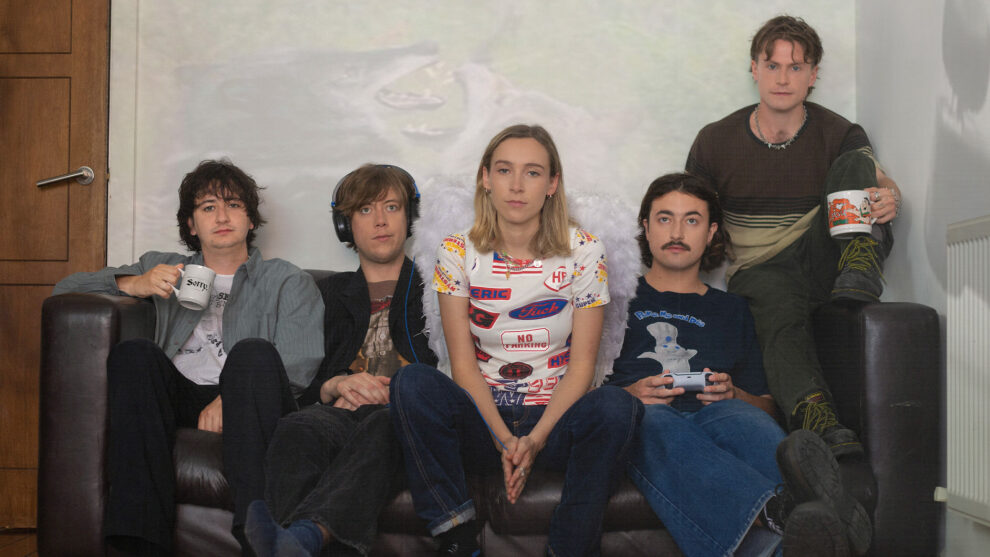 Bio
Who are Sorry? A gang of fools consisting of Asha Lorenz and Louis O'Bryen, Campbell Baum, Marco Pini and Lincoln Barrett. They have been making music together since their teens, have released one acclaimed album, a batch of singles and a series of videos co-directed by their songwriter and vocalist, Asha and her best friend Flo Webb (FLASHA Prod). Emerging from Brixton's Windmill scene, where they played alongside Shame, Goat Girl and Black Midi, Sorry have created their own distinctive musical world – one that draws together a shared passion for lo-fi sounds of grunge, trap, and shoegaze.
Sorry are a band with a devoted following on both sides of the Atlantic. Their 2018 single 'Starstruck', with its hook of a blocked throat clearing itself, has over 7 million plays on Spotify. The jittery 'Cigarette Packet' was arguably one of the best singles of 2021, with a video featuring an array of smokers with varying degrees of bad teeth. It's a simple visual device, elegantly executed.
Asha and Louis first started experimenting with songs at school in 2015, where they recorded soundscapes and beats in their North London bedrooms, uploading them in a battle to achieve the most plays. It started out as a game between the two. 'You'd be crying on Soundcloud at midnight when you should be sleeping, then you find this perfect beat,' Asha recalls of that time. 'I still take pride in it.' Home Demo/ns Vol. I + II are the band's early mixtapes and provide a snapshot of deep cuts from the band's beloved, genre-defying catalogue to date.
If their first full-length album 925 (produced by Lana Del Rey and Gorillaz producer, Jamie Dring) was more electronic, Anywhere But Here pays homage to classic songwriters of the 1970s, such as Carly Simon and Randy Newman. Asha's nonchalant salty-sweet vocals contrast with detuned/discordant guitar sounds echoing early 90s bands, Slint and Tortoise, and the irregular beats of Kanye or Capital Steez. The superficial naivete is a ruse for the underlying bitterness of sentiment. Their distinctive brand of Diazepam dreampop can be surprisingly angular and acerbic in parts.
Anywhere But Here was produced by Louis, Asha and Ali Chant with Portishead's Adrian Utley in Bristol. The heady rush of its infectious opener 'Let the Lights On' gives way to a melancholic duet, a form which marks the album, and one that Sorry have clearly mastered. Listen closely and you can hear it roll through the realm of a hypnogogic sunrise in 'Tell Me', or in 'Screaming in the Rain' with 'Cold coffee on your bedstand / I have lost the ability to understand.' These are coming-of-age songs set against the backdrop of a changing city; songs of addiction, songs of infatuation, songs of duality – the oscillating boy-girl vocals play with perspective and time.
Earwigged conversations, text messages, snatched speech recorded underground; the city's discarded words fed into the lyrics which map the experience of urban life on a young and frustrated generation. But it's not all grime and grit and murkiness. Theirs is a city where incandescent light illuminates the murkiest corners. As a person of mixed heritage, Asha views her hometown, with its often frantic and overwhelming atmosphere, as a place of rich inspiration. 'Not being British at all makes me feel like a chameleon,' she says. 'I'm not patriotic about my own heritage but I'm interested in everybody's else's culture. I feel like a patriot for love and other people, and I cling onto that.'
London features as a prominent character on the album. The echoes of its empty streets in 2021 can be heard in tracks such as 'Key to the City', a doomed romantic ballad where a jilted lover curses an ex, creating a paranoid litany of their imagined new life of rich friends and hot girl affairs, a place where good bitches turn bad in the end: 'I know that you're somewhere, out there, getting fucked in someone else's bed.' This slice of acidic pop is a future classic, an emerging anthem for the broken hearted.
Unlike their debut, this is a different type of city to 925's, told through the voices of two people in their early 20s whose lives have become insular. If there is any soundtrack to the creeping emotional fog of recent times, it's this one. The unexpected tangent – of enforced silence, routine, mental disintegration – was a touchpaper for Anywhere But Here. 'If our first version of London in 925 was innocent and fresh-faced, then this is rougher around the edges. It's a much more haggard place,' Louis says. For Asha, this period of intensity was challenging: 'I just did what everyone else did, I went a bit mad.'
As her romantic relationship disintegrated, slow days were spent reflecting on the recent past. 'I felt like everything was just getting so far away from who I was,' she says. 'I kept thinking 'who am I now?' Her mother, a Death Doula, returned home each night from providing spiritual guidance to patients in the end stages of life, with profound stories that were impossible not to absorb. From these domestic periods of disquiet and unease, Asha wrote the closing track 'Again', about rebirth and death, with an arrangement responding to the idea of frequency that transcends the female body: 'The world shone like a chandelier / and I was lost for good.'
Having just returned from a US tour with Sleaford Mods, Louis recalls the band's last aborted mission to the States. Sorry were due to play in New York just before the pandemic took hold to celebrate the launch of 925. After the opening show, the tour was cancelled. If New York was dystopian when they arrived, it became even more so in the days before they returned home. 'It's where every end of the world movie is set,' he says. 'Overnight, we saw the streets go from being bustling and intense to walking around a desolate Manhattan. I had never experienced anything like that, it was completely new.' It is this newness that sits at the heart of Sorry's songs – of what it means to be young and upended in the 2020s, with all the challenges and ingenuity that life in the metropolis brings.
PERSONNEL
Asha Lorenz (Vocals/Guitar)
Louis O'Bryen (Vocals/Guitar)
Campbell Baum (Bass)
Lincoln Barrett (Drums)
Marco Pini (Electronics)
Include your band here, include your events here
---
[Admin link:
Sorry
]