Bryan Adams
Vice President - Organized Neighbors of Summerhill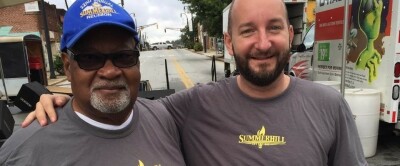 Bryan Adams is the Vice President of the Organized Neighbors of Summerhill. He has been active in restoring the parks within the neighborhood. Bryan has served as the Treasurer 2013/2014 and Vice-President 2015/2016 and 2017/2018.
Tagged In
Monday February 13, 2012 02:27 pm EST
All the music you don't want to miss this week |
more...
Monday August 10, 2015 02:42 pm EDT
http://https://www.facebook.com/pages/Blast/44354206391
http://clatl.com/atlanta/ImageArchives?by=1223504
Foo Bl'ast!
>> Tonight on Late Night: Fallon has Boney James, Seth has Beirut, Corden has Wolf Alice, and Conan has Hot Chip.
?
>> "I don't get the violence revenge thing. (Taylor Swift's "Bad Blood" video) is supposed to be a good example? And I'm a bad role model because I'm running...
|
more...
Friday September 23, 2011 10:25 am EDT
Monday November 2, 2015 03:57 pm EST
http://nahright.com/news/2015/11/02/vado-slime-flu-5-mixtape/
http://clatl.com/atlanta/ImageArchives?by=1223504
Slime time, again
>> Last Week on Late Night: Demi Lovato gave Jimmy his own Confident Jacket, talked about singing the National Anthem, and did "Confident," Ghost did "Cirice" and The Zombies did "Moving On" on Colbert, Eagles Of Death Metal did "Complexity" and Duran Duran did...
|
more...
Tuesday November 3, 2015 04:08 pm EST
http://store.milanrecords.com/mistress-america.html
http://clatl.com/atlanta/ImageArchives?by=1223504
Must we
>> Last Night on Late Night: Andrea Bocelli did "Moon River" on Fallon, Margaret Cho did "Lice" on Colbert, Color Me Bradd did "I Wanna Sex You Up" on Kimmel, Bryan Adams did "You Belong To Me" on Meyers, Wolf Alice did "Bros" on Corden, Luna did "Malibu Love Nest and "Friendly...
|
more...
Thursday June 14, 2012 04:00 am EDT
This laughable yawn is anything but a good time. |
more...
Wednesday May 29, 2019 11:12 am EDT
A Fresh Installment from CL's coverage of Atlanta's Neighborhoods |
more...