Anne Labaire
Artist
Website: I've been an artist from the moment I first held a Crayola in my chubby little hand. I was fascinated watching the amazing colors unfold and mingle. I especially loved the way a single color could look so different depending on the colors around it. I still get my hands in the mud occasionally, but my creative medium of choice has become acrylic paint and canvas. Ron and I have recently retired from the day-to-day running of the gallery and I've taken a studio at Kudzu Art Zone.
www.kudzuartzone.org.
Whether in my home studio or at Kudzu, I paint every day. Life is GOOD!
Events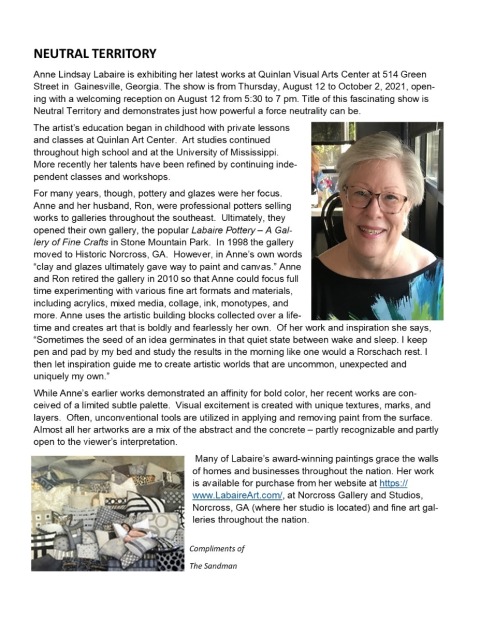 Thursday August 12, 2021 09:00 AM EDT
Featuring:
Anne Labaire
Noted Artist Anne Labaire displays the power of neutrality in mixed media, realistic to semi-abstract paintings. This recent creative series by a prolific artist will transform viewers' perceptions of what is neutral. [
click here for more
]
USER SUBMITTED