Cultural Offerings in West End/Southwest ATL
OUR VISION: We believe that great art and culture inspires us, brings us together and teaches us about ourselves and the world around us. In short, it... |
more...
CL:
An institution devoted to artists of African descent in a historic 1872 home once owned by Dr. Otis Thrash Hammonds. Regular exhibitions of contemporary artists complement a permanent collection that includes work by Romare Bearden, Hale Woodruff, James Van Der Zee and others.
Kathleen Plate, owner of Smart Glass Art, has mesmerized audiences nationwide with her innovative recycled glass bottle creations. From chandeliers to... |
more...
A venue for cutting-edge contemporary and often socially relevant work. Features such well-known artists as Carrie Mae Weems, Iona Rozeal Brown, David... |
more...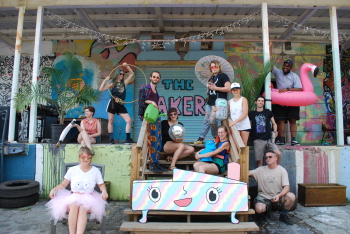 website: The Bakery is a collective of creative thinkers aligned around social justice principles, environmental concerns, and the belief that art is ... |
more...
The home of Joel Chandler Harris, author of the Uncle Remus tales, has recently undergone a revival shepherded by a descendant of the post-Civil War A... |
more...
---
West End/Southwest ATL Neighborhood Guide - Galleries and Arts