Pine Street Market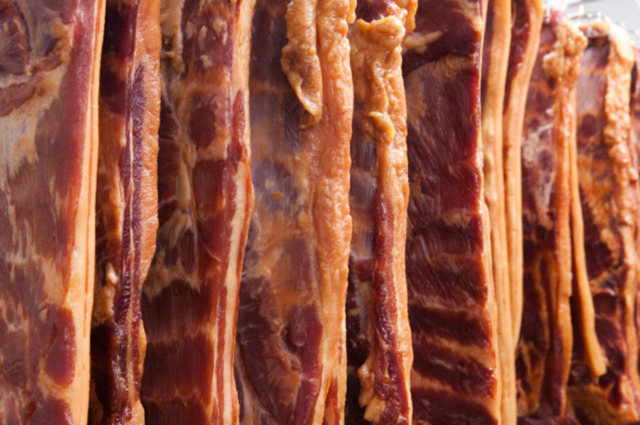 Owner Rusty Bowers' meat-centric mecca in Avondale Estates has garnered well-deserved praise and a loyal fan base. Pine Street Market makes all of its own charcuterie and stocks local meats from all over the Southeast, including Gum Creek Farms' antibiotic-free Berkshire pork, which is used in most of its products. The butchering classes are a fun way to spend a weekend morning, complete with demos, hands-on practice, beer, and a pork-filled lunch. Afterward, you can peruse the meat case, sample some cured meats, and direct as many questions as you want to the friendly counter staff.
Saturday August 10, 2019 10:00 am EDT
Categories: Cooking Class
Come join Butcher Rusty & crew for a hands-on sausage-making workshop as they explain a variety of grinding, casing and cooking methods. Participants take home two pounds of their own sausage creation.
This class runs from 10 - 1 and includes a lunch of beer braised bratwur...
Cost: $112.50-$155
Saturday July 20, 2019 10:00 am EDT
Categories: Cooking Class Get to know cuts of pork from the inside-out. During this interactive demonstration, Butcher Rusty & friends break down a whole Riverview Farms pig while explaining various cuts of meat and the nuances of whole animal butchery. Participants cut their own chops, help grind p...
Cost: $112.50 - $155
4A Pine St.
Avondale Estates
,
GA
30002
(404) 296-9672
pinestreetmarket.com
array(1) {
  [0]=>
  string(3) "119"
}

Butcher Shop
Hours
Monday: Closed
Tuesday: 11:00 AM – 7:00 PM
Wednesday: 11:00 AM – 7:00 PM
Thursday: 11:00 AM – 7:00 PM
Friday: 11:00 AM – 7:00 PM
Saturday: 10:00 AM – 5:00 PM
Sunday: 10:00 AM – 5:00 PM