See our
guide to COVID-19 in Atlanta
(this page last updated )
Mutiny Artwrx
From the website: Join our rapidly growing family (145+ local artists and small businesses!) in our studio home and customize your very own or communal studio space/suite. Whether you are an artist, a small business, a start-up, a collaborative group, or you just have too much cool stuff (you hoarder, you), you're in a lot of luck, because we have studio space available.
Renting studio space at Mutiny Artwrx means you'll have access to resources, networks, collaborative events and so much more!
Our goal is to help you grow your creative business.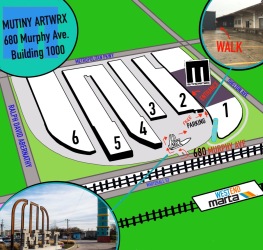 Thursday December 16, 2021 06:00 PM EST
Categories: Shopping
Mutiny Artwrx is a warehouse of makers and artists every 3rd Thursday we open our doors to the public. Creators will be selling their works Live music New Art each month to view in our Gallery Ocho Free parking Free entry Family friendly 6pm-10pm
[
click here for more
]
USER SUBMITTED
675 Metropolitan Pkwy SW Suite 1096
Atlanta
,
GA
30310
(404) 202-5517
mutinyartwrx.com
Arts Center
COVID-19