Fullers Park Recreation Center
Located in Fuller Park.
Gym (7,960 sf) The gym consists of 1 regulation play size basketball court, 2 non-regulation play size basketball courts, and 2 sets of volleyball outlets and boundary lines.
Dance Room (686 sf) The Dance Room is equipped with 1 dance room mirror and 30 temporary storage compartments.
Conference Room (743 sf) The conference Room is equipped with a wood grained dark finished Partition which divides the room in half.
Caterers Kitchen (251 sf) The kitchen is equipped with a 208 volt Industrial Size Ice Maker, 2 standard size refrigerators, a standard size stove, a sink, and 37 cabinets.
Training Room (1050 sf) The Training Room is equipped with rubber padded flooring.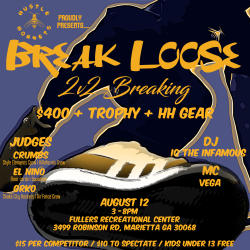 Saturday August 12, 2023 03:00 PM EDT
Categories: Dance Performance Toprock, footwork, headspins, and flares! Hustle Hornets proudly presents: Break Loose 2v2 Breakdancing Competition. Come through and enjoy high level competition from some of the best bboys and bgirls in the area featuring cyphers, performances, and music. Vendors and ... [
click here for more
]
USER SUBMITTED
3499 Robinson Road NE
Marietta
,
GA
30068
(770) 509-2737
cobbcounty.org
Park
Hours
Monday – Thursday: 12:00 pm – 9:00 pm
Friday: 12:00 pm – 6:00 pm
Saturday: 10:00 am – 3:00 pm
Sunday: Closed