Hero complex: 4th Ward Afro Klezmer Orchestra
With Abdul the Rabbi, Roger Ruzow and the 4th Ward Afro Klezmer Orchestra find their place in Atlanta
RABBI ROCK: 4th Ward AKO includes Edin Beho (left, background) Roger Ruzow, Colin Bragg, Nick Dixon, Steve Walker, Tony Staffiero, Bill Nittler, Chris Riggenbach, and Jeff Crompton.
The air in the cramped attic space is oppressively hot in the Cabbagetown house where the 4th Ward Afro Klezmer Orchestra is blaring through a practice set of gypsy-esque tunes from its second album, Abdul the Rabbi. Eight of the group's nine members, including trumpet player and principal songwriter Roger Ruzow, are spread out in a shuffled procession with their backs against the wall. It's the only way they can all squeeze into the room at the same time with their instruments. Jeff Crompton (alto sax, clarinet), Bill Nittler (baritone sax, clarinet), Tony Staffiero (tenor sax), Colin Bragg (electric guitar), Edin Beho (acoustic guitar), Chris Riggenbach (upright bass), and Noah Kess (drums) are locked in a worldly jumble of celebratory sounds. Trombone player Nick Dixon is the only member of the group who couldn't make this Sunday rehearsal.
Still, every note they blast mingles with the translucent haze of humidity lingering near the ceiling. Oscillating fans are locked on high, blowing hot air around, and the occasional page of sheet music takes flight before coming to rest amid the octopus tangle of cables, guitar and horn cases, and tote bags strewn about the floor.
At the far end of the oblong room, a weary black dog named Jack is barking, none too pleased that a stranger with a notebook has snuck in during band practice and settled into the chair behind the soundboard. His bark pierces through the layers of exotic African rhythms and spiraling Russian and Middle Eastern horns blaring off of the walls as the group wails through "Fiddler on the Roof." It's an arrangement that draws from jazz saxophone legend Cannonball Adderley's 1964 version of the same tune, but Ruzow has it set to a subtle hip-hop groove, with a Balkan/ska guitar, and a few extra melodies added.
The song comes crashing to a climactic finale, along with Jack's accusatory barking as the band laughs in bewilderment. "Look dog," Ruzow announces, "everyone in this room wants a solo, but don't think for a minute that you can muscle your way in by barking louder than the rest of us!"
This is the 4th Ward Afro Klezmer Orchestra's first practice since the Abdul the Rabbi CDs were released, somewhat unceremoniously, on August 8. The album – about 75 percent of which was written by Ruzow, with Crompton and Nitler contributing – takes a nomadic stroll through varying musical terrain: Rock, funk, and Afro-pop butted against a rowdy drum rattle and a barreling mass of Eastern European folk. But at the heart of it all, Abdul the Rabbi is an inward journey conceived by Ruzow as a portrait of internal conflict and the plight of adjusting to one's surroundings while coming to terms with one's own identity. It's a heady concept personified by a character Ruzow created and used for the album's namesake.
But Abdul the Rabbi is more than a reflection of Ruzow and his myriad neuroses. The album's abstract narrative and complexities bear the fruits of a musician who's managed to thrive as a musical outsider in a city from which many of his peers fled to find support and even success elsewhere.
Although Ruzow reluctantly admits that there are comparisons between himself and the fictional character he's created, the parallels are undeniable. "Sure, there are connections between the character and myself, but really the idea is about coming to terms with who you are and making some good come of it," he says. "All of the conflicts that our internal apparatus manages on a daily basis have to go somewhere. If they aren't expressed, where do they go? They go inside."
Using a character to embody such an existential dilemma is an age-old literary device. Look no further than The Hero with a Thousand Faces author Joseph Campbell and psychologist Carl Jung's notions on hero myths for an intellectualized take on how Abdul's sage yet rebellious presence teaches us about social taboos and unwritten laws. Ruzow, however, breaks him down in layman's terms. "He's part Spider-Man, part Hercules, and part Woody Allen."
A similar dialectic applies to Ruzow, a versatile musician who defies easy categorization. "I can play jazz, there is jazz in my music, but I'm no more a 'jazz' musician than I am a 'Klezmer' musician or a 'rock' musician," he says, before adding a bit of self-awareness: "One of the biggest obstacles an artist has to face in Atlanta is himself or herself. After you get some kind of a handle on that, hopefully things get a little easier."
In many respects, Abdul the Rabbi brings more than a decade of Ruzow's personal and artistic struggles to a fine point. Throughout the '90s, he established a name for himself playing trumpet with Gold Sparkle Band, one of the more compelling acts to spring from Atlanta's pre-Olympic underground music scene. It was a time that's often hailed as one of the city's most creative eras – the same scene that spawned the likes of Cat Power, Smoke, and the Rock*A*Teens. Even though Gold Sparkle wielded the tools and the talents of a world-class jazz ensemble, the group always embraced bold punk rock and DIY aesthetics over dinnertime tunes. On a given night, GSB would play stages across the city – from a high-end gig at the Omni to the front porch of a house party in Cabbagetown – all on the same night.
Over time, it became clear that in order to keep moving forward, the group had to be in New York where a stronger scene for its brand of forward-thinking jazz and musical experimentation had flourished for decades.
But when Gold Sparkle drummer Andrew Barker and saxophonist Charles Waters packed their bags in 1998, Ruzow stayed in Atlanta for reasons both pragmatic and philosophical. The same year, his bandmates moved on, Ruzow was diagnosed with multiple sclerosis. By keeping a steady day job – at Forest Park's Unidos Dual Language Charter School, where he teaches music to kindergarten through seventh graders – he's held on to the insurance necessary to maintain his health. Despite such real-world concerns, he espouses a more idealistic view on his reasons for staying put.
"Atlanta is a Promethean environment," Ruzow says. "It's a place where you can stick your hands into the mud and see if what you pull out has legs and can stand on its own." In a city as saturated with artists as New York, it's easy to get lost in the shuffle. Atlanta, on the other hand, has been widely disregarded by many musicians of Ruzow's ilk who tend to leave and prosper elsewhere. Ruzow sings a similar refrain: "Support here is weak, and at times nonexistent. Despite what politicians and public figures may say, the 'art' that receives support around here is commercial art – Coca-Cola. The arts community here can thrive – almost in spite of the so-called arts support they receive from the city."
Regardless, Ruzow has a corner on the market here, and while his former Gold Sparkle bandmates have gained respect in New York, he has never really pined for the spotlight. Even when preparing for this story's photo shoot, his one stipulation was that he's not the only member of the group on the cover – despite being the focus of the story about an album that he conceived.
It may sound like he's a handful, but his intentions are pure. "I can be a pain in the ass, probably a bit too blunt, and can hurt people's feelings," he says. "These things aren't mutually exclusive; I'm just trying to keep everybody happy, and I'm probably more neurotic than I need to be."
Crompton, on the other hand, offers a more sympathetic assessment of his friend and collaborator. "[Roger's] personality and mine are very different, so sometimes I really get on his nerves and sometimes he really gets on my nerves, but we both know that we'll get over it," he says. "With nine different personalities in the band, we all get along remarkably well."
The narrative that drives Abdul the Rabbi is, perhaps, best spelled out on the title track – the only song on the album that feature vocals, delivered by Zano Bathroom of Atlanta's experimental hip-hop duo Social Studies. When he rhymes, "Even though we gravitate to the grave, we unfold and orchestrate how we behave," Ruzow's intentions are laid bare. At the heart of it all, Abdul the Rabbi is fixated on the struggle to maintain hope in the face of despair, no matter how bleak the circumstances.
Since Gold Sparkle moved to New York a decade ago, Ruzow has pressed on, playing in various groups over the years and founding such now-defunct jazz ensembles as the Nu South Subterraneans and the Atlanta Creative Music Ensemble (A.C.M.E.). While the former was playing more recognizable takes on free jazz in the traditions of Ornette Coleman and Archie Shepp, the latter group adopted a more standard approach to playing jazz. Both, however, were still pursuing that same deconstruction of traditional musical forms to create something new. But neither really developed legs. "You need a group of connected and motivated musicians that are of a telepathic mind-set to pull that kind of music off," Ruzow explains. "Those kinds of musicians are hard to find around here."
It's an esoteric speed bump, but one that's proven a real obstacle for him to overcome. "What I wanted was Gold Sparkle," he says. "I've had a relationship with [Gold Sparkle saxophonist] Charles for 27 years; we met in college in Boone, N.C., and spent long hours drinking cheap wine and listening to the Doors and John Coltrane records, drawing comparisons between the two."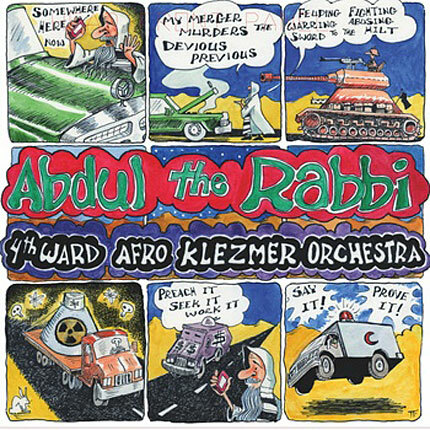 Abdul the Rabbi is a direct journey that reaches for the same high standards that Ruzow set for himself more than a decade ago. But a group the size of the nine-member Afro Klezmer Orchestra lends itself to a more compositional approach. Throughout the album, the fluttering melodies of "Yemenite Tanz," the Spaghetti Western build of "Die Silver Wedding Die," and the mania of "Der Stasi" highlight the group's visceral nature. But when mashed up against a song like the title track, Abdul the Rabbi, the musical cues add psychological weight by prompting listeners to connect the dots. "It works kind of like the employment of words and pictures that you get with a comic book," Zano says, and it's an apt comparison since Ruzow enlisted the talents of artist Tom Ferguson to create a slapstick comic book depiction of the character Abdul for the album's cover art based on the song's lyrics.
The song's meaning builds upon musical abstractions, impressionism, and personal reconciliation, but it wasn't always intended to be as transparent. "Roger had originally wanted 'Abdul' to be rapped in Arabic," Zano recalls. "So his question for me was, 'Do you know anyone that raps in Arabic?' Later, he asked me to do it. He explained the story, so I wrote to the music. He specifically wanted me to match the narrative he had developed, and communicate Abdul's stance in the rap."
It's indicative of Ruzow's naturally experimental tendencies. "Sometimes Roger can be the master of ideas that just don't seem to make sense at first," Crompton says. "You'll keep playing a part and trying to get your head around it, and then there comes a point when all of a sudden it makes perfect sense."
In a post-modern sense, this method of pulling order from chaos exemplifies Ruzow's daily attempts to reconcile those nagging inner conflicts.
Back in that sweltering attic, as practice winds down, Jack the dog is still barking. On the chair next to him, someone has left a plain white label vinyl copy of Abdul the Rabbi, in an unmarked sleeve, with a United Record Pressing sticker taped to the front. It's the test pressing of the album, but it's rife with flaws. The break, which is supposed to put "Abdul the Rabbi" at the beginning of side two, has been shuffled around and lost somewhere on the flip side, and the whole thing is tainted with imperfections that nobody can really explain.
So what would Abdul do? Perhaps Carl Jung said it best: "Through pride we are ever deceiving ourselves. But deep down below the surface of the average conscience a still, small voice says to us, something is out of tune." Jung clearly was not grumbling about a record but, ironically, a botched test press seems to be the perfect physical manifestation of inner conflict – for Abdul, for the Afro Klezmer Orchestra, and especially for Roger Ruzow. 
Fourth Ward Afro Klezmer Orchestra. Free. (Time unannounced.) Sat., Sept. 15. East Atlanta Strut in East Atlanta Village.