Searching for flavor at the Prickly Pear Taqueria
Plus, a visit to Niramish in L5P
It was Sunday night at the
Prickly Pear Taqueria
(950 W. Peachtree St., 404-881-8887) in Midtown Plaza. The restaurant, which opened in June, was packed and there's little doubt that its 100-plus varieties of tequila had a lot to do with turning out a crowd.??We were sitting at a small table outside. Our server seemed pretty frazzled by the crowd but when I ordered my entrée, chicken mole, he grew suddenly focused and took a step closer. "Don't order that," he said. ??"Why not?" I asked. ??"It's not authentic. The chicken is not cooked in the mole. They just pour the mole over roasted chicken," he said.??I thanked him for the heads up. Needless to say, the warning did little to calm my suspicions that I was about to eat the usual neo-Tex-Mex-Southwestern food whose flavors depend on downing a couple of large margaritas. I worried more when the server suggested I order one of the wood-fired "Southwestern pizzas." I followed his advice, choosing the pollo al carbon – one featuring grilled chicken.??Meanwhile, our starters, which we'd ordered earlier, arrived. We chose the usual queso fundido with chorizo and a side of mango-pineapple salsa, plus two tacos – one with al pastor pork and a "mixto" filled with fried seafood. ??I wish I had something nice to say about this food, but "mediocre" is the most complimentary word I can use. The queso fundido was utterly bland, even with the addition of the usually spicy chorizo. Dumping the mango-pineapple salsa in the bowl improved the flavor, but not by much and at the cost of congealing the cheese. ??Tacos were better, deserving all the flattery the word "mediocre" can communicate. The al pastor – a Mexican specialty cooked on an upright rotisserie — wasn't real al pastor. It was roasted pork shoulder rubbed with guajillo and stuffed in the taco with some grilled pineapple, habanero salsa, cilantro and onion. As tacos go, it wasn't bad, and I've seen authentic Mexican taquerias here do the same kind of thing, although they usually go a lot heavier on the spices.??Ditto, basically, for the "mixto" of fried calamari and shrimp: mediocre seafood and a slightly zingy jalapeño cole slaw. You're going to love it with three shots of tequila.??The pizza arrived. Oy. If the pizza is better than the chicken mole, as our waiter promised, I'm scared. The crust was exceedingly thick, as it probably needs to be to bear its heavy coating of black bean puree. It was also topped with mozzarella, cilantro, sliced avocado and chunks of the most tasteless, overcooked chicken I remember eating since I sampled "welfare food" decades ago. This was all streaked with crema fresca and served with a small container of salsa verde, the only ingredient that had distinct flavor. I seriously could not eat two slices of this pizza.??Wayne's choice, the "chimichanga nationale," was completely baffling. A chimichanga, as far as I have ever experienced, is a fried burrito. Wayne's was not fried, making it essentially a burrito stuffed with chicken and the usual accompaniments. Like the tacos, it scored a solid mediocre. ??The restaurant also serves quesadillas and enchiladas. My primary suggestion is that you drink a lot. Then, if you're hungry, stick to the tacos.??
In Little Five Points
??If you dine much in Little Five Points, you might recognize some of the folks at
Niramish
(1138 Euclid Ave., 404-917-0106) from
Luna Nueva
, the next-door Mexican restaurant.??That's because the Bangladeshi folks who own Luna Nueva have opened Niramish. (They also own Planet Bombay.) This replaces the earlier Indian restaurant, Calcutta, and while some purely Indian dishes remain on the menu, most of the food is Bangladeshi. We visited the restaurant after reading Christiane Lauterbach's mainly positive review in
Knife & Fork
. ??The food – all vegetarian or fish — is a shock to the palate, primarily for one reason: A strong sweetness prevails in many dishes. For example, Wayne ordered a bowl of pasta (rotelli and penne) with a tomato sauce (makhni) that was lividly pink and oily in the mouth. The first taste was cloying in its sweetness, but then a burn asserted itself that made the sauce more palatable. But there's no way around a description of super-sweet.??Similarly, there's a version of naan that is made with a bit of cheese and dried fish that is sweet, but altogether pleasantly so. ??The standout dish for me was a plate of vegetable fritters cooked in the Balti style. "Balti" refers to Baltistan, formerly an independent kingdom and now a part of northern Pakistan. A restaurateur in Birmingham, England, opened a restaurant about 10 years ago specializing in traditional Balti cooking. Now, there are more than 100 Balti restaurants in Birmingham and the aromatic cuisine has developed way beyond its original recipes. As far as I know, this is the first Balti cooking in our city.??I actually found the sauce in which my crispy fritters were served a bit bland. My limited research on Balti dishes tells me that, in fact, the food is typically served rather dry and is usually not flavored with hot chilies. This sauce was almost watery and did leave me envious of Wayne's piquant pasta.??We also sampled the restaurant's channa poori, a big circle of fried whole-wheat bread. Christiane reported that her server spooned a sauce over the bread. That was not our experience; we did it ourselves. When we asked the server why she hadn't done that for us, the manager rushed over and an intense discussion followed. Apparently, it's usual for the server to do it.??We also ordered a sample of fried appetizers. Although these were all tasty enough, there was nothing unusual about them and I suggest you stick to the stranger, unfamiliar items.
More By This Writer
Friday January 3, 2020 11:48 am EST
Check out Food Terminal and B's Cracklin' Barbecue |
more...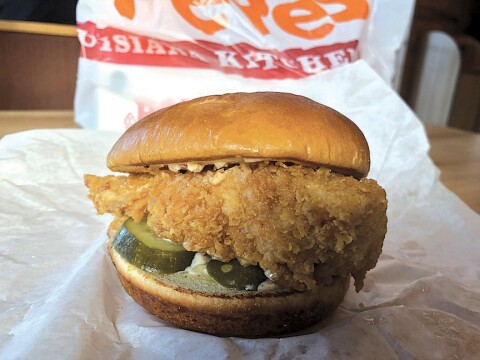 Wednesday December 4, 2019 06:20 pm EST
But there's more that's good in the 'hood |
more...
Monday November 4, 2019 02:15 pm EST
Twenty years ago during frequent visits to LA, I often visited a late-night taco stand on Santa Monica Boulevard, not far from Silver Lake. I stood at a counter outdoors and watched the nightlife while I ate perfect tacos. My usual impromptu dinner companions were two transgender hookers who called the taqueria their "safe space." Yes, I frequently hummed Lou Reed's "Walk on the Wild Side," a... |
more...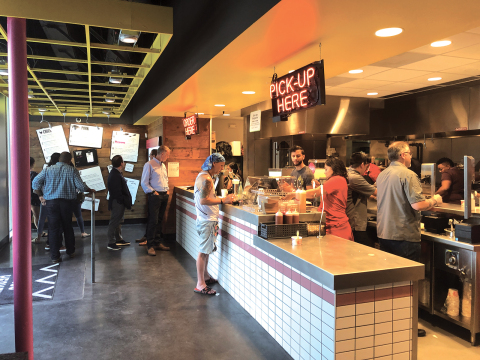 Thursday October 3, 2019 01:03 pm EDT
Velvet Taco and Vietvana stretch the limits |
more...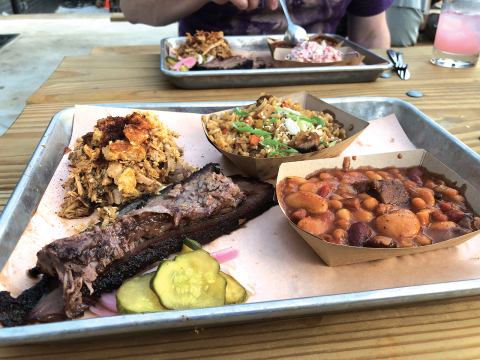 Wednesday September 4, 2019 06:04 pm EDT
Religious barbecue, tattooed pizza, and bejeweled ice cream |
more...
Search for more by Cliff Bostock