>>

Content

>>

News

>>

crime

>>

BMF - Hip-hop's shadowy empire (part 2)
BMF - Hip-hop's shadowy empire (part 2)
Loyalty within the Black Mafia Family made the alleged drug enterprise nearly impenetrable. But one high-placed member would break BMF's code of silence. Part 2 of 3
DOMINO EFFECT: Crack dealer Rafael "Smurf" Allison (top left) led investigators to Decarlo Hoskins (top right), who in turn led them to BMF members Jeffery Leahr (bottom left) and Omari McCree (bottom right).
Editor's note: For more details about BMF, as well as notes describing the sourcing of the story, click on the "Deep Background" link at the end of each section.
On a dead-end street called Springside Run, five men dressed in black were making their way up one of the driveways. One carried brass knuckles. Another had duct tape. Some had guns. A neighbor doing yard work glanced up and thought it odd, a sight so menacing in broad daylight.
Inside the house, a rapper named Gucci Mane was hanging out with a stripper he'd met earlier that day. Gucci had wanted her to hear some of his tracks, so they decided to go back to her place. He was hoping she'd like one of the songs enough to dance to it on stage, a move that would generate some buzz.
He'd already created a good bit on his own.
It started with a track called "Icy." Gucci had written it, and a better-known rapper named Young Jeezy had laid down a few verses. But when the song became a hit, Gucci and Jeezy got in a spat over who was indebted to whom. Jeezy responded with a "dis song," "Stay Strapped," that put a $10,000 price on Gucci's diamond-encrusted necklace:
"I want that muthafuckin' bullshit-ass icy chain ...
"I got a bounty on that shit, nigga, 10 stacks ...
"So if he come to your town,
"And you just happen to snatch that muthafucker off his neck ...
"I'm gonna shoot you the 10-stack, man ...
"So I can cremate that muthafucker."
By all accounts, Jeezy wasn't one of the men who walked through the stripper's door on the afternoon of May 10, 2005. But he was connected to at least one of them.
The five men flooded the room. The one with the brass knuckles hit Gucci in the head. Another guy pistol-whipped his friend. At least one of the men drew a gun.
Gucci drew faster.
"All of a sudden I feel a pop, and fall to the ground ..."
-- Macon rapper Pookie Loc, circa 2000, recording with the group Loccish Lifestyle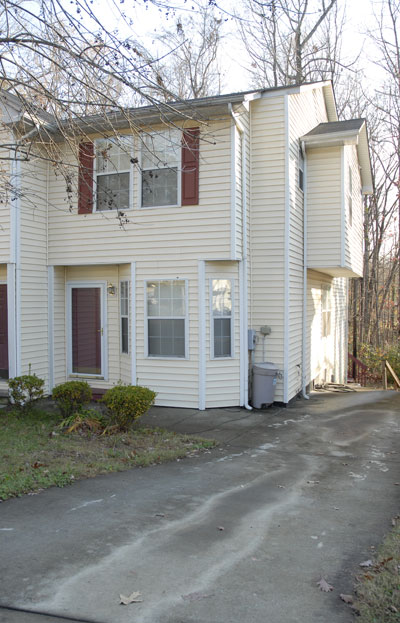 The five men quickly got out of there. One of them, Henry "Pookie Loc" Clark, was separated from the others. He ran along Springside Run toward Columbia Drive. A middle school was up ahead. So was a cop car. He veered into the woods, stumbling, stumbling, falling.
"I try to move but constantly something is holding me down ..."
Five years earlier, Pookie Loc's group, Loccish Lifestyle, came to town from Macon for a freestyle rap competition at the Atrium. Without having written a single song, they took the prize. Dozens of recordings and two self-released albums later, Pookie Loc and band member Shannon "Luke" Lundy were in Atlanta again — this time with the hopes of inking a deal with the label Corporate Thugz Entertainment. Pookie Loc was within a breath of success.
"I wake up cold and sweating, light flashing in my eye ..."
Three days after the incident at the stripper's house, DeKalb County Police got a call. Four men had shown up at Columbia Middle School to search for something in the woods. The incident report lists one of the men as Shannon "Luke" Lundy. It lists another as Demetrius "Kinky B" Ellerbee, who is co-owner, along with Young Jeezy, of Corporate Thugz Entertainment.
Luke told police he'd been at a video shoot in West End when he heard about a shooting on Springside Run. He said his friend Pookie Loc, who'd gone missing, knew a woman who lived there.
So they went looking for him.
"Realizing that I'm shot and real slowly I'm dying."
They found Pookie Loc there in the woods, dressed in black. Flies were swarming all around him.
Let's get one thing straight: Young Jeezy has said on several occasions that he had nothing to do with the raid on Springside Run. Police have never named him as a suspect. And the only arrest that came of the incident was that of Gucci Mane, who was charged with killing Pookie Loc. (Those charges wouldn't stick.)
But there is some disagreement about what happened that day in May 2005. And it basically boils down to whether an organization with ties to Jeezy — an alleged drug ring called the Black Mafia Family — might have been involved.
At the time, BMF was well-known in Atlanta hip-hop circles as a crew that partied like celebs and dropped money like monarchy. The crew's reputation on the street was legendary. As with most legends, there was likely some truth to the lore, and quite possibly a false claim or two.
Neither Loccish Lifestyle's manager, Tarence Bivins, nor its third member, Carlos "Low Down" Rhodes, was in Atlanta at the time of Pookie Loc's death. But both Bivins and Low Down say they're positive BMF was not behind it.
"BMF had nothing to do with — not anything, period — the Gucci Mane situation and [[[[[[[[[[[[[[[[[[[[[[[[[[[[[[[[[[[[[[[[[[[[[[[[[[[[[[[[[[[[[[[[[Pookie] Loc," Bivins says. "That's not true, totally not true. You can quote me on that."
Low Down is equally unequivocal. "Basically, they're just using BMF as a prop," he says. "They're going to use BMF just so they can bring more heat."
Of BMF itself, he claims: "They are really hot anyway. I mean, they on fire. So I guess you can't add no more fire to it."
Yet Gucci's former attorney, Dennis Scheib, and his current one, Ash Joshi, are firm in their assertions that BMF is in some way responsible.
"Here's the situation," Scheib says. "Five guys came in. They were BMF."
According to Joshi, the DeKalb County district attorney's office was looking into whether BMF was behind the attack. The spokeswoman for the district attorney's office, Adora Andy, says she can't comment on allegations of BMF's involvement. "We did not investigate it," she tells CL. "The FBI did."
The FBI's Atlanta office declines to comment. "I wouldn't be able to discuss that," Special Agent Steve Emmett says.
But the feds have confirmed their involvement in other BMF probes. Since at least 2000, federal agents had been trying to make inroads into the elusive drug ring that would soon take the name the Black Mafia Family. The feds believed BMF operated out of an L.A. hub headed by Terry "Southwest T" Flenory, and an Atlanta one manned by his brother, Demetrius "Big Meech" Flenory. Those two hubs, along with one in Detroit and St. Louis, were believed to be running huge cocaine shipments across the country in limos, RVs and other vehicles equipped with hidden compartments.
One local investigator estimates that in Atlanta alone, the organization claimed hundreds of members who subscribed to BMF's "theories on snitching" (to snitch is the ultimate sin) and reveled in "the fast lifestyle" that BMF membership afforded. "What surprises me about them is how organized they are," says the source, who asked not to be named because of his involvement in several open investigations into BMF. "Oftentimes you get people bragging, but they can't put their money where their mouth is. These guys couldn't run out of money."
The investigator says the amount of drugs and cash seized from the organization in a single bust often was enough to put an "above-level" dealer out of business. BMF suffered those kind of hits almost regularly. "That's just the cost of doing business," the source says.
And yet the busts did help investigators zero in on their target, "Big Meech" Flenory. Some of the trouble BMF members stumbled into — including Meech's alleged involvement in a high-profile double homicide — helped, too. But to really push the probe forward, law enforcement needed something that seemed all but impossible.
They needed to break BMF's code of silence.
In the early-morning hours of Nov. 11, 2003, P. Diddy's former bodyguard, Anthony "Wolf" Jones, and his boyhood friend, Lamont "Riz" Girdy, were shot to death in a gunfight behind a Buckhead club. The suspect in the slayings, who'd been shot himself, turned out to be quite a catch.
The murder investigation itself, however, was underwhelming.
On the day of the crime, in what would later become a more significant statement than he could have imagined, Atlanta Police Chief Richard Pennington told the press: "The real key is to have a witness come forward." There appeared to be a fairly self-assured witness in a woman who called 911 shortly after detectives arrived on the scene. Police said she described how she was in the club's parking lot when she saw a man she knew as "Meechie" fire a bunch of rounds. She even came to police headquarters later that day to give a statement.
The problem is, police have never revealed her identity, nor did they produce her at any of the hearings in the murder case that was brought against Meech. Essentially, as far as the murder prosecution goes, the woman is nonexistent. And the case against Meech is all but extinct.
Three weeks after the killings, Meech was granted bond — an unusual move in a double homicide, especially such a sensational one. (The shootings were so high-profile that they were cited as the reason Atlanta City Council rolled back bar closing hours citywide.) The judge's ruling to allow bond pointed to the difficulty prosecutors were having in locating evidence to support the charges. Even now, more than three years after Meech's arrest, he hasn't been indicted.
"The bottom line was, he was a shooting victim in that shooting spree," Meech's attorney, Drew Findling, tells CL. "That became clear. That is clear. And that is the reason that there is no indictment in the case."

Yet Meech didn't walk away from the incident untainted.
Six days after the shootout, authorities — including agents of the U.S. Drug Enforcement Administration — armed themselves with a search warrant and headed to a sprawling home in a gated Lithonia neighborhood. Police believed Meech was living in the house, which belonged to his brother's girlfriend.
The warrant was issued in part to collect evidence that might link Meech to the Buckhead double homicide. But after forcing their way into the empty house, police and DEA agents found nothing connecting Meech to the killings — nothing like, say, a murder weapon. They did find a few guns, though: an Uzi 9mm pistol in a nightstand drawer, a .45-caliber handgun in the master bath and a .40-caliber handgun in a guest-bedroom closet.
More importantly, they found "significant amount of records that ultimately were linked" to BMF and its alleged involvement in the drug trade.
Within months, a series of traffic stops on Missouri highways would bolster the feds' suspicion that BMF was moving large amounts of cash and cocaine.
Five months later in Phelps County, Mo., Deputy Carmello Crivello spotted an RV on I-44, heading east toward St. Louis. Crivello flashed his patrol lights and stopped the vehicle for drifting across the interstate's fog line.
He asked the driver, a man named Jabari Hayes, to have a seat in the back of his patrol car. He ran a check on Jabari's license. It came back clean. Then Crivello started asking questions:
Where was Jabari from?
Tennessee.
Where was he going?
To visit family in St. Louis for Easter.
Where had he stopped along the way?
First in Georgia, then in Texas to see his cousins.
Where did the RV come from?
He'd rented it in Orlando but left the paperwork at home.
How much did it cost?
About $4,000 for the month.
How was Jabari employed?
He owned a valet company.
Why did he have three cell phones?
To separate business calls from personal ones — and to keep his girlfriends from scrolling through his call history and finding out about each other.
Was he transporting any contraband?
With that question, the deputy glanced in the rearview mirror at Jabari, still seated in the back of the car. He saw that Jabari's hands were trembling. Upon closer inspection, he noticed a vein in his neck was beating faster.
"No," Jabari answered.
Jabari didn't mention that three weeks earlier, he'd been stopped just outside St. Louis driving a 1999 Lincoln Town Car. On that occasion, it was the DEA that had pulled him over. Agents brought in a drug dog. The dog alerted them to the likelihood of something suspicious in the car. And in a compartment behind the back seat, the agents uncovered stacks upon stacks of rubber-banded bills. Investigators would soon conclude that the money, totaling nearly $600,000, was BMF's.
Between that stop and this one, Missouri cops had busted two other men with BMF connections. Christopher "Pig" Triplett and Calvin "Playboy" Sparks were pulled over in nearby Florissant, Mo. — and caught with nine kilos of cocaine.
But Jabari's second bust was the one that really caught investigators' attention.
As he sat in the back seat of Crivello's patrol car, a drug dog circled the RV, promptly sat down and started to bark. Crivello climbed inside and pulled three suitcases from the master bedroom. Opening them, he found 95 individually wrapped packages that held more than 100 kilos of coke. On the street, that's worth about $9 million. And like the cash that had been seized from Jabari a few weeks back, the 100 kilos were linked to BMF, too.
It was one of the largest coke busts in Missouri history, and it was a sign BMF might be slipping up.
The crew was getting noticed.
On the evening of Sept. 14, 2004, investigators working with an inter-agency drug task force in Atlanta were listening to a wiretap they'd placed on a crack dealer named Rafael "Smurf" Allison. Smurf and a guy called "Bowlegs" were having a conversation that sounded like code talk for a drug deal.
Less than 10 minutes later, Smurf dialed a number and asked if "everything was everything." The guy on the line answered, "Yeah, everything is still everything."
The investigators, part of a federal program called HIDTA (for High Intensity Drug Trafficking Area), tailed Smurf as he left his neighborhood near Turner Field and drove to an apartment complex off Howell Mill Road. HIDTA agents believed the complex was home to Smurf's supplier.

And thanks to the wiretap on Smurf's phone, they believed they had the supplier's number as well.
Two days later, a Fulton County judge granted investigators' request to place a wiretap on the phone of the alleged supplier, Decarlo Hoskins. Within three days, agents got a bite. It sounded as if Decarlo was about to do a big coke deal with three men. He told them over the phone to meet him at "his spot." HIDTA agents took that to mean his apartment. They positioned themselves at the complex and waited.
Based on the information they'd received, they were looking for a gray Nissan Altima occupied by three men to arrive at the complex between noon and 1 p.m. After picking up the drugs, the men were supposed to head to the Georgia Dome for the Falcons game. Sure enough, agents watched as a gray Altima pulled into one of the visitor spaces at around 12:30. Two minutes later, a black Infiniti, allegedly driven by Decarlo, pulled into the space in front of it. One of the guys in the Altima hopped into the Infiniti. A few minutes later, he got back in the Altima, and both cars bolted.
The Altima headed down Howell Mill, the agents in slow pursuit. Traveling south toward Northside Drive — maneuvering through the game-day traffic that snaked toward the Dome — a HIDTA agent radioed Atlanta Police to request a traffic stop.
As soon as the patrol car flashed its lights, the guy in the Altima's passenger seat called Decarlo. He told him they were about to be pulled over. And he said that if police asked him to get out of the car, they'd gun it instead.
Keep it in drive, Decarlo warned.
An Atlanta police officer walked up to the Altima and asked the driver for his license. A moment later, one of the HIDTA agents approached the car on the other side. He told the passenger to quit talking on his cell phone and to step out of the vehicle. That's when the agent saw a Smith & Wesson .357 on the floorboard.
The men didn't drive away. They didn't put up a fight, either. And in the trunk of the car, the agents found a Louis Vuitton tote bag packed with seven individually wrapped kilos of coke, and another shopping bag containing two more.
Down at HIDTA headquarters on Juniper Street, the men refused to talk. But agents didn't need them to. HIDTA had enough evidence to take down their alleged supplier, Decarlo. When agents picked him up less than a month later and charged him with trafficking cocaine, Decarlo shared some interesting information.
He said he knew about a crew selling large quantities of coke up and down Boulevard. He'd known two of the dealers since the three of them were kids growing up in the neighborhood. And he'd be willing to let agents listen as he called and tried to arrange a deal with them.
He only knew the men by their first names: Jeffery and Omari.
A few months earlier, investigators from several offices, including HIDTA's, met at the Atlanta Police Department to go over a new initiative: target drug dealers in the Old Fourth Ward. Those at the meeting were told to be on the lookout for certain dealers' names and aliases, and the list included the nickname "O" or "O Dogg." O Dogg's real name, investigators were told, was Omari McCree. And he was believed to be a member of BMF.
HIDTA agents had a good idea of what they were on to when they told Decarlo to go ahead and make the call. Sitting in the HIDTA office, Decarlo dialed Omari's number. "If you have anything," he said, "I want to get two blocks." Omari's reply was succinct: He wasn't talking on the phone anymore.
But that wasn't exactly true. In the weeks to come, Omari would continue to talk on the phone — just not to Decarlo. Because he had suspected, correctly, that Decarlo had been busted.
The weekend after Decarlo's call, Omari wasn't doing the best job of avoiding trouble. He and his friend Jeffery Leahr — the two were so close everyone assumed they were brothers — were hanging out at hip-hop club the Atrium when somebody opened fire on the clubgoers. Four people were hurt. And DeKalb County Police suspected Omari and Jeffery were behind the shootings.
But after the two men were questioned, police let them go.
In the early-morning hours of the following Wednesday, DeKalb Police set up a roadblock outside a strip club called Pin Ups. They claimed the incident at the Atrium, as well as another recent shooting at a strip club called Jazzy T's, led them to believe the "safety checkpoint" would be necessary at that particular intersection — although it wasn't particularly close to the site of either shooting.

Shortly before 5 a.m., the roadblock snared a Dodge Magnum that was leaving Pin Ups. Officers claimed the car smelled suspiciously of weed. The driver, Hamza Hewitt (who was once New York rapper Jay-Z's bodyguard and who was now believed to be Meech's), and both passengers were arrested. One of the passengers gave the name Ricardo Santos.
At the station, Santos was placed in an interview room. A police department employee who would later check on him was surprised to catch sight of a defiant act: The man was strolling back and forth along the wall, pissing on it.
When the man finally agreed to speak to investigators, he let slip his real name; an officer asked if his last name might be Flenory, and he corrected the pronunciation. Regardless, one of the cops already had recognized him as "Big Meech." After all, his pictures had been all over the papers the year before, when he was charged with the Buckhead double homicide.
Those close to Meech would later say that he suspected the shootings at the Atrium — and Omari and Jeffery in particular — were part of the reason he'd been hauled in. The charges stemming from the roadblock were minor, but the message was clear: BMF was under the microscope.
A day and a half later, Meech was bonded out of jail for giving a false name to police and carrying a fake license. That same day, Oct. 22, 2004, HIDTA agents initiated a series of wiretaps on Omari's phone. Over the next two weeks, the wiretaps would offer fragments of Omari's bit part in BMF's big picture. Nonetheless, the wiretaps revealed that not only was Omari a member of BMF's upper echelon, but that Meech was particularly fond of him.
The boss — "Dude," as Omari and others called him — didn't tell him that directly. Meech didn't tell anyone much of anything directly, at least not on the phone. But other people did. And the chatter was illuminating.
The conversations often referenced other names that investigators had linked to BMF: a high-ranking affiliate who went by "J-Bo," a rapper called Bleu DaVinci, and Bleu's younger brother, "Baby Blue." And on that first day of the wiretaps, agents heard several conversations referring to efforts to bond Meech out of jail.
Shortly after 4 p.m., a woman whom investigators believed was Meech's personal assistant told Omari that both of them needed to be careful about the flashiness of their cars.
"Look, I ain't tryin' to be no hater," she said. "I ain't tryin' to tell you what to do. But ... take your car home and just park it and don't be doin' no extra drivin.' You got pendin' shit. You know it ain't even worth [[[[[[[[[[[[[[[[[[[[[[[[[[[[[[[[[[[[[[[[[[[[[[[[[[[[[[[[[[[[[[[[[it], with what's goin' on."
A minute later, she called him back. "I can't even go pick him up," she said. "I don't even have nothin' I can go pick him up in. I need like a low-ass-key car, like a Honda."
For the rest of the evening, Omari would take calls about the Atrium ("I'm just callin' to make sure you was all right," one woman said. "I had heard some stuff, somethin' about some shootin' shit at Atrium"), about Meech's arrest ("They was sayin' they had got Meechie and some more niggas at the club," the same woman said), about something called the gate ("OK," another woman told him, "the gate is not open"), and about something else called the elevators.
"You gonna drive your car over there?" the woman believed to be Meech's assistant asked.
"To the elevators?" Omari responded.
"Yeah," she said. "Me and him definitely ain't comin' straight there."
Six hours later, after Meech had been bonded out, she called back with an order. It was 1 a.m.
"What up?" Omari asked.
"Your boss said have your ass at the elevator."
"He act like I did something wrong," Omari laughed, "but all right."
The woman laughed, too.
"He fillin' out paperwork right now," she said. "He ain't talkin' on no phones. He said he wants to see everybody at the elevator spot."
A few minutes later, Omari pulled out of his driveway in a silver Porsche SUV. HIDTA agents, who had positioned themselves outside of Omari's house, were listening to his calls and waiting for the one that might lead to Meech. They followed the Porsche as it turned out of Omari's neighborhood onto North Druid Hills Road, then onto Roxboro and from there to Wieuca. At that point, Omari started driving so fast that agents couldn't keep up. They lost him.
In the days to come, though, agents continued to gather intelligence. They learned from listening to Omari's calls that BMF insiders had started to suspect that Omari was bringing some heat to the organization. And Omari himself appeared to be concerned.

The woman presumed to be Meech's assistant made it clear to Omari that the boss had high hopes for him. Omari, in turn, said he was worried about the Atrium shootings. He told others that he was sketched out about Decarlo's bust, too. And he mentioned more than once that he thought he was being watched.
A few days after the meeting at the elevator, the woman called again, and this time it sounded like her mood had changed.
"Dude just asked me how is everybody," she said. "I'm tellin' him everybody cool, but motherfuckin' everybody gettin' an attitude. He's like, 'Shit, everybody just got to sit in.' You gotta take all of that energy that you're spending mopin' around and get on with your fuckin' life, O. You still in a good position right now, a real good position."
Judging from his reply, Omari was unconvinced that his position was all that good. "I appreciate all the care," he said a minute later. "I appreciate everything, for real, from everybody and whatever. But when it's all said and done with, or when it all comes to an end, if they want O, they comin' to get O. I'm still the one that's got to deal with it at the end of the day. I do. Maybe I'm preparin' myself for the worst."
Omari did seem to be preparing. And the paranoia that accompanied his preparations was not unfounded.
A week later, he'd grown suspicious about a black truck that had been lingering in front of the house he shared with Jeffery. So he called a friend and asked her to have another friend run the tag.
A half-hour later, Jeffery called Omari with an idea that he thought might take some of the pressure off. Jeffery's girlfriend, Courtney Williams, was out of town, so Jeffery offered to bring the "clothes" to her apartment on Highland Avenue. Yeah, Omari said. Do it.
Jeffery took the "clothes" over there that day. But when he called his girlfriend the day after, she told him she wanted the clothes out of there. She was at the airport, she informed him, and she was only planning to be in town a short while before heading out again. So the clothes had to be moved, quick.
"I'm sick of this dirty business," Courtney told him. "So I'm just tryin' to figure out if you're goin' to be there within the next 30 minutes, because I'm about to go out of town."
"Well, can I keep your key while you're outta town?" Jeffery pleaded.
"Can you keep my key while I'm outta town?"
"Courtney, I need to keep those clothes over there for real, 'cause ... you don't even understand right now."
"You're right. I don't understand."
"Well, can I just keep those clothes over there, please? So can I just keep the keys until you get back?"
"I'm sorry. You can't keep my key."
"Courtney, can I please keep the key. Please."
"I already said no."
Courtney told Jeffery she'd take a cab over to his and Omari's place from the airport. Agents watched as a Peach Cab Co. taxi pulled into the gated subdivision and Courtney stepped out. Ten minutes later, she left Omari and Jeffery's house in a white Cadillac. A few minutes passed before Jeffery sped away from the house in the Porsche.
Agents, who were joined by the DEA this time around, divided into two teams and took off after the cars. The Porsche was driving wildly. Jeffery gunned it through a red light at Spring Street and North Avenue, and agents lost him.
Courtney was easier to keep up with. Agents followed her all the way to her Old Fourth Ward apartment. It turned out that losing the tail on the Porsche was no big deal, because a few minutes later Jeffery pulled up to the same apartment building. Both of them went inside. Shortly thereafter, the couple emerged from one of the apartments with a duffel bag. They climbed into the Porsche and headed toward the highway.
The agents pursuing them called in Atlanta Police. It was time for another traffic stop.
The cops caught up with the Porsche on I-75 at Pine Street. Investigators approached the SUV, guns drawn. In the backseat of the Porsche, in plain view, the agents found an open duffel bag. It was stuffed with 10 kilos of coke.
When Omari called Jeffery a few hours later, Omari knew something was up. Yet they continued to speak on the phone, despite Jeffery's insistence that it was a bad idea.

"Don't wanna talk right now," Jeffery said. "Bye."
"What?" Omari asked.
"Bye."
The line went dead. Thirty seconds later, Omari called him again.
Jeffery greeted him with a terse, "Don't wanna talk."
"Hey, what the fuck you talking 'bout?"
"Don't wanna talk, man. Listen to me, please. Just listen to me for real."
"You in trouble?"
"Don't wanna talk. Come on, for real. Please come on."
Omari tried Jeffery's girlfriend next. She could barely form the words around the tears.
"Hello?" Courtney mumbled.
"What you cryin' for?" Omari asked.
"He didn't let you know?"
"What?"
They had put Courtney and Jeff in separate patrol cars. A little while later, they took them to Courtney's apartment and, with her permission, searched the place. And then police let them go. It was an unusual move, but investigators figured Jeff and Courtney would keep talking on the phone, and that might yield even better information.
"Everything just went wrong, O," Courtney continued. "Just leave the house, all right? Are you at your house?"
"No."
"OK, well, as long as you left there you should be straight."
"Would you stop? Look, just tell me what happened."
"I don't wanna talk on the phone, you know what I'm saying? The fuckin' feds, whoever they was, just dropped out on us."
Investigators would later claim the coke Jeffery lost was a front from BMF. After the bust, Omari and Jeffery owed BMF, big time. The two men were in debt to the organizations — for more than they owned.
And then they went on the run.
Around the same time, another alleged drug dealer with ties to BMF disappeared. Tremayne Graham had been arrested six months earlier, in April 2004, on a federal indictment out of South Carolina. Graham and nine other suspects had been charged with distributing cocaine for the Black Mafia Family.
There are a couple of things about Graham's disappearance that caught people's attention. First, at the time that Graham jumped bond and ran he happened to be Mayor Shirley Franklin's son-in-law. Second, his disappearance came less than two months after one of his co-defendants, Ulysses Hackett — who Atlanta Police say was considering turning state's witness — was shot to death at 4 a.m. while lying with his girlfriend in her bed.
His girlfriend, Misty Carter, lived in the same complex as Courtney Williams.
Almost a year later, in the early summer of 2005, Graham, whom the mayor's daughter had by then divorced, turned up in southern California. After U.S. Marshals got a tip about his whereabouts, they followed him to a Subway sandwich shop, where he was arrested. Investigators then went to check out the house in Woodland Hills where Graham had been staying. Inside, they found $1.8 million and 250 kilos of cocaine, worth an estimated $25 million on the street. And they would come to believe that the drugs and money were BMF's.
Graham's arrest, along with the highway busts in Missouri and the wiretaps in Atlanta, were starting to bring BMF's reach and its inner workings into focus. Less than a month after Graham was tracked down, the heat BMF was generating became even more apparent. Gucci Mane — the rapper who shot Pookie Loc — was picked up in Miami on aggravated assault charges out of Fulton County. The charges had nothing to do with BMF. (Gucci was accused of beating a rap promoter with a pool cue.) But the agents who nabbed him on the Fulton County warrant — members of federal agencies including DEA, oddly enough — appeared to be less interested in the agg assault or even Pookie Loc's murder than they were in what Gucci knew about BMF. They peppered him with questions about the organization, questions that Gucci's attorney says he didn't know how to answer.
Around that time, however, investigators did track down someone who was willing and able to answer some questions about BMF.
Rand Csehy, who then headed the Fulton district attorney's investigation into BMF, didn't know how close he was until one day in June 2005, when he was helping Atlanta Police obtain a warrant. Police believed they had located the car of a BMF member near Boulevard, and they wanted to be able to search the nearby premises.
Csehy did his part and then left the scene. A few minutes later, he got a call. Police were arresting Omari McCree. He had been hanging out near the car. Csehy had walked right past him.
A short while later, an Atlanta Police investigator brought Omari over to the HIDTA office in Midtown. An agent handed him a confidential-source agreement form and told him that if he would answer some questions, the district attorney's office would be made aware of his cooperation.

Omari signed. And the agent started asking him questions.
"Are you familiar with BMF?"
"I learned about BMF back in 1999," he said. "They were not called BMF at that time."
"In 1999, whom did you know as members of BMF?"
"I knew of only Meech and Bleu DaVinci."
"When did you become a part of BMF?"
"In 2002, after meeting Meech's son at a birthday party in Florida."
"Have you ever heard of the elevator?"
"Yes."
"Where is the elevator located?"
"On Glenridge."
Investigators never were able to determine the location of the elevator, though it was clear from the wiretaps that it was a BMF meeting place. As for the next location the agent asked about, it too was described in the taps, and investigators already knew where it was. They'd staked it out before.
"Have you ever heard of the gate?"
"Yes."
"Where is the gate located?"
"Off of Roswell Road, near the Chevron."
"Have you ever purchased or obtained drugs from the gate?"
"Yes."
"How did you obtain the drugs?"
"I would call J-Bo, and then I would go and pick it up."
"Where would you pick it up?"
"At the gate."
"Would anyone be there when you arrived?"
"Yes, J-Bo."
"Who is J-Bo?"
"He works for dude."
"Who is dude?"
"Dude is Meech."
"Who is responsible for the drugs getting to the gate?"
"Dude."
"How much have you seen while at the gate?"
"About 50 keys."
"Would you be willing to show me where the gate is located?"
"Man, I ain't talking no more. These people know my family."
Omari's next words hinted at the fact that he thought he'd get off easier than he would:
"Will I walk?" he asked.
"No."
Part III: Meech's off-the-charts partying, a celebrity-tinged stabbing at a local restaurant and a long-feared finale for the crew. Part III of "BMF: Hip-hop's shadowy empire."