Cover Story - Personal Pride
6 local artists on creativity and queer identity
The dialogue around gender and sexuality is changing and Atlanta queer communities in all their celebrated differences are becoming more tight-knit. There's no better time to explore issues of identity, sexuality, and the many ways in which the word "queer" has been defined and now deconstructed in line with a vast variety of experiences. With its booming creativity, new opportunities, and increasing chances for exposure, Atlanta is becoming a more exciting place for queer youth culture every day. Meet a few of the voices in Atlanta's creative queer community.
— Sunni Johnson, Wussy's Creative Consultant
Interviews have been edited and condensed.
---
Amber Taylor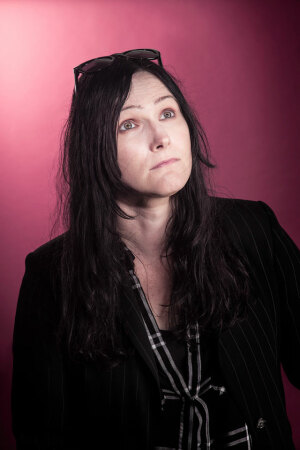 Amber Taylor is no stranger to transitions. After a yearlong hiatus, she's reassembling her band The Sexual Side Effects as well as building an artist sanctuary and recording studio in her new Southwest Atlanta home. This glam rock ATLien is a supporter of the music scene and a key player in the LGBTQ community. As a transwoman who often identifies as "human," having experienced both genders, her heartfelt openness and support has brought refreshing and positive energy to the Atlanta queer community.

Getting in trouble for putting on my sister's makeup when I was a kid definitely woke me up to the concept of gender roles and how seriously some people take them. If only the gender police could have seen my future! They would have given up long ago! Initially my gender identity exploration was quite reserved. Like many others, I hid my truth inside for a long time because of fear and social stigma. My path unfolded through the goth scene and other alternative lifestyles. It's definitely been an abstract avenue to finding my queer family of today. Probably the most colorful memories are of being a whip-wielding dominatrix who got to punish quite a few of your elected officials and important business people. If only all people were forthcoming about their association to facets of alternative communities, it would definitely be quite eye opening.
— As told to Sunni Johnson
---
Corian Ellisor
The work never stops for Corian Ellisor. He lights up the stage at Mary's with the pure fierceness of his drag persona Ella /saurus/ REX. Outside of his work with East Atlanta's Village Queens and Legendary Children, the Houston native also does choreography, theater, and performance art. He uses his art as a platform to discuss issues in the queer community and the larger Atlanta community. Ellisor's wide breadth of skills as an entertainer helps him reach an increasingly broad audience.
Something that I'm trying to work on is bringing audiences together. Some people you only see, like, late-night at the bar, and some people you only see at the "art events" … But [drag] is more of a platform. I know that people are there, they're watching me, and sometimes it is needed that I interject something, or put a point across that I think is really important for our community.
Being in the queer community — just in general in Atlanta — there are these pockets of pockets of pockets, and it gets super small. Ella /saurus/ REX tries to connect and bring people together. I know it's important that I am in spaces where people can feel safe and where people can speak their opinions. But also, where they can have a good time and not feel like they are being judged, you know, because I love our people — our queer people, being black. But sometimes I feel like we get lost. No, not lost. Maybe bogged down in the minutia of it all. And I'm like, "Let's have a good time!" I love being able to entertain and being able to give something to an audience.
— As told to Kayla Lightner
---
Henry Detweiler
Henry Detweiler paints, draws, sculpts, and makes video and installation art. Since graduating from Georgia State University in 2012, the 26-year-old's work has appeared at venues such as WonderRoot, The Mammal Gallery, MINT, and The Goat Farm Arts Center. When CL caught up with Detweiler, he was about to board a plane bound for Iceland, to attend two residencies in the cities of Reykjavik and Skagaströnd for three months. He'd purchased some Icelandic language learning software, although all he'd learned how to say so far was, "Can you speak more slowly?"
We are a product of our experiences right? When I paint, everything is filtered through my experience. It's all very situational, sometimes it's what I'm reading. A lot of the time it's media that I consume. It's wanting to create a space where people have a moment [of] connection. I just want people to slow down. And that's why I think that a lot of my work involves photographs or online format. Because when people read an object, or a space, or a situation that requires time — you know — and [when] we're flipping through Tumblr or some other website, we're not paying attention. You know they might be registering, but they aren't engaging with the physical object or the space. [My work is] about brightly reflecting that.
— As told to Kayla Lightner
---
Hez Stalcup
Although Hez Stalcup began dancing professionally in 2012 at the age of 35, they have already obtained residencies with MINT and Lucky Penny and danced for the likes of Dance Chance Atlanta, Queersar, and Dance Truck. Stalcup lacks the years of formal training that many dancers claim and instead relies on childhood memories dancing to improvised Kris Kross routines with friends and grandmas at backyard barbecues, for instance, as sources of inspiration. Stalcup strives to create a sense of transparency in their work, enabling them to connect on a more intimate level with the audience.
What's great about being over 30 and starting is that I don't care. That's what I reflect on the most. I'm not hurt, and I'm not devastated that I haven't been doing this and building this identity. That I'm not at the Guggenheim or whatever. But I can be where I'm at. And the thing that I think is good is that I look back, even into my 20s, and I realize that I wouldn't have been able to be this real. I feel like it is an asset to care less. It allowed me to open up and not wait to be better and that was a big breakthrough for me. It allowed me to go to the feeling rather than be overly attached to the external aspects of it. Not that I'm not interested in those, but it allowed it to be very personal and really honest. So yeah, I think it's just the honesty of the moment, and being like, "Y'all, if you don't like this, well get your shoes!" Maybe it's slightly less bitter than that but it allowed me to take up space.
— As told to Kayla Lightner
---
Leo Hollen Jr.
Leo Hollen Jr. knew from a very young age that he wanted to tell stories through film. Blending the personal and the political, Hollen is no-holds-barred when it comes to being a documentarian and working with other creatives in a community that often goes overlooked. His new film, Queer Moxie, made in collaboration with Heather Provoncha, showcases queer performance art, burlesque, and drag as well as documenting spoken word and ATL's rarely featured drag kings. Through allowing others to speak their truths and express a convergence of creativity and sexuality, Hollen is helping pave the way for future queer performers and improving the visibility of queer people in general.
Queer people of color, LGBTQ characters in general, seem to get pushed to the side roles. We are the helpers or the best friends and only when our stories are about overcoming some adversity are we able to make an appearance. Even in stories about us, about gay people, there seems to be a need for a straight protagonist just to sort of shepherd the audience along. And if I were to go even deeper, we haven't seen too much of "queer" on TV. We have seen the non-threatening gay black male but it's very "clean" and safe for work. [Actor/writer/director] Patrik-Ian Polk has done a lot for visibility, but I just think it's access. We still rarely see LGBTQ films from a white perspective so think about the lack of access that sits in front of a person of color trying to do the same thing.
— As told to Sunni Johnson
---
Shannon Palumbo
Atlanta-based painter Shannon Palumbo has been fascinated with figure at least since his high school days in Jacksonville, Fla. He would paint anyone available — models, friends, even himself. It was through the process of painting the figure and self-portraits that his art became less about aesthetics and more about self-exploration. Much of Palumbo's work centers on identity, gender politics, and sexuality.
I haven't had a lot of confidence around my identity being visible, so I don't stand up for myself a lot. And so I think that my work is a way for me to show people who I am when I can't always say it. But right now I'm sort of in the process of I don't give a fuck. I'm going to be out, and you have to deal with it. I used to make it my burden. I don't want people to feel weird. I don't want people to feel uncomfortable with switching pronouns. I don't want to have to explain what it means to look one way but be another way. I learn a lot about myself through making art.
I mean, even passing is such a controversial notion to me. I feel like passing — and obviously it has longer-standing cultural implications than just being trans — the idea that you still have to assimilate to a certain standard of existence to be validated, which I don't believe in anyway. You know, sometimes I think it is more radical to not "pass" than to just fit into a binary that other people have an easier time digesting.
— As told to Kayla Lightner