Neighborhoods - Navigating Atlanta's wealth gap
A snapshot of fair-to-middlin' living in the city of Atlanta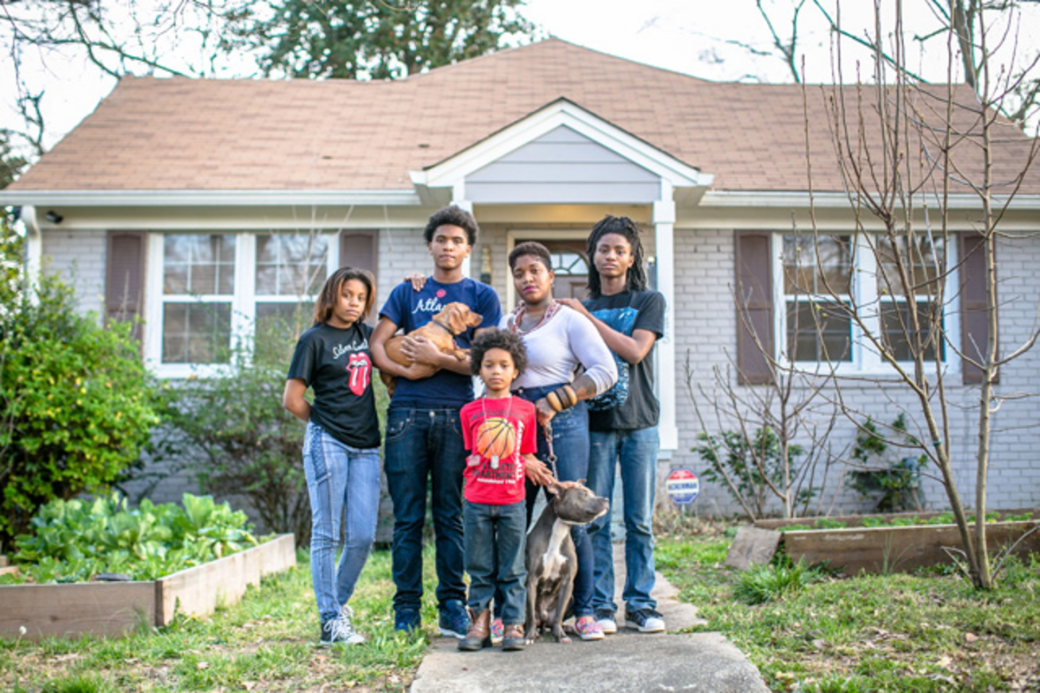 FAMILY PORTRAIT: Taj (second from right stands in the yard of her Old Fourth Ward home surrounded by her children Lina (from left) Kaliq, Dilla, Naim, and the family dogs, pit bullDamu and dachshund Jake from State Farm.
Fair to middlin'.
That's my new definition for what it means to be middle class in America. One is about as vague as the other, anyway. In fact, "middle class" has practically become meaningless, a symbolic phrase used to perpetuate the fading mythology of the American Dream. More than half of Americans don't even have $1,000 in the bank, according to one survey. Yet another study suggests that half of Americans consider themselves middle class. No doubt, there's plenty of overlap.
To compound the confusion, throw in Atlanta's much-ballyhooed ranking the last two years and running as the nation's income inequality capital and the misperception only multiplies.
Here's what we know: Metro Atlanta's wealth gap means our highest earning residents, the top 5 percent, make 20 times more than our bottom 5 percent. That's a big bank to little bank income ratio of $288,159 to $14,988 annually. Leaves a lot to be desired — or required — in the middle doesn't it? The median income for the city of Atlanta proper is $46,439, according to the Atlanta Regional Commission. Apply the Pew Research Center's guidelines for determining middle class — which include incomes ranging between 67 and 200 percent of the median — and the city of Atlanta's middle class falls between $31,114 and $92,878 for a single person.
But those numbers tell us next to nothing. They don't factor in family size, number of income earners per household, debts or assets. Above all, they don't say jack about the toil index. That's how one economist, Robert H. Frank of Cornell University, refers to the measurement of hours that median earners toil each month "to be able to rent a house in a school district of at least average quality."
So what's the real deal with Atlanta's new "middle class," or in this case, those who fit just above the poverty line to just above the city's median income? With that question in mind, I sought out a cross-section of Atlantans dwelling within the city limits in an attempt to get the stories behind the stats. As you might imagine, it's a sensitive topic. Many refused to talk on record. One only agreed to discuss finances if we withheld her and her family's true identity. I don't blame them one bit. It just reflects how deeply ingrained the societal taboo around money talk is.
By no means is this an exhaustive or even scientific sampling. It certainly doesn't represent the entire scope of Atlanta's working and middle classes. Instead, we unintentionally found people who defy the stereotypes surrounding poverty and prosperity. The one constant here was hard work. Whether talking to a divorced mother of four in Old Fourth Ward working two full-time jobs and a side enterprise or a single tech entrepreneur in Ponce City Market juggling his day job with a DIY startup hustle, the toil is real. And concerns over personal debt, the lack of affordable housing, gentrification, and how all three are shaping the inner city landscape affect them all in some way. Nearly all four subjects, for instance, currently pay more than 30 percent of their monthly income for rent or mortgage payments. Despite such costs, they all love living in intown neighborhoods, even as some feel themselves being priced and pushed out to varying degrees.
Consider it a post-millennial snapshot of the American Dream in decline. This is what it means to be living fair to middlin' in the city of Atlanta.
---
Taj
For one public servant, it takes two full-time jobs and a healthy hustle to maintain middle-class status
Neighborhood:
Old Fourth Ward, homeowner
Career:
Paramedic sergeant (City of Atlanta), paramedic (South Fulton 911)Annual income: $98,000 (two full-time jobs)
Mortgage:
$750
Debt:
$50,000 (student loan, auto, braces)
Taj, 37, likens her ability to stretch a dollar to alchemy. A nationally certified paramedic with a Ph.D. in sociology, she divorced in 2014 and juggles two full-time jobs as a paramedic sergeant and a paramedic to raise her four children. And somehow she still makes time to reap what she sows as owner/operator of her own Anwar Farms, part of which takes up garden plots in the front yard of her Old Fourth Ward home. Her dream is to one day open a market on the same English Avenue property where she was raised by her grandmother so she can supply the food desert with garden-fresh produce.
IN HER WORDS
When I first became a single mother, I was on public assistance. I received food stamps, but I worked my ass off to make sure I would never have to beg and plead to feed my children. Because the way they treated you when you got in there was like, "Why are you talking down to me like this?" But I had to humble myself because I needed the bread.
People think about the image of the welfare queen; somebody at home just having a bunch of children by a gang of different dudes and getting benefits. And that's so not the case. That is such a small representation of what Atlanta is. Most of the people I know go to work every day.
I thought middle class was kind of like what I saw on TV. You know, "Cosby Show," "Family Matters," stuff like that: two parents, 2.5 kids, the dog, the fence, all of that. So when I had that and we were still struggling, I was like, "Yo, we still poor. What are we missing?"
With rising costs and wages not getting any better, it was a slippery slope. If I didn't grind like I grind, I wouldn't have it. I make too much for assistance and I make too little for money not to be a factor in my life.
My children don't know the half about how hard Mommy works. They just know when they come home and flip on the lights, they come on. When they open the refrigerator, there's food. They've got clean clothes. When we get in the car, there's gas. So I think my children believe that we're rich. Because I always seem to have when it comes to them.
I can really turn .15 cents into a dollar. I make miracles happen. If my mother taught me anything, it's how to balance a checkbook, how to pay your bills, and then set some savings aside before you do anything of luxury. I make sure that my children live a well-traveled and well-exposed life, but that comes with a serious price for me. I don't sit at a desk. All of my jobs are physical. I'm fortunate that I'm able to use my body and my mind to work, but it's hard. I come home at the end of the day and I'm exhausted, I stink, I've probably been around some kind of blood, shit, piss, fire. And then I've got to come home and get in the dirt to garden, because I've got to make sure that there's food.
I've had to rework my paramedic schedule so I can have time to dedicate to my business because that is my dream and I don't believe in giving up on your dreams. The grocery store and the farm, that's actually what I want. And if I still have to work my other jobs, that's fine. But ultimately my goal is to open that grocery store and bring quality affordable food to my old 'hood. You go to the hood and what do you see? You see dope boys on the corner, you see liquor stores, and you see DaVita Dialysis on every freakin' block. There's something wrong with that. The communities on the westside are becoming a food desert because they're closing all the stores. So if you don't have a vehicle, what are you eating? You're eating McDonald's because it only costs a dollar. Then you're obese and your children are obese. Next thing you know you're going to DaVita Dialysis, too.
My focus is food equality and accessibility. I have my choice over here in Old Fourth Ward. I can go to Kroger, I can go to Publix, I can get in my truck and go to DeKalb Farmers Market, or I can go to Whole Foods right up the block. What do my cousins and them have over there on the westside? McDonald's and Popeyes Chicken? That's a problem. So that's my main goal, in terms of what I want career-wise.
When you think of Atlanta, you think of the entertainment industry. You think of rappers, you think of actors, but most of us are out here working what others would consider regular-ass jobs. Most of us aren't sitting behind desks, most of us are out here getting dirty — garbagemen, mailmen, waterworks people, the people you walk by every day who bag your groceries.
People think that Atlanta is an easy avenue and it ain't no different than any other place. In these days and times, it's just not as easy to come up as it used to be. It requires so much more work and elbow grease and resources.
The gentrification of Atlanta is forcing out a lot of the original inhabitants of the city. You take working-class neighborhoods such as Old Forth Ward and you build all this fancy shit around it — Ponce City Market and Krog Street, then you've got John Wieland building something over here and AMLI built some apartments over there, and you're tearing down the Masquerade. You're changing the city for the worse to me because you're taking away the culture of the city and the culture of this city resides in people such as myself. Fortunately, because of my grind and my hustle, I'm able to afford to still live here. But so many of my neighbors have moved because they can't afford it. And when you change the culture of a city, you change the identity.
---
Jessica
An artist and activist compromising standard of living for creative freedom
Neighborhood:
Little Five Points, renter
Career:
Full-time artist
Annual income:
$15,000
Monthly rent:
$700
Debt:
$50,000 (student loan, credit card)
Two years ago, Atlanta-based artist and activist Jessica quit her full-time job at the nonprofit Atlanta Volunteer Lawyers Association to pursue art full time. Creative freedom came with financial consequences, placing her in rare space between poverty and privilege. At 29, she juggles two part-time jobs plus freelance gigs to pay down her debt and monthly bills. Yet she represents a segment of Atlanta's creative class for whom living intown is not a luxury but a necessity. Without public transit and the friends of friends she relies on for below-market rent, she couldn't afford to continue calling this city home.
IN HER WORDS
The first year I was a full-time artist, I was very fortunate to receive a number of grants and projects that sustained me for an entire year without actually increasing the amount of debt I had. The second year I was not as fortunate, so I was accruing a lot more debt and my bank account was always hovering around zero.
I don't have a lot of obligations outside of my debt. I don't have kids. I don't have the high standard of living that some people may. If I'm going to be broke and working as an artist, this is probably the best time to do it.
The biggest factor for me is affordability of housing, which I know everyone is very interested in right now in Atlanta. I live without a car, so I feel I have to live in the city. Most of my life occurs intown. Living an hour-and-a-half commute away on MARTA is not really possible for me if I want to do the things I need to do. So I'm always determined to find places to live that are walkable. People think Atlanta's not a walkable city, but I think it actually is. I walk everywhere. But that means I have to live in East Atlanta or Reynoldstown or Cabbagetown or Grant Park. Three or four years ago that was not hard for me to do affordably. That was when I had a full-time job. Now I move a lot. I've been moving almost twice a year for the past four years because I'm usually signing up for living situations that are flexible and inexpensive. And part of what makes them inexpensive is their flexibility, which means that I have to be flexible and willing to move about.
I'm paying $700 a month for a one bedroom in Little Five Points; it's insane. I knew the landlord through friends. She could easily be charging me $1,200 a month, which would be way too unaffordable for me. It's probably still a little bit out of my range but I'm willing to try that at least for a little while to see if I can make it work. If everybody in the city starts charging $1,500 a month, I won't be able to live in the city. So that does actually scare me a lot within the next three to five years because the areas that I live in a lot are the ones getting developed — like along the Memorial corridor. I guarantee I won't be able to afford to rent in those neighborhoods anymore.
I'm about to turn 30 this year, so I've actually started taking my financial literacy really seriously this year — like actually learning about my debt rather than just being like, 'It exists!' laughs This year I don't have many goals for paying anything off or anything other than understanding it all better. But in the next three to five years, I'd really like to be solidly paying it down and having a savings and things like that. So like, in five years, I can be like, "Yeah, I'm good. I'm OK. I'm not scared anymore."
I have this Mint app that records everything I spend, which is terrifying. It tells you how much you owe and when your bills are due. This is part of my trying to get financially literate. But it's terrifying. For one, it lists all your debt and is constantly sending you reminders of it. And I'm like, "Oh God!" I really am bad with money.
As long as I can pay my bills I'm OK, but even I'll pay my bills late, too, if I have to. I'm just not that scared, and I think it's because I have a really strong support system. Most of my family lives here. If I need to crash in between moving, I can crash there. They'll feed me dinner. There have definitely been months where I eat one meal a day and sometimes that meal is at my dad's house. When we were younger, I think my family was lower middle class or maybe upper lower class — not that I ever really felt it then. But looking back and knowing that my dad and my mom, despite being divorced, we shared a home, all of us together. But we were never wanting. I really dislike relying on my family. Having dinner with them is one thing, but I try really hard not to do more than that.
I think about the way people talk about lower income folks, and that I'm a part of that group, but that I don't think anybody would look at me and think that I'm a part of that group. Which is kind of shitty in a lot of ways — not for me but just for the way that people stereotype people who are on the lower income scale.
I feel like I move through the world with a lot of privilege just because of support systems and knowing that I made a lot of choices to be where I am. I could have a full-time job and be making $30,000. That would be a comfortable life for me; I'd be like, "Wooo!" laughs I actively made the decision to live at this level, so I think my attitude and the way that I move through it is very privileged in a lot of ways. But also, I've had friends who find out how much I make and they're like, "What?!"
I'm rich in social capital if not financial capital, laughs and that helps me a lot. I have some friends who are really interested in trying to respectfully enter communities like East Point and West End, where houses are very affordable to buy right now. Now, in an effort not to become another kind of very quick gentrification those artists are actively trying to come up with ways to work with the community that lives there so that's it's not like a bunch of artists moving in saying, "Well now we own this community and now we can't be kicked out in three years." It's complicated in that way.
For me, financial success means not living paycheck to paycheck. If I'm possibly able to start saving and pay off all my debt, those are the things that I'm aiming toward.
---
Lamont
Tech entrepreneur sees a clear path beyond the middle class
Neighborhood:
Old Fourth Ward, renter
Career:
IT specialist, City of Atlanta Public Works Division/tech entrepreneur
Annual income:
$60,000-$75,000
Monthly rent:
$2,200
Debt:
$10,000 (student loan, auto, credit cards)
If it's an unbridled sense of optimism for Atlanta you seek, talk to someone in the city's tech scene. At 29, IT specialist Lamont reflects the sunny outlook typical of startup entrepreneurs. But he also recognizes that prosperity for some is threatening sustainability for others living in the city's core. Before moving into a two-bedroom unit at the pricey Ponce City Market, Lamont returned home to live with his parents in Stone Mountain for 10 months so he could save money while launching business ventures. Now he uses his full-time job with the city to supplement a side hustle that brings in an additional $10,000 to $15,000 annually. Though he feels like he's working twice as hard as his parents did, he sees a path for himself beyond the middle class in Atlanta.
IN HIS WORDS
The generation of today has to work a lot harder just because of the recession. Loans aren't given out to people so easily to purchase homes, so it's kind of like you have to have a full-time gig in addition to some form of entrepreneurial spirit. The younger generation, all of us want to be our own boss in our own way, but some decide to just step out on faith and others kind of stew on the side and wait for things to develop. I myself decided to step out on faith.
I decided to move back to Atlanta because there's so much open space for opportunity from a technical perspective. Whereas you go to New York or Silicon Valley, it's oversaturated with innovation and technology so it's kind of hard to come across those venture capitalists that are willing to fund your project as opposed to Atlanta, which is still thriving. There are still plenty of new opportunities. There are plenty of initiatives or avenues for people in my field to spark new ideas and innovation to help facilitate some of these ideas. From a tech standpoint, Atlanta is one of the up-and-coming cities because it's not that much competition. But I do know friends of mine who are in other industries — mainly entertainment 'cause everyone wants to rap these days laughs — that are having difficulties sustaining their lifestyle or even trying to make ends meet.
I left D.C. after four years because I decided to work for myself. When I did move back, I lived at home with my parents in Stone Mountain, so I saved a lot. Had I not stayed at home and saved I wouldn't be as comfortable. There are certain sacrifices that you have to make in order to have the same standard of living of our parents' generation. I stayed at home for about 10 months saving up. I was able to sustain myself. But I still had bills and loans to pay for so I needed to get a full-time gig while continuing to build a network and do things on the side. But the hassle of traveling from work to Stone Mountain on a consistent basis was just too inconvenient. Everyone wants to come back in the city and live near the Beltline and other amenities that come with living in the city, so the housing market rates are definitely increasing.
I do think the middle class is shrinking in Atlanta. Just being at Ponce City Market and knowing the rates for units, it would be very difficult for most people in the middle class to have sustainable living and be able to afford this rent. I left D.C. to avoid paying these kind of rates, but it's starting to look the same in Atlanta. The city needs more affordable housing and mixed-use units that can accommodate students and entrepreneurs of that nature. It has worked out for me thus far, but I did have to kind of take a step back in order to do those things.
My job at City Hall has definitely given me a lot of exposure but eventually I would like to have my own either venture capitalist firm innovating new ideas or accelerator program for entrepreneurs. I had a startup venture in 2011 called iFundie. It was an Atlanta-based crowdfunding platform for the arts and entertainment industry. My partners and I made some strides with that. Obviously, it folded but I still had that hunch to get back out there. It's trial-and-error. I've failed numerous times. You can't give up. You have to always be positive and believe in yourself.
Currently, I manage Future's Freebandz website and merch line. I'm kind of the nerd on the project laughs so I don't really get the recognition. But it's cool. I was just there at the Purple Reign show he had at the Tabernacle this month. If you go to his Freebandz.com site, my company Terminus New — which is actually a sub-branch of my parent company EA Ventures — does all the posts and all the updates.
I try to stay in tune with Atlanta music and culture. I definitely hang out from time to time. I go to different venues on Edgewood and check out the indie crowd. I'm real big into the Atlanta music vibe, so I'll go to Department Store and spots like that.
My biggest expense outside of bills is social life, going out on dates and parties. I would say I spend $200 to $300 on a monthly basis. Also I spend a lot of money on tech infrastructure for Web development. But social engagement is what most of my money goes to outside of day-to-day expenses.
As far as Atlanta's future, I definitely worry about it. That's why I think it's important for the constituents and councilmembers to work together to build more affordable housing that can cater to the lower and middle class. As statistics show, it's a huge gap between the rich and the poor, the wealthy and the working class. I recently attended a breakfast that the mayor had and he said before he leaves one of his initiatives is to rebuild the Westside by revitalizing Martin Luther King Jr. Drive and improving Vine City. It's very important that those areas are improved to bring forth new opportunity and housing that can cater to the lower income and middle class.
I think it's very important that Atlanta remains a black mecca and a strong middle class is key to that. We're one of the last major cities to still have an African-American mayor and Atlanta's on the rise. So I want to see it develop technologically. Whatever ideas and opportunities I have or can put forth to put tech in the forefront, that's what I'm trying to do at this point.
---
Lane Carter
Primary caretaker for a family of three sees hypocrisy in city's erasure of poor
Neighborhood: East Atlanta, renter
Career: Copywriter, freelance writer
Annual income: approx. $32,760
Monthly rent: $1,350
Debt: $50,000 (student loan, credit card)
She's a copywriter for the hospitality industry who writes glowingly about vacations her family can't afford to take. It's a hilarious irony to Lane, whose name has been changed to preserve her and her family's privacy. A native of North Carolina, she moved to Atlanta in pursuit of a graduate degree in sociology at Georgia State University. Though she stopped just short of graduating, it didn't stop her from collecting $98,000 in student loan debt and a sour taste in her mouth for the American Dream. Today she resides in a two-bedroom house in East Atlanta with her husband, a stay-at-home father who takes care of their young daughter to offset the expense of day care. As a white educated woman, she may not fit the stereotypical face of working-class struggle in urban America. But living in the city for the past several years has afforded her newfound insight into what she views as the purposeful erosion of Atlanta's lesser-paid class.
IN HER WORDS
The class divide is a murky subject for some people. I think financially we're probably lower middle class but I'm very working class in the way I see and interact with the world. And my husband comes from a working-class background, too. There's a lot of cultural capital that I don't have 'cause I didn't grow up with it.
I support three people on what I make. I work 9 to 5, I get off, I spend a little bit of time with my baby, and then I do whatever little bit of writing, editing, or proofreading I have to do that night. There's never time off and he doesn't get any time off. We can't afford childcare and we don't have family around to help us, so he's always exhausted from being with the kid and I'm always exhausted from working. It's incredibly hard. Most of the overwhelming portion of our money goes to rent. We moved to East Atlanta because it's nice to have a little neighborhood that you can feel comfortable walking around in. But it's also a lot; we pay more than $500 in rent now than we used to. It was a good choice for us as far as what we could offer our child. But things would be easier for us if we could find a way to reduce our cost of living.
We're actually having to move when our lease runs out because our landlord is selling our house and we can't afford to buy it. We really like the neighborhood. We used to live for five or six years in Capitol View. I never really was keen on the city until I moved here. You can pretty much walk anywhere. I can go to my bank in five minutes. I can go to Kroger in 10 minutes. The convenience of that is really cool. I love Inman Park but I don't think I could ever afford to live there. Kirkwood's cool, I think. I hear Old Fourth Ward's cool. But we have to figure out what's the most affordable place we can live. But like, I don't wanna live in Brookhaven. I don't want to be around snotty, rich people, which is great because they don't want me around, either.
Atlanta is great but I think that we hate poor people. We hate things that help people, like public transit. It's frustrating for me when I'm late for work because MARTA broke down, but I'm fortunate enough that I don't have to depend on MARTA to live. And that's where I get frustrated with politics, with people, people that don't have cars have to depend on this unreliable shit to live. There's so much gentrification, every time we drive around it's like, "Oh, they're tearing that down. So where are the poor people gonna live?" It goes back all the way to the Olympics.
What I see in Atlanta is what I see represented in our United States of America broadly speaking; it's a wild, wild hatred of poor people. I'm always terrified I'm going to be homeless, every single day, every fucking day. We don't have a safety net, financially speaking. That's one of the things that's so ironic about poverty — and I'm certainly not impoverished — is that it is incredibly expensive to be poor. And if you've ever had to navigate any sort of bureaucratic bullshit like WIC or Peach Care or food stamps or unemployment or anything it is the biggest hassle. It is the most gigantic pain in the ass, and it takes forever. And it's hard and stressful in every single way.
I have a good skill set but I have crazy student loan debt. It's almost $100,000. I felt real bad about myself for a long time because I didn't actually finish my degree. I don't regret that I'm highly educated; I regret that it cost so much. I regret that it's so exclusive and it's hard to do for people. But I certainly feel like it enriched my life. I learned a lot.
The American Dream is a lovely fable. It's not realistic for most people. It's based on this myth of meritocracy and hard work. I very much grew up hearing that if you just work hard you'll be successful. But so much of life is about who you know. These are things nobody tells you. Sure, if you have good skill sets you'll get an interview but you're more apt to get an interview if you have a friend that works there and they say, "Oh, I have a friend that's looking for a job." There's so much in life that's based on your personal connections and not really much else. Well, of course they're based on other things but that's such a huge factor.
We hate poor people as a society. We definitely implement policies that keep people from succeeding. And the Republicans really maintain this myth of "you could one day be rich too so we should really not tax the rich because what if it happens to you?" But it's not gonna happen to you because you don't have access to the kinds of things that are gonna enable you to make that kind of money.
I feel like we want to get rid of poor people, literally and figuratively. It's been a minute since I watched TV but I can't think of any real television shows that show working-class families anymore. Everybody in the movies is almost always middle class. They have office jobs. They have nice cars. They have beautiful homes. It's a very exclusive life, but it's being portrayed like it's normal and mainstream. And maybe it is. I'm sure it is for some people. It's not for me. It never has been. Everywhere I look I see an erasure of poor people.
Interviews have been edited and condensed.
EDITOR'S NOTE: This story has been updated to correct the information about Lamont's living arrangement. He subleases from a friend.