Creative Loafing's 2018 Fiction Contest
Creative Loafing's 2018 Fiction Contest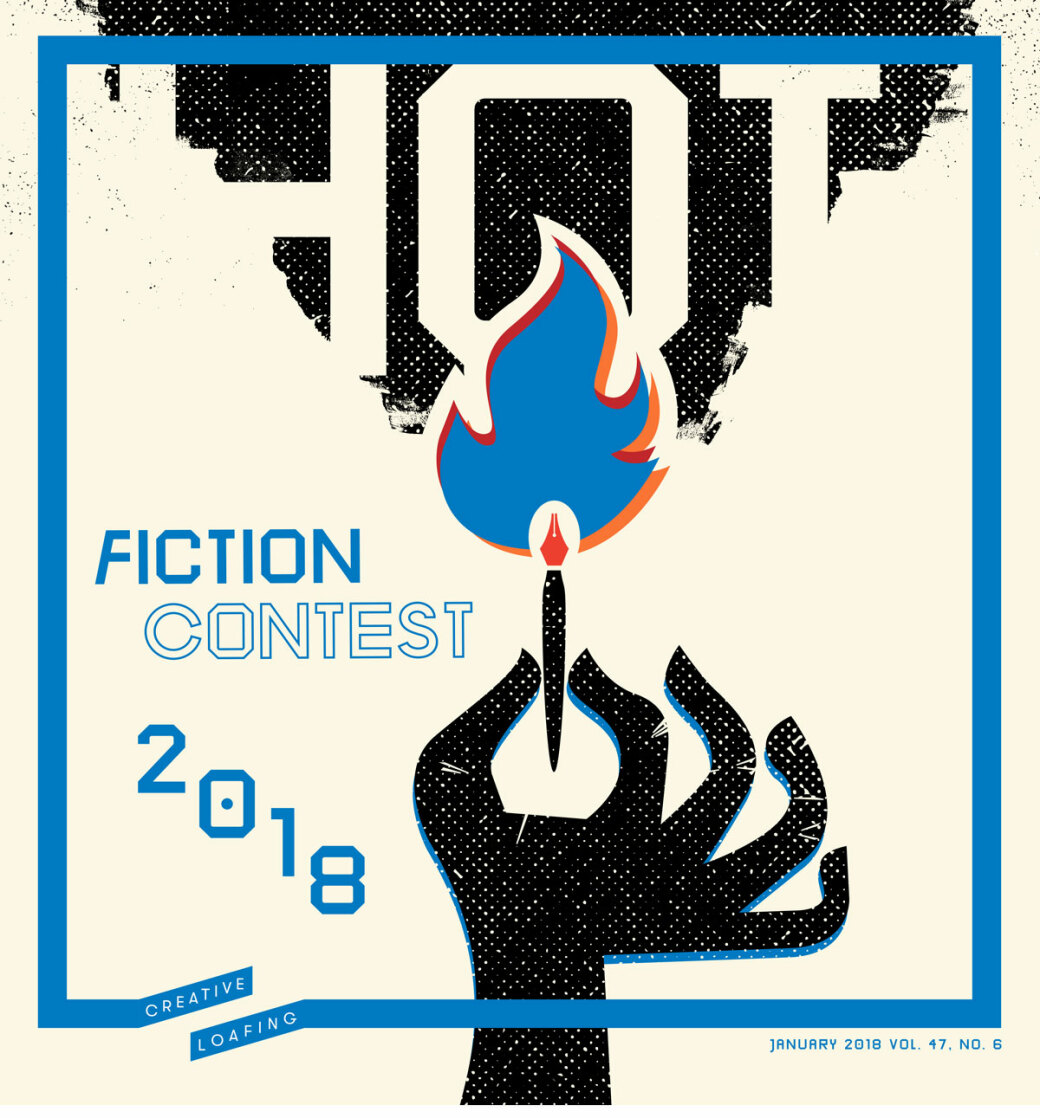 Ever since the early 2000s, Creative Loafing has built the annual Fiction Contest around a one-word theme, but for some reason had never used "hot" or any other high-temperature term until now. For this year's contest, "hot" lit a fire under dozens of Atlanta's aspiring writers, some of whom found surprising interpretations, while others proved more literal. (If only we had a nickel for every description of "sweaty thighs.") The top three winners selected by our judging panel include two tales of mother-daughter love and one descent into a man's obsession. This year we'll be sharing a couple of our runners-up online as well. Join us to celebrate the winners at the annual Creative Loafing/WRITE CLUB Fiction Contest Party on Wed., Jan. 10, 7-11 p.m. at the Highland Inn Ballroom. It's free!
FIRST PLACE: "Immolate" by Katherine Hur
"Told in striking pose with rich, texturizing details, this piece tells the story of a mother and daughter as they attempt to flee an abusive husband," said judge Cora Rowe, winner of last year's Creative Loafing Fiction Contest.
Theresa Davis, acclaimed Atlanta performance poet and author, said, "I liked the way the images of burning and the fury and heat that is domestic violence are weaved in this story: The idea that you can burn away those parts that remind you of pain as you make your way to rebirth, rising from the ashes of what's left."
And novelist Thomas Mullen said, "I feel this is the best combination of strong writing and a compelling story, plus a unique take on the theme. My top pick."
SECOND PLACE: "Smoked Paprika" by Jen Hallaman
"Told with attention to the smells and flavors of memory, this piece captures the grief of losing a parent to dementia," said Rowe, who praised its "strong narrative voice with immersive, texturizing sensory details."
THIRD PLACE: "Watch Me" by Drew Grossman
During a week of summer blackouts during an Atlanta summer, a man becomes caught up in an on-line pastime called "H.O.T." Mullen said "Unique take on theme. Strong narrative pull. Weird and unexpected. It feels like a story and not just a snapshot of a moment."
FINALISTS:
"Living Fossils" by Jeremy K. Fisher

Meet the judges
Theresa Davis is an author and performance poet residing in Atlanta, Georgia. She is the mother of three brilliant huemyns — Imani, Tia, and Zion — who are a constant source of inspiration and pride. An educator for over 20 years, Davis now combines her teaching and writing styles to teach poetry workshops for teens and adults. A veteran slam poet, she held the title of Women of the World Slam Champion in 2011. Drowned: A Mermaid's Manifesto, her second book of poetry with Sibling Rivalry Press, was voted as one of 2017's Books All Georgians Should Read. In 2016, Creative Loafing voted her Best Local Poet and Best Spoken Word Artist. She is the host of the award-winning open mic Java Monkey Speaks every Sunday at Java Monkey Coffee House in Decatur and Art Amok Slam at the Red Light Cafe every first Tuesday.
Thomas Mullen's newest novel, Lightning Men, was named one of the Top Ten Crime Novels of 2017 by the New York Times. He's the author of four other novels, including Darktown, an NPR Best Book of 2016, which was shortlisted for the Los Angeles Times Book Prize, the Southern Book Prize, the Indies Choice Book Award, and was nominated for two Crime Writers Association Dagger Awards; and The Last Town on Earth, which was named Best Debut Novel of 2006 by USA Today and was awarded the James Fenimore Cooper Prize for excellence in historical fiction. The Darktown series is being developed for television by Amazon Studios, Sony Pictures, and executive producer Jamie Foxx.