Quick Bites: Creature Comforts collaborates with Run the Jewels, Butter & Cream opens second location, Caf̩ Lucia comes to Smyrna and more
Food news roundup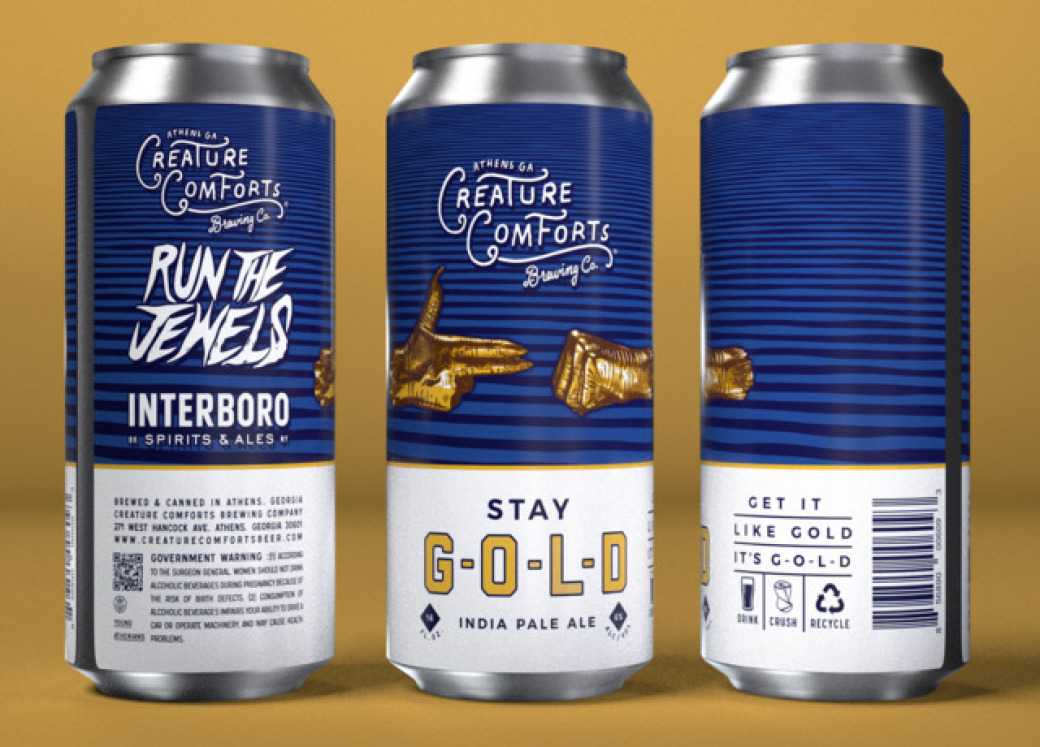 STAY G-O-L-D: Creature Comforts Brewing Co. is collaborating on a new brew with Run the Jewels and Interboro Spirits & Ales.
Attention, (hip) hop heads. A new limited edition beer is coming out of Athens' Creature Comforts Brewing Co. S-T-A-Y Gold IPA, in collaboration with rap duo Run the Jewels and Brooklyn brewery Interboro Spirits & Ales, debuts in 16-ounce cans this month. Creature Comforts describes the 6 percent ABV brew as "a slightly hazy, juicy & dank IPA" with cans designed by Athens-based boutique studio Young Athenians.
Decatur's Butter & Cream has opened a second location. A ribbon cutting on Fri., Oct. 6 at 11:30 a.m. kicks off historic Roswell's new small batch, handcrafted ice cream shop at 26 Webb St.
Chef and cookbook author Virginia Willis has cooked up a recipe to help Atlantans. Her Savory Oat Sausage and Kale Stack is in the finals for the James Beard Foundation #MoreTasteLessWaste recipe contest. If she wins, the Atlanta Community Food Bank gets a donation of $5,000. Vote daily until Oct. 6 (which also enters you into a chance to win a trip for two to New York City to attend the James Beard Foundation's annual gala) here.
In honor of Breast Cancer Awareness Month, the Oceanaire Seafood Room (1100 Peachtree St.) flies in fresh Pink Ribbon Oysters from Long Island Sound. 25 percent of all the diver-harvested plump, petite and briny oysters will be donated to the Breast Cancer Research Foundation.
The folks behind The Pinewood, The Mercury and PROOF Cocktail Syrups have news. Their new Italian-American restaurant Bar Americano and coffee/cocktail bar Bar Crema open this month in Buckhead's Andrews Square that's the area we used to call "Andrews Entertainment District." Chef Adam Waller, formerly of Bocado, serves as executive chef of Bar Americano.
We like this a latte. Caf̩ Lucia is set to open this November at 1260 West Spring St., serving breakfast, lunch and dinner. Think peanut butter and jelly French toast, lavender lattes, and build-your-own-salad bowls. Owner David Jackson says the caf̩ "welcomes all to work and play in its space." He will work with Briggs and Associates, a nonprofit that supports employment services for adults with intellectual disabilities.
A new restaurant week, New South Culinary Week, runs now through Sun., Oct. 8 with options for brunch, lunch, and dinner prix fixe options for $15, $25 and $35. The list of participating restaurants is large and varied, including Cooks & Soldiers, 5Church, Holeman & Finch, O-Ku, Smokebelly, the Melting Pot, South City Kitchen and the new Bulla Gastrobar. Full list here.
RA Sushi has 25 restaurants in 12 cities, including Atlanta's at 1080 Peachtree St. Chef Tai Obata helped create RA 20 years ago and wants to celebrate the anniversary with a party on Oct. 21. Until then, and running all month, a celebration menu called "20 Years of Living RA" will feature sushi and cocktails with cheeky names like "One Night Stand" and "Walk of Shame."
At this weekend's Grand Cochon, held in Chicago, bartenders competed to take home the Punch Kings crown in the "Last Call" punch finale. Taking home the win was our very own James Wampler from Edgar's Proof and Provision. Seventy bartenders from across the country competed throughout the year, narrowed down to the 14 who competed in Chicago. Congrats, James!