When the chefs go OTP
Intown restaurateurs are flocking to the 'burbs en masse ... but why?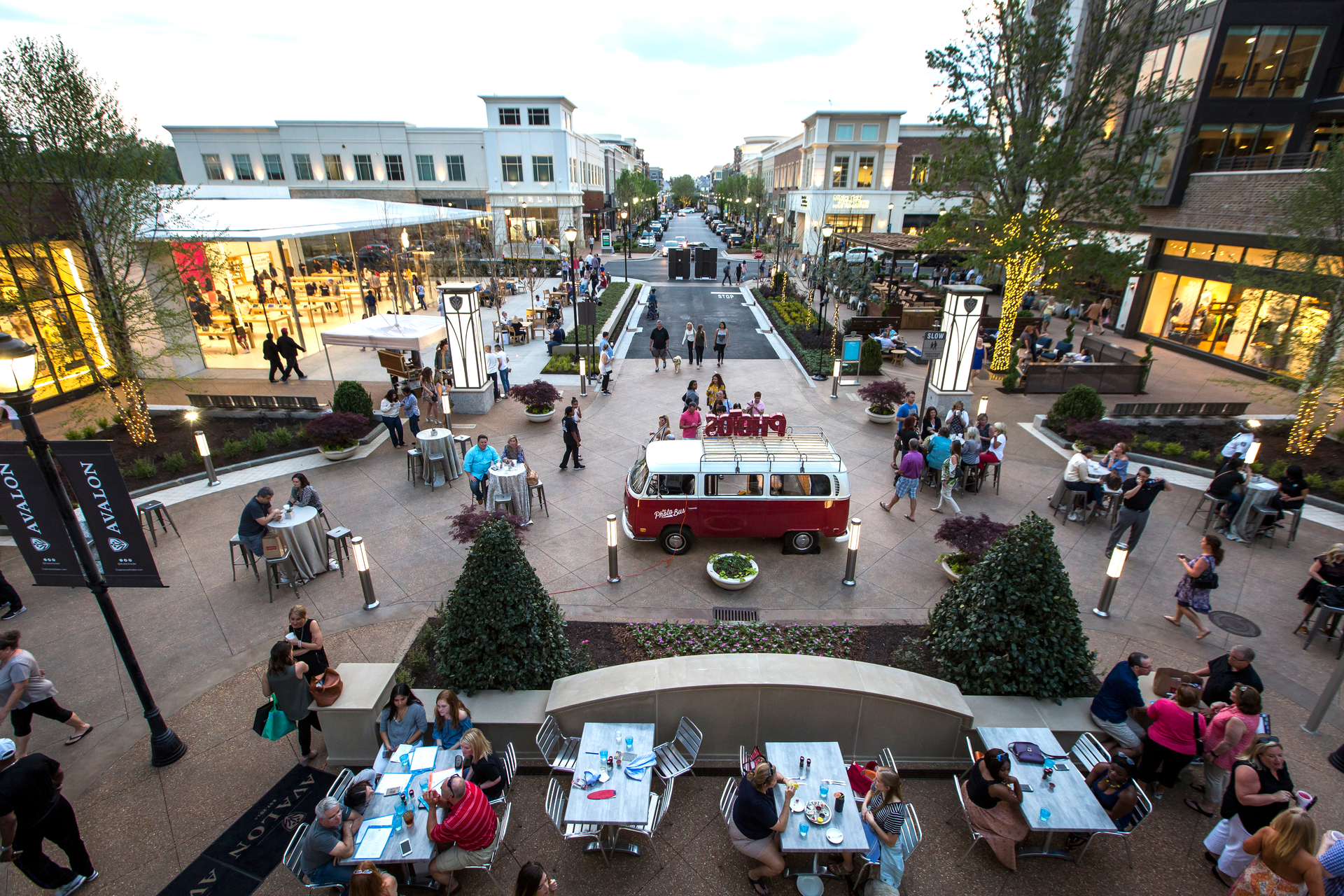 It started as a slow drip. South City Kitchen arrived in Vinings in 2006, Farm Burger and Morelli's hit Dunwoody six years later. In 2014, Ford Fry set up shop in Alpharetta's Avalon mega-development. And then the drip became a deluge.
Antico, Bocado and Bantam + Biddy joined Fry in 2015. The next year, Jay Swift's Noble Fin hit Peachtree Corners and Anthony Spina, reluctantly, moved his beloved O4W Pizza to Duluth. This year? Kraig Torres' Barleygarden and the Kinjo brothers' MF Sushi also joined Avalon, and a batter's box of chefs Linton Hopkins, the Fox brothers, Giovanni Di Palma and Ford Fry again are swinging for the fences at the Battery Atlanta, a "lifestyle destination" next door to SunTrust Park in Cobb County. Nearby in Sandy Springs, Kevin Rathbun has partnered up with Peter Kaiser at Kaiser's Chophouse.
Coming full circle, South City Kitchen will set up its fourth outpost in 2018, becoming yet another to join the flood of new restaurants at Avalon. And as sure as traffic crawls to a stop each rush hour on the highways north of Atlanta, there will be more.
We're talking, of course, about intown Atlanta chefs and restaurateurs expanding OTP. While that hooped highway known as the perimeter can often feel like a solid wall when it comes to cultural differences, the fact is that literally millions of people live in the suburbs outside 285, all of whom eat and many of whom have the disposable income to eat quite well.
A combination of unprecedented intown restaurant saturation, shifting OTP demographics, real estate development trends and the general rise of gourmet food culture has made the northern suburbs a far more attractive opportunity than it was even a few years ago. For growth-minded restaurateurs, OTP is now the place to be.
No value assigned
Robby Kukler, a partner at South City Kitchen's parent company, Fifth Group Restaurants, has as good a handle on the OTP dining scene as anyone, having launched in Vinings 11 years ago. He's working on the new Alpharetta location now.
"How we look at OTP is very different than it was when we started 24 years ago, or ten, or even five years ago," he says. "With the continuing evolution and growth of food culture in our country, each year seems to evolve more quickly than the year previous. People in the northern suburbs are well travelled ??_ and there's the demand and understanding of things like seasonal, chef-driven food to the point where it makes sense to open those kinds of restaurants where they are.?۝





When chef/owner Anothony Spina began scouting new locations for O4W Pizza, he didn't start OTP (after all, the Old Fourth Ward neighborhood was in his pizzeria's very name). But he did end up there. And time has proven that the people of Duluth, where he is now, were as excited about his pizza as the original fan base he built intown. Spina's new location, tucked inside a quaint building on downtown Duluth's main strip, offered more space, and his new menu shifted to focus on customers dining in rather than taking their pizzas to go along the Beltline.
"It wasn't my intention to look OTP," Spina told me. "It was simply to not go out of business. What I wanted just wasn't available intown." In Duluth, he says, "with the lower saturation of pizza and food in general, those were the things that helped make this move. I was second-guessing while I was building out the new location because downtown Duluth felt a bit like a ghost town sometimes, but within a few months, several other places opened around us, and now on Friday night we can have an hour-and-a-half wait for tables.?۝
"Historically, the 'burbs have been chain country. But I would love to think that folks OTP have equally refined tastes as those ITP."
Kukler, too, has noticed the shifting sands. "Eleven years ago when we opened South City Kitchen, it was very different diners were not really as open to esoteric ingredients or wines, for example but that has changed dramatically in the last three or four years. Our guests in Vinings, what they're buying is almost identical to Midtown or Buckhead.?۝
Further north, a major catalyst for speeding up intown chefs' willingness to expand OTP was the creation of the massive Avalon work/live/play development in 2014. Overlooking GA-400, it features two dozen mostly homegrown dining options mixed in among retail, office and living spaces over 86 acres. And it's still growing.
No value assignedKukler noted how Avalon has created a destination akin to some of the more walking-oriented intown neighborhoods, though admittedly manufactured from scratch. "Avalon now is like Virginia-Highland has been for decades where people would show up, park their car, pick a place to eat and grab a beer until their table is ready. They've created a center of gravity, most importantly with a cluster of proven operators, and not full of chains. They understand that it's about a good quality experience, from the music playing, to being able to walk around the property with a drink in your hand. Even though it's brand new, it feels real.?۝
Fifth Group's commitment to Avalon is also new. They intentionally passed on phase one of the development to let others test the waters. Ford Fry, however, was among the first to sign on, opening the El Felix, a sister concept to his intown Superica, soon after Avalon opened. Location had a lot to do with his decision. "Avalon was attractive," he says. "It was right off 400 and easily accessible. I knew I wanted to stay super casual and family-friendly, since families OTP are so busy with activities during the week, so when they choose to eat out during the week, it's got to be casual.?۝
Witnessing the growth of the El Felix (among others), Kukler decided the time was right for South City Kitchen to join Avalon in 2018. "Seeing the success there certainly helped," he says. "Talking to Ford about how they're doing, or the guys at Oak Steakhouse, that's the confirmation. They've continued to do well and grow, and a number are doing more volume there than intown sister locations.?۝
For Kraig Torres of Hop City intown and Barleygarden at Avalon, the idea of opening a craft beer-focused restaurant OTP had been brewing for years. "Craft beer is as vibrant in the 'burbs as it is intown it's simply that craft fans are a little more spread out," he says. "We never quite found the right opportunity to make it work before Avalon, but finding a magnet that brings people to a central location was the key. When Avalon called, I had to explore the opportunity.?۝
No value assignedTorres continues: "Historically, the 'burbs have been chain country. But I would love to think that folks OTP have equally refined tastes as those ITP. Attractions like Avalon and SunTrust Field are making it harder to get the northern dwellers to venture into the city ??_ It is changing the dynamic of the marketplace.?۝
Sure enough, Barleygarden's 64 craft beer taps make the prospect of heading to Hop City's beer bar in Krog Street Market a nonstarter for any resident of Alpharetta. They now have the good stuff much closer to home.
Most of the intown restaurateurs I spoke with cautioned, however, that some of the same challenges they are seeing intown remain outside the perimeter as well. Food costs are high everywhere. Rents are rising anywhere there is demand. And, most critically, the shortage of qualified labor, driven in part by restaurant saturation, plays out across the metro. "There's never been a labor market this tough, either for a $10-per-hour dishwasher or a $100,000 chef or GM," Kukler says. "You just can't find people, and that's going on all over the country, intown or in the suburbs.?۝
The other challenge restaurateurs face anywhere is the implosion of major retailers, and the resulting reduction of foot traffic around those stores. Noble Fin's Jay Swift noted that developers like Avalon are hoping cinemas and spas can take the place of some of the traditional retailers who are closing doors, and Kukler points out with a dry laugh that, as clothing and general merchandise retailers suffer, "you can only have so many dry cleaners or yogurt shops!" Mixed-use developers "want to put a restaurant or three in their buildings, and they can't all succeed," he adds. "There are so many options for great food already.?۝
As for the new Braves stadium and the unique challenges it presents, Fry says it's tough to predict how restaurants there will fare. "It could just be crazy busy or could go the other way. So far I have heard great things about game days, so I hope the non-game days shine as well.?۝



D
espite the clear opportunity that OTP expansion offers to intown restaurateurs, several chefs and operators I spoke with remain skeptical as to whether it's the right move for them. Chef Zeb Stevenson of Watershed boiled such OTP expansion considerations down to two key questions is it good for the existing restaurant, and is it good for the city?
The first question is the obvious starter, especially for single restaurant operators looking to expand: making sure that the restaurant's primary location remains the focus. The second question, though, gets to the heart of what many intown proponents feel distinguishes living in the city versus the suburbs. Stevenson put it this way: "As a chef and resident of intown neighborhoods, I want to see an increased sense of community, more walkability, more neighborhood support for restaurants and a more sustainable approach to what we do wherever we live. Burning a tank of gas every few days and contributing to our already grim traffic issues in the name of running a remote location isn't good for quality of air, food or life.?۝
No value assignedGuy Wong (Le Fat, Ton Ton and Miso Izakaya) concurs. "All of my restaurants are located within five to ten minutes of each other. The drive to get to Alpharetta is at least 45 minutes, and up to two hours with traffic. The logistics of that don't make sense for me.?۝
Sure enough, any discussion of OTP living inevitably ends up hitting traffic. Stevenson and Wong's arguments against expanding OTP get used by others as justification for doing so f[]lipping the view from the operators' commute to diners' commutes. Really, it all depends on where you live. Kukler says that Fifth Group's motives to be in the suburbs are absolutely "being driven by traffic and commuting ??_ and not wanting to waste time. There are more and more reasons not to drive far, which increases demand for restaurants nearby.?۝
In other words, where the people are, the restaurants will follow. And millions of people are OTP.
---